Features: June '10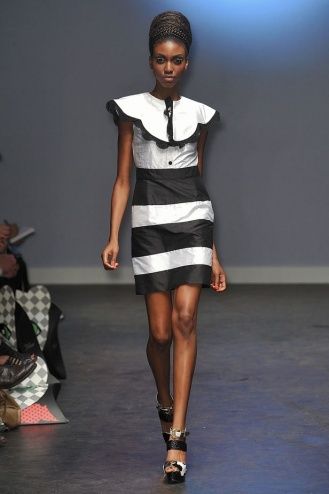 Interior designers go back to black for a sophisticated monochrome aesthetic that oozes style
Monochrome is a perennial favourite on the catwalks, epitomising pared down chic, and it's long been a key element of the interior designer's repertoire. A sleek and stylish combination for clothing, monochrome in the home is often used to highlight architectural qualities as well as the contrasts of light and shade. Graphic monochrome patterns, including animal print and geometric designs, add visual drama to a room without being loud. And colour experts will tell you that adding monochrome touches to a fusion of vibrant colours in a room not only moderates the look, but also creates a foil against which individual colours become more expressive. Try adding white and black to a pile of colourful scarves or swatches and you'll instantly see what they mean.
A common misconception about monochrome is that it's a boring, cop-out combination, associated with work clothes and office drones. But this couldn't be further from the truth in terms of interior design (or fashion for that matter). Think about the Art Deco period, in which sharp angular shapes and a graphic monochrome palette created a sophisticated and high-energy aesthetic, expressive of modernity. Monochrome style is more than just black and white. Think about marble and mirrored furniture, silvery grey hues and the combination of glass, steel and chrome. Create a spectacle of surface with tactile animal skins, luminous glass and metallic finishes. Dressed up or down - a crystal chandelier with mirrored furniture, or a simple cowhide rug on a stripped wood floor - monochrome works to enhance feelings of light and space, with graphic prints creating a sense of movement and energy.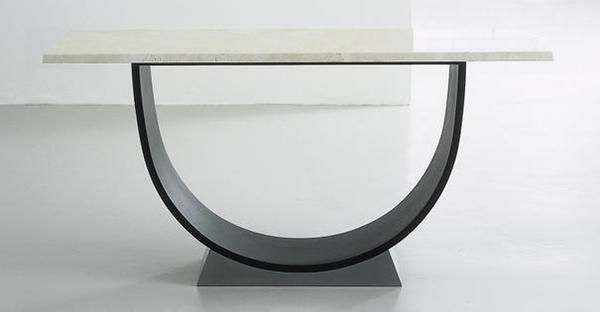 There's a huge choice of products on Furnish to dress your home in the monochrome mode. The Roman Console from Benchmark is a beautiful example of elegant simplicity, with it's black lacquered oak frame, zinc wrapped plinth and limestone top. Florence Knoll's iconic coffee and dining tables feature black and white or grey and white veined marble tops with polished chrome bases for a pared down yet luxurious modern aesthetic. Graham & Green has a fabulous range of mirrored furniture including the bevelled Art Deco Console with gracefully tapered back legs, and the Manhattan Console with an angular multi-faceted facia, which dramatises the contrasts of light and shade. The Carlton furniture range at The White Company is clad in beautifully glossy milk white glass, perfect paired with a monochrome cowhide rug. Try London Cows and The French Bedroom Company. The latter's Glitz and Glamour cowhides have mottled silver and gold metallic finishes for a truly opulent look.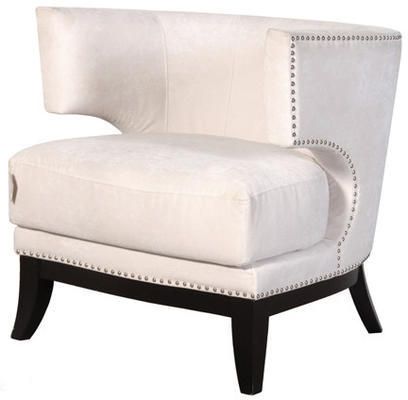 Sweetpea & Willow has a Corbusier-Perriand inspired black and white Hide Armchair, while the Anton cherry wood chair demonstrates just how well monochrome complements wood tones, with its calico upholstered seat and black lacquered backrest. Also at Sweetpea & Willow, the studded Loft armchair upholstered in black or white velvet offers perfect comfort and supreme style. The indulgent high-backed Vista sofa from Lover's Lounge takes glamour one step further: upholstered in sumptuous black velvet it's adored with crystal buttons. Occa Home's De Le Cuona cashmere cushion with silver embroidery is similarly striking, while the black Rockerfeller cushion is highly textured to engage the senses. In lighting go for Peter Bowles' classic Circle Line drop pendant, table lamp, and wall light in monochrome stripes, or for an opulent Art Deco look, try the Globe and Round Crystal chandeliers at Sweetpea & Willow. Complete your monochrome scheme with the humbug-like Omaggio Brush Strokes vase from 95% Danish.
Whether you choose striking monochrome accent pieces to set off your room or go for a coordinated monochrome scheme, this is a classically stylish trend that never loses its edge.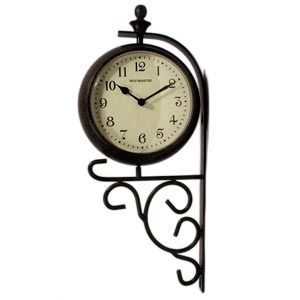 Add this classic timepiece from The Worm That Turned to your garden for an injection of style. £34.95
While you clearly don't want to be watching the clock as you relax in your garden at the weekend, I couldn't resist showing you this delightful clock/thermometer combo from The Worm That Turned.
Made from aged metal, this product is designed to be wall-mounted and can swivel to display either the clock or thermometer.
It makes the perfect garden accessory and will add a touch of rustic charm wherever you choose to use it.
See this product at The Worm That Turned...
(We don't sell this product yet but sign up to our newsletter and we'll let you know when/if we do)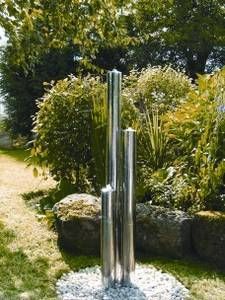 Go contemporary in the garden with this Triple Tube Stainless Steel water feature from In Garden. £215
Think water features and like me, you probably think of some hideous contraption that hails from a dodgy TV garden makeover show.
Or worst still, one of the lion's heads that spurt out water (dunno about you but I've never seen a lion spurting water...)
Determined little thing that I am, I set out to find a stylish one that wouldn't make my eyes hurt.
On my journey, there were plenty that did, so to save you from a similar fate, I've cut to the chase and chosen the Triple Tube Stainless Steel water feature from In Garden as a fab find.
Made from, yes you've guessed it, stainless steel; the structure consists of three tubes of varying heights. I like it because while totally unobtrusive, it adds a certain air of contemporary design to any garden.
So, there you have it, a stylish water feature – who would have thought...
See this product at In Garden...
(We don't sell this product yet but sign up to our newsletter and we'll let you know when/if we do)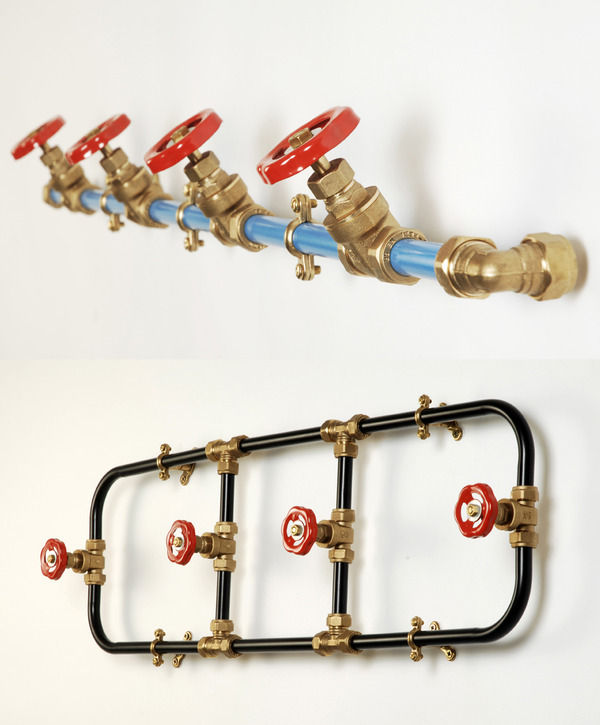 Nick Fraser's been taking the world of interiors by storm with his playful and subversive rethinking of everyday objects.
Since graduating from the University of Plymouth in 2005 with a degree in 3D Design, Nick Fraser's been taking the world of interiors by storm with his playful and subversive rethinking of everyday objects. After an enthusiastic reception exhibiting with Hidden Art at the 2006 Milan Furniture Fair, Nick began manufacturing his designs from a small studio in Dalston. Made in the UK and finished by hand (his own), Nick Fraser products are now sold across Europe. You can find them at Paul Smith and the Barbican in London, Fleux in Paris and Moderna Musset in Stockholm. I seem to be banging on about Paul Smith a lot lately, but I must admit I was pleased that Nick's designs have caught Sir's glad eye as much as my own. Impeccable taste. Anyway, here's what Nick had to say about his own design inspirations when we caught up with him at Grand Designs Live last month.
Which designers do you admire and which have been inspirations to your work?
Current designers I admire include the Hella Jongerius Lab, Committee and 5.5 Designers.
I always find this question difficult because I seem to remember products more than people…however terrible that sounds! A lot of my work is based on looking at various everyday objects and highlighting their visual or functional qualities through re-appropriation…I suppose this is where my inspiration comes from.
What's your own style when it comes to interior design?
I like a room or space to be very simple and neutral in its foundations such as the furniture, layout and wall colours. It's then objects that you put around the space, which will make it more unique and personalised.
I love the sculptural, architectural qualities of your work and especially the sort of Meccano/kit construction aesthetic of your industrial Pipework Series. How did the series develop?
When I was studying Art A level, I made a very large sculpture using plumbing materials. Referencing the illustrator Heath Robinson's drawings of eccentric machinery that mock Modernism, the sculpture was designed to look hyper-functional but actually did nothing at all. My teacher at the time encouraged me to plumb it into a house as an installation but of course being 18, it never happened.
So once I had graduated from a design degree, I re-visited the idea but made it functional and ultimately more commercial. I started with the Hall Stand, which was an elaborate piece that I exhibited in Milan in 2007. It was received very well and since then I have created many variations, and these have become a large part of my business.
What struck me most at Grand Designs was your fork light. I really liked the faceted, geometric qualities of the bird, which I felt prevented the design from becoming twee. Could you say a little about the ideas behind the fork light and how it developed?
As you have probably noticed, I really enjoy the visual qualities of functional every day objects. This extends to the outdoors and I had my eye on the pitchfork for a while. Once I established the simple tripod structure to create a stable lamp base, it was a case of brainstorming what would make a relevant shade.
The bird seemed the obvious choice, depicting the quintessential English garden image, but as you have mentioned, it was important to maintain a contemporary result and avoid twee(ness). The creation of the bird required a lot of paper cutting and folding!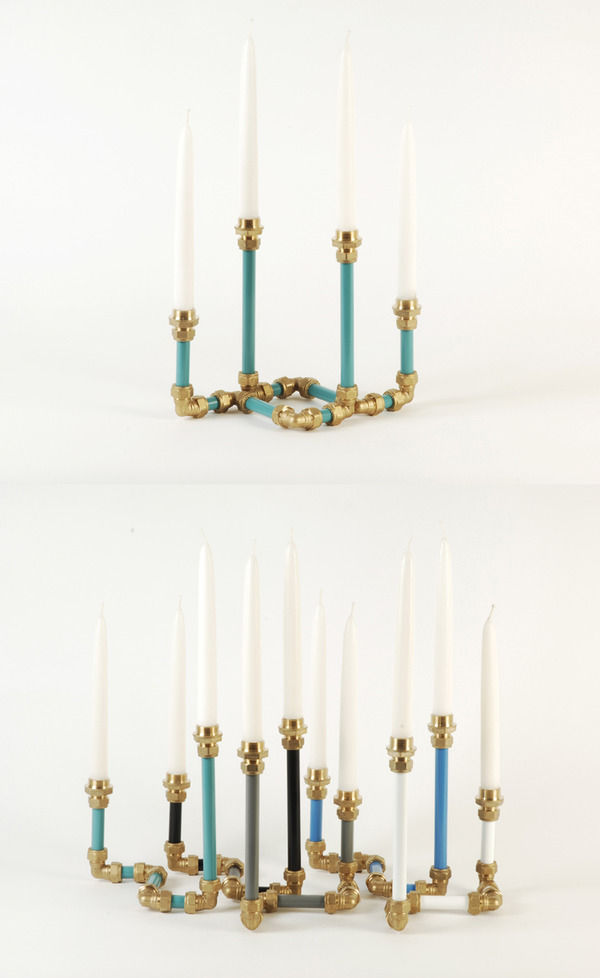 In a lot of your products you seem to be turning things inside out – for example, exposing industrial pipes, bringing the outside inside with your bird branch mug 'tree' and fork standard lamp. Would you say this is the common thread running through your work: a playful subversive approach to everyday objects?
Absolutely. It's really important to me that people see my products and smile because they can understand the story behind them. By manipulating recognisable objects and placing them in a new context, it allows the viewer to enjoy them in a new light, visually and functionally.
Although humour and familiarity are important aspects in my work, it's still necessary to create products that people can live with and use for a long time. I hope that I achieve this and can continue to do so as I don't really want another job!
Find out more at www.nickfraser.co.uk...
Be inspired by stylish surfaces and elegant exterior appearances for your home with our buyers guide to surfaces.
Surfaces make a huge impression on a room, and their texture and appearance can determine the style and practicality of your interior. So, whether you are going for grandeur in your hallway or a clean and sophisticated kitchen, there are plenty of ways to decorate your home with the right surface to suit your needs. This guide will consider the pros and cons and what qualities different types of surfaces have to offer in terms of practical and aesthetic features, as well as texture and tangibility.
Corian
DuPont Corian is sold worldwide and there are lots of options available with this type of surface. Have a look at www.corian.co.uk for many designs in a vast range of colours including this year's new eight metallic shades. It's a non-porous surface making it ideal for worktops, splash backs, and integral sinks in a kitchen; try this versatile surface in your bathroom for vanity tops or shower trays. Bear in mind that darker, heavier pigmented shades will show scratches and general wear and tear more easily than lighter, textured colours.
Pros: easy to clean; nonporous; resists the growth of mould, mildew and bacteria.
Cons: Not as durable as stone e.g granite.
Stone
Stone surfaces are a popular choice because of their aesthetic qualities. Traditional fireplaces are often made from stone as it adds to the grandeur and charm of the feature. Hand crafted stone has an attractive look and feel, and you can find a vast selection of natural stone fireplaces, including marble and limestone, from Heritage Stoneworks. The Single sink unit with Flemish stone from Brissi is a superb storage and decorative piece for displaying your bathroom linen and beauty products. The dark stone top and the white porcelain sink are beautifully contrasted to create a dramatic and classic look. For a good selection of natural stone tiles try Mandarin Stone who supply limestone, marble, slate and terracotta tiles.
Pros: Beautiful surface; practical and durable.
Cons: Expensive; cold underfoot.
Slate
Slate is an extremely versatile stone that gives a rustic and natural appearance to any room; it has a dramatic texture but a less formal look than marble or limestone. Slate is an excellent choice for kitchen or dining room floors because it is anti-stain and slip resistant. Ceramica & Stone have a great selection of colourful slate flooring that would work well in any modern or country house kitchen. Stone Works Ltd supply metallic, honed and riven slate; the Riven slate oyster offers depth and colourful tones ranging from yellows to greens. For a different look, try the Brazilian black slate wall cladding from Brazili Stone for a striking contemporary effect.
Pros: Good abrasion resistance and high durability; comes in a variety of natural stone colours.
Cons: Some types have to be sealed to prevent staining; needs professional installation.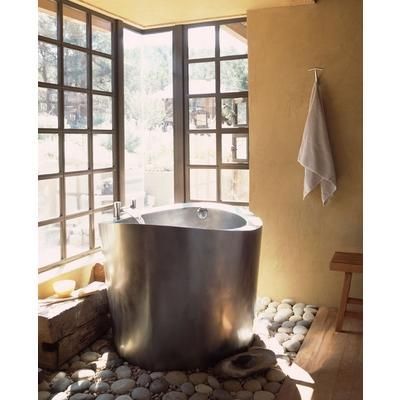 Polished concrete
Polished concrete floors have a beautiful bespoke finish because the polishing process exposes the unique grain patterns beneath the surface. Poured concrete can give you a seamless and glossy surface. The Stone Carpet Company supplies flooring that will enhance your interior and add to the grandeur and value of your home. Choose polished concrete flooring if you have a grand entrance hall or kitchen area for a polished and elegant look. Concrete countertops are also a good option for your kitchen; try White+Reid for a wide selection of shapes and sizes of worktops tailored to your room.
Pros: Energy efficient; durable; aesthetically pleasing.
Cons: Costly; can get stained, chipped or scratched.
Wood
Wood flooring is one of the most common surfaces in contemporary interiors due to its practical qualities and low maintenance. Justwoodflooring.com and urbaneliving offer naturally beautiful hardwood flooring.
Wooden work surfaces will give a warm appearance and bring a natural look to your décor. At justwoodworktops.com you can find natural wood breakfast bar tops and hardwood chopping boards in all different types of wood such as beech, oak, and walnut. The Oak Beam Table from Indigo Furniture is solidly built with a chunky and rustic appearance, and it will provide you with a surface and furniture piece that will retain its natural look for many years.
Wall panels work particularly well to bring dimension to your walls, and they look striking against a bold backdrop. The Ana carved wood wall panel in dark teak from Lombok has a beautiful geometric design. Decorative wall panels are available in a range of finishes, designs and wood grains; the Hand carved wood wall panels from Kan Thai Decor create a stunning look.
Pros: Natural beauty and character; practical, durable and stylish in a modern or traditional home.
Cons: Natural wood takes a lot of care to maintain its look.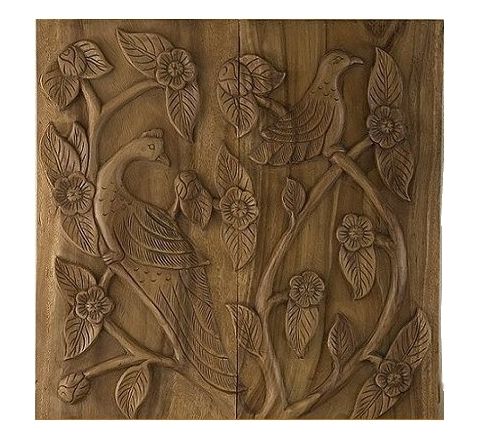 Ceramic tiles
The Ceramic Tile Company supply practical yet stylish ceramic bathroom, kitchen and floor tiles. Ceramic tiles are a popular choice for bathrooms as they will keep your walls and floors free from moisture damage. Mosaic patterns work well for detail on a bathroom or kitchen wall; in your bathroom you will need unglazed tiles for slip-resistance, and if you want your tiles to be stain-proof choose glazed tiles. Ceramic mosaic tiles from mosaictileshop.co.uk are versatile; their glazes come in a range of colours to suit your interior, and you can add pattern or floor accents by using custom tiles. The Ceramic tiles from Armstrong would suit a country house inspired kitchen, and bring a warm and welcoming feel.
Pros: Heat and stain resistant, easy to clean.
Cons: Chips easily; all tiles have grout lines so they require regular cleaning.
Stainless steel
The physical appearance of stainless steel brings a sleek and finished look which would suit any modern home. Stainless Steel wall tiles are ideal for kitchen splashbacks, and their smooth finish makes them a perfect choice for matching them with other kitchen appliances. The tiles are available in a variety of different patterns and they come in a satin or matt finish. Bring a modern and unique statement to your bathroom with the Circular Stainless Steel Japanese bath from HomePortfolio.
Pros: Hygienic; very easy to clean; high resistance to corrosion.
Cons: Cold to touch; will scratch and show fingerprints easier than other types of tiles.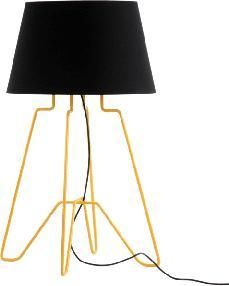 Make a supersized statement with this playful lamp from BODIE and FOU, £180
Despite its name, the Dwarf Wired Lamp by British design company Something from Nothing, is actually oversized at 80cm tall. Playing with scale, Something from Nothing have created a fun contemporary piece, which picks up the trend for oversized proportions without slavishly following fashion. I love the uncomplicated wire base, stylish in its pared down simplicity. Perfect next to the sofa for low-level lighting, the Dwarf makes a striking oversized statement as a table lamp.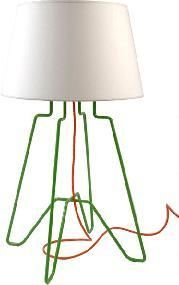 It comes in green wiring with a white shade and red cord; yellow wiring with a black shade and black cord; and white wiring with a white shade and yellow cord. So, as usual, the only problem is deciding on your favourite. I think I'm with the black and yellow.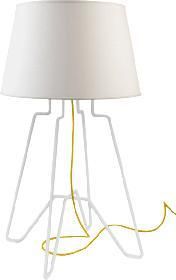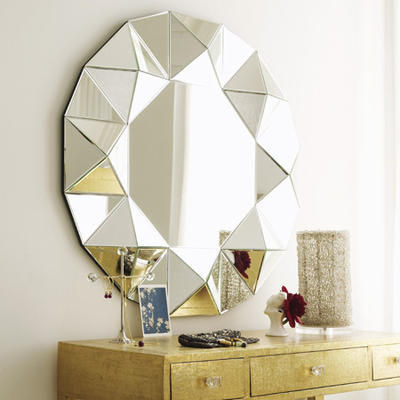 Reflect on the beauty of this faceted mirror from Graham & Green, £398
A mirror just like this one was featured in the June edition of The World of Interiors magazine, hanging in the restored 17th century farmhouse of artist Sam Miller. Miller handmade his using antique glass and you can get one made to order (visit underwoodmiller.com) for the princely sum of £7,500. Having totally fallen in love with Miller's mirror, but without such deep pockets, I couldn't believe my eyes when I saw Graham & Green's version.
Creating interesting disjointed reflections, the faceted pyramid border makes the most of available light. And its geometric, architectural qualities make a stylish statement that would fit equally well with modern and period furnishings. Ok you don't get the beautiful antiqued finish, but being such good quality it'll probably last until you do. And at £398, you're saving over £7,000. Well, that's what I'll be telling myself.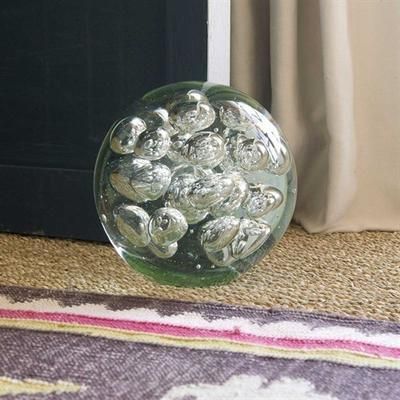 Keep your papers tidy, prop open your door, or just gaze in delight at this giant paperweight from OKA, £38
I love the gloopy bubbles and spherical shape of this giant glass paperweight from OKA. It makes a really attractive doorstop and a stylish alternative to the 'comedy' doorstops all over the place at the moment. In clear glass it'll fit in with any room scheme and any furnishing style, but at the same time it's got its own personality.
Used on a desk it's transformed into a trend piece, picking up on the vogue for oversized proportions. And if you're anything like me, tending to shift papers about and put them into piles rather than actually tidying up, it'll sit on top of your papers and impart some style and logic to the confusion. A tip for the lazy: putting things at right angles always makes it look like you've tidied up.
This functional piece would look equally fabulous as an ornament: catching the light on a coffee table or as a centrepiece for the dining table.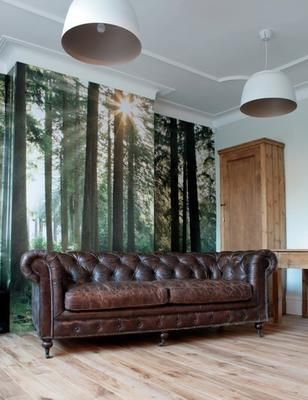 Create a harmonious home with naturals.
With growing enthusiasm, since Modernist tropes of 'bringing the outside in' and 'truth to materials' formed a watershed in thinking about humane design, architects and interior decorators have introduced natural materials to bring warmth, harmony and sensuality into the home. Couple that with current environmental concerns and you have the makings of a major trend.
Central to the vogue for naturals in interior design is a desire to celebrate and elevate the inherent qualities of organic materials. But that doesn't mean you have to sacrifice on style. The natural trend is as much about an appreciation of craftsmanship and the beauty of good design, as it is with getting back in touch with nature. It's through the intervention of design that the inherent beauty of organic materials is expressed and enhanced: a faceted glass bowl that refracts natural light, a sisal carpet with a textured weave, or a wooden table polished to bring out the grain.
The key to creating a harmonious environment is engaging the senses; the effects of natural light, the aroma, texture and aesthetics of natural materials all come into play. And while part of this engagement might be to embrace the rawness of organic materials, it's also about enhancing the sensual appeal of those materials through design. The principle of simplicity unites these two approaches, and underpins the greatest attractions of natural materials: quality, practicality and longevity. Enhanced by the patina of age, natural materials not only wear well, but they have timeless human appeal. So although we're talking about a hot trend for 2010, it's sustainable in the long term.
Natural light is your essential tool when creating an organic interior scheme. Window dressings should enable light to filter through, such as linen curtains, bamboo matchstick roller blinds, or wooden slatted Venetian blinds. Accessories should work to enhance and manipulate available light; mirrors and glass will refract light and bounce it around, while anything highly textured dramatises the contrasts of light and shade. The form, tone and texture of natural wall-coverings, flooring, furniture and fabrics, should all play a part in enhancing feelings of light and space. But none of this means that you can't introduce colour into your scheme. Just take a look outside. Nor does it mean that you can't combine naturals with contemporary design and innovative materials. After all, Modernism was as much about the machine made - chrome, steel and concrete - as about the benefits of light and airy homes or the promotion of inherent beauty over applied decoration.

Looking around Furnish, there are plenty of different ways to interpret the naturals trend and suit your individual style. The Teak Chinese Stool and Modular bookcase from Puji recall the lightness and openness of Chinese architecture, whereby paper screens and open-framed wood allowed sunlight to filter through the home. OKA, Lombok and Orchid are also renowned for classic, Asian-inspired, natural furnishings.
Reissued by Vitra, Charles and Ray Eames' solid Walnut Stools are beautifully turned and polished to bring out the rich grain. Another hero of 20th century design, Eero Saarinen's Tulip dining table features an opulent marble top and aluminium base, while the similarly shaped Maiden table from Benchmark is turned from a single piece of solid oak. Drying out as it ages, the Maiden table develops splits and fissures, giving it a unique character. If you're after that beaten-up, weathered look, Rose & Grey has a number of vintage leather sofas and vintage chairs. And the Arthur Chair at Graham & Green features a weathered oak frame with natural linen upholstery.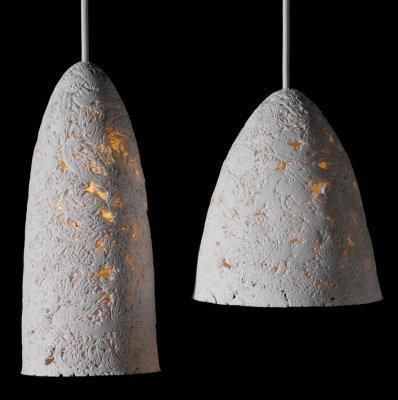 At the Lollipop Shoppe, Tom Rossau's sculptural wood-veneer pendant shades and floor lamps come in a range of curvaceous organic forms and diffuse light beautifully. Orchid's elegant Ripple glass lamp base has a hint of sea-blue and comes with a Hessian textured shade. And for dramatic atmosphere, try the cocoon-shaped Filigrain Sky Drop pendant by Zenza, in lustrous silver-plated brass. Engage the senses further with a striking hide rug from London Cows or Puji's super-shaggy Everest rug, in hand-knotted wool.
There's a naturals style to suit your natural style. So go with your instincts to create a harmonious home.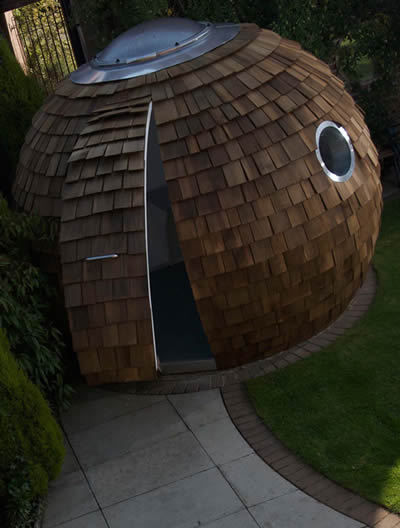 We interview Chris Sneesby, designer of the futuristic Archipod.
The first impression you get from the Archipod is that it could be something out of the future, with its modern and distinctive look.From the outside it looks like it could naturally be a part of your garden like a shed or a tree house, and its spherical shape makes it an interesting and flattering addition to your garden. It has a unique appeal that draws you inside, where I was pleasantly surprised, having been in a prototype of the Archipod myself, to find that it feels extremely spacious. The Pod has a generous amount of light that enters through the roof dome making it feel bigger and more comfortable.
I met Chris at this year's 'Grand Designs' live exhibition and I was immediately intrigued to find out more about the Archipod. I interviewed him to find out where he gets his inspiration from, and what new and exciting ideas he has for the future of the Archipod.
How has your background and experience helped you create Archipod?
I have worked previously for Yorkon, part of the Portakabin Group, for over 13 years, which gave me a lot of experience in the way buildings can be built offsite in controlled conditions and installed.
Who is your main target buyer for the Archipod, and what type of market research did you do prior to building your design?
My main target was the increasing number of people that want to work from home, but are looking for a high quality working environment rather that a glorified shed. I figured the only effective way of doing market research was to build a prototype, get it on a website and see what interest it generated. The power of the internet is phenomenal – within three weeks of the website being launched, it was on the front page of the Danish Financial Times Website – I had people calling me from Copenhagen to see if I would export them.
What makes Archipod unique from anything else?
I think mainly the look of it – a sphere is probably the most difficult shape to make from flat materials, which dissuades people from having a go at it. I also approach it from the angle of making it as good a quality and interesting as possible, rather than compromising the design by making it easier or cheaper to build.
How have you ensured that the pod is environmentally friendly?
I have used fairly traditional and environmentally friendly materials such as timber and plaster rather than plastics or GRP to make the structure. I also made it as efficient to heat as possible by putting plenty of insulation in.
What benefits do you believe that the pod offers to people who will use it as an office/work environment?
It is a warm, quiet and well lit space to work in. Most importantly, there are no distractions such as you get working in the house. People often suggest bigger portholes so that they can see into the garden - I tell them that if they want to look at the garden, then they should focus on their work, and look at the garden when they finish earlier and can relax with a glass of wine. Another advantage is that if you are running a business from it, the cost can be offset as part of the business – it is much more difficult to do this if you build an extension on the house to use as an office.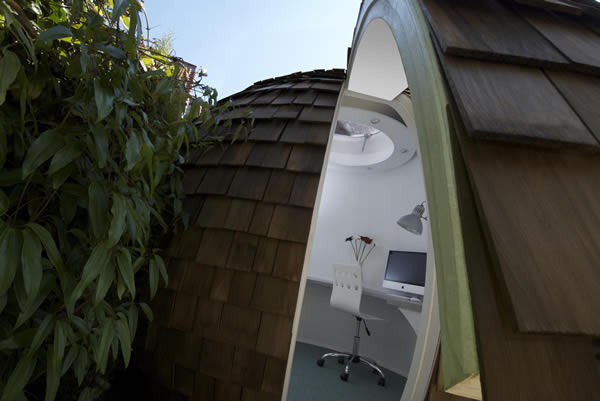 How well is the pod insulated and how sound-proof is it?
The insulation exceeds that required by Building Regulations – There are two lots of insulation, one of which is loose rockwool in the wall panel, which also acts as a good absorber of sound coming from outside.
How much does the Archipod cost? Does the buyer need to have planning permission?
Prices start at around £12,000 plus VAT. Planning Permission should not be required as it would normally come under Permitted Development, but the customer should always check this with their Local Authority first.
What ideas do you have for the future of Archipod? Do you want to expand and use different materials?
There are lots of ideas for the future – probably too many to mention. We are looking at a bigger pod, and the possibility of joining them together. We are also looking at different claddings such as copper sheeting and painted render.
The Pod is designed primarily to be used as a garden office, but its adaptability opens up opportunities for you to use it as anything from a studio, hobby room, or even a playroom. With such an innovative design, I think that the Archipod will pave the way for future living that will rely on money and energy saving sources.
For more specific information and frequently asked questions about the Archipod, take a look at www.archipod.co.uk or email info@archipod.co.uk.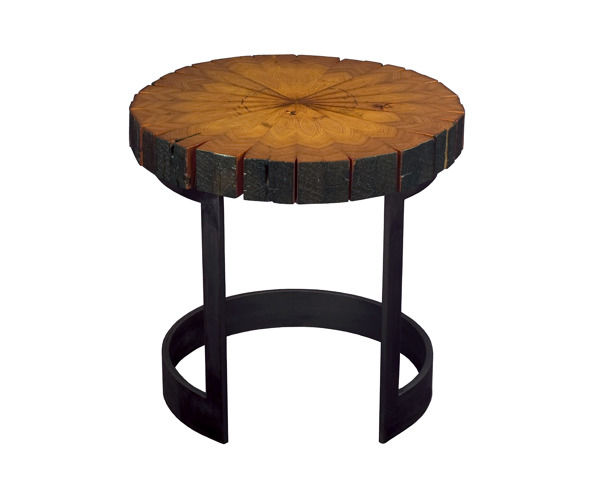 You don't have to like green to be green, so use our tips to create an eco-friendly and stylish home.
Many people have the wrong attitude towards 'going green' because they believe it means changing everything about their lifestyle. It isn't something we think about every day, but the way we decorate and our choice of furniture has an inadvertent impact on our environment. However, small changes such as thinking about how we can reduce our carbon footprint with the furnishings and other household products that we buy can all help towards creating a healthier and happier environment. In fact it has become increasingly easy to find suppliers of eco-designs and sustainable products, ultimately benefiting you and the environment with products that have a longer lifespan and that promote recycling.
Wallpaper
Eco-friendly wallpaper features water based inks; these inks are printed on chlorine-free paper and do not contain harmful VOC's (Volatile Organic Compounds) or solvents. You will find a great selection at ecocentric.co.uk, which offers eco-friendly products made from sustainable, recycled or reused materials of a high quality. For a natural shimmering look in your dining or living area, try the Saplings hand printed wallpaper which is hand screen printed on PEFC paper to promote sustainable management of forests. This type of wallpaper will benefit your home because it contains no toxins, creating a healthy and pleasant environment to live in. To decorate your children's bedroom walls use eco wall prints like this Little Acorns Height chart, which is printed onto 100% recycled card.
Paint
Allow your walls to breathe and absorb variations in humidity promoting a more comfortable and healthy living environment for you. Try the EarthBorn clay paints collection also from ecocentric.co.uk; these come in white or a selection of different colours and shades, and they are perfect for making special effects. EarthBorn paints openly list all their ingredients on their website to give you confidence in what you are buying. At valtti.co.uk there's a wide range of paint that's tested independently at the Finnish indoor air quality institute to ensure there aren't any solvents or other harmful chemicals found in conventional paints. Taika pearl paint can be used on interior walls or furniture for a fancy effect. Using eco-friendly paints in your home will ultimately reduce the risk and damage to your health and the environment.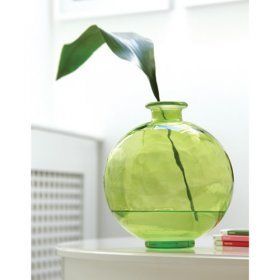 Flooring
We all like to enjoy comfort underfoot, and this doesn't have to be sacrificed for natural flooring. There are plenty of eco-friendly types of flooring to fit your needs, including bamboo, cork, recycled metal and glass tiles, linoleum, stone and sustainable and reclaimed wood.
Choose from a collection of natural fibre flooring which is sourced from around the world at alternativeflooring.com. This is available in a variety of interesting weaves that will create a natural textured feel to any interior. Bamboo is one of the world's most renewable energy resources which make it superb for hard wood flooring. Urbane Living's bamboo flooring is extremely durable and strong as well as stylish, and would look great it any modern interior.
Textiles
To go green with textiles, some of your options include organic cotton, wool and hemp, which can be found on Pickering International or from Hemp Fabric who both specialise in textiles made from sustainable and organic fibres. The benefits of using these organic fabrics in your home are that they can be luxurious and comfortable with long lasting softness. Luma offer luxurious and stylish organic cotton products from bed linen to cushions. I love the Sasha silk bedspread which is hand quilted by the fair trade craft group in pure silk and filled with kapok. The Tesserae tablecloth from The Tea Towel Company is made from 100% organic cotton, with an intricate design inspired by mosaics made from pottery or glass. This is perfect for bringing a fresh look to any kitchen or dining table.
Accessories
The beautifully handmade Mokimoe cushions from ecocentric.co.uk are available in pink, yellow and blue. They're hand printed with eco-friendly inks, made in the UK using organic cotton and hemp for the covers, and filled with organic wool balls. They would really bring a flourishing touch to any living area or bedroom. For a perfect collection of eco-friendly decorative accessories that you can sprinkle around your home try the Natural Collection. Bring the lovely smell of fresh flowers into your home with the Recycled glass green ball vase, or create a relaxing ambience in a room with a set of four, tall Fair Trade glass candle holders which look elegant when placed either together or dotted around a room. The set of three colourful Organic bamboo baskets are made from 100% organic bamboo, and can be used for various uses around your home to hold accessories, jewellery and even fruit.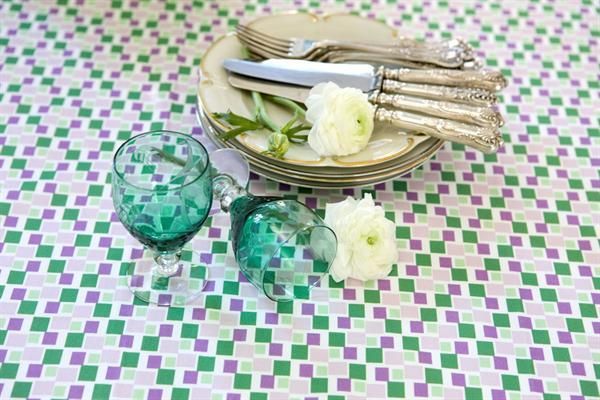 Furniture
Manufacturing and shipping furniture uses a lot of non-renewable resources and a lot of energy. You can reap the benefits from natural and handmade furniture for many years to come so it is definitely worthwhile paying a little extra. Lombok use reclaimed timber for their furniture wherever possible and use wood from approved plantations. The Keraton dark teak bedside table is handmade from reclaimed and sustainably sourced Indonesian teak; it has an alluring appearance that will make it a strong statement piece for your bedroom. The egw occasional table from SMC Furnishings is a unique modern piece which is simple but attractive because it displays the handcrafted natural beauty of the wood. Most furniture pieces from this company use wood that is reclaimed from building timbers or locally sourced trees. It isn't hard to find sustainable furniture in modern and stylish designs, and you may even find a bargain furniture piece in vintage or antique shops, or at a flea market.
With so many gorgeous eco-friendly products on offer to help you furnish your home, how can you resist indulging in the comfort of naturally soft furnishings or beautifully designed accessories? Go green and bring a hint of nature into your home.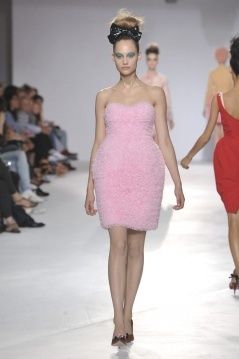 Soft pastel hues are on trend this summer to bring a pretty palette of colour to your home.
Sorbet shades will melt your heart this season with delectable pastel hues returning to the catwalks. With fashion influences filtering into interior design you have the opportunity to bring a soft and serene look into your home, with everything from fabrics and furniture, to wallpaper and lighting. Pastel shades are timeless because they are diverse and can be easily combined with bold patterns, colours or textures to bring an updated look to your home.
Duck egg blue in particular has become one of the most popular pastel tones used in interior design because of the innocent and delicate mood it creates. Bloom wallpaper from Graham and Brown combines pretty pink flowers with duck egg for a look which is inspired by beautiful vintage illustrations, absolutely perfect for a romantic bedroom. Pastel colours are an excellent choice for small bedrooms or bathrooms, or even narrow hallways, because their pale palette creates the illusion of space and will make a room feel airy and light. The tsuga wallcoverings collection from Designers Guild offers a wide choice of pastel colours such as patina blossom and patina aqua. These will create a tranquil atmosphere in any living or dining area. Alternatively, use paint in pastel shades to blend a theme together; you will find a variety of options from soft coral to spring blush at dulux.co.uk.
Avoid making your interior look too outdated by using a mismatch of pastel hues with floral patterns to bring a fresh and modern twist. Fabric is great for this effect; try the English rose oil tablecloth from The Contemporary Home to liven up your kitchen or dining room. The Everyday blue linen duvet cover from Feather and Black made from Egyptian cotton will give a fresh and clean look to any bedroom. Pastels work well in bedrooms to create a relaxing and calming mood, and this is why they are popular choice for decorating children's rooms in too. The Rosalina cushion from Laura Ashley also comes in a beautiful duck egg blue and the rose petal effect enhances this natural look and feel. The Victoria pastel cushion covers from Kaleidoscope are a perfect illustration of how mellow yellow can brighten up any white-washed room. Also, for those lovely summer evenings, try pastel coloured curtains let the sun shine into your room to give glowing warmth.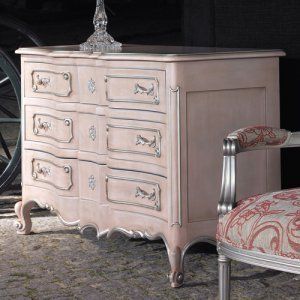 You can bring a nostalgic feel reminiscent of the Rococo period by combining powdered lilac and rose hues. The Champétre Chest 3 drawer from Flemington Design brings a 'pretty in pink' sense of feminine glamour to your bedroom with its powder pink lustre finish. Pastel colours bring a spacious feel to any room when used on walls and floors, but if you want to use pastels elsewhere try the Silk lampshades from Graham and Green. These will bring a sensual soft pastel glow to any bedroom or living area, and they come in three silky shades to compliment any decor. The white cherry blossom design enhances their natural finish and gives a modern touch to the style of your home. I love the Candy Flower rug from the Rug Company because its feminine florals and the beauty of its gorgeous pastel shades are perfect to bring summery warmth to your living area.
So sit back and relax; pour yourself a refreshing drink or devour a home-made ice cream in one of these popsicle pink Ice cream sundae bowls from Oliver Bonas. Amongst furnishings and accessories of the most calming and serene shades you will be all set for summer.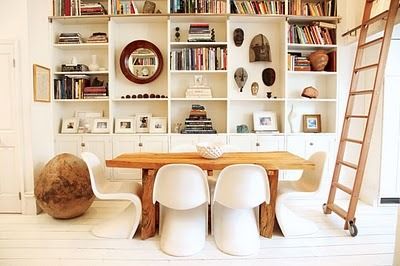 We've been trawling the internet again this week, netting a fine catch of interiors blogs to share with you.
First up, the brilliant, Brilliant Asylum, brought to you from someone, somewhere in Atlanta. That someone is female but, as far as I can tell, writes her well-informed posts anonymously. I really enjoyed this review of a new Barcelona hotel and whistle-stop tour of the architectural delights of the city. While it's interiors focussed, you can find all sorts on here, from art, architecture and design, to books, music and fashion. It's all written about with insider knowledge of the subject but in a really accessible way. Being slightly obsessed with the comings and goings of my own cat, I laughed at this post about hers.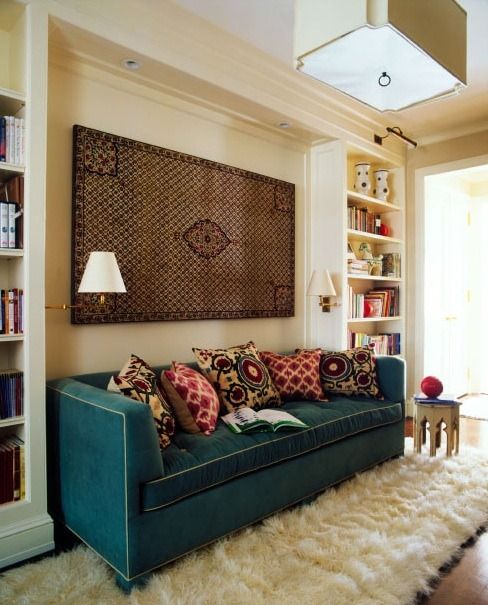 Next up Elements of Style, put together by fashion and interiors stylist Erin Gates. Anyone who gets to meet prince of pots Jonathan Adler must be doing something right. She forgot her camera and had to use a disposable one but you can see the photos here. And here's the write up, with a mini interview in which Adler confesses to idolising Paul Smith. I'm agog. I think I'd die of excitement if I saw them in the same room. Elsewhere, we get updates on Erin's design projects, home styling inspiration, fantastic interiors and great new home furnishings. A bit too much fashion (and specifically Sex & the City stuff) for my liking, but then she is a stylist, and they are nice clothes.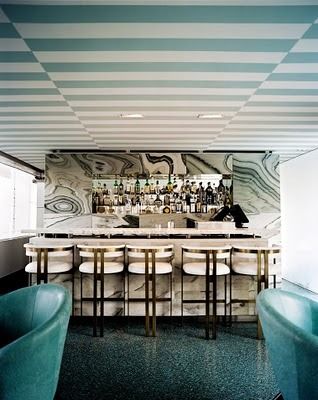 Although there's been a lull in posts from this next blog, MA Belle, it's still worth a look, if only for the totally fabulous photographs of interiors. A New York based blogger, Michelle Adams recently founded a new interiors and lifestyle magazine, Lonny, which is probably the reason behind the lull. And judging from the amazing photos, the new kid on the block looks like a great read. Michelle also runs textile design company Rubie Green, so you can hardly blame her for being a bit slack on the updates. And with all those projects on the go, there's sure to be interesting posts to come.
As always, get in touch if you write your own interiors blog and we'll flag it up next time.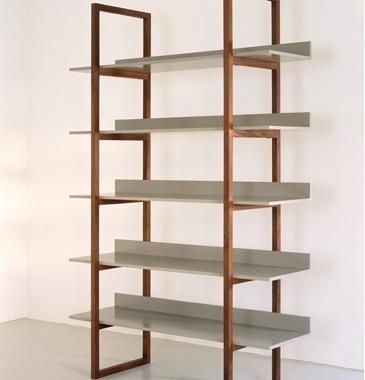 Display your sense of style with this spectacular shelving system from Benchmark, £1072
With its elegant open frame and light reflective lacquered shelves, the Singer from Benchmark offers a stylish alternative to bulky bookshelves. The sleek frames are beautifully crafted in rich cherry or walnut, with a choice of grey or white lacquered or contrasting oak shelves.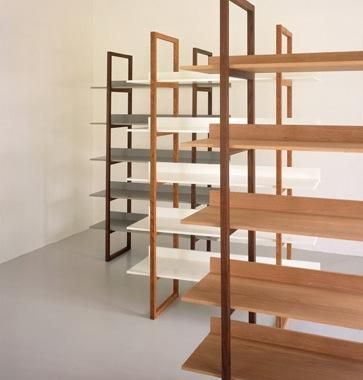 This is a great example of how good design, and simplicity, can enhance the way we live. Lightness and grace is combined with strength and rigidity. Placed against the wall it's slim and unobtrusively stylish; freestanding, it can be used as a room divider in a large open-plan space. It won't fight with your books or ornaments for attention, but will set them off with a simple backdrop. Perfect.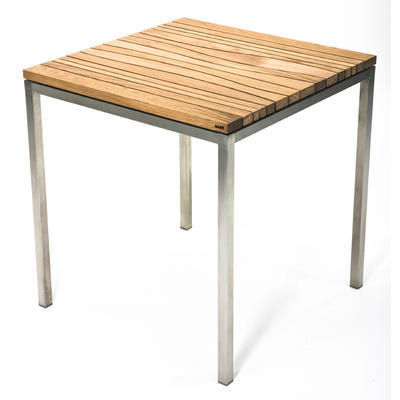 Make waves with this striking table from MARK product, £1575 - £1695
Kay + Stemmer's Wave table is a contemporary and super-stylish way to channel the trend for naturals. The slatted tops mimic and exaggerate the striation of wood grain, complementing enhancing the natural graining of the wood itself. Available from MARK product in a choice of iroko or oak tops, with a matching timber, stainless steel or galvanised steel frame, the wave feature looks spectacular in series.
Kay + Stemmer's meticulous craftsmanship and use of quality materials mean the Wave table is built to last. Tactile and visually stunning, the wood will improve with age, and it's a classic piece that'll never go out of style. Designed for the garden - a fresh take on the familiar slatted picnic table - it'd work equally well indoors.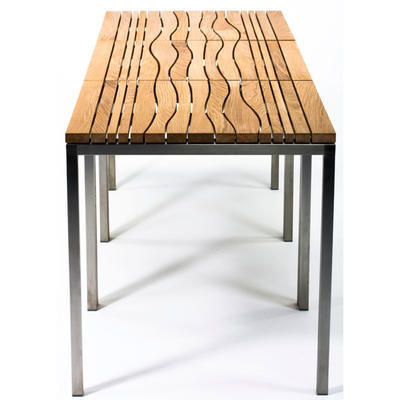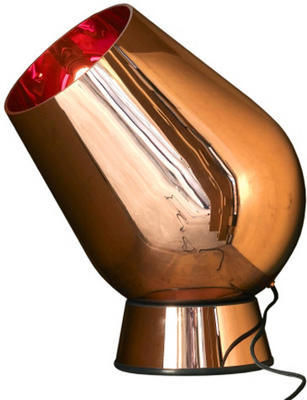 Send out a search party for this fabulously fat spotlight by Tom Dixon from Utility, £250
Bulbous and beautiful, this Fat Spot floor lamp by Tom Dixon is spectacularly stylish. In lustrous copper, the lamp emits either a gentle glow or a broad directional beam. Swivelling on its base, the fat bottom is 30cm in diameter, tapering upwards to 17cm. With a personality all of its own, this corpulent fellow makes a confident, high-style statement.
Perfect for a home office or living room, the reflective copper surface has an odd way of fitting in with almost any decorative scheme. The sculptural form and luminous surface give the Fat Spot a glamorously elegant feel. Gleaming and glinting in the corner of a room, it subtly seduces the senses.

Comfort comes in all shapes and sizes so read our buyers guide to find the right sofa for you.
Your sofa will be one of the biggest investments you make for your home, but there's no need to worry because there's a wide variety of versatile designs to accommodate your needs. You don't have to sacrifice style to find something that's both comfortable and cosy. Whatever design you choose it can enhance your space whether it's a versatile modular sofa or a simple yet idyllic loveseat. This guide aims to help you make the right choices for your room as well as for your own personal comfort.
Large sofas
If you have a spacious living space then you have the perfect opportunity to indulge in a large sofa. Measuring your space is a good idea before you buy, and make sure that your sofa isn't going to dwarf your other furnishings. Large sofas are great as corner units, for example The Flexform from the Long Island Corner Sofa Group. This has removable upholstery in either fabric or leather, which makes it easier to clean and more durable. The Ligne Roset Togo is an iconic design made from foam to provide a classic, cosy look and feel.
Pros: Good for families and they work well as a feature piece in a larger living area.
Cons: Difficult to move around and can take up a lot of space.
Small sofas
Small sofas will accommodate 2 people; and if you want to give your room a more spacious feel then consider a sofa that has narrower arms. The Heal's House sofa range includes sofas with a slim arm profile and natural oak feet to give an understated elegance. For the cosiest of seats try a loveseat or 'snuggler' which is slightly smaller than a two seater sofa. For a wide selection try loveseats.co.uk, or the Loveseat or Showtime Poltrona Sofa from Leigh Harmer. This design of sofa is perfect for awkward corners and has an aesthetically pleasing shape.
Pros: They can make you room feel more spacious and they are ideal for a couple wanting to snuggle up in front of the TV.
Cons: Less seating space if you have guests; not ideal for lying down on.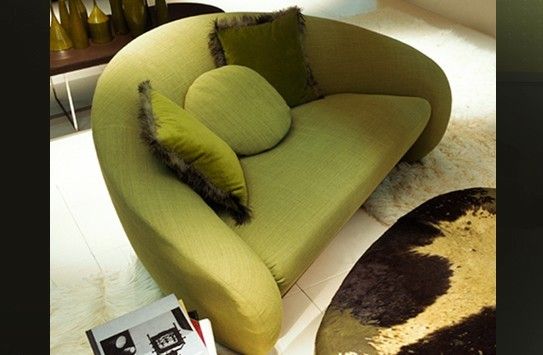 Sofa beds
Sofa beds are great for lounges, spare rooms or bedrooms, and they're superb space savers. For a fabulous variety, Go Modern supply sofa beds suitable for children's bedrooms, like the playful Fata sofa bed, or sophisticated styles like the Fusion Glam sofa bed for a glamorous living room. These foam beds are suitable for occasional use, and prove that style and comfort don't need to be sacrificed for convenience and practicality. The Milano bedding collection from Bonbon Trading is great for sofas that are simply transformed into beds without any fuss.
Pros: Ideal for convenience; comfortable for either sitting or sleeping. They are functional and great space-savers.
Cons: Depending on how much you spend, they can be quite heavy and some with hard metal bases can be uncomfortable.
Fabric sofas
Choose fabric that will suit your lifestyle; textured fabric can give a warmer feel and can be more practical because it will show less wear than smooth fabric in the long term. Popular textured fabrics include chenille, velvet, micro-fibre and boucle. The Manhattan sofa from Black Orchid Interiors is upholstered in sumptuous black velvet and features contrasting black faux suede seat cushions. Choose the colour of your sofa carefully; neutral or pastel shades are a good choice. If you go for pattern, make sure you'll love it in the long term, because styles of pattern can go out of date quickly. With a plainer sofa you can easily update the look and use bolder colour with decorative cushions and throws.
Pros: There are a wide range of colours available, and they have washable covers which makes them are a great choice for a family with young children and pets.
Cons: Stains will show up on plain fabrics.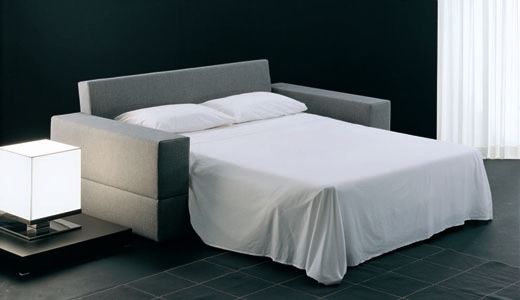 Leather sofas
Leather sofas are available in traditional or contemporary designs, and they have become an increasingly popular choice because they age well and they are easier to clean than fabric. If you have light coloured walls then darker leather, like the Lola three seat sofa from sofa.com, will make a statement, as brighter walls can often overpower furniture. Denelli Living also offers a collection of contemporary leather sofas in different styles and colours. Brown or light coloured leather will suit most rooms, and you can introduce colour with a scattering of cushions.
Pros: It is easy to clean, and although it can be expensive it is very durable. Leather is soft and it will keep you warm in the winter and cool in summer.
Cons: It needs to be treated, and they aren't ideal for families with children or pets.
Modular sofas
This type of furniture is fashionable and impressive in large rooms. You can effectively choose your sofa to be tailor-made for your own living area, but you do need a big space to accommodate them. For a grand selection of modular furniture, Utility supply sophisticated styles that can be combined in different ways to furnish your room. Our practical advice would be to try before you buy because although modern low back styles look nice they may not provide you with the best back support. The B&B Italia Andy Sofa is designed to meet a host of comfort and posture requirements with a range of features that allow you to turn this sofa into an adaptable chaise longue or even a bed. Ligne Roset's collection of upholstery includes modular designs from established and emerging designers, giving you a stylish and modern look combined with the luxurious comfort of a large sofa.
Pros: Flexible and multi-functional because it can be used in large or smaller configurations.
Cons: You need a large space to fit it in and they can cost a lot.
With such a wide range on the market, you are literally spoilt for choice when it comes to finding the perfect sofa for your home. From modular sofas to loveseats, leather to fabric there really are so many options to suit your style, and ultimately to enhance your way of living in the most comforting way possible.
Fresh from exhibiting her work at this year's Grand Designs Live Exhibition, I interviewed aspiring designer Sharyn Dunn to find out more about her 3-D designs.
If three-dimensional designs attract your attention, and you are interested in designs that will bring a dynamic visual experience to your interior then you will love Sharyn Dunn's work. I first saw Sharyn's work at this year's Grand Designs live exhibition and I was immediately intrigued to find out more. Sharyn is a new designer with a passion for 3-D design. So far, she has created a selection of wall sculptures, chandeliers, and free standing pieces. Her designs are created from a synthetic form of parchment which is chlorine free and also recyclable. With such interesting and unique work, I interviewed Sharyn to find out where she gets her inspiration from, and what direction she hopes to take her designs in in the future.
When and how did you first start experimenting and creating designs with paper/parchment?
I first started experimenting with shapes, repetition and folding during the first year of my degree and found I couldn't design anything flat, it had to be 3D.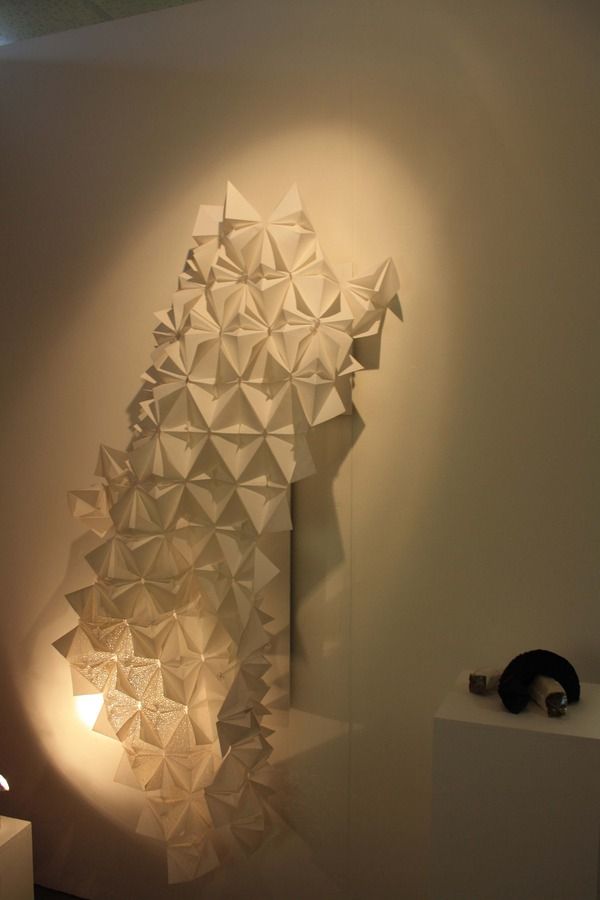 Have you been inspired by any other designers/designs?
My inspirations come from a combination of the natural organic shapes we find in nature such as shown in the works of Ernst Haeckel natural forms, his illustrations of the natural world I find fascinating, with their repetitions and some geometric forms. The modern day designers and architects such as Zaha Hadid, Frank Gehry, Tord Boontje and Shiguro Ban have also formed part of my research.
How environmentally friendly are your designs?
All of my paper works are currently made from wood-free pulp papers which are ph neutral and chlorine free and are a modern day form of parchment.
What is the first design you made and how have you progressed from that?
I discovered the shape I currently use by chance as part of an exercise in taking a shape e.g. a star and then by folding, twisting, rotating, stacking, bending etc, any way I could to move it from a flat piece of paper. The first thing I made was an etched metal and paper book, which I chose to display using lighting to accentuate the folds and detail. This led me on to folding a little more and altering the shape slightly, resulting in a range of flat pack lighting.
From there I moved onto my larger paper sculptural pieces I currently make. By introducing various 'piercing' and 'embossing' into the designs, this allows the light to shine through adding more interest to the geometric shapes.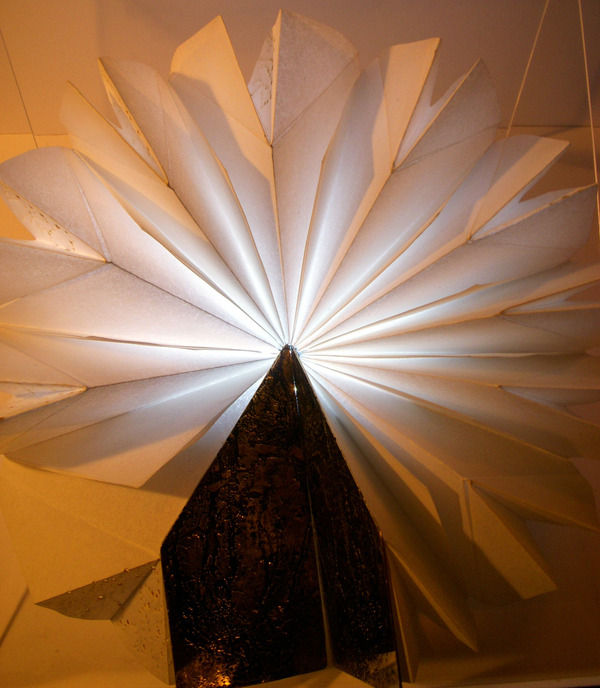 Where can your designs be used in the home?
My current work ranges from a chandelier to various sized wall pieces and free standing sculptures. I take commissions for any required size or area in the home and they can also be used in a commercial environment.
What type of visual experience do you hope to achieve with your designs?
When the viewer moves around the work the visual experience is one of dynamic shapes and angles, highlighted by tailored lighting, which encourages you to look further. Coupled with the quality of light used, and the effect it gives, I hope the viewer is generally intrigued by what they see, is it paper? fabric? holes? shadows? Just inviting them to look a little more.
What direction do you hope to take your designs in, in the future? Do you want to experiment with other materials?
What do I hope for the future? I'm hoping my designs will get larger, they need more space! I can attach and wrap them to or around virtually anything such as around a doorway, over a table or down a table leg for example. I currently use a heavy parchment, but I'm moving into other materials now with a paper-like appearance and also stainless steel is on the horizon.
For more information about the designs you can email Sharyn at sd-psdblue@hotmail.co.uk.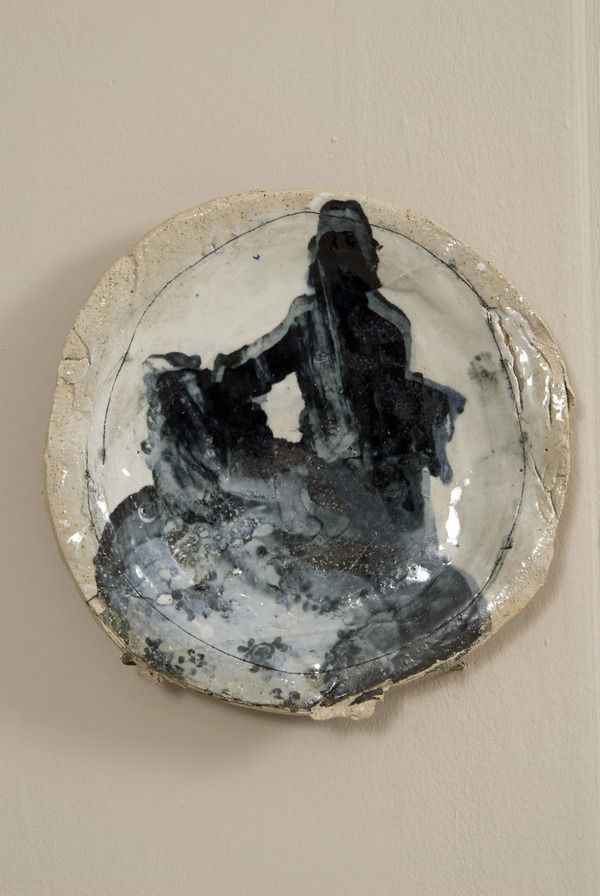 An inspiring sunny afternoon at the RCA graduate SHOW
I managed to sneak out yesterday to visit part one of the Royal College of Art end of year SHOW, including ceramics, metalwork and glass. And I'm mightily glad I made it, because not only did I spy (and not so inconspicuously point out) the subject of my long-held style crush, Sir Paul Smith; but I discovered some fabulously beautiful objects and inspiring makers. The whole afternoon made me want to get my hands on some clay and throw it and thump it about, but having neither the means nor the skill, I went to the pub to cool down and collect myself.
In the ceramics section references to the 18th century abounded, which, being the flamboyant glory years of porcelain production, isn't really surprising but underpinned some innovative and highly original outcomes. Sun Ae Kim's playful monochrome dinner service alludes to 18th century porcelain figurines used as talking points at the dinner table, reworking them into 21st century narratives of seduction and satire. Images manipulated from ceramic pattern books of past centuries are combined with saucy hidden surprises on the underside of plates and bowls. Amy Hughes' gloriously tactile vases hark back to urns produced by the Royal Sèvres Porcelain factory, but allow the clay of which they're made to break free from the constraints of their refined predecessors. The textured body speaks of the hands that shaped it and the unrefined surface richness of the clay itself, a celebration of material qualities and craft that retains the decadence of the original.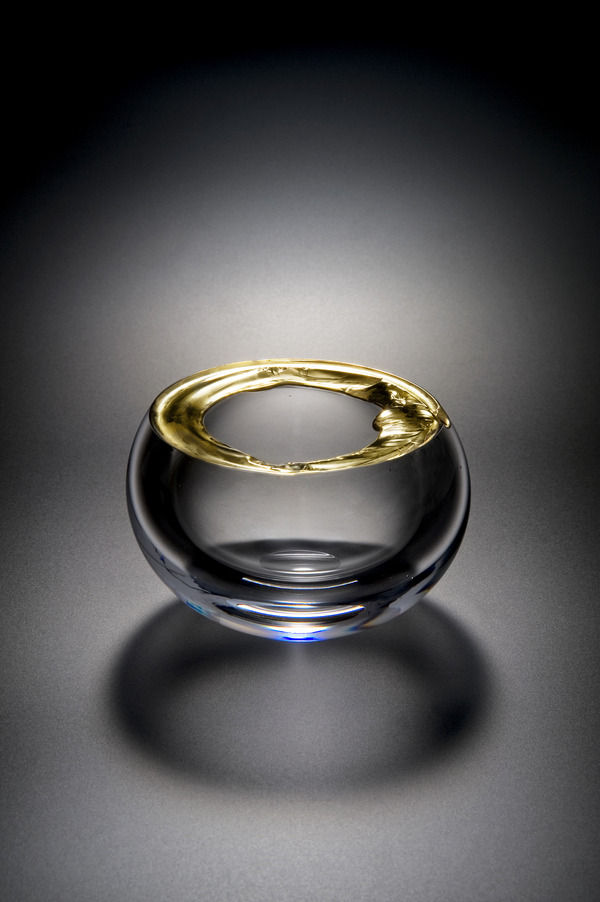 In a similar way, Hanne Mannheimer's beguiling series of plates, 'Memory of a Figurine', combines the roughnesses and unrefined qualities of clay with refined decorative details of silkscreen-printed 18th century figures; detailing which reduces in sharpness as the 'memory' fades. This concept of unfinished and unrefined edges was another trope running though both ceramics and glass. Hanne Enemark's 'Cracked Rim' series of fabulously heavy blown-glass bowls has to be my favourite of the glass students' work. The uneven rims have a deliciously thick coating of gold, which looks like it might begin to drip into the clear glass bowls. In metalwork, I loved Victoria Delany's, Brio-inspired, 'Candlestack'. With a solid-silver top and base, you get a pack of lovely colourful wooden beads in different shapes and sizes that you can slot on in any configuration, creating your own bespoke candleholder.
Elsewhere there were some fascinating experiments in digital design. Kathryn Hilton, on hand for a demonstration, uses a digital hammer and three-dimensional wax printing to create moulds for her beautiful multi-faceted, geometric silver bowls. And Zach Eastwood-Bloom's work explores the interaction of the digital and the material worlds with truly stunning results. His wonderfully absurd coffee table in Beech wood, 'Information Ate my Table', describes a process by which the real and the virtual might collide, applying digital, binary information to a tangible, natural material. And my favourite piece of the whole exhibition, Zach's '21st Century Landscape Tryptich' was shown to full effect in yesterday's sunshine, as the shadows on the faceted, highly textural surface changed throughout the afternoon. In white resin, it made a fabulous contrast hung against the geometric grey-black bricks of the courtyard wall.
All in all it was an utterly inspiring afternoon out. I only wish I could have persuaded Sir Paul to join me in the pub...
From the catwalk to your home, try decorating in block colour to bring a fresh and vibrant look.
With block colour making a statement on the catwalk this season, designers have taken inspiration and brought a mix of bold and daring colours to the forefront of interior style. Not only can you now dress and feel confident, but you can bring a strong, sophisticated look to your home without the fuss of busy patterns or prints.
When it comes to blocking, normal colour rules don't apply so there's no need to be cautious with clashing colours. This season the colours on trend include oranges, red and hot pinks, bringing a lively and warm feel to your home.
Add confident colour blocks to inspire different moods or themes in the room you are decorating. The bright, tangerine orange Moroccan leather pouffe is one of a range of vibrant colours available from Rockett St George, and its leather exterior will add texture and comfort to your living area. The bold orange and red coloured Bute Tiree wool fabric offset the curvaceous shape of the 2010 Flow Sofa by Kay and Stemmer from Heal's, making it feel like a warm and welcoming place to snuggle up on. Modular furniture like the Patchwork sofa collection by Pascal Mourgue for Ligne Roset helps build up layers of colour in your living room with its aubergine and raspberry tones.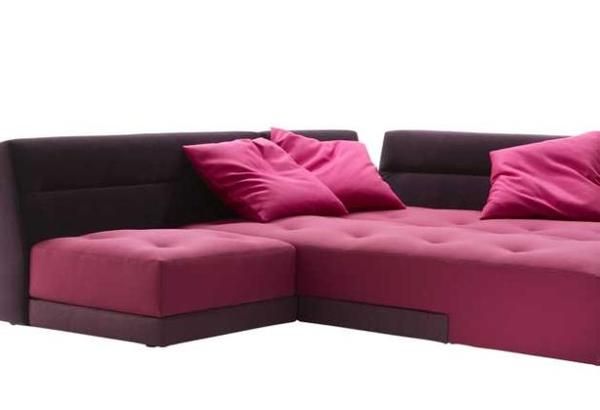 There are a variety of ways in which you can use colour blocking on your walls, for example choose from stripes, squares, rectangles, or circles to highlight a feature wall or to simply dress an empty wall. Graham and Brown's rich plain Evita wallpaper will liven up and dramatise a bedroom, and can be effectively contrasted with the fabric on your cushions and blinds, or rugs and throws. Experiment with pinks and purples against a vibrant lime green like this Vermont Roman blind from Tuiss for an exotic warmth of colour. Break up colour blocks with cream, black or grey, for example use a couple of Black Montague Silk Cushions from Heal's to give a mysterious look and contrast to your colour scheme.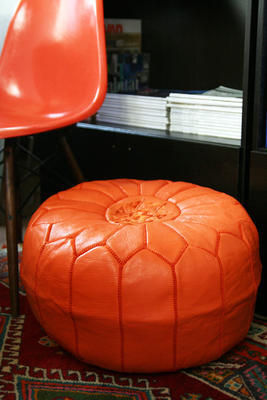 Rothko famously experimented with block colour on canvas to give the viewer an intense experience of colour and emotion. For a colour blocking effect that can be easily removed use wall art, canvases or prints like this orange and yellow Rothko print from art.co.uk. Also, the calming and serene tones in this Striped blanket from Designers Guild, can be matched with the Cietti aqua cushion to bring unity and a contemporary feel.
Whether you want to update your style or introduce a new theme use colour with style and confidence to get the best from your interior.