Features: Bathroom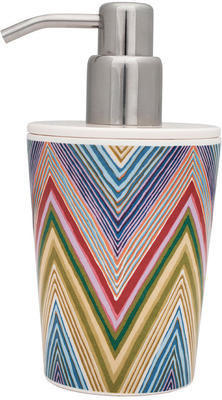 Add some pattern and colour with this Scion Zig Zag Soap Dispenser, £13.
I'm always looking for ways to brighten up my fairly dull bathroom, whether by adding colourful patterned towels or using wall stickers to jazz up the walls.
If you're looking for a quick and easy solution, then this Scion Zig Zag Soap Dispenser by Amara Living is ideal.
Bright, bold and definitely beautiful, it will add colour and pattern to your basin in a flash, and mean you don't have to worry about unsightly hand wash dispensers.
Also available in the range is a bath mat, tumbler, soap dish and toilet brush which look great teamed with a chic white bathroom.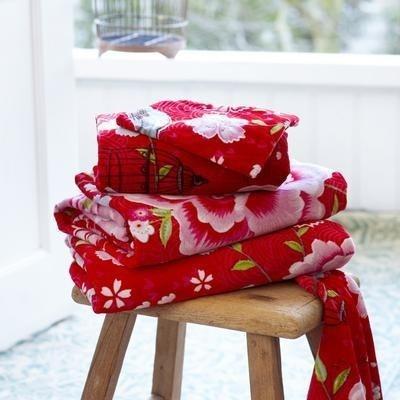 Add a riot of pattern and colour with these Pip Studio Red Birds in Paradise Towels, from £3.50.
New towels offer the perfect way to makeover a bathroom with minimum fuss.
With a great selection of gorgeous towels to choose from in a wide range of shades and patterns, I was hard pushed to choose my favourite.
But choose I did and I even surprised myself. Not usually one to favour pattern and colour (I'm a neutral kinda gal), I have fallen for these Pip Studio Red Birds in Paradise Towels by Amara Living.
A modern take on classic chinoiserie, these sumptuous towels are great for brightening up a neutral bathroom and are sure to impress your guests.
Add colour to your bathroom with these Designers Guild Battista Pistachio Towels from Occa Home, £6 - £45.
I recently replaced my bath towels after years of promising myself I'd do just that and am really pleased with my purchase. Adding new towels is a great way to change the look of your bathroom both quickly and relatively affordably.
If you're looking to add a colourful touch to your bathroom then look no further than these Designers Guild Battista Pistachio Towels from Occa Home.
Combining black with fabulous bright peony and pistachio, they will liven up your bathroom even on dark autumn mornings.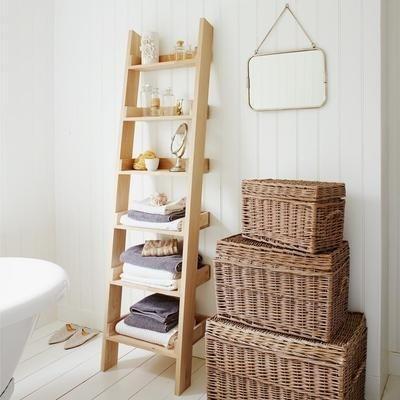 Keep everything neat and tidy with this Oak Shelf Ladder from Graham & Green, £265.
I've always loved a shelf ladder, and this Oak Shelf Ladder from Graham & Green is just the ticket and the perfect addition to both contemporary and classic homes.
An essential for those with little space, the super clever yet very simple design means it takes up very little floor space but provides more than ample storage.
Perfect for every room in the home, from the bathroom to the living room, I'm going to use mine in the kitchen to house everything from storage canisters and baking paraphernalia to my ever-growing collection of recipe books.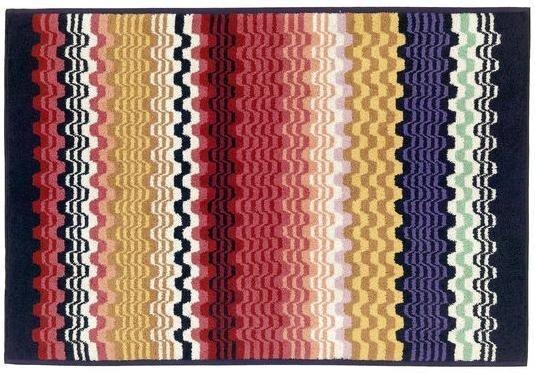 Give your bathroom a facelift with this Missoni Home Lara Towel 2 Piece Set from Amara Living, £60.
Renovating your bathroom can be an expensive business, but if all your bathroom needs is a little loving care, then a set of smart accessories can work wonders.
Towels are a great and inexpensive way to refresh your bathroom so, if yours have seen better days, it might be time to think about replacing them.
We love this Missoni Home Lara Towel 2 Piece Set from Amara Living which features the Italian fashion house's trademark zigzags and will give your bathroom a designer feel without breaking the bank.
This set includes a hand towel and bath towel, and there's a matching bath mat available too which is great for a cohesive and super stylish look.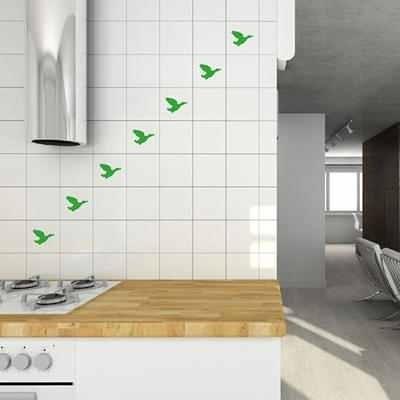 Give your tiles a fresh look with these Flying Duck Tile Stickers from Spin Collective, £20.
Replacing bathroom and kitchen tiles can be expensive and, let's face it, a bit of a faff.
If your tiles have seen better days, those clever folks at Spin Collective have come up with a genius way of giving them a new look with minimum fuss with these Flying Duck Tile Stickers.
Easy to apply and, most importantly, easy to remove, they are suitable for use in both the kitchen and bathroom.
And if these Hilda Ogden-esque flying duck motifs aren't for you, you'll be happy to hear that Spin Collective's tile stickers are available in six other designs including stars, whales and pretty pink butterflies.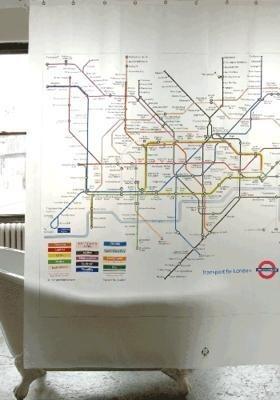 Plan your commute while taking a shower with this London Underground Shower Curtain from Bodie and Fou, £45.
For most people (well, most London dwellers), the London Underground is a daily headache of delays and cancellations.
But, as one of the capital's best known institutions, the Tube has long been an inspiration for interiors, from reproduction moquette cushions to vintage travel posters.
I love this London Underground Shower Curtain from Bodie and Fou which features a map of all the Tube lines.
Perfect for adding some colour and interest to a plain bathroom, this shower curtain offers the ideal way to plan your journey before even leaving the house!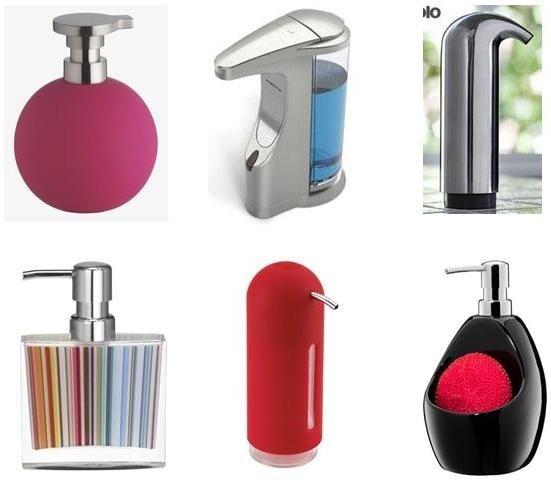 Keep your bathroom spick, span and stylish with our pick of the best soap dispensers.
When we decorate our bathrooms, soap dispensers are not typically the first thing we think of buying, tending to be a bit of an afterthought.
But there is a huge range of stylish soap dispensers available, from the funky bright pink Round soap dispenser from Habitat sure to add fun and colour to your bathroom, to the Simplehuman Sensor Soap Dispenser from Heal's, ideal for keeping your bathroom tidy and drip-free.
Clockwise from top left: Round soap dispenser from Habitat, £12; Simplehuman Sensor Soap Dispenser Brushed Nickel from Heal's, £41; Eva Solo Soap Dispenser from Red Candy, £63; Umbra Joey Soap Pump and Scrubby Holder from John Lewis, £15; Umbra Penguin Soap Dispenser from Red Candy, £15.90; John Lewis Stardust Soap Pump from John Lewis, £12.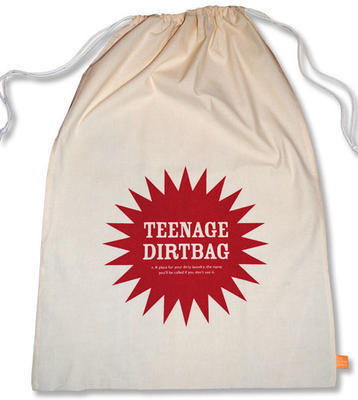 Keep dirty apparel in its place with the Teenage Dirtbag from Hunkydory Home, £10.
As regular readers will know, I'm Mum to a 5 year old boy and getting him to keep his bedroom tidy is an uphill battle.
One of the things I'm always having to remind him is to put his dirty washing in the laundry basket and I really hope he gets it sorted before he's too much older.
But if he doesn't, then this Teenage Dirtbag laundry bag may be just the thing!

Add fun to your bathroom storage with the Kong Box Bathroom Cabinet from Heal's, £175.
A family bathroom or kids' ensuite is the ideal place to introduce a touch of humour to your home, and the Kong Box Bathroom Cabinet does it in spades.
With its fabulous skyscraper design and King Kong magnets for attaching messages or playing with, toothbrush time is no longer a chore.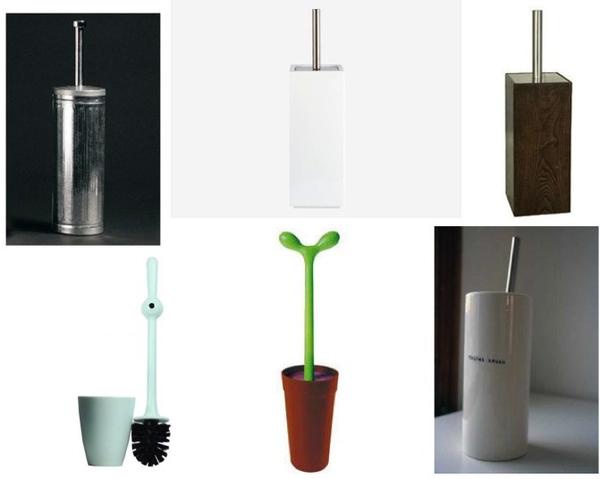 Make this unsavory toilet accessory a little more stylish with our pick of toilet brush holders.
Possibly the most undesirable bathroom accessory, the toilet brush is certainly a product for function rather than décor. But that doesn't mean it has been be a 'bog' standard brush!
The Mezza Dark Oak Toilet Brush from Heal's would look stylish and neat next to any toilet with a fabulous wood design. While the Seletti Bath & Co Toilet Brush from Rockett St George will compliment any chrome bathroom finishes with its urban touch.
(Clockwise from top) Seletti Bath & Co Toilet Brush from Rockett St George, £21.99, Tall Toilet Brush from Habitat, £14, The Mezza Dark Oak Toilet Brush from Heal's, £36.40, Ceramic Toilet Brush from Rockett St George, £24.99, Alessi Merdolino Toilet Brush from Heal's, £31, Toq Free Standing Toilet Brush by Koziol from Pelican Pear, £27.
Feel inspired this season with some simple, stylish ideas to freshen up your bathroom
If you're looking for a painless, stress- free way to update your bathroom, then look no further as we've got everything to give your bathroom a new look.
From the super stylish Stardust Soap Pump from John Lewis and this colourful Place Red Bath Mat from Red Candy to these gorgeous Amy Butler Bucharest Jacquard Towels your bathroom is guaranteed to feel stylishly replenished in an instant!
Samuel Heath Xenon 360 Mirror Cabinet, £365, from Heal's, Stardust Soap Pump, £10, from John Lewis, Eva Solo Toothbrush Holder, £69, from A White Room, Place Red Bath Mat, £23.40, from Red Candy, Planar Frosted Glass Bathroom Ceiling Light, £90, from Heal's, Amy Butler Bucharest Jacquard Bath Linen, from £5, from Heal's.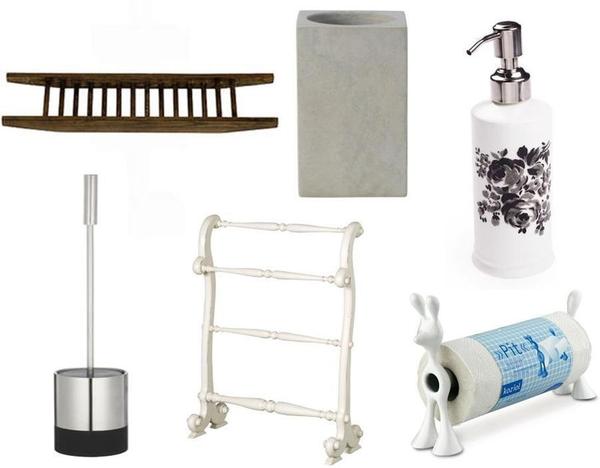 Scrub up in style with our pick of the best bathroom accessories around.
There's nothing better than having a soak in the bath after a long day of grafting. So why not make your bathroom a clutter free and tranquil place to reflect, with some of Furnish's fabulous bathroom accessories.
From modest toothbrush holders, such as the Sienna Sandstone toothbrush holder from Occa Home, to pretty soap dispensers such as the Lisa Stickley ceramic soap dispenser from Bloomsbury, there's a huge array of accessories to choose from.
So whatever you choose, you're sure to make your bathroom mornings a little less chaotic and evenings a little more calming.
(Clockwise from top) Dark oak bath bridge, from Heal's £45, Sienna Sandstone toothbrush holder, from Occa Home £19, Lisa Stickley ceramic soap dispenser – Hankie Flower, from Bloomsbury £19.95, Koziol paper towel stand, from Gifts With Style £27.95, Chateau towel rail, from The Orchard £69.50, John Lewis black mirrored toilet brush and holder, from John Lewis £25.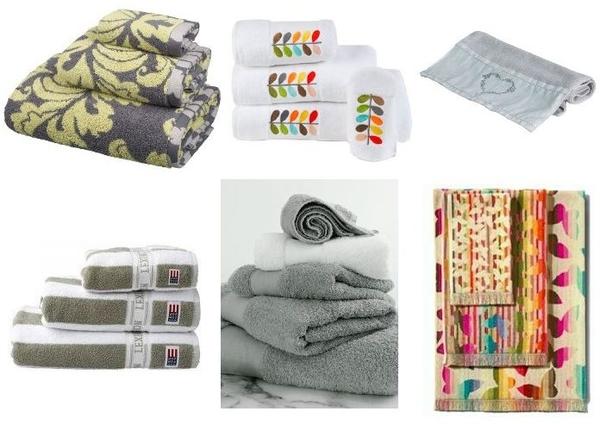 Make a style statement in your bathroom with our gorgeous selection of bathroom towels
No room is truly complete without its finishing touches and bathrooms shouldn't be an exception. So make sure you splash out and indulge in our fabulous range of towels to complete the look of your bathroom. Whether your style is fun and colourful, scrumptiously ornate or clean and crisp, we guarantee there are towels to suit all!
If your really looking to make that style statement then why not go for something bold and brightly patterned such as the Missoni Josephine Towel from Heal's. We guarantee it will brighten up even the dullest of towel rails!
(Clockwise from left) John Lewis Monaco Damask Towels Lime/Steel, from £3, from John Lewis, Orla Kiely Multi Stem Embroidered Towel & Mitt Range, £6-£35, from Heal's, Sweetheart Hand Towel, £15, from Sweetpea and Willow, Lexington New Authentic Towel Olive, £13, from Occa Home, Classic Bath Towel White, £24, from Brissi, Missoni Josephine Towels, £13-£22, from Heal's.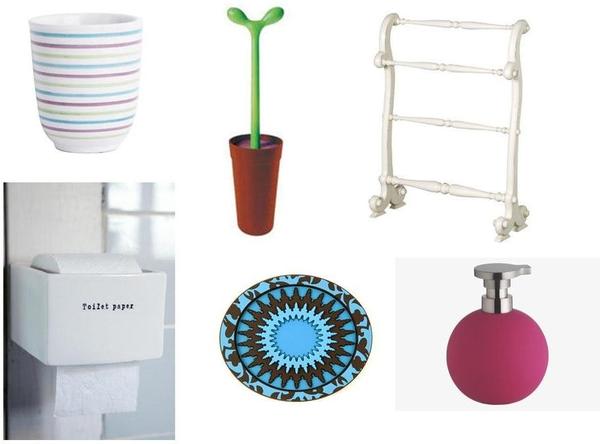 Create a sanctuary to be proud of with our pick of useful bathroom accessories.
A bathroom should be a haven of everything cleansing and relaxing but it also needs essential furnishings to aid you when you're indulging in your daily beauty regime. From soap dishes to loo roll holders, we've put together the essential bathroom kit to add a bit of style to your bathroom, whether it's big or small.
No bathroom can be without a toothbrush holder, so why not make it a stylish one such as the classic, ceramic toothbrush tumbler with blue stripes from Bombay Duck. Or why not make the undignified toilet brush look a little less sordid in its duty, with the plant-like, Alessi Merdolino toilet brush from Heal's.
Whatever bathroom piece takes your fancy, you'll be sure to rub-a-dub in style with this selection of bathroom goodies.
(Clockwise from top) Ceramic toothbrush tumbler blue stripes, from Bombay Duck £9.50, Alessi Merdolino toilet brush, from Heal's £31, Chateau towel rail, from The Orchard £69.50, LIMA round soap dispenser, from Habitat £12, Mosaic blue soap dish, from Lemonlu London £9.95, Ceramic toilet paper holder, from Rockett St George £19.95.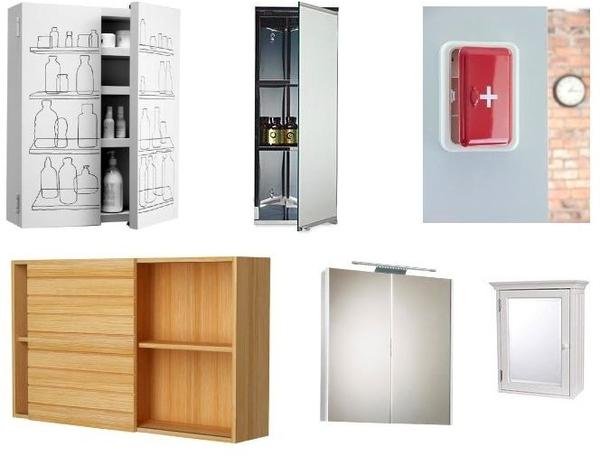 Say no to a cluttered bathroom by keeping your toiletries at bay with a neat and stylish bathroom cabinet
Sometimes it can be hard finding an easy way to store all your knick knacks floating about the bathroom I, myself can very much vouch for this. So the simple solution? Choosing a neat and bang on trend cabinet. In an array of sizes and styles, there's something to suit everyone.
To ensure maximum space, opt for something sleek and compact for that neat and seamless look. This will help to keep your bathroom light and fresh all year round.
(Clockwise from left) Inside-out Bathroom Cabinet, £375, from Lifestyle Bazaar, Chrome Dardo Corner Bathroom Cabinet, £176, from Heal's, Retro Medicine Cabinet, £35, from Rose & Grey, Arden Double Bathroom Cabinet, £119, from John Lewis, Pinnacle Double Door Bathroom Cabinet, £399, from John Lewis, Brighton Mirror Cabinet, £135, from The White Company.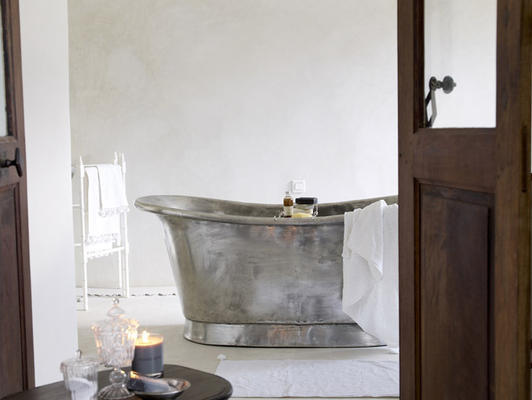 Bathe in luxury with this Free Standing Bath from Brissi. £3,950
Personally, I'm more of a shower kinda gal – I like the idea of baths and all but become bored after about five minutes and find that the water always goes cold quickly.
Of course, showering is more environmentally friendly too but if you refuse to give up your baths then I have found something that will make them all the more luxurious.
Made from copper and finished in tin, this Free Standing Bath from Brissi is a modern interpretation of French bateau baths.
Elegant, sophisticated and show stopping, this bath is a must if you want to create a truly decadent bathroom.
And even I, a resolute quick shower girl could be persuaded to change my habits with one of these.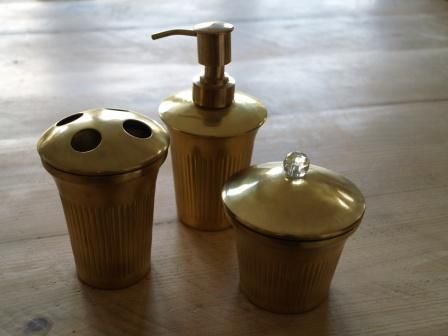 Give your bathroom the Midas touch with these gold bathroom accessories from Be Golden. From 11.50
While I like the majority of my accessories plain and simple, even I can't resist a bit of bling now and again.
Which is why I was rather pleased to stumble across Be Golden. As the name suggests, this treasure trove of a site is the home to all things that have been given the Midas touch. From cushions and cake stands to Seletti's kitsch gnome, everything has been covered in a sprinkling of the most precious metal in the world, of course not the real stuff but you get my drift.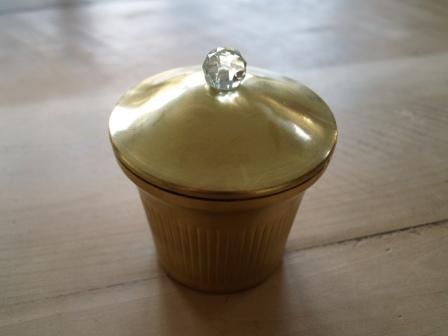 What really caught my eye were these vintage-style bathroom accessories. Made from brushed steel, the collection consists of toothbrush holder, cotton wall dish and soap dispenser. Perfect for adding a hint of glamour to your bathroom, the collection will work well whatever your style.
See this product at Be Golden...
(We don't sell this product yet but sign up to our newsletter and we'll let you know if/when we do)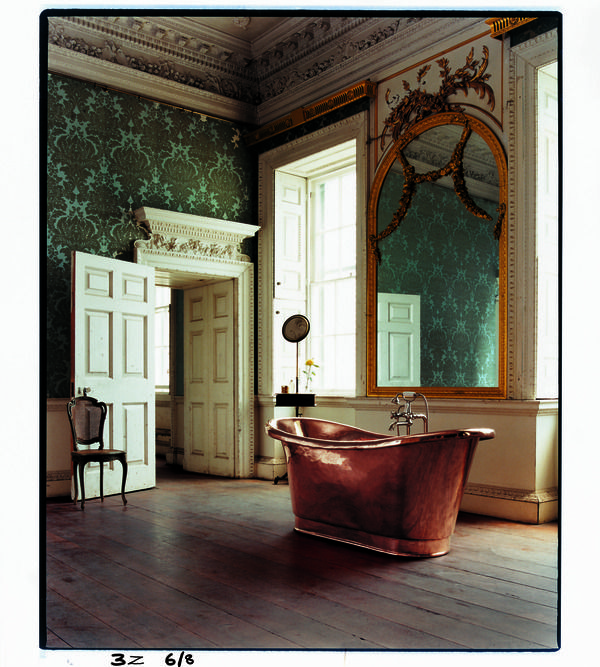 A Spa-inspired bathroom is the perfect retreat after a busy day, a restorative haven of tranquillity and calm. Shut the door, sink into a luxurious roll top bath and feel the stresses of the day drift away.
A Spa-inspired bathroom is the perfect retreat after a busy day, a restorative haven of tranquillity and calm. Shut the door, sink into a luxurious roll top bath and feel the stresses of the day drift away. Stand under an invigorating shower and emerge refreshed, with soft towels warming on a heated rail. A daily source of pleasure creating a sense of wellbeing, a luxurious bathroom is a worthwhile indulgence.
Bathroom Furniture
Nothing says luxury more than a glorious freestanding bathtub. A grand centrepiece for the bathroom, a freestanding tub offers total relaxation and indulgence. The Water Monopoly, Chadder & Co. and Drummonds all have fabulous ranges, including double-ended slipper baths, copper, stone, and traditional cast iron roll tops. If space is an issue, take a look at The Albion Bath Company's diminutive 'Tubby Tub', a generously deep, capacious roll top bath only 4ft in length. Bathrooms International has an extensive range of space saving inset baths as well as invigorating whirlpool systems.
When it comes to blissful showers, Hansgrohe has mastered the art. Experience the restorative power of the Raindance overhead showers, with air infusers for a voluminous spray of water, and spray modes ranging from massage jets to the gentle patter of soft rain. And at nearly a metre square, with three different spray zones, the Shower Heaven ceiling plate indulges the senses with a totally luxurious drenching. For something a little more traditional try the fabulous freestanding Spittle shower at Drummonds or the Needleshower at Water Monopoly.
For beautiful basins and vanity units Chadder & Co., Drummonds and Water Monopoly specialise in elegant classic designs. A vanity unit with a double sink will give your bathroom an opulent feel. The Deco double basin at Water Monopoly and the Double Marble vanity suite at Drummonds are both stunning. If you're going for a contemporary look, West One Bathrooms and Bathrooms International have a great choice of styles and materials, including stone, glass and metal.
Storage is important if you want your bathroom to be a tranquil and relaxing space. Fired Earth, CP Hart and West One Bathrooms all have great bathroom storage ranges. Bard & Brazier specialise in towel rails of excellent quality in modern and traditional designs. A heated towel rail is a luxurious treat, perfect after a long soak in the bath.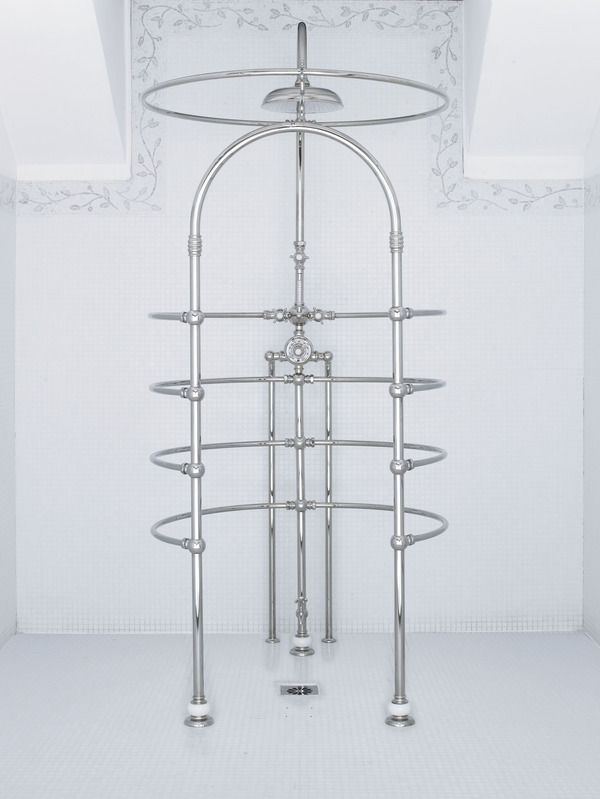 Decoration
As well as creating a peaceful environment, neutral colours and soft shades will make the most of the available light from smaller bathroom windows. White tiles with black accents look particularly striking and marry well with traditional baths and basins. If you don't want to tile the whole room, tiling halfway up the walls, creating a tiled splashback for the sink, and tiling up to the ceiling around the bath if you have an overhead shower, will protect the walls in areas most likely to get wet.
For ceilings and un-tiled areas choose paint designated for use in bathrooms, such as Farrow & Ball's Modern Emulsion or Dulux Bathroom+. Wallpaper with a washable or vinyl finish is also suitable for use in bathrooms. Zoffany has a good range of vinyl wallpapers, which are more resistant to moisture. Putting wallpaper behind a glass or Perspex screen will provide extra protection.
Engineered wood, rubber, or tiles are all great options for flooring. Rubber floor tiles and sheets come in a huge range of colours and are suited to contemporary decorative schemes. Engineered wood floorboards won't expand and contract like solid wood and look fabulous with freestanding baths. Tiles offer the widest choice in terms of material, colour and pattern. Fired Earth, De Ferranti and Villa Lagoon all have fantastic ranges.
Lighting is key to creating a beautifully relaxing space. If you go for overhead lighting, choose an enclosed glass shade rather than spotlights, and use a dimmer switch to set the mood. Wall sconces are often more atmospheric. Drummonds has a great selection of elegant bathroom wall lights, with a really decadent feel.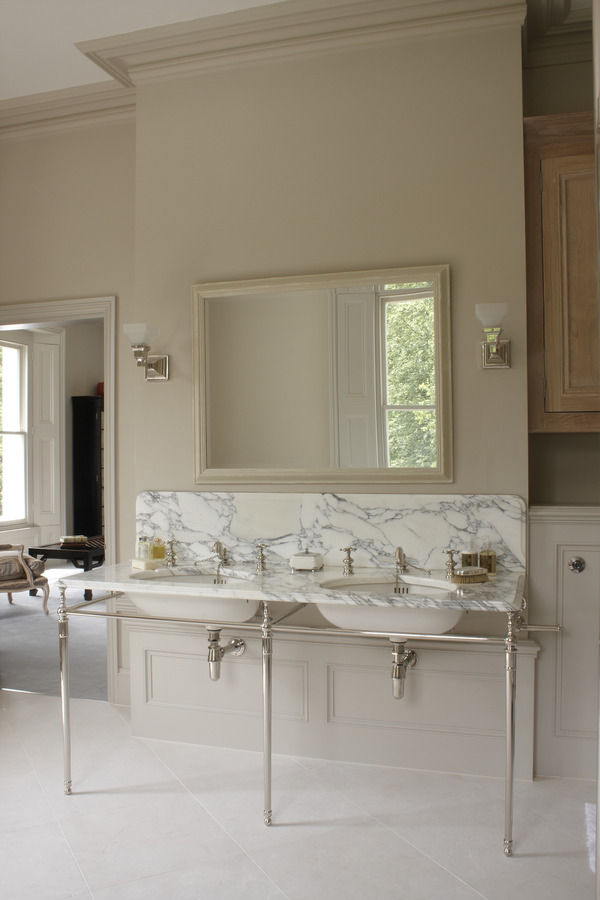 Accessories
Create the perfect ambience for a tranquil retreat with candles, mirrors and softer than soft towels. Drummonds has a range of luxuriously thick super-soft towels in subtle colours. Water Monopoly has a particularly good range of bathroom accessories including soap dishes, sponge baskets and wall sconces to hold bottles. Rocket St George has a fabulous Shell Candle wall sconce in brass that would look beautiful with a copper bath. Decorative mirrors will reflect the flickering candlelight, creating a lovely relaxing atmosphere. And leafy plants will finish off the bathroom with a natural feeling of tranquillity.
Have a glamorous soak with this stunning Midas metallic bath from Fired Earth. £5,750
When it comes to daily ablutions, I have always been more of a shower gal than a bath one. It's not that I don't like the idea of a long soak, it's more that a) I always seem to be in a rush and b) I've never found a bath I actually feel comfortable in.
The Midas bath from Fired Earth isn't just a bath, it's a thing of beauty too.
Made from tin and finished in either gold or silver leaf, it is double-ended which means no one gets the tap end!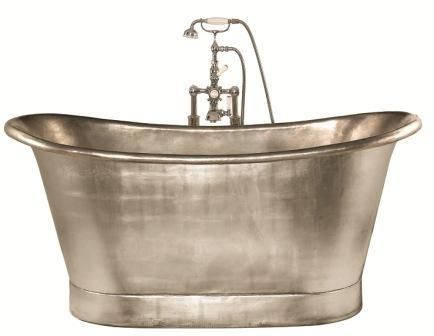 Use it to create a glamorous family bathroom or a decadent ensuite and the good news is it will work well in both contemporary and classic schemes and won't date.
And if, like me, you really can't do without your daily shower fix, then never fear as Fired Earth have a great range of complementary shower mixers and taps to complete the look.
See this product at Fired Earth...
(We don't sell this product yet but sign up to our newsletter and we'll let you know if/when we do)