Features: Sleeping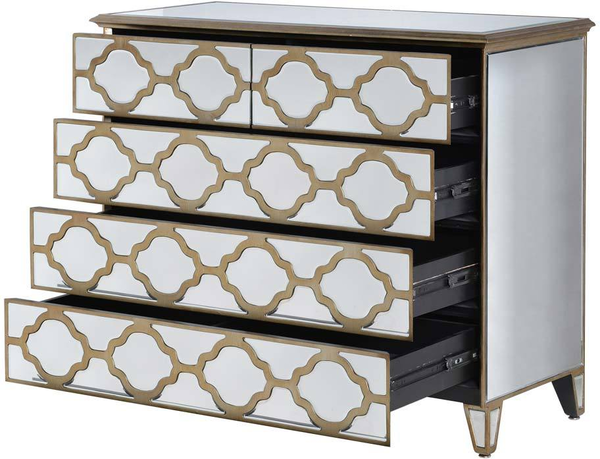 Add some subtle bling to your bedroom with this Alameda Chest of Drawers, £845.
While I prefer my interiors plain and simple, I cannot resist the odd bit of bling and, when I'm looking for a touch of sophisticated glamour, I can always rely on The French Bedroom Company.
They certainly don't disappoint with this stunning Alameda Chest of Drawers.
Made from beveled glass with antique gold decorative trim, this beautiful chest takes a fresh look at mirrored furniture and is just the right side of decadence without being too over the top.
Designed for the bedroom, this chest would look just as good in the living or dining room. Wherever you use it, keeping your bits and pieces neatly stored has never felt so glamorous.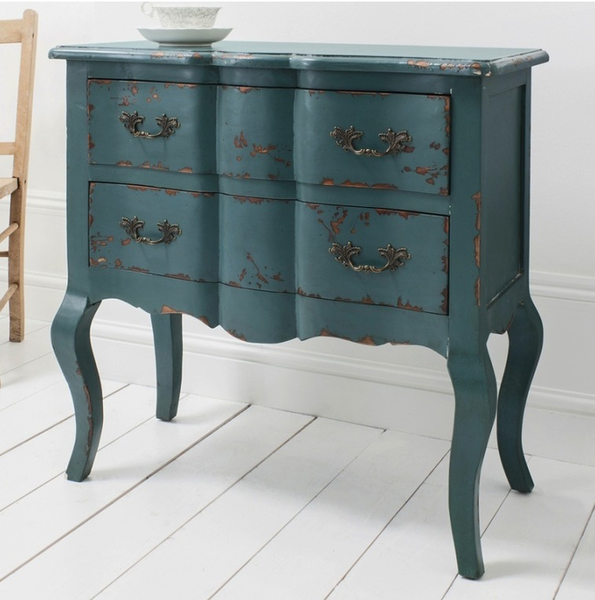 Go bold in the bedroom with this Desiree French Teal Chest of Drawers, £450.
Adding a pop of colour to your scheme with furniture doesn't always mean going ultra modern and isn't always reserved for super contemporary schemes.
We have a great selection of colourful furniture from tables to wardrobes, all of which look great in both vintage and classic interiors.
One of my favourite pieces is this Desiree French Teal Chest of Drawers by Alexander and Pearl.
Just the right side of shabby chic, the bold colour is perfect for creating a real statement while the generous drawers provide ample room to stash your belongings.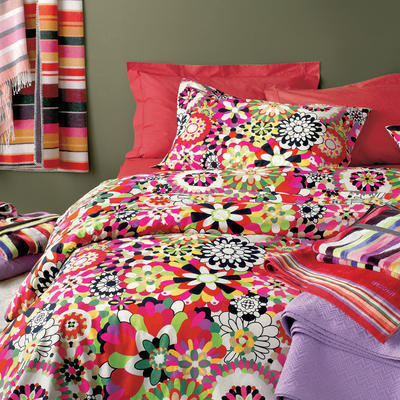 Create a stylish bedroom with this Missoni Home Jessie bed linen, from £148.
Getting into a freshly made bed is one of my favourite things and having some special bed linen can make all the difference.
We have some stunning bed linen choices here at Furnish, but I've completely fallen for this colourful Missoni Home Jessie bed linen by Amara Living.
Effortlessly stylish, this printed 200 thread count cotton percale comes in two colourways.
Perfect for creating a striking look, it will add floral fun to any bedroom.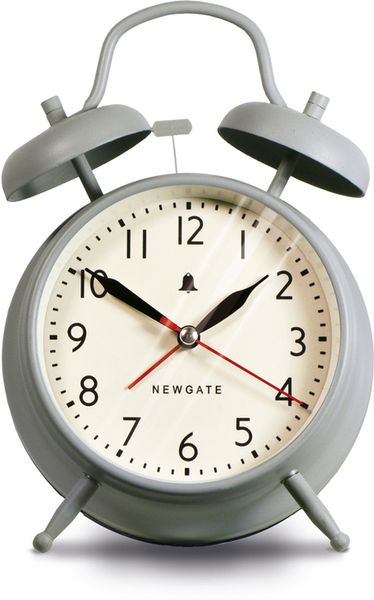 Wake up the old fashioned way with this Grey Covent Garden Alarm Clock, £20.
No one likes getting up in the morning but get up we must!
Personally, I'm sick of using my phone as an alarm clock (mostly because of the all-too-handy-but-very-dangerous snooze function) which is why I have decided to go old skool and buy an actual, proper alarm clock.
We have loads of alarm clocks to choose from but I've got my heart set on this Grey Covent Garden Alarm Clock by The Orchard.
A beautiful piece, it will look fantastic on my white gloss bedside table and, thanks to its generous bells, make sure I never sleep through a snooze session again.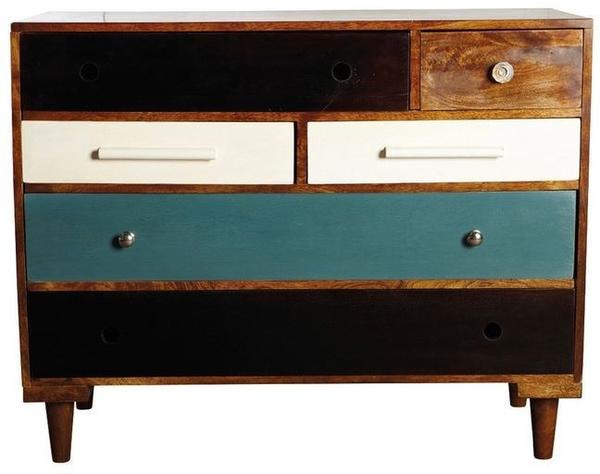 Get your stuff sorted with this eclectic Chest of Drawers, £1,100.
My trusty and very bargain-tastic chest of drawers has finally given up the ghost and is no longer fit for purpose.
That means I'm on the hunt for a new chest of drawers, and what fun I've been having searching our huge selection, trying to decide whether I stick with a vintage style or dare to go for modern. The list of maybes is growing almost by the hour.
One piece that has jumped to the top of the list for me is this gorgeous and rather simply named Chest of Drawers by ArtStar.
Perfectly blurring the lines between vintage and modern, this design has been crafted from mango wood, with six differently finished drawers which make for an extremely eclectic piece.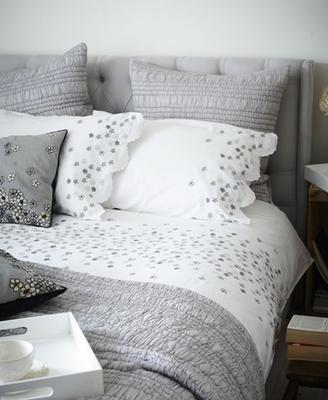 Create a stylish boudoir with this pretty Hanoi Daisy Embroidered Cotton Bed Linen, from £30.80.
I've been promising myself I'll treat myself to some new bed linen for what seems like an absolute age. But as soon as I clapped my eyes on this Hanoi Daisy Embroidered Cotton Bed Linen by ALSO Home I knew I'd found exactly what I'd been looking for.
Made from luxurious 200 thread count cotton, this sumptuous bed linen has been finished with a smattering of pretty embroidered daisies which give this design a sophisticated feminine look.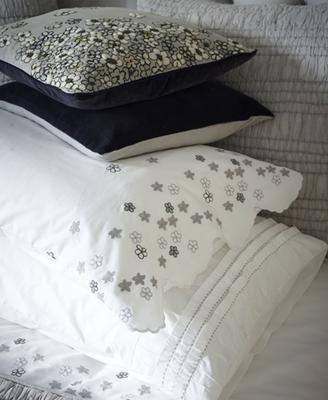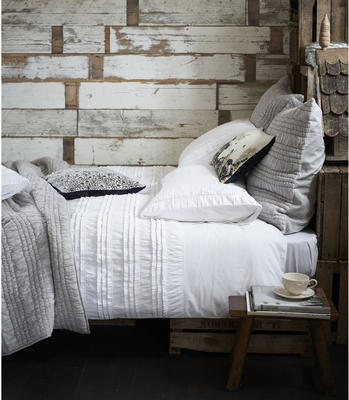 Create the perfect bed with this Ruffle Ruched White Bed Linen from The French Bedroom Company, from £28.
I don't know about you but for me there's nothing nicer than getting into a freshly made bed, especially if the bed linen is super crisp and super white.
Some might think white bed linen is a bit boring, but this gorgeous Ruffle Ruched White Bed Linen from The French Bedroom Company is anything but.
Made from 100% cotton, it features delicate ruching and pretty grey stitching, and comes available as a pair of pillowcases and single, double, king and superking duvet covers.
To add a touch of interest, try adding a cushion or two in a striking block colour or a patterned knitted throw to keep the winter chills at bay.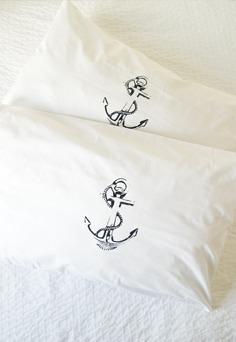 Inject some nautical style with these Hand Screen Printed Anchor Pillowcases from Magpie Miller, £22.
Coastal, nautical, whatever you choose to call it, adding a touch of the seaside is set to be a massive interiors trend again next year.
The trick to making this look work in the home without it becoming too much is to add subtle touches rather than going gung ho.
These Hand Screen Printed Anchor Pillowcases from Magpie Miller are perfect for giving your bedroom a nautical feel.
Made from luxurious cotton, they feature a delicate anchor motif. Team them with crisp, white bed linen and a striped navy and white knitted throw to tie the look together and create a sophisticated nautical scheme that's perfect for spring.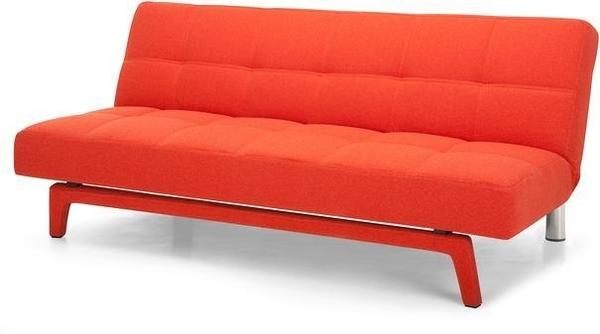 Get ready for guests with this Yoko Sofa Bed in Saffron Orange from made.com, £199.
Christmas doesn't just bring gifts, mince pies and a sprinkling of snow, it also brings guests. Some of them might be expected but you can guarantee there will be some unexpected ones too.
Keeping a stash of towels and extra bed linen is one way to stay prepared, but what do you do if you haven't got a spare room?
A sofabed is a great solution and we have some fabulous designs here at Furnish.
Our pick of the bunch is this Yoko Sofa Bed from made.com.
Easy to change from sofa to bed, this simple, sleek design will suit any interior, and this saffron orange version is great for adding a pop of colour.
Also available in grey, black, brown and cream.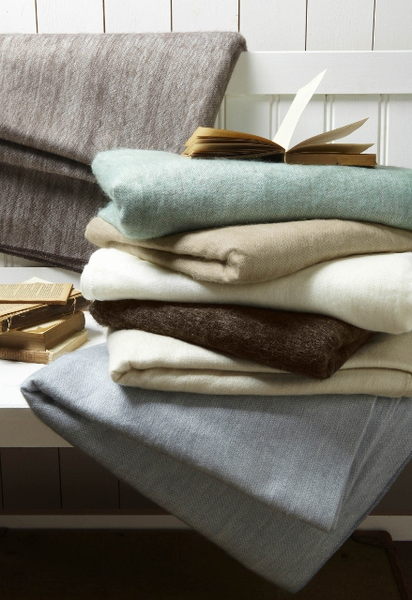 Snuggle up with one of these super soft Alpaca Throws from Daisy West, £99.95.
This time of year is without a doubt one of my favourites. From crisp, bright mornings to snuggling up on the sofa in the evening, I love the days getting a bit shorter and having a good excuse to whack up the heating.
A cosy throw is essential at this time of year, and one of my favourites is this selection of Alpaca Throws from Daisy West. Available in shades of brown and ivory, these simple yet ever-so stylish throws are made from a combination of Alpaca and sheep wool, which are guaranteed to keep you cosy as the temperatures drop.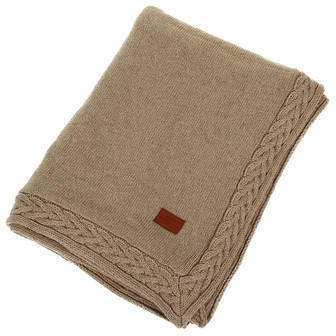 Cosy up with this Gant Wool Cable Knit Throw in Seawood from Amara Living, £160.
We might be promised an Indian summer, but as the days start to get shorter the nights are definitely getting chillier.
Which means you're going to need a decent throw to snuggle up with to stay warm and cosy.
Top of my list is this Gant Wool Cable Knit Throw from Amara Living.
It features an attractive, cable knit border and comes in Seawood, Navy or Off White shades. Matching cable knit cushions are also available.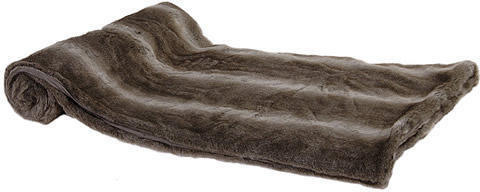 Keep cosy on chilly nights with this Husky Throw from The French Bedroom Company, £95.
I hate to be all doom and gloom but, as autumn is nearing and the colder nights set it, it's time to start thinking about keeping cosy.
I'm a big believer in warming up with a snuggly throw rather than having the central heating on full blast, and this Husky Throw from The French Bedroom Company is perfect for snuggling.
I love the rich colour and soft fluffy faux fur, which combine to make this the perfect throw for a sofa, chair or bed and will keep you cosy until spring.
Also available as the all-white Arctic Throw.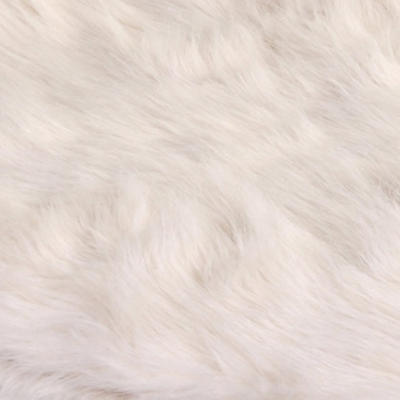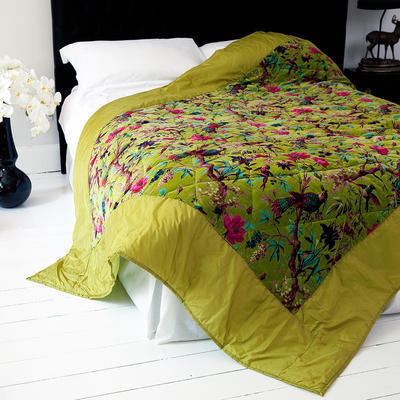 Add a bright pop of colour to your boudoir with this Trippy Granny Throw from The French Bedroom Company, £145.
If you're a strictly white bed linen kinda gal (like me) then sometimes, just sometimes you may think your bed looks a bit too plain. Which is where colourful throws or bedspreads come in, allowing you to easily change your look and add some colour and pattern.
I love this Trippy Granny Throw from The French Bedroom Company which is just the ticket to add some vibrancy.
Featuring a decorative inner panel which has been accented with a zesty lime border, this delicately quilted throw is made from velvet and finished with a satin border which will give any bedroom a luxurious feel.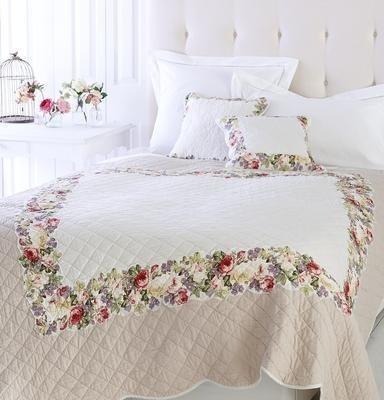 Keep things blooming inside with the SR Linen Rose Quilted Bedspread from The Pole House, £10 - £115.
The roses in my garden are positively blooming; a sign surely that summer has finally arrived.
I used to find roses a little fusty and old fashioned but, since they played a major part in my wedding bouquet, they've become my favourite flowers.
Which is why I love this SR Linen Rose Quilted Bedspread from The Pole House.
Ideal for giving your boudoir a classic, vintage touch, it features elegant quilting offset with a pretty rose pattern and, if you want to avoid an over girly look, then team with crisp, white bed linen.
Cushion cover £10
Pillowsham £16
Double bedspread £105
KIng bedspread £115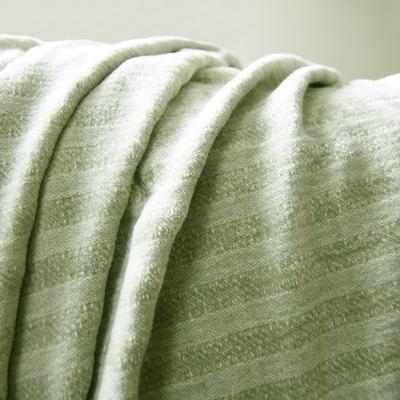 Stay cosy on cool summer evenings with this Pebblestone Bamboo Throw from Delve, £109.
Summer evenings are just the best aren't they. Well, as long as they are warm and balmy that is.
Being at work during the day, the only chance I get to make use of my little patio is at night, so it's no wonder I can't resist having dinner al fresco.
Summer evenings, however, can sometimes get a little bit chilly. So, to make sure I don't have to come inside once the sun's gone down, I'm investing in a lightweight throw.
This Pebblestone Bamboo Throw from Delve certainly gets my vote. Not only is it simple yet stylish and the perfect summer throw, it's made from 100% bamboo fibres, which the eco warriors among you will know makes it very environmentally friendly.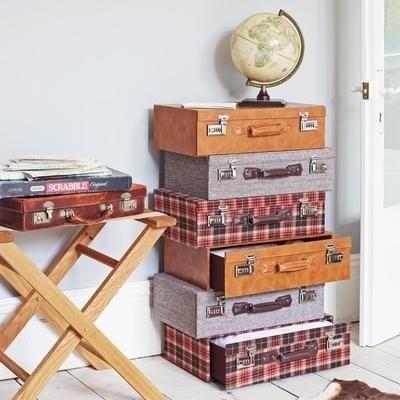 Add a touch of Scottish style with this Highland 6 Drawer Suitcase Dresser from Graham & Green, £350.
Tartan rarely goes out of fashion both when it comes to the catwalk and to interiors, which is why I was delighted to come across this striking piece of furniture from Graham & Green.
Comprising six "suitcases" attached to one another in a random fashion, this makes for a very interesting and eclectic item of furniture.
Ideal for adding some sartorial chic to the bedroom, the drawers are generous enough to hold even the biggest stash of fashionista's sweaters, t-shirts and more.
And, if you're struggling for storage space in your home office, this dresser would also make an perfect place to store away your files and paperwork.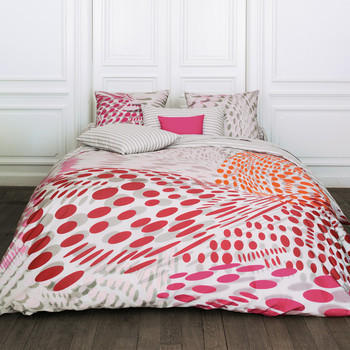 Give your bedroom a designer look with this Sonia Rykiel Maison Songe bed linen, from £47.
There's no better feeling in the world than getting into a freshly made bed and, while I still have issues with changing a king size duvet on my own (pegs on the corners to hold everything in place is my top tip), I do love a new set of bed linen.
I'm usually a strictly all-white kinda gal but even I can make an exception for this Sonia Rykiel Songe bed linen from Amara Living.
Perfect for adding a designer look to your bedroom, I love the bold colours and even bolder pattern which is guaranteed to lift even the dullest of boudoirs.
(Duvet covers from £237 - £327; fitted sheets from £80 - £88; pillowcase = £47)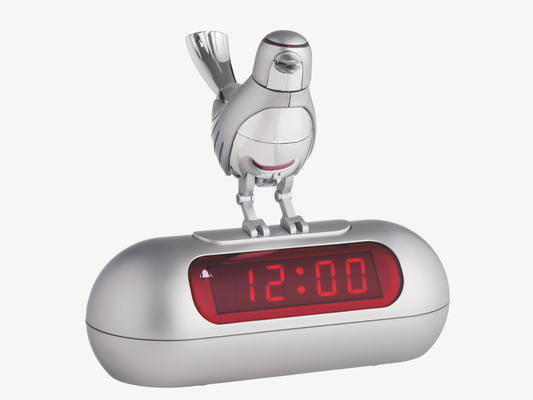 Spring out of bed in the mornings with this Bird Alarm Clock from Habitat, £30.
I read a news story recently that more and more people are using their phones to wake them up in the morning. I for one definitely fall into that camp, but this Bird Alarm Clock from Habitat has made me think again.
The simple design features an LED display and, best of all, a cut silver bird that wakes you up gently with birdsong.
And, personally, I can't think of a nicer way of being woken up than the gentle tweeting of a little bird.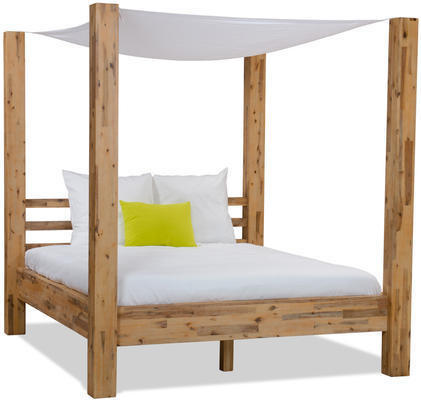 Add a touch of contemporary decadence with the Zinnia Canopy Bed from Fashion for Home, from £699.
As much as I love my new super comfortable bed, my one regret is that it's a divan.
After years of having an enormous bedstead, it takes a little bit of getting used to not having anything to rest my head on, particularly when reading (or, more often, lounging) in bed.
Which is why this Zinnia Canopy Bed from German-based furniture company Fashion for Home has caught my eye.
A contemporary twist on the classic four-poster bed, the Zinnia is made from solid Acacia, and features a simple, yet elegant, white canopy. I'm particularly taken with the slatted headboard which stops the bed from feeling too fussy and makes it the perfect choice for an understated, stylish boudoir.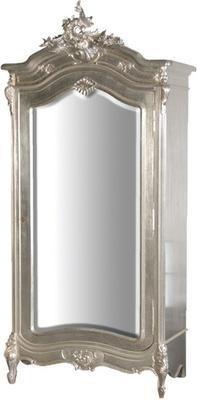 Give your clothes a stylish home of their own with this gorgeous French Silver Armoire from Out There Interiors, £1,355.
Unless you want your bedroom to look like a dumping ground, a wardrobe is an essential piece of bedroom kit.
And while, of course, they're practical, that doesn't mean they can't be stylish too.
We have a huge range of wardrobes here on Furnish that suit both contemporary and classic schemes, but my personal favourite is this French Silver Armoire from Out There Interiors.
Combining a traditional style armoire with a striking silver leaf finish, it will create a dramatic style statement in any bedroom.