Features: Dining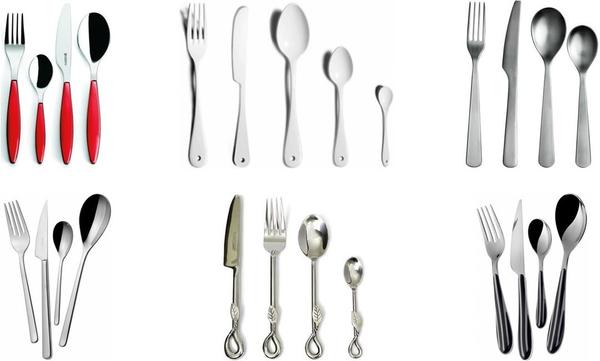 Give your table a stylish makeover with our pick of the best cutlery around.
It may not be the most glamorous of products, but having a decent set of cutlery can make or break a table setting. And, even for everyday use, it's nice to have something a little more stylish than mismatched knives and forks.
We have a great range here at Furnish from classic to contemporary, all of which work well for daily meals or special suppers.
For those who like things simple yet stylish this Normann Cutlery Set by Design My World ticks all the right boxes, while those who want to add a pop of colour will love this Guzzini 24 Piece Set by Red Candy.
This Culinary Concepts Leaf Four Piece Place Setting by Viva Lagoon will add a touch of nature to your dining table, while this White Enamel Cutlery by Cachette will give breakfast, lunch and dinner a fresh look.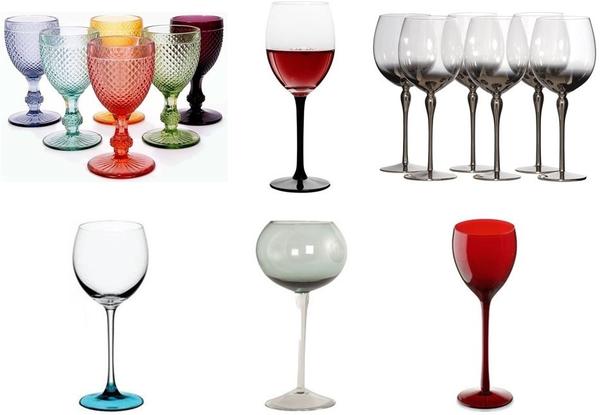 It's time to celebrate with our pick of the best wine glasses.
With all the dining and socialising enjoyed over the festive period, it's the perfect time to invest in some new wine glasses.
And we have a great selection of gorgeous wine glasses here at Furnish which are sure to make your festivities super stylish.
Perfect for a New Year's Eve supper, this Set of Four Glass Ball Wine Glasses in Smoked Grey by White Mint is extra chic, while these LSA Coro Wine Glasses by Red Candy with different coloured bases are a handy way to make sure no one's drinks get mixed up.
If you want to go really glam, then these striking Artland Midnight Goblets also by Red Candy are available in red or black, while those who want to add a variety of colour to their dining table will love these Portuguese Diamond Wine Glasses by JasmineWay.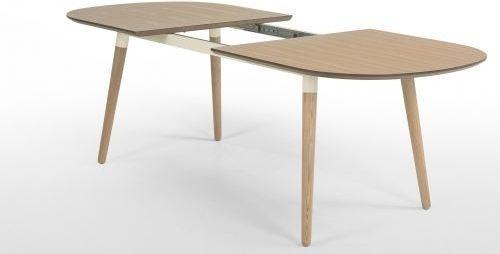 Spruce up your dining space with this Edelweiss Extending Dining Table, £369.
Christmas is just around the corner – I know this because one of my Facebook friends reminds me each and every day how many sleeps there are to go!
While I'm not hosting the main event this year, I am having a Christmas family gathering a few weeks before. With the number of guests increasing, it's making my usually more than ample dining table look a little redundant.
As many of us are probably in the same position, perhaps it's time to invest in a new dining table.
We have a great selection here at Furnish but I've really fallen for this Edelweiss Extending Dining Table by made.com.
With its plain ash top and modern legs (finished in off white, yellow or grey), as well as being practical, this table is guaranteed to be a real talking point too.
(Off white and yellow versions currently available in time for Christmas!)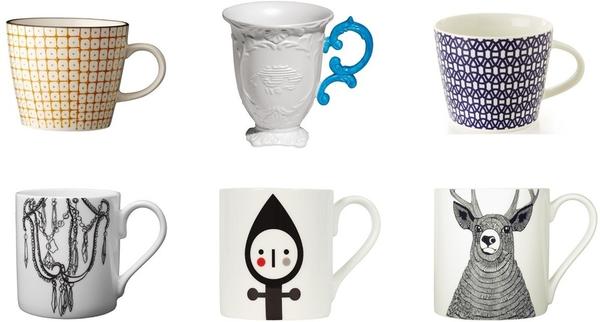 Get ready for colder days with our eclectic choice of marvellous mugs.
So much for an Indian summer – there's a distinct chill in the air, which means shorter days and colder nights are on the cards for the next few months.
Whether you prefer coffee, tea, hot chocolate or even a hot toddy to get you through, you'll be pleased to hear we have some yummy mugs to drink them from.
If you love animals, we have a great collection that's guaranteed to bring a smile to your face. From super cute to slightly surreal, we love this Deer Mug by Artstar, which is perfect for a morning cuppa.
If you prefer something a little more sophisticated, this Lace Mug by Naken Interiors is just the ticket. It comes in a variety of colours and works equally as well on the breakfast table as it does for an after-supper coffee.
Finally, if you like to be bold with your hot drinks, then this Porcelain Mug by is just for you. Also available in a range of colours, stick to one hue for a cohesive look, or mix and match for something a little more eclectic.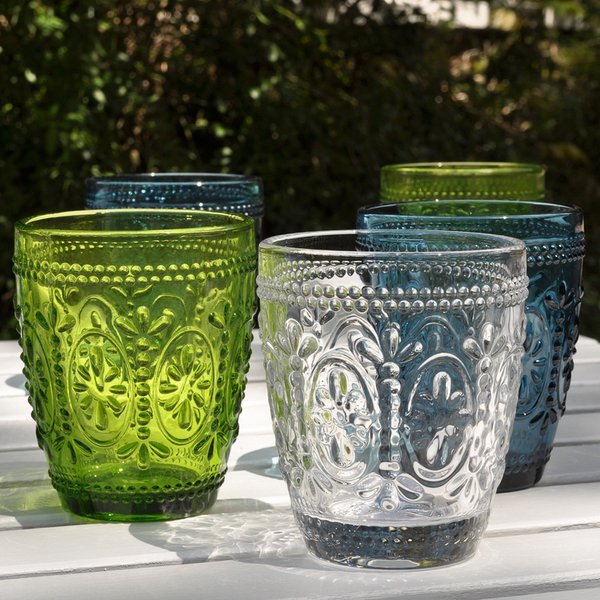 Add gorgeous colour to your dining table with these Coloured Pressed Glass Tumblers, £5 each.
As I have a habit of breaking glasses on a regular basis, I can't really be trusted with expensive ones. So I thought I was doomed to a life of supermarket cheapies.
But not so after a recent snoop around Primrose & Plum's gorgeous products, which led me to discover these Coloured Pressed Glass Tumblers.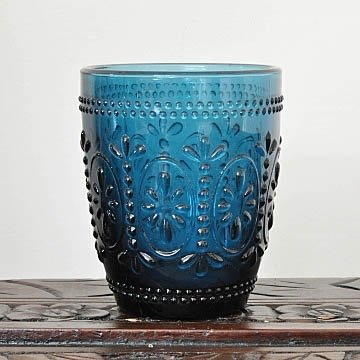 Available in three colours, Green, Clear and this gorgeous Deep Blue, these decorative vessels are a bargaintastic £5 each, which means stylish glasses can be mine.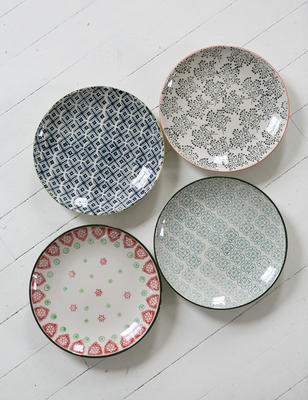 Add some pattern and colour with these Mismatched Plates, £62.
I can only imagine that my obsession with displaying plates is due to my parents always hanging decorative wall plates in our living room when I was growing up.
Recently I've been on the hunt for a collection of plates for one of my living room walls, so was thrilled to come across this set of Mismatched Plates by Rose & Grey.
Comprising four plates, each with a different design, this set looks fantastic displayed together and will instantly add pattern and colour to any plain wall.
Try using them to jazz up your living room or kitchen or you could, of course, always use them on your dining table as intended!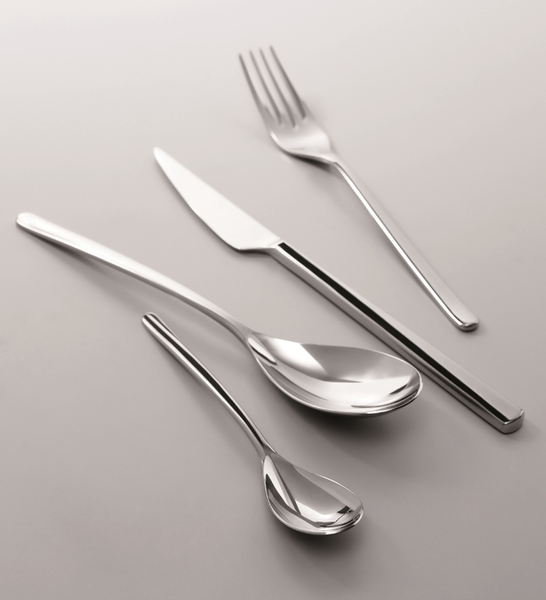 Add some glamour to your dining table with this Bugatti Sintesi Cutlery Set, £90.
With summer nearly over, I've been thinking about ways of getting my home ready for one of my favourite seasons – autumn.
And one of the things I like best in the autumn is to have friends over for warm, hearty suppers especially when the temperature starts to drop.
So I've been sorting out my tableware into "keep" and "get rid of", and creating a wish list of new things.
Top of my list is this Bugatti Sintesi Cutlery Set by Gifts with Style.
Made from stainless steel, this simple yet stylish cutlery comprises 6 knives, 6 forks, 6 spoons and 6 tea spoons, and adds instant sophistication to any dining table.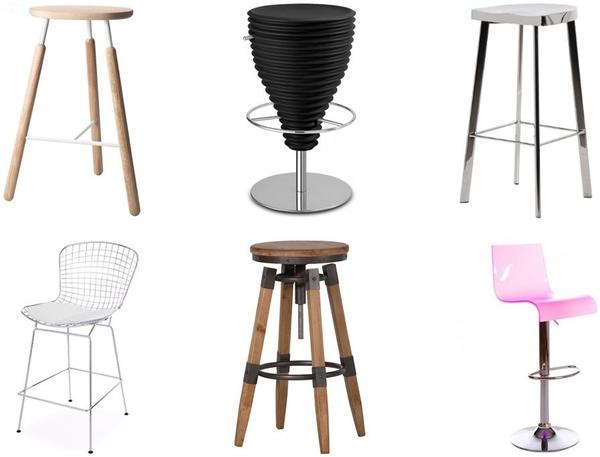 Make the most of your kitchen space with our great selection of bar stools.
A bar stool is an great piece of kit and can instantly transform otherwise dead space in your kitchen.
And there's no need for an expansive breakfast bar as, with just the end of a worktop, you have the perfect place to perch whether it's for breakfast or an after-work cocktail.
With an array of bar stools to choose from here at Furnish, there's something to suit every style and budget.
Perfect for adding a touch of girly chic to any kitchen/diner space, this Luke Acrylic Pink Bar Stool by Neofurn will instantly add a pop of colour, while this Manhattan Wood & Iron Bar Stool by Alexander & Pearl is ideal for adding a subtle industrial touch.
For those who prefer to keep things sleek and simple, this Chrome Bar Stool by London Cows is sure to be a hit, while design lovers will adore this Raft Bar Stool by Naken Interiors.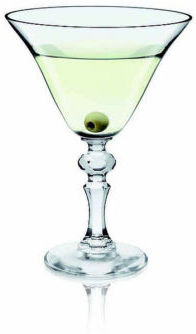 Enjoy stylish cocktails with these Vintage Martini Cocktail Glasses, £17.88.
While I love vintage furniture, I have to admit to feeling a little bit squeamish about eating and drinking from vintage crockery and glasses.
So, in my search for some new, vintage-style tableware I am thrilled to have come across these gorgeous Vintage Martini Cocktail Glasses by Solavia, which are just what I've been looking for.
Of course they're perfect for serving all different kind of martinis, but they're also ideal for a Cosmopolitan or (my personal favourite) a Negroni.
Best of all they're much more affordable than they look, which means they won't break the bank.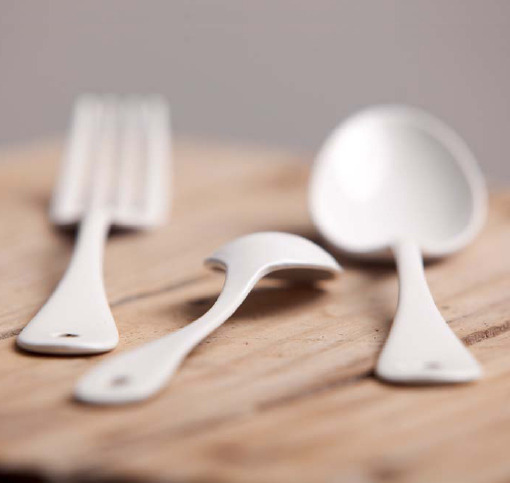 Transform your dining table with this White Enamel Cutlery, from £9.18.
Being a fanatical cook and loving to entertain, tableware really excites me – it's sad but true.
So I was thrilled when I came across this gorgeous White Enamel Cutlery by Cachette.
Elegant, simple and something a little bit different to your usual stainless steel, this set has just jumped to the top of my wish list.
Not only will it look great teamed with my vintage teak dining table, but will also work equally well outside with a brightly patterned tablecloth for some decadent al fresco dining.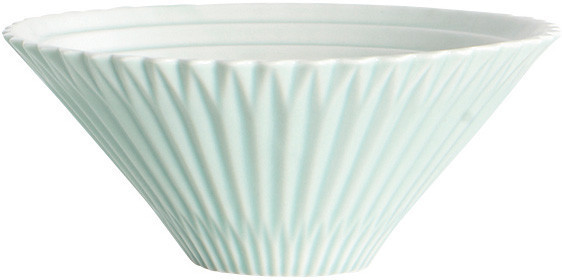 Dip in style with these Geo Mint Bowls, £12 for a set of 2.
Summer is here and it's barbecue time and, because I almost border on OCD when it comes to decanting ready-made dips from their plastic pots, I'm always on the hunt for little bowls.
My sister-in-law bought me some gorgeous ones at Christmas, which has only made me want to add to my collection, and I've got my heart set on these Geo Mint Bowls by Artstar.
Featuring an on-trend geometric relief pattern, these gorgeous little bowls have been colour washed with a delicate mint finish.
Sold as a pair, these bargaintastic bowls look far more expensive than their price tag and will be a welcome addition to any summer dining table.
Also available in white.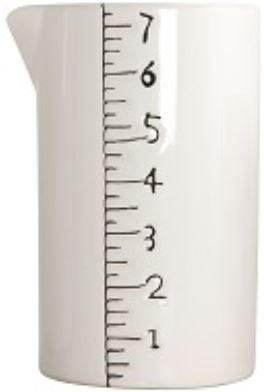 Give your kitchen a quirky touch with this Medium Measure Jug, £7.
Having recently revamped my bedroom, the next project on the cards is a makeover for the kitchen.
While I can't quite stretch to new cabinetry, I'm hoping a lick of paint, some new small appliances and a couple of well-chosen kitchen and dining accessories should do the trick.
One of my favourites from our collection of ever-growing "kitchenalia" here at Furnish is this Medium Measure Jug by White Mint.
More for show than actual measuring, this jug is also available in small and large sizes and is perfect for storing utensils or displaying fresh summer blooms.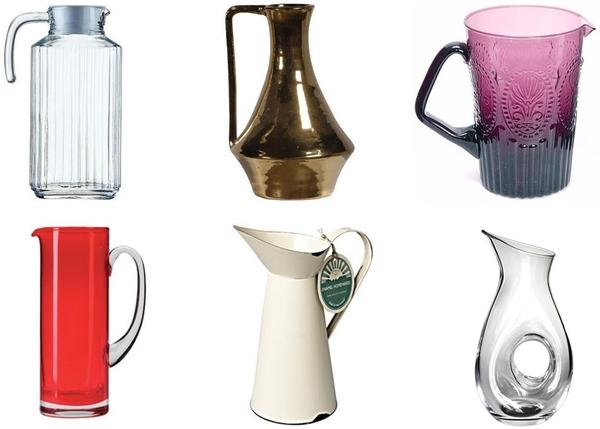 Whether for flowers or cocktails, you're bound to love our fantastic range of jugs and pitchers.
Often considered to just be practical, jugs can also be beautiful and they're super versatile.
From displaying freshly cut blooms to mixing decadent cocktails, every home should have a decent stash in varying sizes, colours and materials.
Naturally, we have some gorgeous jugs here at Furnish(!) to suit every budget and style.
Lovers of rich hues will adore this Handmade Mauve Portuguese Glass Jug by JasmineWay which will add a splash of colour to any room, while no cocktail party would be complete without this glamorous LSA Basis Jug by Red Candy.
And if you're really looking to add some glamour and drama, this striking Shiny Gold Pitcher by Out There Interiors is just the ticket.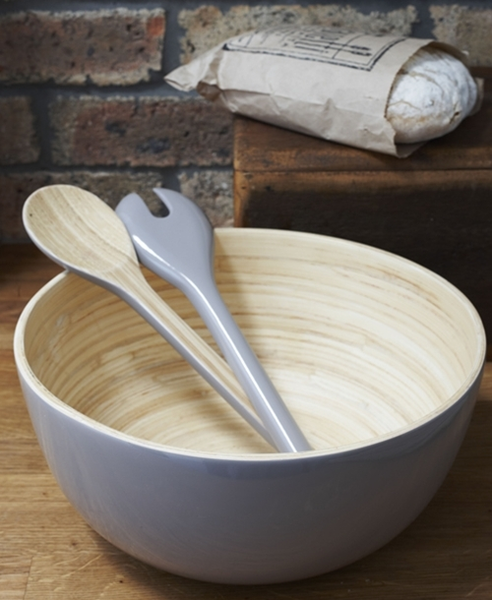 Serve stylish salads with this Grey Pressed Bamboo Salad Bowl, £40.50.
The weather is getting warmer so I'm celebrating by indulging in some of my favourite salads.
As such, I've been on the hunt for a new salad bowl since my favourite one had a rather nasty (losing) battle with the dishwasher.
We have some gorgeous salad bowls here at Furnish from bold and beautiful to elegantly simple.
My current favourite is this super sleek Grey Pressed Bamboo Lacquer Salad Bowl by ALSO Home. Simple, yet ever-so stylish, this generous bowl is perfect both for weeknight suppers and al fresco dining.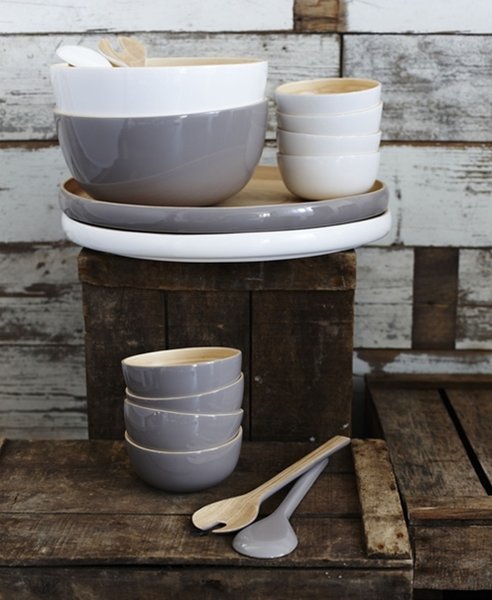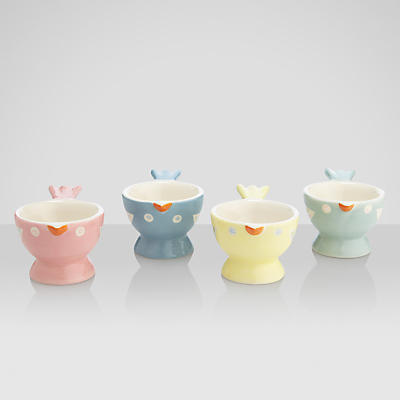 Update your breakfast table with these John Lewis Polly's Pantry Egg Cups, £16.
I adore boiled eggs and soldiers, but sadly I'm absolutely rubbish at cooking them. So is the other half, so I have to wait until we visit my parents for my Mum's speciality, a perfect, soft-boiled egg.
If you're partial too, then chances are you'll have an impressive collection of egg cups. If not, we have a great range of egg cups here which will allow you to serve your breakfast in style.
My current favourites are these Polly's Pantry Egg Cups by John Lewis. Cute as can be, these little chicks are perfect for adding some style to any breakfast table.
All you need to figure out now, is the age old question of what came first – the chicken or the egg?!?

Enjoy a peaceful cup of tea with this Tea for One Pot, £33.
Whether you favour a cup of tea first thing in the morning or afternoon tea is more your style, a gorgeous tea pot adds a certain je ne sais quoi to the whole experience.
We have all sorts of tea pots here at Furnish from classic to contemporary, pretty to plain which means there's something to suit every style.
My favourite is this delightful Tea for One Pot by JasmineWay. Featuring a delightful blackbird print, this comprises both tea pot and cup, and is ideal for a solitary, peaceful cup of char.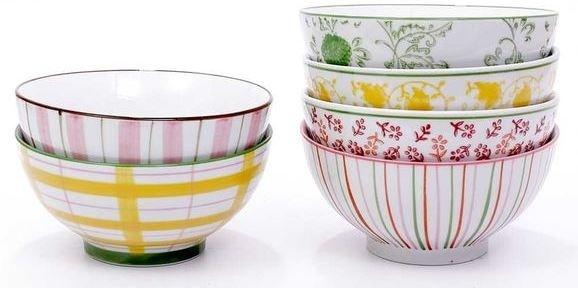 Add some pattern and colour with this Set of 6 Capri Pastel Bowls, £58.
I love little bowls and have a cupboard stashed full of them. So much so that, when I recently showed my other half some new ones to add the collection, he sighed so loudly I'm sure the neighbours heard.
Regardless of that, I've decided to go ahead and buy these gorgeous Capri Pastel Bowls by JasmineWay.
Coming as a set of six differently patterned bowls, these are on-trend and are sure to add a splash of colour wherever you use them.
Perfect for everything from cereal to soup, these bowls will work especially well for ice-cream in the summer.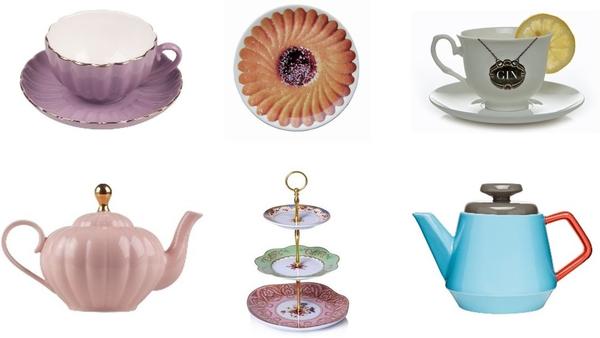 Brighten up your day with our pick of the best afternoon tea essentials around.
Nothing says true decadence like breaking for afternoon tea.
And we're talking proper afternoon tea here; not a quick cuppa and a soggy biscuit, but gorgeous cakes served on real china and sandwiches so dainty you will always need more than two.
Traditionalists will love the 3 Tier Cake Stand in Vintage Regency Style by Fields of Blue which works perfectly with the Belle Teapot and Teacup and Saucer to create the prettiest of tea sets.
Meanwhile fans of a more contemporary style will love this Biscuit Plate and G 'n' Tea Teacup and Saucer by Lifestylebazaar which, when teamed with this eye-catching Pop Tea/Coffee Pot by Design My World, make for a fun afternoon tea.
What's your favourite? Classic or contemporary?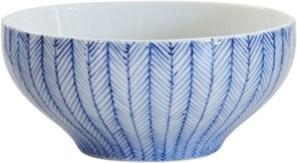 Add some pattern to your dining with this Herringbone Bowl, from £5.50.
I've always been utterly fascinated by the herringbone pattern which I'm pretty sure stems from sitting for hours in boring assemblies at primary school wondering how they got the parquet flooring to look so perfect. I should have known back then that I'd end up writing about interiors when I grew up.
This gorgeous Herringbone Bowl by ALSO Home offers a great way to add some pattern and colour to your kitchen and dining table.
Painted in a vivid blue, these are available in two sizes and are ideal for cereal, soup, salad and pasta.
And if herringbone isn't your thing, then there are spots and both wide and fine stripes available too.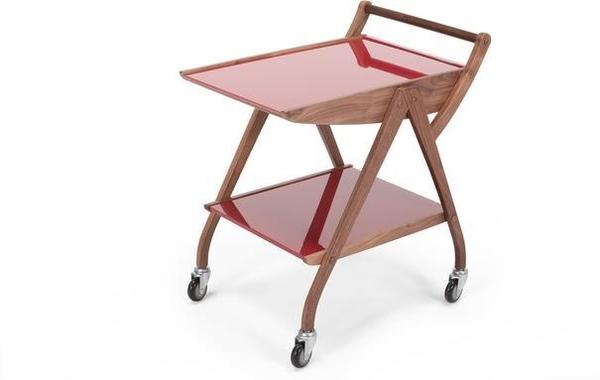 Enjoy some retro style with this Fonteyn Drinks Trolley, from £239.
Regular readers will know I'm a big fan of occasional furniture and, at the moment, I have my eyes on this rather fabulous Fonteyn Drinks Trolley by made.com.
Deliciously retro, this Steuart Padwick piece has got Mad Men style written all over it.
Sadly, I don't host enough cocktail parties to warrant a drinks trolley but this would also be a fab alternative as a kitchen trolley. Available in walnut with red, or oak with blue accents, this simple yet luxurious trolley has handy wheels which make it both beautiful and practical.