Features: Outdoors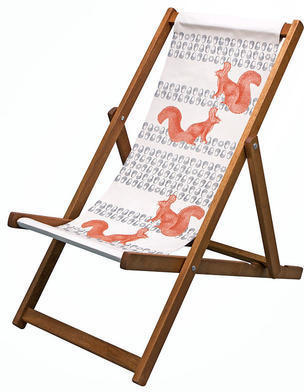 Sit back and relax with this Squirrel & Nut Deckchair, £135.
There's possibly nothing that screams British summertime more than the classic deckchair.
Perfect for relaxing at home or on the beach, these simple chairs have been around forever, and are ideal for an afternoon snooze in the sun.
We have a great selection of deck chairs here at Furnish but one of my favourites is this Squirrel & Nut Deckchair by Amara Living.
With a hardwood frame and cotton canvas sling, this deckchair is extremely cute with its squirrels and acorns.
All you need now is a glass of Pimms, a gorgeous summer's day and a good book. Perfect!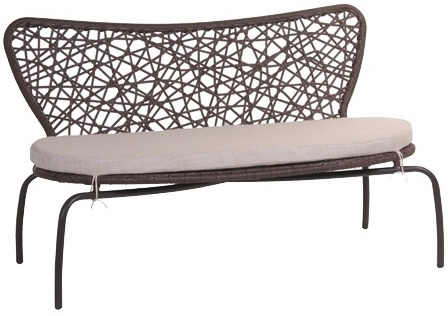 Relax in style with this Brown Open Weave Bench, £197.
I've always been a bit 'meh' when it comes to having benches in the garden; for me they can either look like they belong in a park or are too ornate to fit in with the sleek style I favour.
However, from our fab range of garden benches here at Furnish, I've found (and now have my heart set on) this Brown Open Weave Bench by Lover's lounge.
With a contemporary, yet intricately woven back, this bench has sleek legs and a generous cushion allowing you to comfortably relax in your outdoor space and enjoy the sun.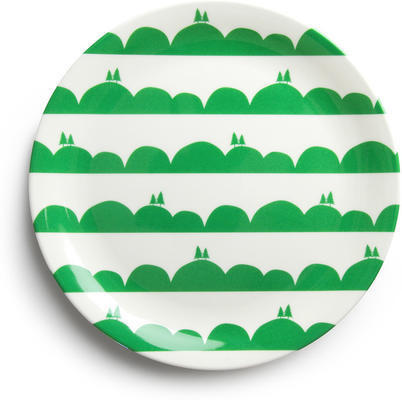 Enjoy al fresco dining with this Anorak Melamine Rolling Hills Plate, £5.50.
The forecast is looking good and with the sun comes the chance to get outside for some al fresco dining, either in your garden or with a picnic.
Unless you're really posh, you probably won't want to risk your best china, which is why melamine makes an ideal alternative.
We have a great range of melamine goodies here at Furnish, with this Anorak Rolling Hills Melamine Plate by Amara Living really catching my eye.
Simple yet ever so sweet, these durable plates are ideal for everything from salads to sandwiches.
And if you're looking for bowls and beakers too you'll be pleased to know they are also available in this range.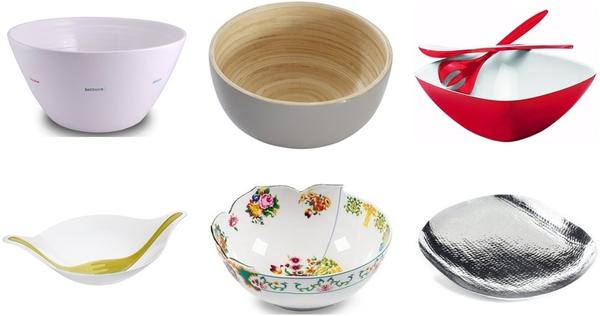 Serve up a delicious feast in one of our gorgeous salad bowls.
While salad eating isn't completely reserved for the summer months, a lot more of us eat a lot more of it when the weather's good.
And these days, salads are far more adventurous than a limp leaf of lettuce and some salad cream, so they deserve to be served on something a little more special than a bog standard plate.
Thankfully, our selection of salad bowls is sure to do your creations proud.
Wordsmiths will love the Word Salad Bowl by Naken Interiors, which is simple but fun, while those who like things to be nice and neat will adore this Koziol White Salad Bowl with Servers.
And if you want to make a real statement, this Syrian Silver Salad Bowl is perfect for serving up at a dinner party while the Fusion Salad Bowl from Out There Interiors will add colour and pattern to any mealtime.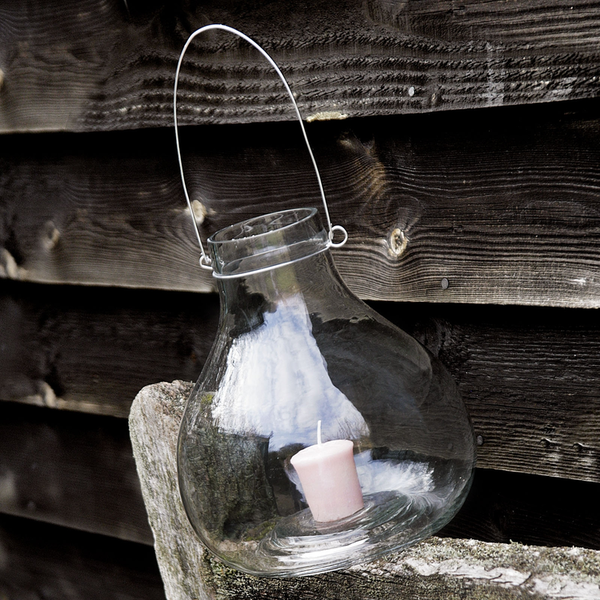 Create a welcoming glow with this Teardrop Glass Lantern, £8.
With the recent better weather, I've been jazzing up my garden and planning lots of outdoor get-togethers to ensure I really make the most of it.
Being a hard working gal, most of these soirees will take place in the evenings so I've been on the hunt for some subtle lighting ideas, and this Teardrop Glass Lantern by Primrose & Plum is just the thing.
Simple, yet stylish, these lanterns will give your garden a welcoming glow with minimum fuss. Simply pop a small candle or tea light in and you're good to go.
I like the idea of lining a group of these on my garden wall but, if you have lots of trees, you could try hanging them from the branches.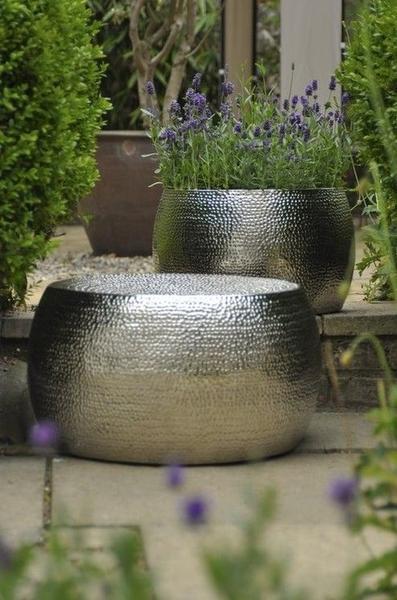 Give your garden a stylish look with these Kasbah Textured Metal Planters, £204.
I'm not exactly green fingered but I adore plants and so, rather than growing anything from seed, I tend to cheat and buy ready-potted plants from DIY stores.
Which means I'm always on the hunt for new planters for my garden to add some colour and charm.
We have a great selection here at Furnish but one of my favourites is this Set of 2 Kasbah Textured Metal Planters by Artisanti.
Ideal for use as a planter, they can also be turned upside down and used as a stool for occasional seating.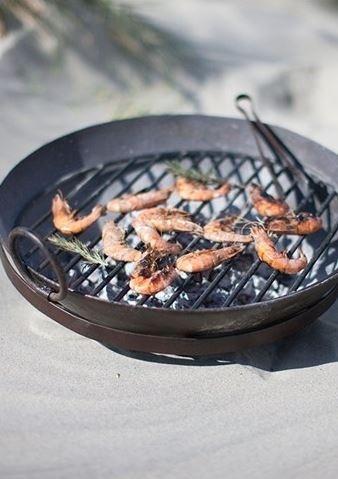 Enjoy sizzling sausages in the sun with this Beach Kadai with Tongs, £85.
For many people, the arrival of summer is the perfect excuse to get outdoors, fight over the last packet of sausages in the supermarket and get the barbie going.
As well as checking the weather forecast, you need to make sure you have all the essential kit, and I love this Beach Kadai with Tongs by Naken Interiors.
Simple, yet very stylish, it is perfect for a small spread, and sidelines beautifully as a fire pit, ideal for keeping you warm on chilly summer evenings.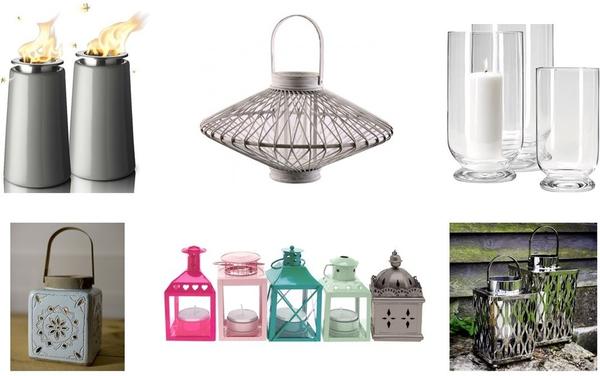 Give your garden a welcoming glow with our range of outdoor candle holders.
Now summer has (more or less) arrived, it's time to enjoy your garden as much as possible. To make the most of your outdoor space, it is a nice idea to add some garden candlelight, providing an attractive, atmospheric feel.
We have some wonderful candle holders here at Furnish with many designed for outdoor use, including something for every style and budget.
To create some real drama, why not try the Menu Outdoor Oil Lamp by Gifts with Style. Sleek and stylish, these lamps will look great displayed on a table or along a pathway.
For those wanting to add a touch of Eastern design to their outside space, the Large Bamboo Sphere Lantern by My Maison is a great choice, while those looking for something simpler will love the LSA Terrace Storm Lanterns by Red Candy.
And if you want to add some colour to your garden then look no further than the Mini House Tealight Holders Set by Dutch by Design. In five different styles and shades, they look wonderful grouped together as a centrepiece.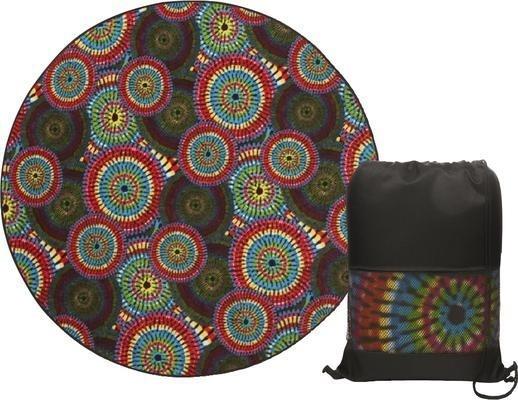 Picnic in style with this Caleido Round Picnic Blanket, £25.95.
One of my favourite summer pastimes is picnicking in the countryside. While I'm a city girl at heart, there's nothing I love more than packing up the car with a packed picnic hamper and heading off somewhere pretty and tranquil.
I love this Caleido Round Picnic Blanket by Design My World, which is a riot of colour and pattern, and a great example of this essential piece of picnicking kit.
As well as being stylish, it's practical too as its waterproof backing means you can picnic in style even when the weather hasn't been wall-to-wall sunshine.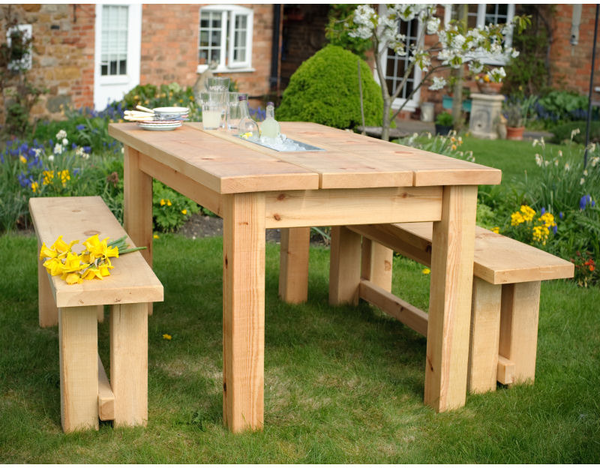 Get ready for summer with this Garden Trough Dining Table, £315.
Ever since the other half cleared the garden ready for summer (and what an amazing job he did too!) I've been on the hunt for some new outdoor furniture.
We have a great range here at Furnish without a naff plastic chair in sight, so there really is something for everyone, whatever style or size your garden is.
My personal favourite is this Garden Trough Dining Table from The Orchard. A simple wooden design which works well in both classic and contemporary settings, the table has a metal trough running down the middle which can be used for anything from planting herbs to keeping drinks cool.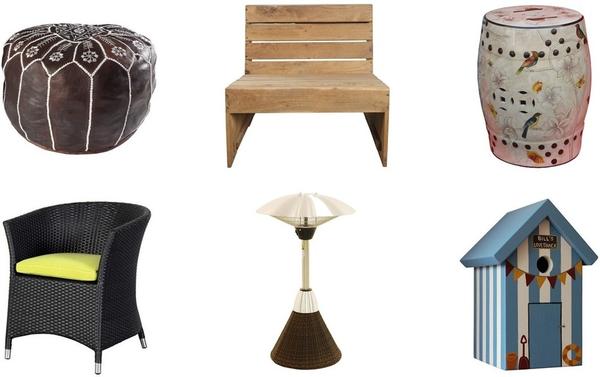 Relax in style this summer with our pick of the best garden furniture and accessories.
With summer fast approaching (or is it already here??), it's time to ensure you have everything you need to enjoy your garden. From planters to benches, and hammocks to patio heaters we have a wide selection of gorgeous outdoor furniture and accessories to get your garden looking wonderful.
For simple yet stylish seating, this Wooden Garden Chair by BODIE and FOU is perfect and will only look better with age, while this Black Woven Garden Chair by Out There Interiors looks great and is super comfy.
And if you're looking for some interesting accessories then how about either this pretty-as-a-picture Painted Ceramic Stool by Shimu or this Handmade Beach Hut Bird Box by Lindleywood which comes in nine colours and can be personalised to suit.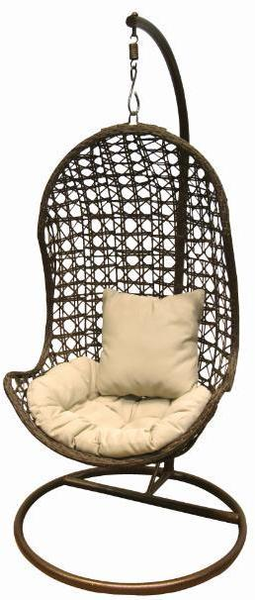 Add some drama to your garden with this Jaliyah Hanging Garden Chair, £299.
The weather has been pretty mixed these last few days with both glorious sunshine and pouring rain. But we're confident (well hopeful), that there's some great weather to come over the coming months.
Now's the time to start planning your outdoor space, and we have some super items for your garden here at Furnish from hammocks to garden chairs, and outdoor lighting to pots and planters.
One piece which has really caught my eye is this Jaliyah Hanging Garden Chair by Out There Interiors. Made from high quality rattan and available in Grey or Mixed Choco, I adore its retro feel.
Great for adding a luxurious touch, this chair is perfect for curling up in and reading a book while soaking up some much needed rays of sunshine.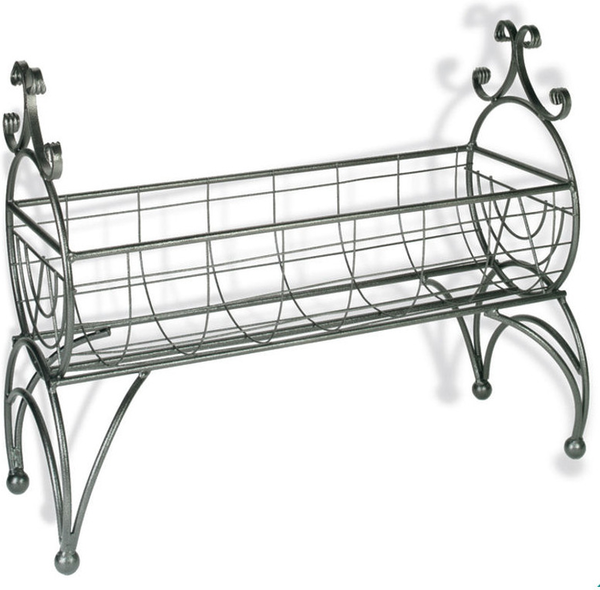 Brighten up your garden with this Regal Planter, from £79.
With spring here, it's time to start sprucing up the garden, but not everyone has a large outdoor space, especially if you live in a flat or apartment.
That doesn't mean you can't be using your green fingers though. Quite the contrary, with a little imagination, you can turn your patio or balcony into the garden of your dreams.
Window boxes and planters are especially versatile and easy to take care of, and I love this Regal Planter by The Orchard.
Made from steel, it can be planted as subtly or extravagantly as you wish, and will brighten any external space, whatever size.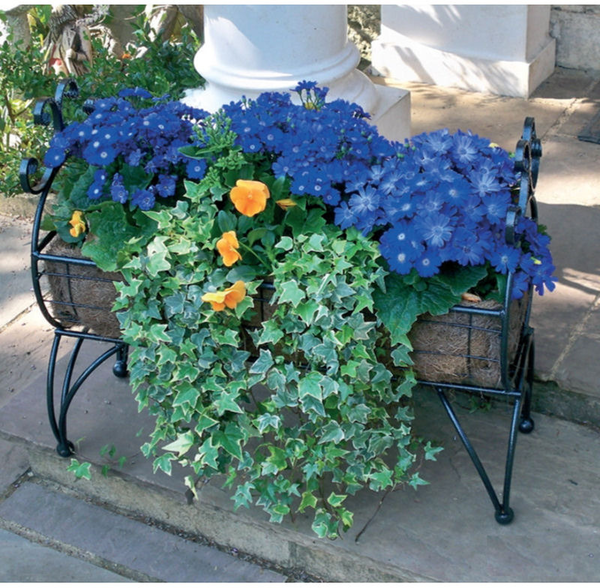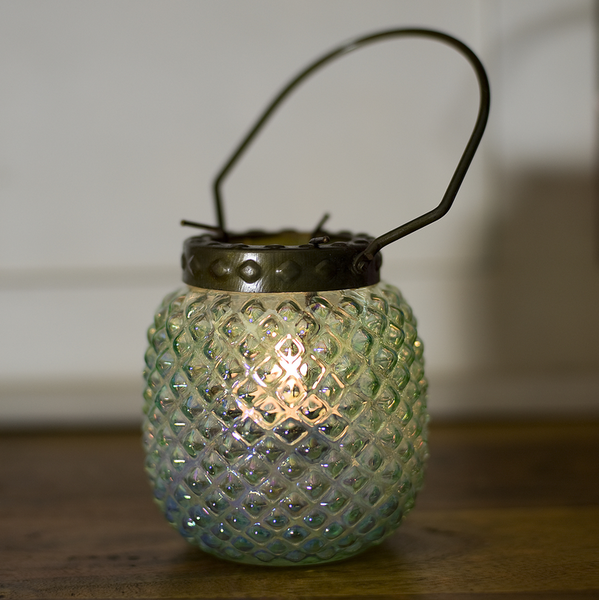 Add a subtle glow with this Green Hobnail Lantern, £15.
I might be getting a little ahead of myself but, with the sunny weather we've been having of late, I can't help but start to think about summer.
Those in the know claim that this summer is going to be a scorcher, so I'm planning as many al fresco events as possible to make the most out of the predicted good weather.
Perfect for summer evenings is this Green Hobnail Lantern by The Orchard. Suitable for hanging from trees or fences, this little lantern is sure to add some atmosphere to any garden party.
Also comes in peach, cranberry, violet, yellow and turquoise, and a selection of colours would look fantastic scattered around a garden dining area.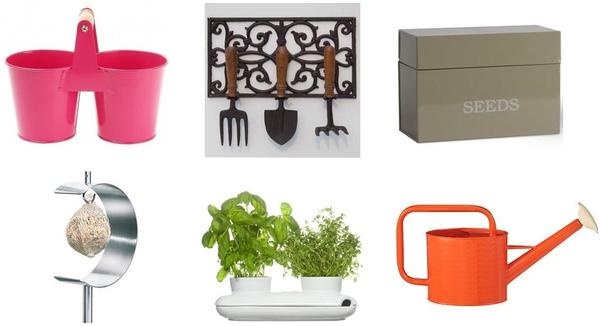 Find gorgeous gifts for your green-fingered friends with our Christmas Gift Guide for Gardeners.
If you're looking for the perfect gift for a wannabe Alan Titchmarsh or Rachel de Thame, we have some great gardening gifts for your green-fingered friends.
From watering cans to bird feeders to garden tools, we have everything to make sure your loved ones' gardens bloom this coming year.
To help them adhere to the inevitable hose pipe ban in a few months' time, this Orla Kiely Watering Can from Design 55 is just the ticket, while twitchers will be delighted with this Blomus Nido Bird Feeder by Red Candy.
And to keep seeds neat and tidy, look no further than this simple yet stylish Garden Trading Large Seed Box in Gooseberry from Amara Living.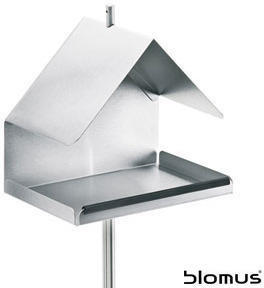 Look after your feathered friends this winter with the Blomus Nido Bird Feeder House from Red Candy, currently £55.80.
I'm no expert when it comes to our little feathered friends, but they certainly seem to like my small courtyard garden. Maybe it's thanks to the high fences which protect them from the neighbourhood's felines, or the fact that I indulge them in a fat ball or two, but they love to flock to this tiny oasis.
Now that winter is rapidly descending on us, it's time to make sure they're properly looked after and what better way than by installing this super stylish Blomus Nido Bird Feeder House from Red Candy.
Simple, yet oh so chic, this birdhouse provides enough room for birds to feed and shelter from the wind and rain, and can be hung from a tree or placed on a handy stake in the ground.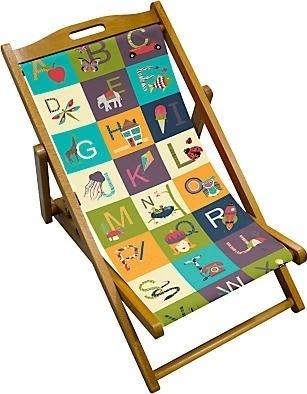 Let your little ones relax in the sun with this Alphabet Children's Deckchair from John Lewis, £39.
The summer holidays are here and the sun is shining, but you still might need some ammunition to tear your little ones away from the TV and get them enjoying the great outdoors.
If a cool, inviting paddling pool isn't cutting the mustard, then this Alphabet Children's Deckchair from John Lewis is sure to do the trick.
This small, but perfectly formed, garden chair features a brightly coloured alphabet fabric with a special character for each letter.
Great for letting the smaller members of your family sit back and relax, it's subtly educational too.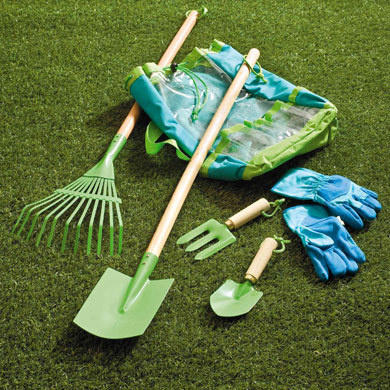 Turn your little ones' fingers green with this Garden Tool Kit from Great Little Trading Company, currently £22.40.
So the school summer holidays are upon us. To me this means less crowded trains, but to my friends with children it means occupying little ones for weeks and weeks and praying it doesn't rain.
If it is good weather, one way to keep your little darlings busy is to get them helping out in the garden.
And what better way to create the next Alan Titchmarsh or Charlie Dimmock than with this Garden Tool Kit from Great Little Trading Company.
Comprising spade, rake, hand trowel, hand fork and matching gloves, it's got everything a little gardener needs to help Mum or Dad make their outside space look absolutely beautiful.
Relax in the garden with this Asanti Reclaimed Hardwood Double Bench from Oak & Ash Furniture, £398.
Sadly I don't have room on my little patio for a garden bench but, if I did, you can bet your bottom dollar I'd be treating it to this Asanti Reclaimed Hardwood Double Bench from Oak & Ash Furniture.
Crafted from eco-friendly reclaimed hardwood, which has been given a distressed finish, I love the elegant curved arms and legs which make this piece something really special.
Great for relaxing on, this bench is perfect for adding just the right amount of shabby chic style and, if you like the look of the bench, you'll be delighted to know that there's a selection of matching tables and chairs available too.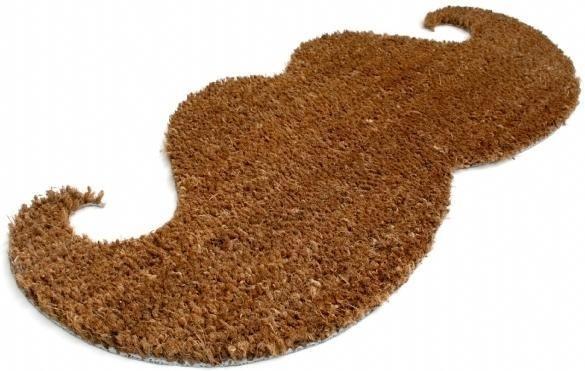 Give your guests a quirky welcome with this Moustache Door Mat from Design My World, £24.95.
As well as being extremely practical and a must for the hallway, a cheerful doormat offers the perfect way to give your guests a warm welcome and add a touch of interest to any hallway.
While we have a vast array of door mats to choose from here on Furnish from bright, bold stripes and cityscapes to delicate florals, without a doubt my favourite is this Moustache Door Mat from Design My World.
Ideal for adding a quirky touch to your hallway, it will also ensure your floors are kept spic and span.