Features: Living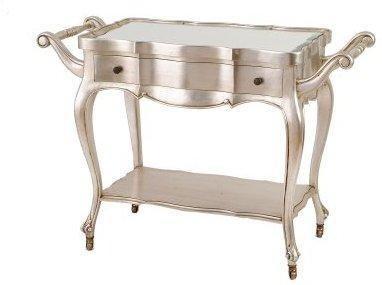 Add some glamour to your cocktail parties with this Biggins Silver Leaf Mahogany Drinks Trolley from Artisanti, £627.
One piece of furniture I've always wanted, but never had room for, is a drinks cabinet or trolley.
Well, finally I have and, despite my rather super vintage sideboard having a more than sufficient drinks section, I've got my eye on this striking Biggins Silver Leaf Mahogany Drinks Trolley from Artisanti.
The generous top provides plenty of room to hold a plethora of spirits (even those dodgy ones you bring back from summer holidays abroad), while the discreet drawer is ideal for storing corkscrews, cocktail stirrers and possibly the odd kitsch umbrella.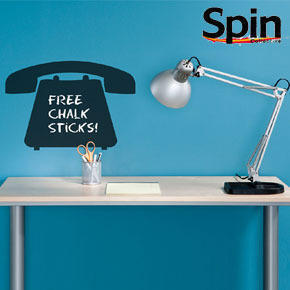 Make sure you never miss a message again with this Telephone Chalkboard Wall Sticker from Red Candy, £13.
Anyone who's ever not been given a message about a missed phone call knows just how annoying it can be.
When I was a teenager and most phone calls happened on landlines (yes, I know I'm showing my age), woe and betide if I forgot to take a message down for my parents.
Had we had this Telephone Chalkboard Wall Sticker from Red Candy, it wouldn't have been a problem.
The perfect addition to a hallway or wherever your landline lives, simple, yet ever so effective, this telephone-shaped wall sticker can be written on using chalk so you will never miss a message again.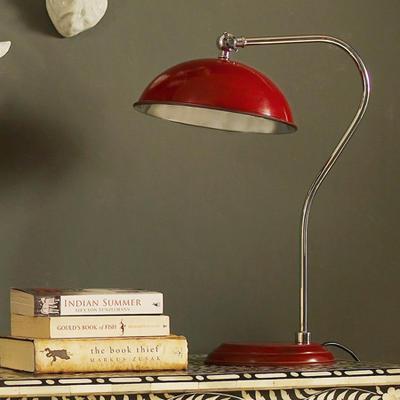 Give your office a touch of colour with this Red Pharmacy Lamp from Graham & Green, currently £83.30.
If you work from home then, as well as a desk and plenty of storage, a decent desk lamp is an essential piece of home office kit. And if you do insist on burning the midnight oil, you might as well do it in style.
Of course there are plenty of desk lamps to choose from, but this Red Pharmacy Lamp from Graham & Green is definitely a favourite of mine, and is just the ticket for adding some vintage style to any home office.
And if you don't believe in working too hard, then this stylish lamp will also make the perfect addition to a bedside table.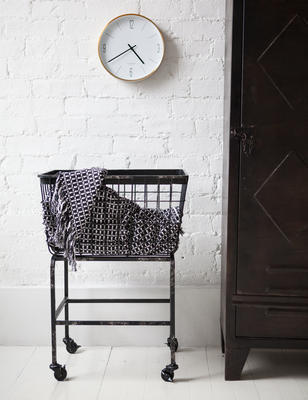 Go industrial with this Downtown Basket from Rose & Grey, £185.
The industrial trend is still going strong when it comes to interiors, but overdo it and it can look a little austere. If you want to inject this look into your home without the overall look becoming too stark, accessories are the way forward.
I love this Downtown Basket on Wheels from Rose & Grey which effortlessly taps into this trend without being too overpowering.
Heavily influenced by American Laundromat baskets, it's a useful piece of storage as well as being super stylish.
Use it in a hallway to store gloves, scarves and hats, in the kitchen for vegetables or table linen, or even in the bathroom for towels.
Best of all, it's on wheels which means you can move it around to suit your mood and needs.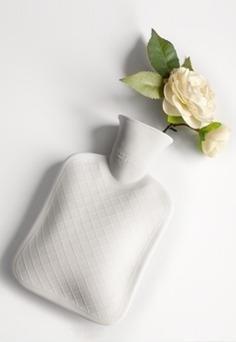 Give your floral display a quirky touch with this Porcelain Hot Water Bottle Vase from Magpie Miller, £26.
Every home needs a quirky touch or two; the trick is to keep them to a minimum to ensure your home has a humorous touch rather than turning it into a joke shop.
My latest quirky find is this rather fabulous Porcelain Hot Water Bottle Vase from Magpie Miller.
Offering a new way to display flowers, this clever vessel has a small hole so it can be hung on the wall. Try using one on its own to liven up a dull corner or create an interesting focal point by grouping a few together.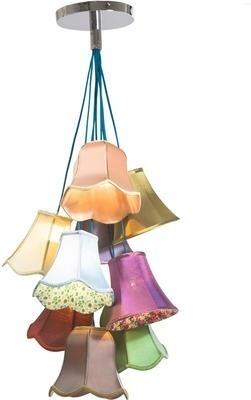 Create a style statement with this Betty's Boudoir Oversized Pendant Lights from The French Bedroom Company, £275.
Lighting can be a tricky element of interior design to get right. It needs to be both functional and beautiful, which can be a tricky combination.
If you want to create a real statement with your lighting, a chandelier is a great idea and we have a huge range of gorgeous chandeliers here on Furnish.
However, not every room suits a chandelier, which is why I love the delicate styling of the Betty's Boudoir Oversized Pendant Lights from The French Bedroom Company.
Consisting of a group of elegant, traditional style lampshades, the light has been brought bang up to date with bright blue flexes which add a contemporary touch.
Ideal for the bedroom, this light will also look fabulous in a hallway to give your entrance a subtle yet welcoming glow.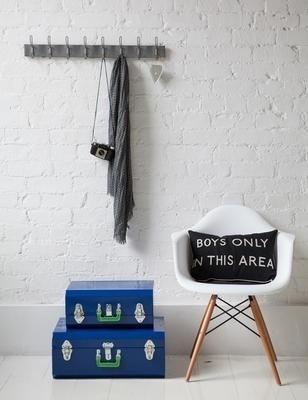 Keep your storage colourful with these Bazaar Boxes from Rose & Grey, £145 for a set of 2
While I'm lucky enough to have more cupboards than I know what to do with, many people struggle to keep all their stuff neat and tidy.
And while shelves and racks and baskets and boxes are all well and good, we all have personal items that you don't want every Tom, Dick and Harry who visits you to see.
Which is why I love these Bazaar Boxes from Rose & Grey. Made from metal, they come as a set of two "suitcases" in this stunning, vibrant blue, accented with bright green handles.
Perfect for stashing away everything from out-of-season clothes, to towels and bed linen, to paperwork or toiletries, they are also just the ticket for adding interesting storage to a little one's room.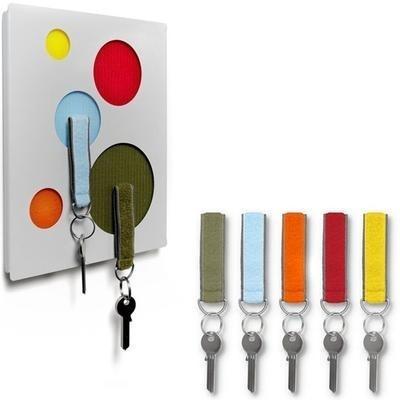 Never lose your keys again with this Konstantin Slawinski Clote Key Holder from Design 55, currently £49.
As someone who is slightly OCD about where house keys are at all times, the cry of "Where are my keys?" drives me absolutely nuts.
For some reason, my usually super-organised husband can never find his keys and it has me pulling my hair out!
I have tried everything from having a keys bowl on the kitchen table, to creating and labelling a section in a sideboard drawer just for this purpose but, short of making him wear them round his neck on a piece of string, nothing seems to work.
Which is why I was delighted to come across the very clever Konstantin Slawinski Clote Key Holder from Design 55.
With five different coloured keyrings, you simply press these onto the bright shades of velcro on the key holder, keeping your keys safe and adding a fun touch of colour to your hallway,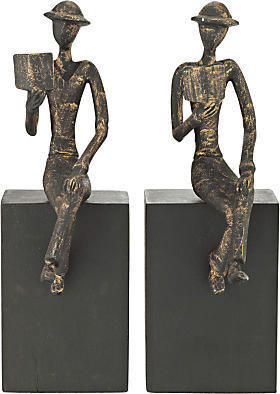 Keep your books in check with these Man with Books Bookends from John Lewis, £50.
I'm a much happier bunny now my books are on display. Four months after moving they were still languishing in boxes in the spare bedroom but, thanks to the addition of some simple shelves, are now taking pride of place in my living room.
As well as brightening up a particularly gloomy wall, it's really nice to have them at hand, the only problem being that they keep falling off the shelves.
My search for some feature bookends brought me straight to these Man with Books Bookends from John Lewis.
Simple and sweet, these cute little fellas will have pride of place on my bookshelves and, most importantly, stylishly stop the books from falling off!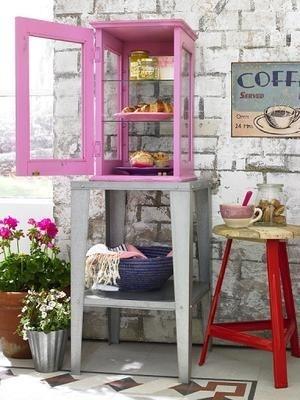 Add a splash of colour to your home with this Medicine Cabinet from Out There Interiors, £125.
Regular readers will know I'm more than a little obsessed with storage.
As a bit of a hoarder – back issues of Living Etc from 5 years ago anyone? – I need lots of storage options available to me, otherwise there's every chance I'd be making an appearance on one of those messy people reality shows.
With everything from scarves (surely no one needs as many as me) to magazines and books, I have a plethora of storage items in which to stash away my stuff, but I'm about to make room for just one more.
This Medicine Cabinet from Out There Interiors is simply a fab little piece of furniture. Made from wood, it has three handy shelves and comes in an array of fabulous colours.
It can, of course, be used as a medicine cabinet, but would look equally good in a kitchen filled with colourful mugs or bowls.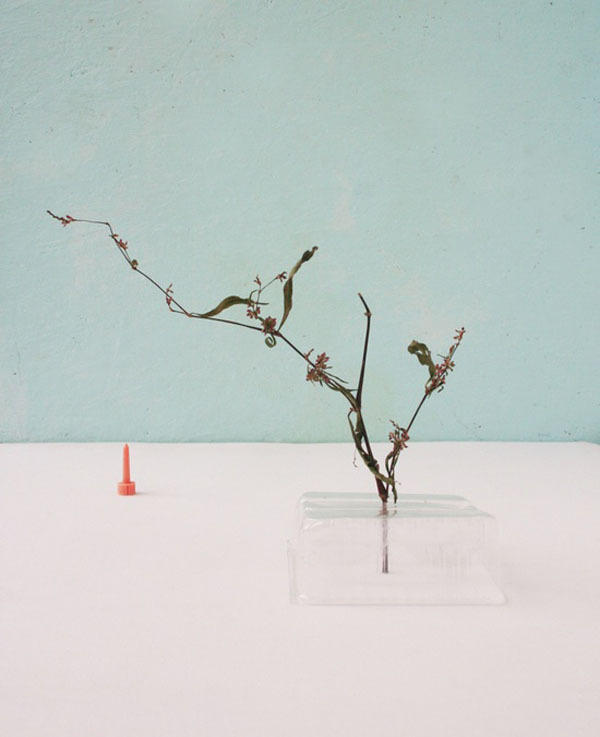 This week's search for our blog of the week ends with the fabulous Design Hunter blog.
The sun is shining so, instead of being holed up inside, why not grab your laptop and head out to a gorgeous open space to settle down with our blog of the week.
This week we call in on the oh, so stylish Design Hunter, a design and lifestyle blog, whose aim to "feature beautiful interiors, interesting people, emerging trends and enduringly good design" is achieved in spades.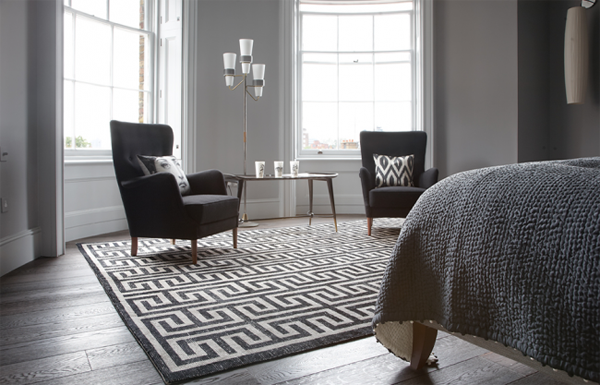 Simple, yet elegantly put together, Design Hunter comes from the keyboard of Helen Powell who is based in Warwickshire.
Offering a stunning mix of product finds, news and design inspiration, all split into easy-to-navigate sections, Design Hunter is a must-read blog for keeping up to date with the world of interiors.
We were particularly pleased to come across this handy post all about the May Design Series which takes place at ExCel from 19-21 May, which will have the design glitterati once again flocking to the capital.
The guide has great tips about which stands to visit and who to hear speak at a range of insightful seminars. As well as being an interesting read for those not planning to visit the show, it will ensure those who do attend won't miss the best bits!
Keep up to date with Helen's latest posts by following her on Twitter via @designhunter_uk.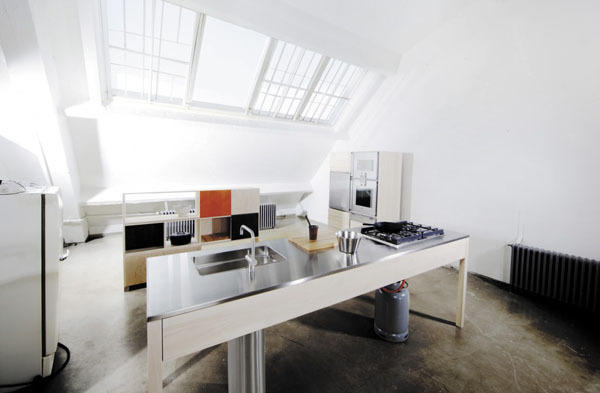 Remember, we'd love to hear from you if you write your own blog so, if you fancy seeing your musings on our blog pick of the week, please drop us a line!

Add a touch of kitsch to your home with these Flamingo Hooks from Rigby & Mac, £19.95.
While I'm serious about interiors, I do feel that interior design can sometimes take itself a little "too" seriously. Which is why it's sometimes good to inject some fun into your home furnishings.
And when it comes to storage, I can't help but fall seriously in love with these Flamingo Hooks from Rigby & Mac.
Hand painted and available in six bright hues, these kitsch little hooks are ideal for holding everything from keys and necklaces to towels and coats.
For maximum effect, buy one in every colour and add them to your hallway wall to create a colourful focal point and, of course, provide somewhere for guests to hang their coats.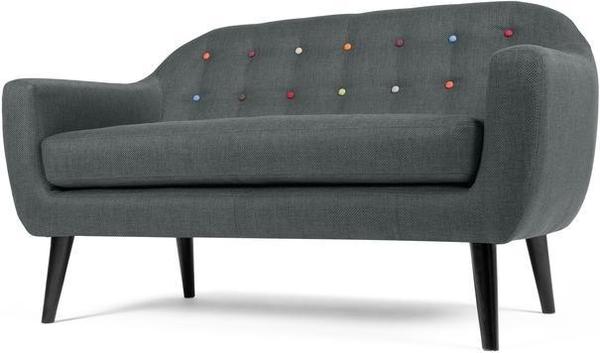 Add some sophisticated style with this Ritchie 2 Seater Sofa with Rainbow Buttons from made.com, £499.
When it comes to interiors, if there's one thing I absolutely can't resist, it's a button-back chair or sofa. Whether they're classic or contemporary, if a piece of furniture has a button-back, chances are I'll have my eye on it, and it will be fast-tracked to the top of my wish list.
A new favourite is this Ritchie 2 Seater Sofa with Rainbow Buttons from made.com.
Elegantly shaped, it has been accented with multi-coloured buttons which add just enough colour without being too wacky.
Perfect for creating a real style statement wherever you choose to use it, this chair is sure to be a firm favourite for many years to come.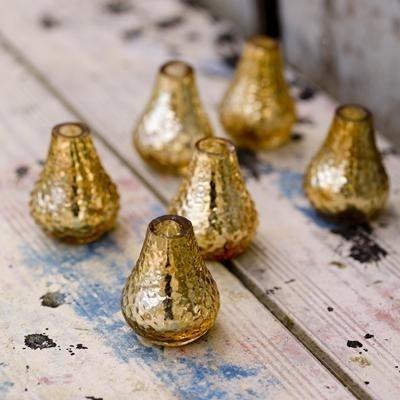 Give your floral displays the Midas touch with these Bibi Gold Vases from Daisy West, £19.95.
I made a promise to myself when I moved into my new home that I would buy fresh flowers every single week.
While that might seem a bit decadent, if you stick to flowers that are in season (such as daffodils, narcissi and tulips at the moment), this can be a relatively inexpensive way to brighten up your home.
The question is what to display them in and, while I have a plethora of gorgeous vases to choose from, I'm sure I can make room for this delightful set of Bibi Gold Vases from Daisy West.
Each set contains six of these pretty little vessels which are perfect for displaying a single spring bloom.
Try grouping them together in a random arrangement for a simple yet stunning centrepiece, or line them up uniformly to add interest to a mantelpiece.
Give your home a magical touch with this Shadow Chair from Duffy London, £795.
We love a quirky product here at Furnish, and Duffy London's eclectic mix never misses the mark.
Our new favourite from these clever furniture designers is this Shadow Chair. Available in a variety of finishes, this bright, sunny yellow colour-way is our current top choice.
The chair at first appears to have no back legs, defying gravity and confusing the senses. A closer look, however, reveals the shadow is in fact part of the chair, which we think is furniture design at its genius best.
Ideal for adding an unconventional touch to your dining room, this chair would also look fabulous teamed with a very classic dressing table to create an eclectic scheme for any bedroom.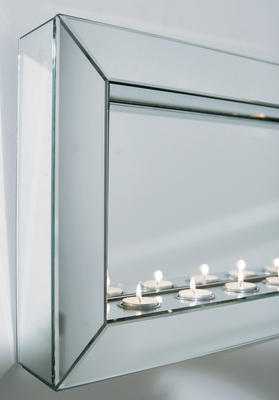 Inject some simple yet clever style with this Light Me Up Mirror from The French Bedroom Company, currently £160.
Mirrors are the perfect way to increase the feeling of light and space within a room, which is particularly helpful if you have a space which is rather dark or gloomy.
While there are lots of mirrors here on Furnish, I've fallen for this simple, yet ever so effective, Light Me Up Mirror from The French Bedroom Company, whose accessories get more impressive with every season.
This bevelled edge, chunky mirror has space for nine tea lights which creates a warming glow.
Perfect for any room in the home from dingy hallways to light-lacking bedrooms, this mirror would work particularly well in the bathroom to help provide the ultimate candlelit bath.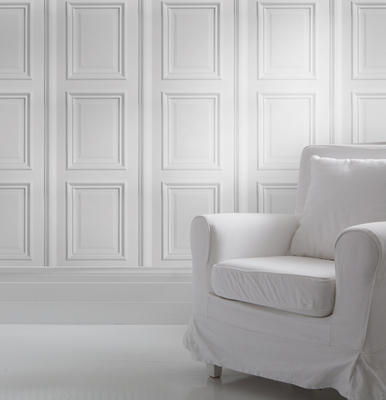 Add some classic style to your scheme with this clever White Panelling Wallpaper from Found Home Store, £70.
Wood panelling is usually the preserve of stately homes and grand hotels, with those wishing to emulate it in their homes having to fork out a fortune to recreate the look.
However, this clever White Panelling Wallpaper by Young & Battaglia and available from Found Home Store takes away the hassle and expense.
Inspired by classic Georgian wood panelling, the wallpaper will instantly add depth and interest to a room and will work well in living spaces and bedrooms alike.
Best of all, if the classic off-white colour way isn't for you, you can paint it any shade you like, from a subdued, stylish grey to shocking and very on-trend neon pink.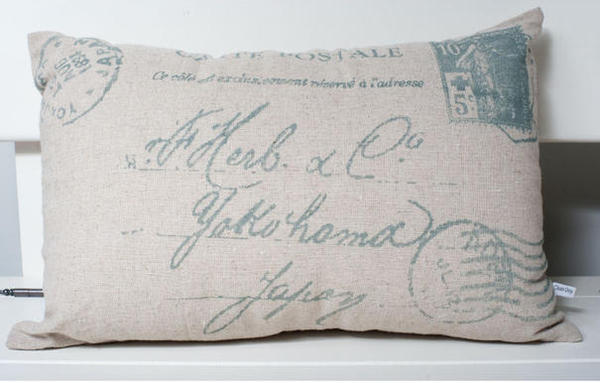 Update a sofa or chair with this Vintage Postcard Cushion - Rectangle from The Orchard, £11.50.
I, for one, think it's really sad that no one sends postcards anymore. Instead of receiving little pieces of card with pictures of beautiful beaches or famous landmarks, loved ones now send "Wish you were here" messages and smug weather updates via texts, Twitter or Facebook.
True, postcards invariably arrive weeks after the sender has returned home and you've already heard about their amazing time, but there was something nice about receiving a little bit of news from abroad via the post.
Which is probably why I love the Vintage Postcard Cushion from The Orchard so much. Perfect for adding a touch of vintage charm to a sofa or chair, it features a delicate, faded postcard print.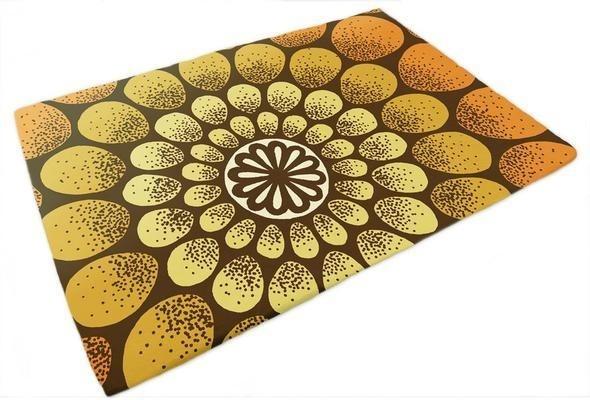 Give your floors a retro feel with this Dahlia Rug from Element Interiors, from £580.
After years of having to live with a not very nice shade of laminate flooring, I'm delighted to have cosy carpet again.
However, if you're living with wood or laminate and would like to warm it up a bit underfoot, a rug offers the perfect solution.
Of course there is a wide range of rugs to choose from right here on Furnish to suit every style from classic to contemporary, but my top pick is this bold, graphic Dahlia rug from Element Interiors.
Made from 100% wool, it features a striking floral design which is bang on-trend and is available in four colourways.
I love the orange/yellow combo which is great for adding a retro touch to any room.
Update a piece of furniture effortlessly with this Agate Slice Knob from Graham & Green, £4.75.
Updating a piece of furniture you have already is a great way to get a new look without breaking the bank.
Replacing the knobs on a chest of drawers or storage unit is both easy and affordable, and accompanied by a lick of paint will give you a complete new look.
I love this Agate Slice Knob from Graham & Green which is available in five different colours (blue, turquoise, purple, pink and natural) and will give a tired piece of furniture a new lease of life.