Features: Living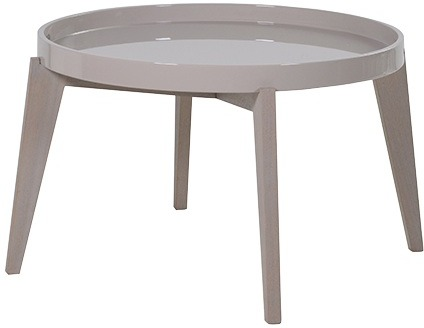 Add some stylish neutral tones with this Taupe High Gloss Table, £167.
A friend of mine has recently started a new job with Kelly Hoppen so, in homage to the Queen of Neutrals, I have had a mooch around here at Furnish for some cream, taupe and grey goodies.
My fave is this Taupe High Gloss Side Table by Lovers Lounge.
Simple, yet ever so stylish, this glossy piece of furniture will look equally good at the side of a sofa or chair as it will next to a bed for a sleek take on the traditional bedside table.
And with a generous top, there's plenty of room to keep everything you need close at hand.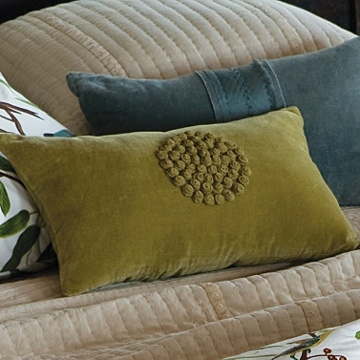 Cosy up with this Chartreuse Velvet Cushion, £96.
While I lament the passing of summer each year, autumn is without a doubt my favourite season. From spending time at home making soup and watching the leaves fall, to wrapping up in warm coats and scarves, for me it's the perfect excuse to get cosy.
And adding comforting accessories is the perfect way to get your home ready for autumn.
We have a huge range of throws, cushions and rugs to add some warmth to your home as the days get colder but what I have my eye on is this Chartreuse Velvet Cushion by Primrose & Plum.
In this gorgeous shade of green, this super soft, super cosy cushion will add an elegant touch wherever you use it from your bed to a sofa or chair.
Treat yourself to a new wall clock from our fantastic collection.
You know when the clocks go back that winter is officially on its way. But while most people don't like getting up and coming home in the dark, who are we to argue with Mother Nature.
To make it a little more bearable, we've put together some of our favourite wall clocks, which are ideal for cheering up a plain wall.
If you're looking for something stylish, this Origami Ceramic Wall Clock by Naken Interiors with its geometric design is ideal for the office or living room and is available in a selection of colours.
Those with a penchant for everything retro will adore this Gold Sunburst Clock by Alexander and Pearl, which looks far more expensive than its bargaintastic price tag.
And while it might be a little on the pricey side, who can resist this super cute, designer Cucu Home Cuckoo Clock by Red Candy for a little (or big) one's bedroom?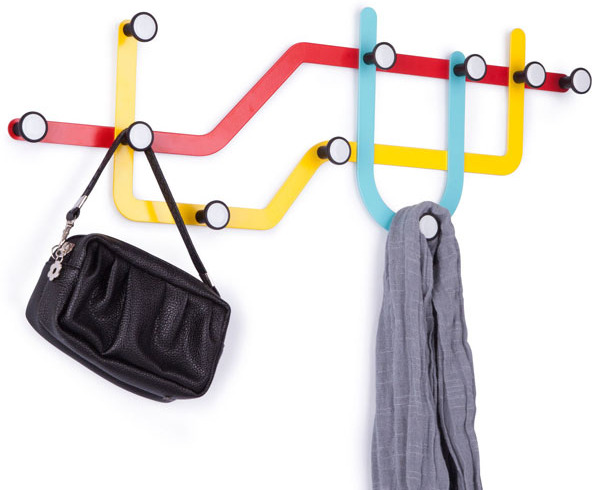 Keep everything neat and tidy with this Umbra Subway Multi Hook, £30.
Regular readers will be aware of my constant struggle to find the right coat stand/hooks for my narrow hallway, and will be delighted to hear I have found just the thing to solve all my storage problems.
And it comes in the shape of this Umbra Subway Multi Hook by Red Candy.
Designed to resemble a subway map (a very simple one at that!), this colourful wall rack has a multitude of handy hooks to hang everything neatly and keep your hallway clutter free.
And it's also perfect for other rooms in the home from housing towels in the bathroom to jewellery in the bedroom.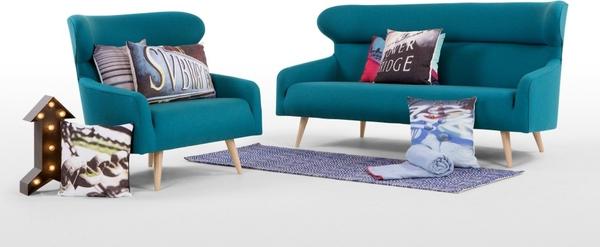 Sit back and relax in style with this Twist Armchair, £549.
Of all interiors products, I've always been a sucker for chairs – in fact it pains me each time I find a new one because I just don't have room for any more.
We have a huge selection of armchairs here at Furnish from contemporary to classic and simple to quirky, so there really is something for everyone and every room.
One design that has just made it to the top of my wish list is this Twist Armchair by made.com.
Available in three striking colours, I love this Teal version. Generous, with a definite nod to retro styling, it features a deep wingback and angled legs.
Ideal for both the living room and bedroom (if you're lucky enough to have the space), this chair is perfect for curling up in with a good book or simply sitting back and relaxing after a hard day at work.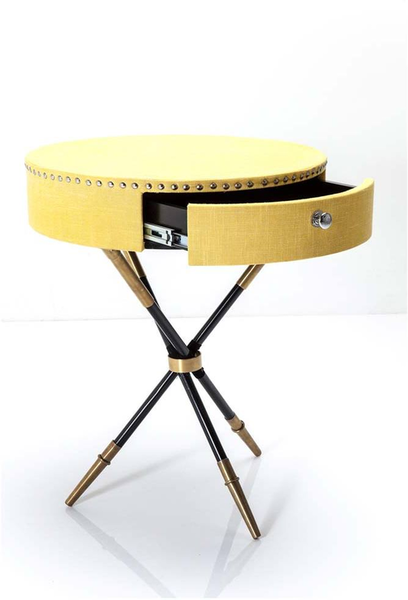 Add a subtle pop of colour with this Citrine Side Table, £325.
Despite being a fan of neutrals I adore the odd pop of colour, and after years of vowing never to have colourful furniture, I have recently succumbed to the odd piece.
The first was a teal armchair, which I totally love, so I've decided it's time to be a little more adventurous, which is why I'm investing in this gorgeous Citrine Side Table for the bedroom.
Covered in a textured woven fabric, this brightly coloured table has been finished with a row of glamorous studs and comes complete with a handy drawer.
Of course, while it's perfect as a bedside table, it would also work equally well next to a sofa or armchair on even in a hallway.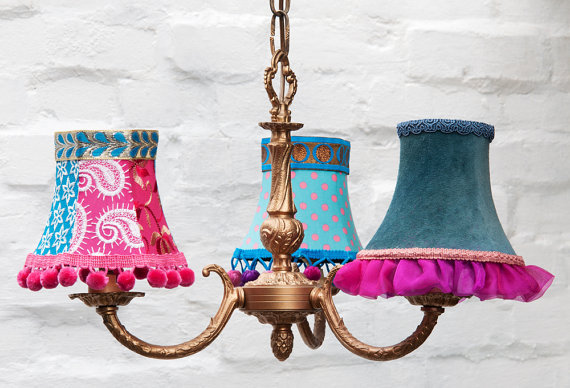 Go bright and bold with this striking Dixie Circus Chandelier, £120.
A few years ago, when upcycling became a thing, everyone was at it – some with disastrous results – however some of them got it right and some are still doing it very well.
Such as Mols & Tati-Lois, who have created a striking range of upcycled lighting designs.
My favourite is this Dixie Circus Chandelier, which has been turned into a bold statement piece with the addition of a myriad of vintage fabrics and trimmings.
Perfect for creating a feminine but not too girly boudoir, each one of these striking pieces is a one-off meaning you're getting a truly original piece.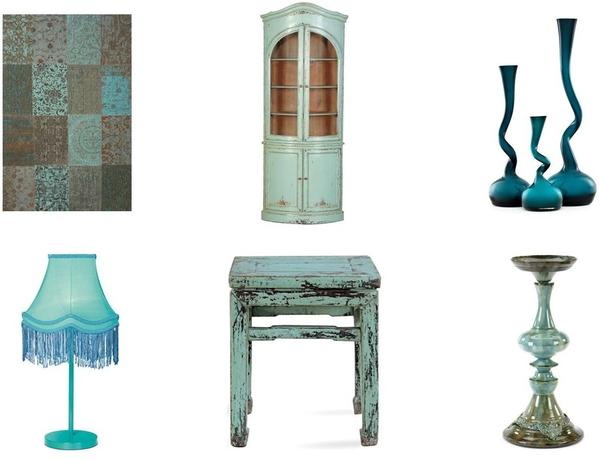 Give your home an instant boost with these turquoise treats.
Turquoise is a particular favourite colour of mine; probably because any time I start a new job or have a big event in my life, my Mum always makes sure I have a piece of it with me. As someone who is superstitious beyond belief, she believes it brings good luck and helps to keep you safe.
Reminiscent of exotic seas, this shade works well in both contemporary and classic interiors. Whether you opt for a pale, eau de nil shade or a darker, almost teal hue, both work well with pink, yellow, grey and white as complementary colours.
We have a great selection of products here at Furnish to inject this colour into your home from lighting and wallpaper to stylish, glass accessories.
If you're looking to invest in a new lamp to combat the onset of autumnal darker evenings, this Fluoro Fringe Table Lamp in Turquoise by The French Bedroom Company is just the ticket, while this Multi Rug in Sea Blue by Naken Interiors will look striking teamed with white floorboards.
And what could be a better way to display statement autumn blooms than this Normann Copenhagen Swing Vase by Red Candy, which is available is three sizes.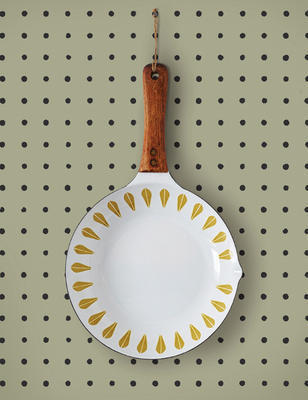 Update your walls with this simple Mini Moderns Peggy Wallpaper, £45.
I've long been a fan of Mini Moderns, so I was thrilled when they introduced a new wallpaper design to their ever-growing collection.
Peggy, the second design from the Hinterland collection, has been inspired by pegboards (love the name!) and is available in five colourways: Mustard, Snow, Lido, Concrete and, my personal favourite, British Lichen.
Perfect for any room in the home from hallway to bedroom, I really fancy installing this simple, yet ever so effective, wallpaper in my home office to bring the walls to life.
Get cosy with our great range of gorgeous rugs.
As we're now into October, it's time to start thinking about cosying up your home. Rugs are a perfect way to add some extra comfort to your floors, especially if you have wooden or stone flooring, and are also a great way to inject colour, texture and pattern.
We have a huge range of gorgeous rugs here at Furnish, whether you're looking for classic or contemporary, and these are just a few of our favourites.
If you're looking for a really cosy option for the living room or bedroom, this super soft Sheepskin Rug by Out There Interiors definitely ticks all the boxes, while this Wonderland Children's Rug by Naken Interiors is perfect for a little one's room.
If you're after some retro style the Dahlia Rug by Element Interiors is great for adding some bold pattern and colour and comes in four vivid colours, while those looking to add a real style statement will love this Mauve 1p Rug by Out There Interiors which is an oversized replica of a Royal Mail postage stamp.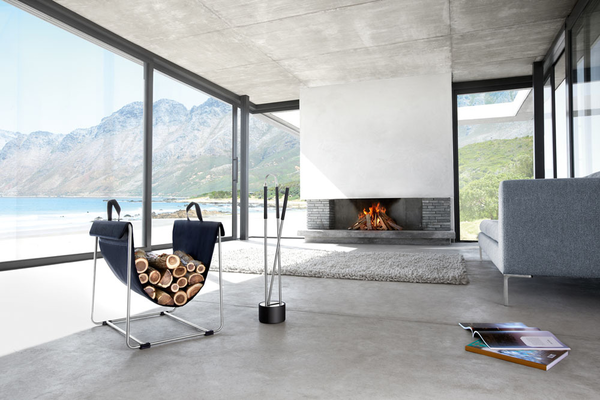 Introduce a contemporary feel to your fireplace with this Madra Log Storage and Carrier, £110.
I know it's still a little early to be talking about roaring log fires but I'm already looking forward to lighting mine this winter. And I'm looking forward to getting hold of some stylish fireside accessories to sit alongside it.
Which is why I love this Madra Log Storage and Carrier by Naken Interiors. Simple yet stylish, this clever log holder has a removable carrier which means you don't have to struggle with arms full of logs and easily slips onto its sleek metal stand.
Perfect for a contemporary living room, this piece is both good looking and practical.
Inject some industrial style with this Set of Two Strap Mirrors, £75.
Strap mirrors are all the rage at the moment and are perfect for adding some industrial style to the home.
One of my favourites is this Set of Two Strap Mirrors by Alexander and Pearl.
The set consists of two differently sized mirrors each of which have a simple metal frame and understated faux leather hanging strap.
Ideal for every room in the home from the bedroom to hallway, these mirrors look equally great displayed together to turn a plain wall into a room's focal point or on their own.

Go sleek and simple with this gorgeous Oak Sofa, £1,400.
Regular readers will know I err on the side of simple when it comes to choosing furniture.
In fact, almost every piece in my home adheres to these three rules; clean lines, no embellishment and, perhaps most importantly, well made and built to last.
Which is why I love retro furniture so much as it's already been around for ages, and I love imagining who owned it and where it lived before it found its way to me.
However, every now and again a new piece makes its way into the collection and my latest furniture crush is this Oak Sofa by Artstar.
I adore the sleek lines and nod to classic Scandinavian design, and really love the addition of a side table and drawer, which makes this perfect for a hallway.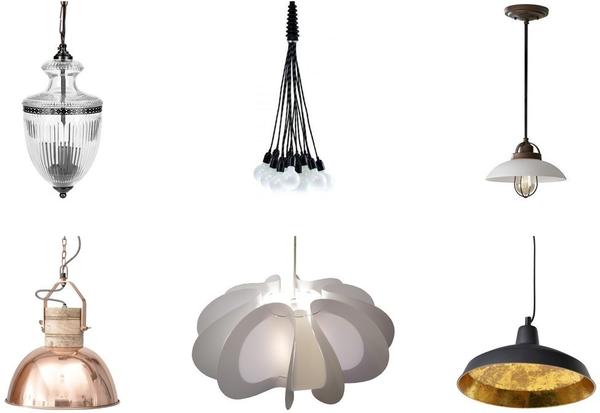 Illuminate your home in style with our selection of gorgeous pendant lights.
The nights are already starting to draw in which means it's a great time to sort out your lighting.
Pendant lights work well in every room in the home from the bathroom to hallway and are a great starting point for any lighting scheme.
We have a fantastic selection here at Furnish from classic to contemporary which are sure to update your scheme in next to no time.
Perfect for creating a real statement in the hallway or dining room, this Original Bundle Light by Design My World comprises a cluster of glass bulbs suspended from black cord and is sure to become a real talking point.
If you favour the industrial look, this Fleiss Urban Kitchen Range Light by Fields of Blue is just the ticket and would look great installed in a kitchen or dining space.
This striking Orion Pendant Light by Carl Harrison Design is ideal for the living room, and looks far more expensive than its bargaintastic price tag, while this intricate Grooved Glass Hanging Light by Out There Interiors will look fabulous in the hallway or bedroom.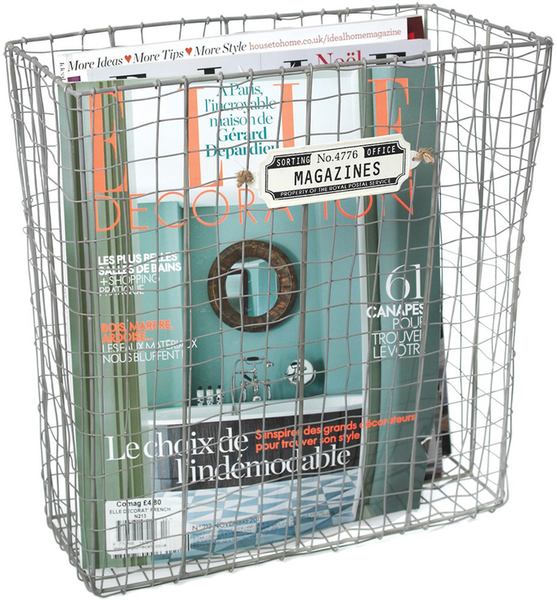 Keep your reading matter in check with this Magazines Sorting Office Rack, £25.
The internet is all very well and good, and actually where on earth would we be without it but, for me, there's still nothing like leafing through the latest issue of my favourite interiors mags.
However, as I insist on keeping almost every one I buy, keeping them neat and tidy can be a bit of a mission. Which is why I was thrilled to come across this Magazines Sorting Office Rack by The Orchard.
Simple, yet ever so stylish, this handy wire rack means I can see what magazines I have at a glance but manages to keep them from cluttering up my space. Perfect.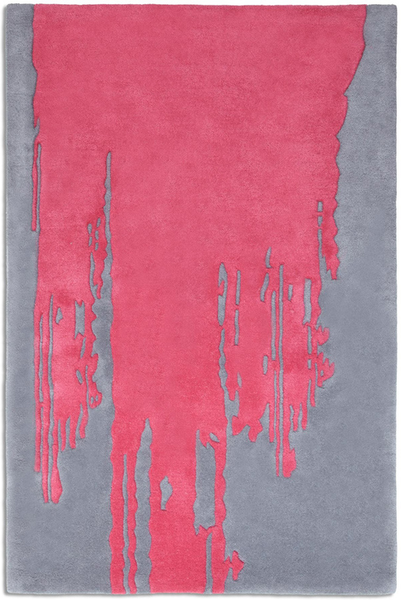 Go bold with your floors with this striking Punk Rug, from £150.
Rugs are brilliant because they update a room instantly, add warmth and comfort, and offer a great way to add pattern or colour (or both).
Here at Furnish, we have a fantastic range of rugs to choose from, whether you're looking for classic or contemporary or anything in between. But the one which has really caught my eye is this Punk Rug by Naken Interiors.
Available in two sizes and three different colour options, it has been designed to resemble spilt paint, and is ideal for those who want to add colour and drama to their floors without incorporating any detailed patterns.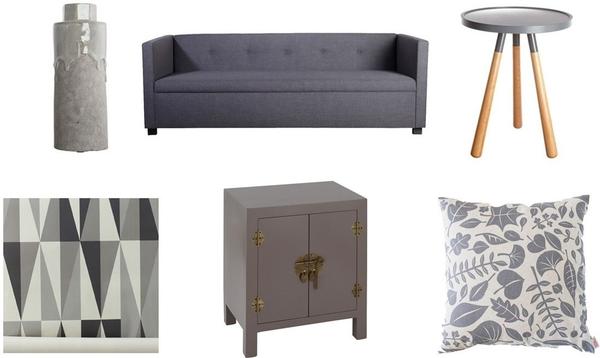 Incorporate cool and stylish grey into your home with these fabulous buys.
I'm a little bit biased when it comes to grey; it is one of my favourite colours and features heavily in my own home.
Far from being dreary, grey is sophisticated and dramatic and, contrary to popular belief, can also add warmth to a room. Finding the right grey for you is all down to what sort of light you have and personal preference, so make sure you do your research before choosing your perfect shade.
Grey also works well with a multitude of other colours but looks particularly great with pink, turquoise, yellow and of course white.
If you're a little unsure about grey as the main colour in your scheme, accessories are a great way to introduce this colour in small doses. We love the Large Hexa Cool Grey Ceramic Vase by White Mint. Available in two sizes, this simple yet striking vase will work well on either a sideboard or dining room table.
If you want to create a statement without committing to wallpaper, flooring or paint, this Dark Grey Sofa by Artstar is the ideal choice for both contemporary and classic schemes, and will look great teamed with brightly coloured scatter cushions.
However, if you're feeling a little bolder, why not opt for this striking and on-trend Spear Wallpaper in Grey by Naken Interiors which incorporates varying shades of grey into its design and will add instant impact to any room.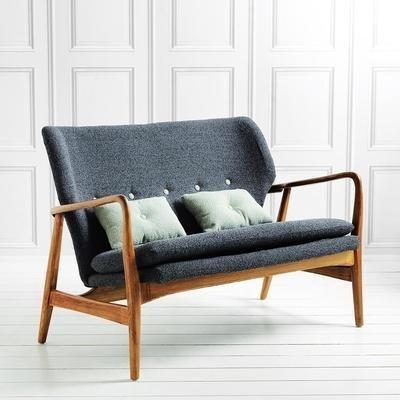 Enjoy some classic style with this Odin Two Seat Sofa, £995.
Graham & Green is celebrating its 40th birthday this year, which is no mean feat in an age when interiors brands fall by the wayside so easily.
Regular perusals of Graham & Green's items on Furnish often leave me "oohing" and "ahhing" and wondering if I can squeeze another chair, cushion or light into my house.
One of my favourite pieces at the moment is this Odin Two Seat Sofa. Naturally I love it because of its button back, retro vibe and beautifully curved arms. But what I really like is how slender it is, making it ideal for use in a bedroom, or even in a hallway next to, for example, a vintage telephone table.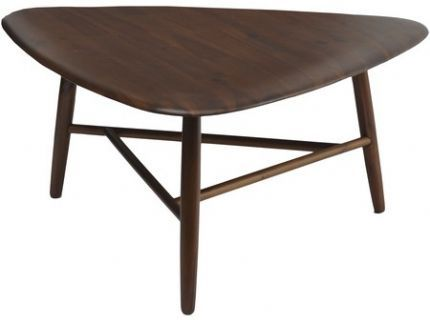 Add some retro charm with this Vintage Triangle Walnut Coffee Table, £220.
I've been on the hunt for a new coffee table as our current one, while super useful, just takes up too much space.
Sadly I can't afford to splash out too much but, luckily for me and my bank balance, I have fallen for this Vintage Triangle Walnut Coffee Table by Alexander and Pearl.
Sleek, understated and with just enough retro style to fit in perfectly with my living room, I love its simple shape and can't wait to get it in my home.
And if you love this style too, you'll be pleased to know there's a matching console and side table available too.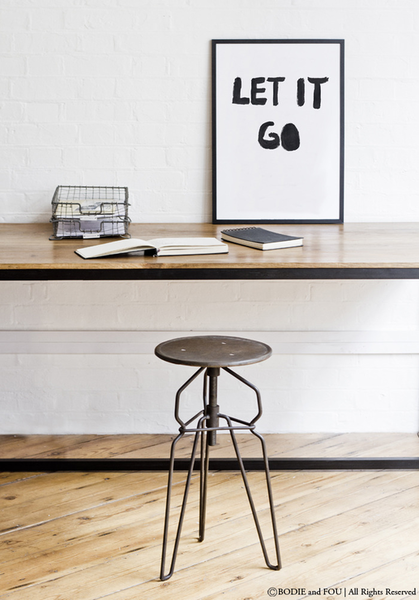 Take a breath and relax with this Let It Go Print, £35.
I'm quite possibly the only person on the planet who hasn't seen the Disney film Frozen. I am, however, very aware of the Let It Go song, mostly because my goddaughter serenades me with it continually every time I see her.
Which is why I had a little chuckle when I came across this Let It Go Print by BODIE and FOU.
Perfect for encouraging me to let go of all those niggly, annoying irritations in life, I'm installing mine in my home office so when my iMac decides it doesn't want to reboot or that person who promised they'd get back to me hasn't, I'll simply look up, take a deep breath and let it go!