Features: Living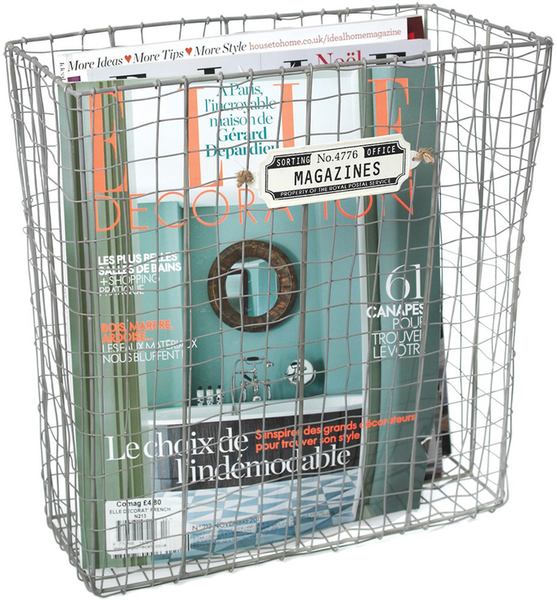 Keep your reading matter in check with this Magazines Sorting Office Rack, £25.
The internet is all very well and good, and actually where on earth would we be without it but, for me, there's still nothing like leafing through the latest issue of my favourite interiors mags.
However, as I insist on keeping almost every one I buy, keeping them neat and tidy can be a bit of a mission. Which is why I was thrilled to come across this Magazines Sorting Office Rack by The Orchard.
Simple, yet ever so stylish, this handy wire rack means I can see what magazines I have at a glance but manages to keep them from cluttering up my space. Perfect.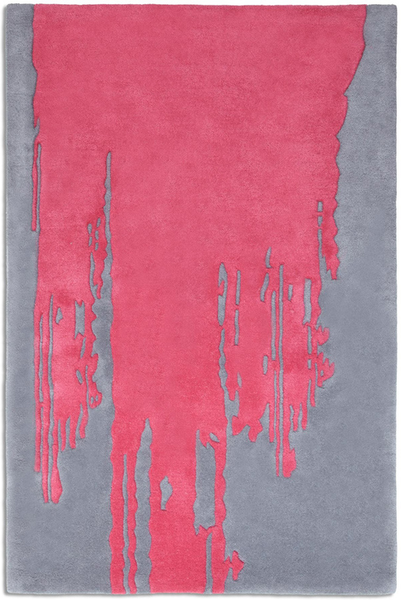 Go bold with your floors with this striking Punk Rug, from £150.
Rugs are brilliant because they update a room instantly, add warmth and comfort, and offer a great way to add pattern or colour (or both).
Here at Furnish, we have a fantastic range of rugs to choose from, whether you're looking for classic or contemporary or anything in between. But the one which has really caught my eye is this Punk Rug by Naken Interiors.
Available in two sizes and three different colour options, it has been designed to resemble spilt paint, and is ideal for those who want to add colour and drama to their floors without incorporating any detailed patterns.
Shop the look...
From £150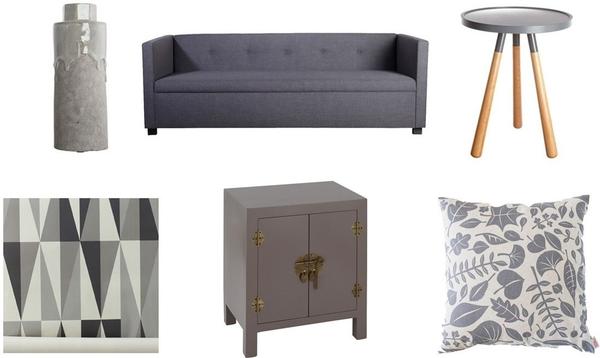 Incorporate cool and stylish grey into your home with these fabulous buys.
I'm a little bit biased when it comes to grey; it is one of my favourite colours and features heavily in my own home.
Far from being dreary, grey is sophisticated and dramatic and, contrary to popular belief, can also add warmth to a room. Finding the right grey for you is all down to what sort of light you have and personal preference, so make sure you do your research before choosing your perfect shade.
Grey also works well with a multitude of other colours but looks particularly great with pink, turquoise, yellow and of course white.
If you're a little unsure about grey as the main colour in your scheme, accessories are a great way to introduce this colour in small doses. We love the Large Hexa Cool Grey Ceramic Vase by White Mint. Available in two sizes, this simple yet striking vase will work well on either a sideboard or dining room table.
If you want to create a statement without committing to wallpaper, flooring or paint, this Dark Grey Sofa by Artstar is the ideal choice for both contemporary and classic schemes, and will look great teamed with brightly coloured scatter cushions.
However, if you're feeling a little bolder, why not opt for this striking and on-trend Spear Wallpaper in Grey by Naken Interiors which incorporates varying shades of grey into its design and will add instant impact to any room.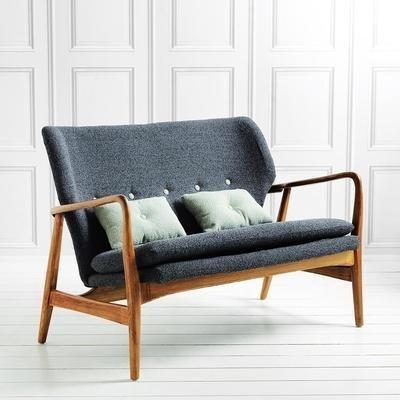 Enjoy some classic style with this Odin Two Seat Sofa, £995.
Graham & Green is celebrating its 40th birthday this year, which is no mean feat in an age when interiors brands fall by the wayside so easily.
Regular perusals of Graham & Green's items on Furnish often leave me "oohing" and "ahhing" and wondering if I can squeeze another chair, cushion or light into my house.
One of my favourite pieces at the moment is this Odin Two Seat Sofa. Naturally I love it because of its button back, retro vibe and beautifully curved arms. But what I really like is how slender it is, making it ideal for use in a bedroom, or even in a hallway next to, for example, a vintage telephone table.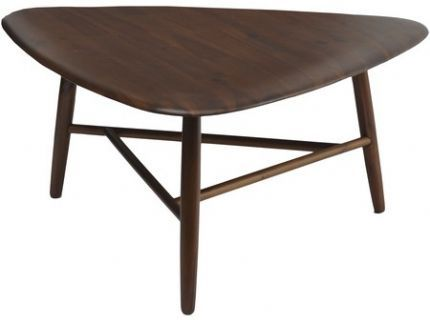 Add some retro charm with this Vintage Triangle Walnut Coffee Table, £220.
I've been on the hunt for a new coffee table as our current one, while super useful, just takes up too much space.
Sadly I can't afford to splash out too much but, luckily for me and my bank balance, I have fallen for this Vintage Triangle Walnut Coffee Table by Alexander and Pearl.
Sleek, understated and with just enough retro style to fit in perfectly with my living room, I love its simple shape and can't wait to get it in my home.
And if you love this style too, you'll be pleased to know there's a matching console and side table available too.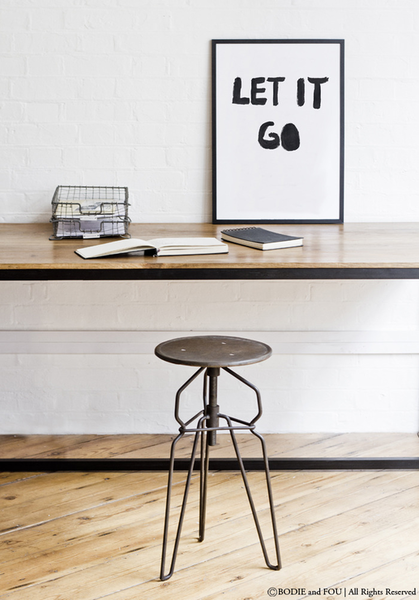 Take a breath and relax with this Let It Go Print, £35.
I'm quite possibly the only person on the planet who hasn't seen the Disney film Frozen. I am, however, very aware of the Let It Go song, mostly because my goddaughter serenades me with it continually every time I see her.
Which is why I had a little chuckle when I came across this Let It Go Print by BODIE and FOU.
Perfect for encouraging me to let go of all those niggly, annoying irritations in life, I'm installing mine in my home office so when my iMac decides it doesn't want to reboot or that person who promised they'd get back to me hasn't, I'll simply look up, take a deep breath and let it go!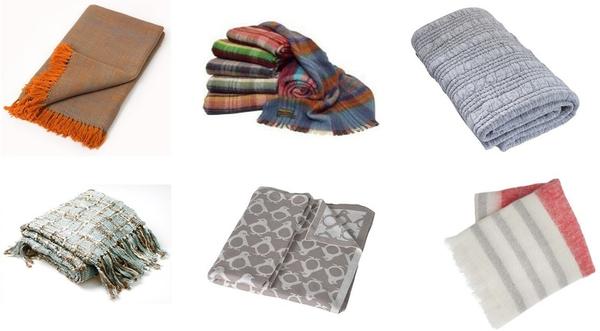 Cosy up on chilly summer evenings with one of our gorgeous throws.
I'm one of those people who eke every little bit out of summer. If it's sunny, I'll sunbathe, if it's even mildly warm, I'll whack on the fan and have a cool drink, and I still spend evenings in the garden even when it's not nearly warm enough.
But to avoid goose pimples and little blue toes I always have a throw to hand for when the nights get a little chilly.
If you're like me, you'll be glad to hear we have a great selection of throws here at Furnish, perfect for making the most of every last little bit of summer.
Ideal for cosying up in the garden or on the beach, this All Wool Throw by Fields of Blue features an array of colours and also doubles up nicely as a picnic blanket.
Colour fans will adore this luxurious Diamond Wool Bed Throw in Indigo and Burnt Orange by Naken Interiors, while those who like to keep it simple can't fail to be charmed by this Ruffle Ruched Grey Bedspread by The French Bedroom Company with its subtle calming colour and matching cushion.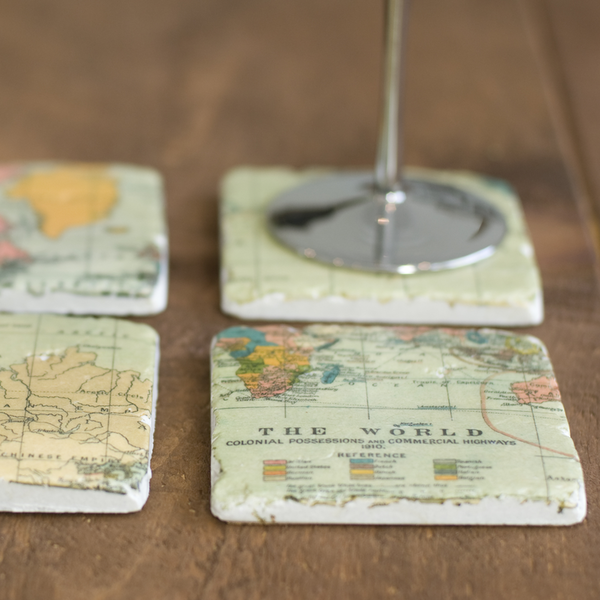 Keep your furniture safe with this set of Vintage World Map Ceramic Coasters, £18.
Maps continue to be a huge trend in interiors, and we have a whole host of products from wall hangings to furniture, which allow you to embrace this trend in the home.
One of my favourite designs is this set of Vintage World Map Ceramic Coasters by The Orchard.
I have never really been a coaster sort of person until I invested in some vintage furniture, but now they're everywhere in my home for fear of me or someone else damaging my beloved collection.
Perfect for wannabe globe trotters or for those who just want something a little different to the usual run of the mill coaster designs, each one features a copy of a vintage map which will add both interest and colour to your furniture.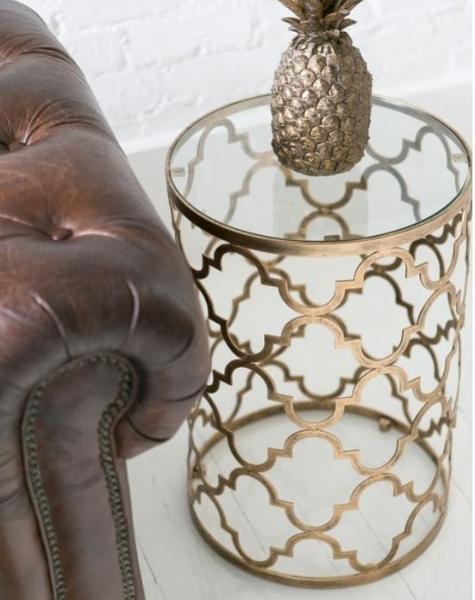 Give your home a touch of the exotic with this Medina Table, £165.
I'm off to Marrakech for a week in October. Yay for me for two reasons; the first being I get a holiday with some autumn sunshine and the second, I have carte blanche from my other half to go wild in the souks.
I'm sure I'll be bringing back all manner of goodies for the home (and for me!), which means I've already become a little obsessed with Moroccan-influenced furniture and accessories.
My latest crush is this Medina Table by Rose & Grey.
With just the right amount of exotic style, this table reminds me of gorgeous fretwork screens, and has been finished in gold for a touch of glamour. Ideal as a bedside table, this stylish piece would also work well next to a sofa or in a hallway.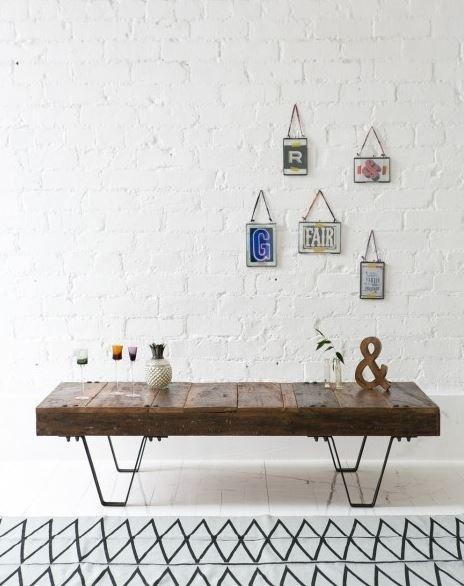 Create a stylish display with these Antique Grey Frames, from £9.95 each.
I'm always on the hunt for new ways to display photos and keepsakes such as ticket stubs, theatre and gig tickets, which is why I was thrilled to come across these Antique Grey Frames by Rose & Grey.
Simple, yet ever so elegant, these frames offer a stylish and unique way of displaying precious photographs.
Available in landscape and portrait versions in large and small sizes, they allow you to create an attractive, eclectic display.
Try displaying in a row to add instant style to a hallway or in a random fashion to create a real style statement on any wall.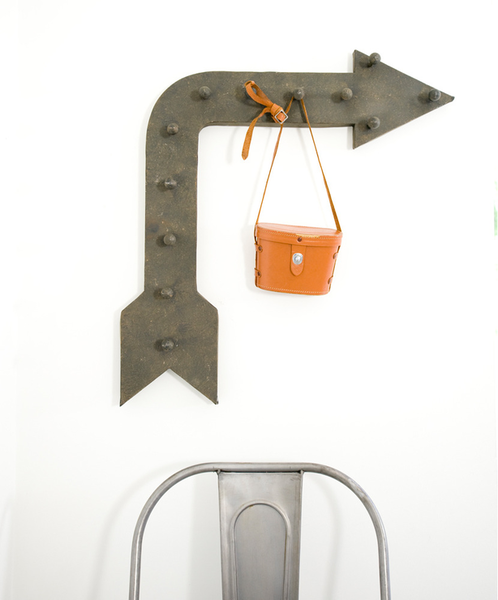 Give your storage a quirky touch with this Fairground Arrow Hanger, £59.
Getting the fairground look is one of the latest trends in interiors, and everything from mirrors to lights has been given the over-sized, angular treatment.
One of my favourite pieces is this Fairground Arrow Hanger by The Orchard.
Crafted from metal, this over-sized hanger is perfect for every room in the home and offers a quick and easy way to tap into the industrial trend.
With a generous amount of hooks, it's not just stylish, it's practical too, and will keep everything from coats to towels in check.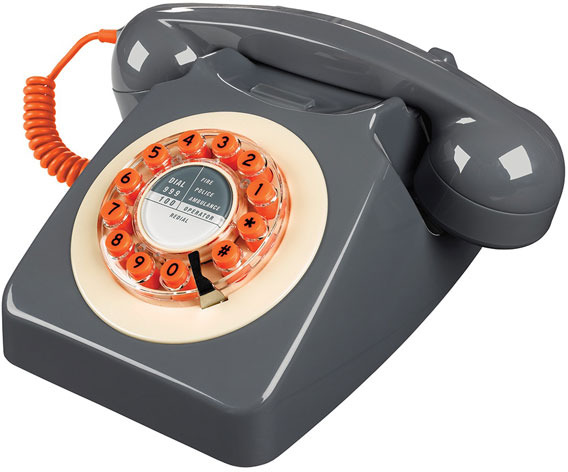 Go retro with this stylish Wild & Wolf 746 Phone, £39.
Regular readers will know I'm a sucker for anything retro and, as I live in a 70s townhouse, I'm always on the hunt for original or repro accessories to add to my home.
Which is why I was thrilled to come across the latest collection of Wild & Wolf phones by Red Candy.
I already have a Trim Phone in my living room, but I need one for upstairs and I've definitely got my eye on this Wild & Wolf 746 Phone in Concrete Grey.
Naturally, I love the retro styling, but what I adore most is the clever colour combination of grey and orange; adding just enough colour without being too overpowering.
And best of all, my new bedroom scheme is grey and white, which means it's win win all round.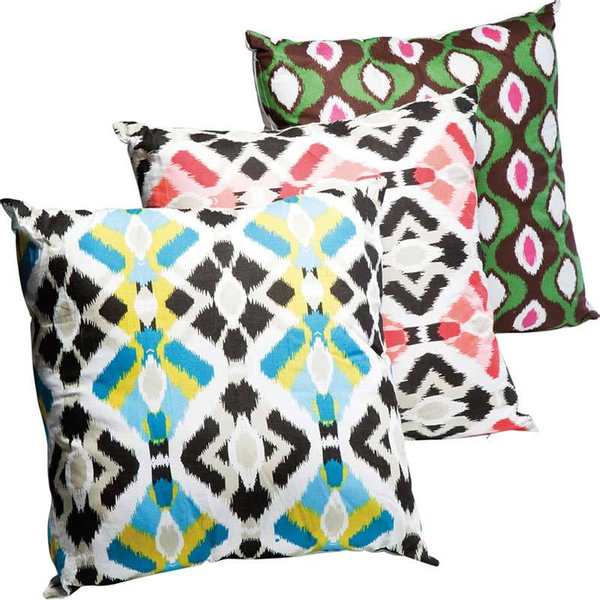 Introduce pattern and colour with these Aztec Cushions, £45.
Aztec prints are big fashion news at the moment so it's no surprise, as with many other catwalk trends, that these bold, vibrant patterns are also making an appearance in the home.
These Aztec Cushions by The French Bedroom Company are ideal for brightening up a plain sofa or giving an oomph to your bed linen, or you could even use them outside on your garden furniture.
Each cushion in this set of three has a slightly different pattern and uses different colour combinations, allowing you to use them together as a bold style statement or singularly with plain cushions in complementary shades.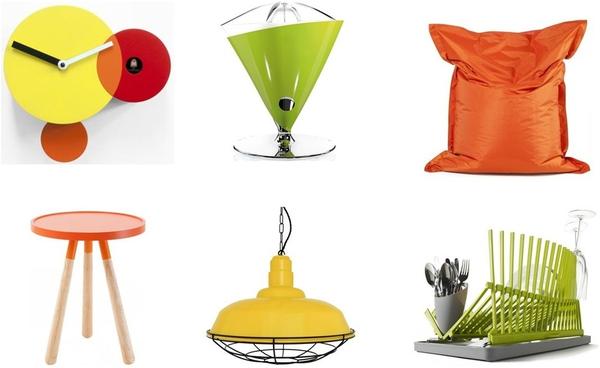 Add some zing to your home with our selection of brightly coloured buys.
As we approach the middle of summer, whether in rain or in shine, there couldn't be a better time to inject some fresh, zingy, citrus colours to your scheme.
For lovers of lime, this Bugatti Citrus Juicer by Red Candy will instantly brighten up any kitchen worktop, as will this High And Dry Dishrack by Design My World.
Orange obsessives are catered for too; this retro-inspired Orbit Side Table by Naken Interiors is perfect for any room in the home, while this Larry Orange Outdoor Bean Bag by Neofurn is ideal for the garden.
Yellow is possibly the ultimate summer colour, so if you want to add some sunshine brightness, this Kandinsky Cuckoo Clock by Red Candy will become the focal point of any room, while this Eden Yellow Industrial Cage Pendant Light by Alexander and Pearl adds colour to a more industrial scheme.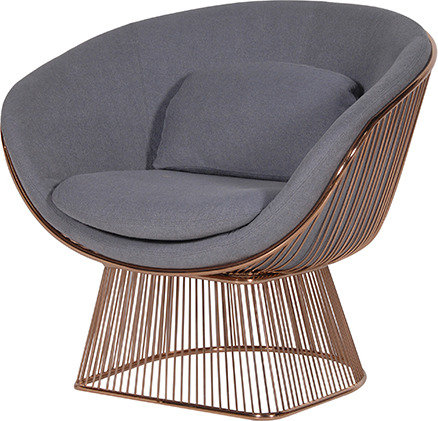 Enjoy classic vintage style with this Vogue Copper & Grey Lounge Chair, £1,395.
Regular readers will know that I am completely obsessed with chairs. I have as many as I can possibly squeeze into my home, I have prints of classic chairs on the wall and I even have a whole shelf on my bookcase dedicated to the design of chairs.
So, while I don't have the room for a new chair, that doesn't mean I can't look, and my new favourite is this Vogue Copper & Grey Lounge Chair by Alexander and Pearl.
With a striking, on-trend copper base and simple yet comfortable grey upholstery, this statement piece will look fantastic in the bedroom or living space, particularly when teamed with a bright neon pink or yellow cushion.
Also available as an armchair model.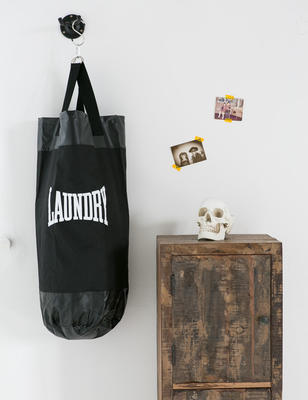 Keep dirty laundry stashed away with this Laundry Punch Bag, £20.
Laundry bins are the bugbear of my life because, although they're completely necessary, they're not always the most attractive of items. So much so, I hide mine away in a cupboard so it never sees the light of day.
Which is why I was delighted to come across this fab Laundry Punch Bag by Rose & Grey.
Designed to look like a punch bag, and working as one when full, it is great for easing the frustrations of laundry day.
Also ideal as a gift for older children or teenagers to encourage them to keep their dirty laundry tidied away.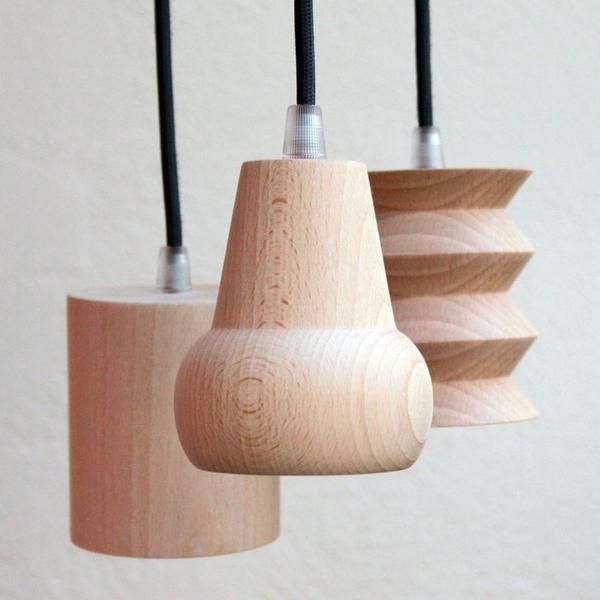 Update your lighting with a Geometric Beech Suspension Light, £39.90.
While it is still summer, the days are steadily getting shorter, so there's no better time to sort out your lighting scheme in time for autumn.
Lighting is a notoriously tricky element of interior design to get right, which is why many get it wrong.
A simple trick is to make sure you have more than one lighting source in a room (e.g. table lights, pendant lamps, etc.) so you have different lights for various purposes. Adding a dimmer switch is a great idea too if you want to create varying atmospheres.
This Geometric Beech Suspension Light by Cachette has just jumped to the top of my wish list and I can't wait to get it in my home.
Available in a range of shapes, these lights have been crafted from solid wood and will look equally stylish used alone or grouped together.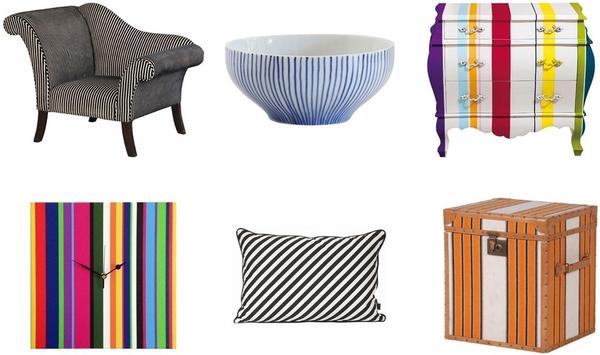 Give your home a smart look with our round up of striped goodies.
Stripes are a perennial favourite, however, they always make me think of summer. Maybe it's all those Breton tops and denim shorts combos you see when the sun decides to shine, or perhaps it's because they're particularly nautical in style.
I adore a stripe in the home as well as in fashion; they're easy to incorporate into any room from kitchen to bathroom, and suit any scheme whether contemporary or classic.
Great for keeping your bits and pieces hidden and being super stylish at the same time, I love this Paulie Orange & White Stripe Storage Cube Trunk by Alexander and Pearl, while this Black Stripe Cushion by Naken Interiors will instantly update any bed, chair or sofa.
This Swish Black and White Striped Armchair by Lover's lounge offers a subtle way to incorporate the trend and can easily be combined with other patterns without appearing too garish, while this Multi-Striped Chest of Drawers by Out There Interiors is ideal for those who are bold when it comes to decorating the home.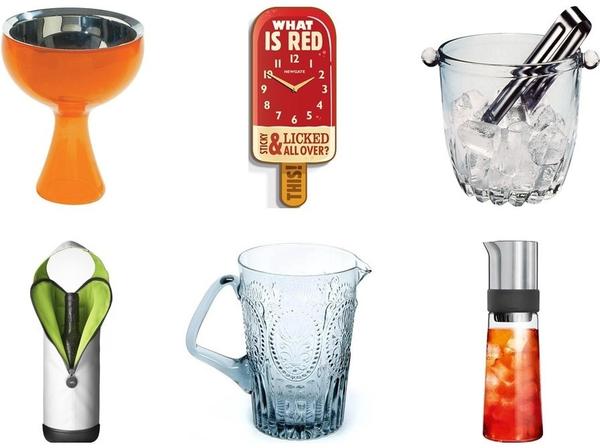 Keep your cool in the summer months with these inspired buys.
No sooner is a heatwave announced then we all start calling for rain. Turns out when it comes to weather; you can't please all of the people all of the time.
So, if the heat is getting to you, we have some great products that will ensure you keep your cool when everyone around you is losing theirs.
If picnics and al fresco dining are your thing then you'll need this Menu Picnic Wine Cooler by Gifts with Style, which will keep your bottle of plonk nicely chilled. Meanwhile, the TEA-JAY Ice Tea Maker Kit by Naken Interiors is a unique item perfect for iced tea and other chilled mixed drinks.
Naturally, you'll want some ice cream or sorbet in this weather so serve it in style with this funky Alessi Big Love Ice Cream Bowl by Red Candy, which is available in a myriad of bright colours.
And finally, for a bit of fun, we couldn't resist this Newgate Ice Lolly Wall Clock, also by Red Candy, which is perfect for adding some summer charm to your home.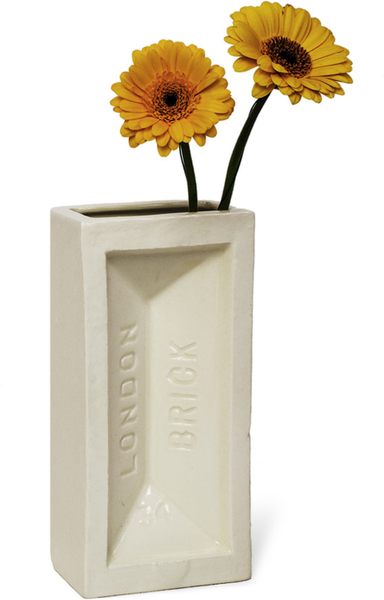 Create a simple floral display with this Brick Vase, £30.
As a lover of fresh flowers in the home, I have amassed a rather impressive collection of vases, however, after recently deciding that mine were all rather girly, I have fallen for this Brick Vase by Naken Interiors.
Sturdy and stylish, it will definitely add a masculine look to my floral displays, and I adore the juxtaposition of something so solid containing something so delicate.
Great for teaming with glass designs to create an eclectic centrepiece for a dining table, this vase will look equally good alone on a sideboard.