Features: Living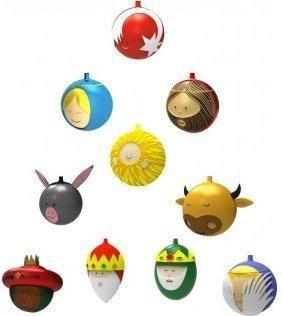 Add a touch of kitsch to your tree with this Alessi Set of 10 Christmas Baubles from Design 55, £140.
I have to admit to being a total snob about Christmas decorations. I have no outside lights, definitely no tinsel and absolutely on no account whatsoever any fake snow adorning window corners.
However, even I can't resist a bit of kitsch, and I totally adore this Alessi Set of 10 Christmas Baubles from Design 55.
Each one features a character from the nativity to give your tree a touch of history but in the cutest way possible.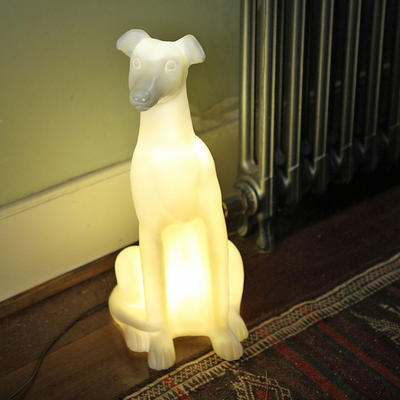 Add some canine charm to your home with this super kitsch Archie Dog Floor Lamp from Lifestyle Bazaar, £75.
I make no secret of being slightly obsessed with dogs and that I'm rather partial to a dog accessory or two in the home.
We have lots of dog-inspired pieces here on Furnish from cushions to doorstops but I've fallen totally head over heels in love with this Archie Dog Floor Lamp from Lifestyle Bazaar.
Modelled on a real life whippet, this unusual and definitely kitsch floor lamp is the perfect way to add a touch of tongue-in-cheek humour.
Try using this gorgeous lamp in a hallway to give your guests a warm welcome or in your living room as an interesting focal point.
Also ideal as a Christmas pressie for any dog lovers in your life.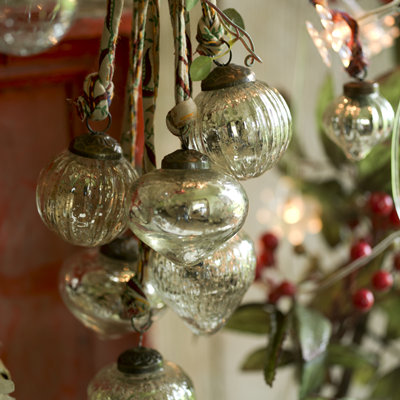 Enjoy some Christmas sparkle with these Rustic Glass Baubles from Daisy West, £16.95.
With Christmas fast approaching, it's time to start thinking about adding festive touches to the home.
We have some beautiful Christmas decorations here on Furnish from contemporary to classic with some fun ones to boot.
I've decided to have a complete revamp this year and am ditching my contemporary silver and white decs for something a little softer. Which is why I'm delighted to have come across these Rustic Glass Baubles from Daisy West.
Made from recycled glass and available as a set of six, they are perfect for adding some delicate glamour to your Christmas decorations.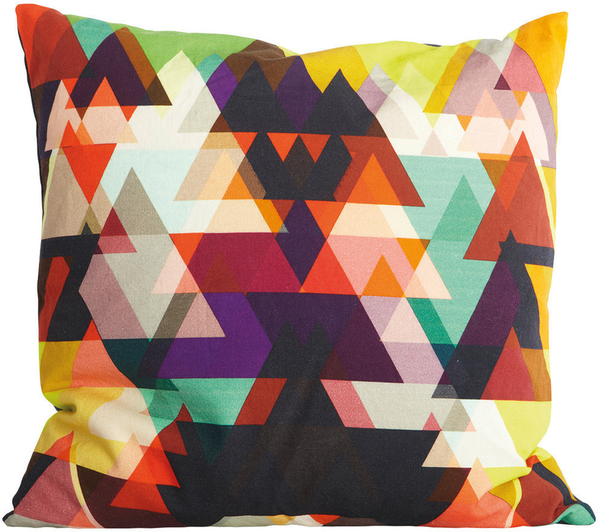 Add some bold and vibrant pattern with this Geometric Cushion from Art Star, £38.
Geometrics are big news when it comes to interiors at the moment, with everything from cushions to rugs being covered in bold, angular patterns.
From Missoni-esque zigzags to large scale triangles, squares and diamonds, no self-respecting follower of interiors trends will be without a geometric accessory this autumn/winter.
This Geometric Cushion from Art Star offers the perfect way to tap into this trend.
With a riot of colours, this cushion isn't for the faint hearted, but will definitely add drama to a plain sofa or to crisp, white bed linen.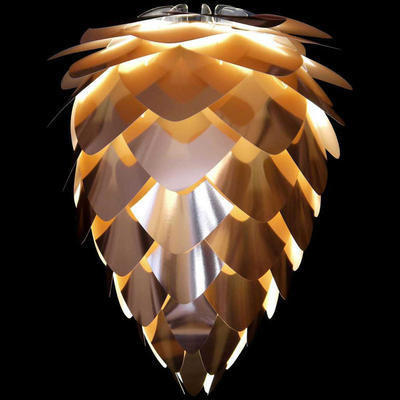 Add a touch of metallic to your scheme with this Vita Living Conia Copper Pendant Light from Design 55, from £49.95.
Metallics are always big news in interiors and this year is no different. On my whistle-stop tour of London Design Festival back in September, you could barely move for accessories made from gold, silver and copper.
Copper offers a more sophisticated, somehow less brash way of introducing a metallic to your scheme, which is perhaps why it's currently so on trend.
This Vita Living Conia Copper Pendant Light from Design 55 offers a perfect, understated way to tap into this look. It is made from plastic but each petal is coloured in a gorgeous copper tone.
Simple, yet ever so stylish, this pendant light will look great hung on its own or for added drama as several in a row over a dining room table.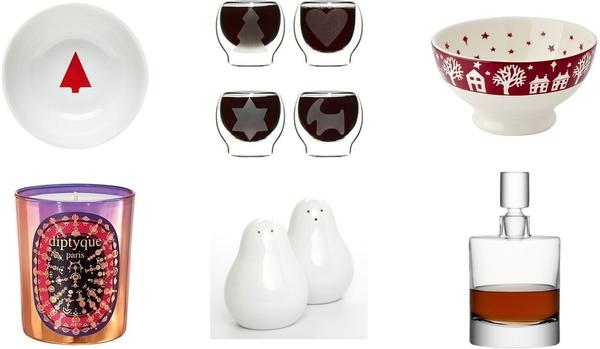 Get ready for festive feasting with this gorgeous Christmas tableware.
With Christmas just around the corner, now's the ideal time to start thinking about creating the perfect festive table.
We have some gorgeous Christmas tableware here at Furnish perfect for the Christmas period from elegant candlesticks for a Christmas Eve supper to simple yet stylish decanters which are perfect for serving a tipple or two.
Ideal for adding a Scandi-chic look, this cute Woodland Christmas Tree Bowl from John Lewis features a simple Christmas tree motif and is just the ticket for serving everything from mince pies to Christmas pud.
Meanwhile no self-respecting festive feast would be complete without a glass or two of mulled wine, and what nicer way to serve it than with this Sagaform Set of 4 Mulled Wine Thermal Glasses from Design 55.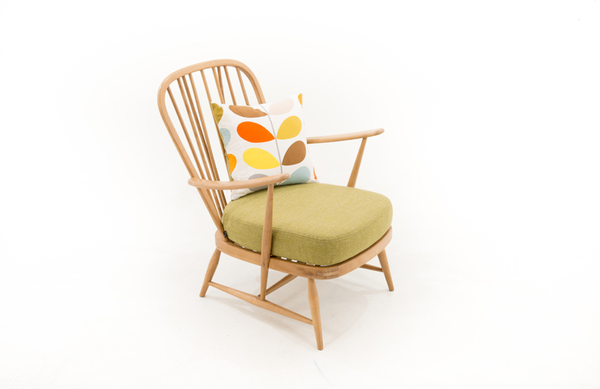 Invest in a design classic with this Ercol Windsor Armchair Model 204 from Chairs Revived, £450.
Ercol is a national treasure, and owning a piece from this iconic furniture brand is something every self-respecting design aficionado dreams of.
While the company is still very much making furniture, there are plenty of vintage treasures to be found such as this Ercol Windsor Armchair from Chairs Revived.
Lovingly restored, this sleek armchair has been updated with a soft green seat cushion and is available with a vibrant Orla Kiely Multi Stem print scatter cushion to add a touch of colour and reinforce the retro look.
Perfect as a lounge chair in the living room, this unique and iconic piece will also look fabulous in the bedroom.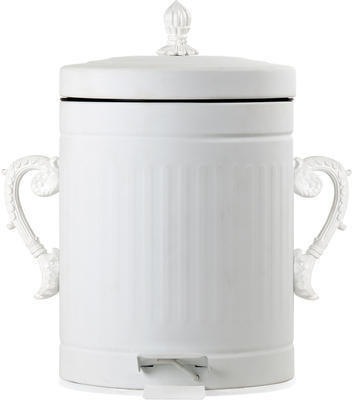 Bin your rubbish beautifully with this Rock and Roll Trash in White from The French Bedroom Company, £95.
Let's face it – bins aren't exactly the most glamorous of interiors objects, and are often chosen for their functionality, tending to be practical rather than stylish.
However, here at Furnish we believe you deserve both form and function which is why we're smitten with this Rock and Roll Trash in White from The French Bedroom Company.
Far from being dull, this classic pedal bin has been brought to life with ornate handles which means that rather than hiding it away, you'll be proud to have it on display.
Ideal for the bathroom or kitchen, this super stylish refuse collector will also look great in the bedroom or your home office.
Larger black bin also available.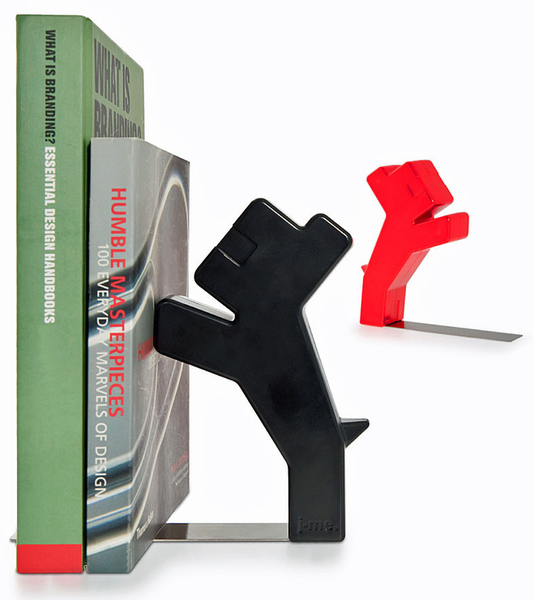 Keep your books well trained with the Buddy Bookend from Lifestylebazaar, £14.
Keeping books in check can be tricky, even in the sturdiest of book cases. So, if you're fed up with your books constantly falling over, chances are you're on the hunt for a bookend or two.
This cute little fellow, the Buddy Bookend from Lifestylebazaar has recently joined our fab selection of bookends which range from quirky and fun to stylish and classic.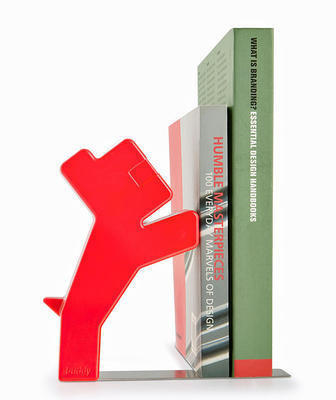 Available in either red or black, this weighted canine stands on his back legs cleverly holding your books in place with his paws.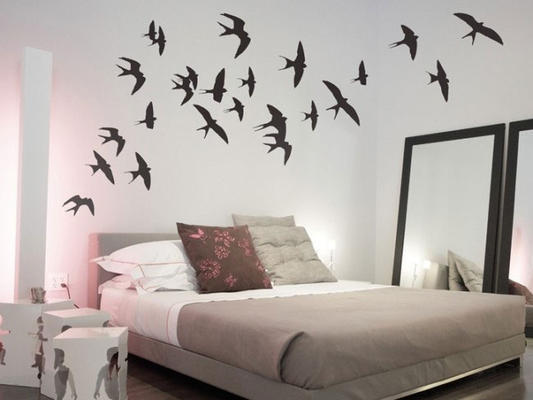 Introduce a touch of nature to your walls with this Swallows Wall Sticker Set from Red Candy, £26.
Wall stickers are a great way of pepping up a plain wall or tired space without having to get your paint brushes or wallpapering table out.
We have some fab designs to choose from whether you're looking for cute characters for your little ones' bedrooms or stylish silhouettes for more grown up spaces.
One of our favourites is this Swallows Wall Sticker Set from Red Candy which depicts a soaring flock of these elegant birds.
As shown here, they make a great alternative to a headboard or you could try using them to liven up a plain living room wall.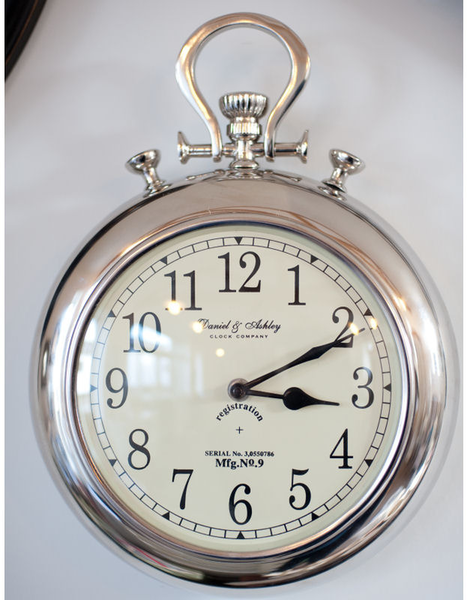 Spruce up a plain wall with this gorgeous Pocket Watch Wall Clock from The Orchard, £95.
Sometimes it can be hard to jazz up a plain wall without committing to a paint colour or wallpaper, but if you're looking for an instant update, a stylish wall clock can offer the ideal solution.
We're rather smitten with this Pocket Watch Wall Clock which is an over-sized version of a classic pocket watch.
Made from polished nickel, this clock works for both classic and contemporary schemes and will look especially dramatic in a hallway.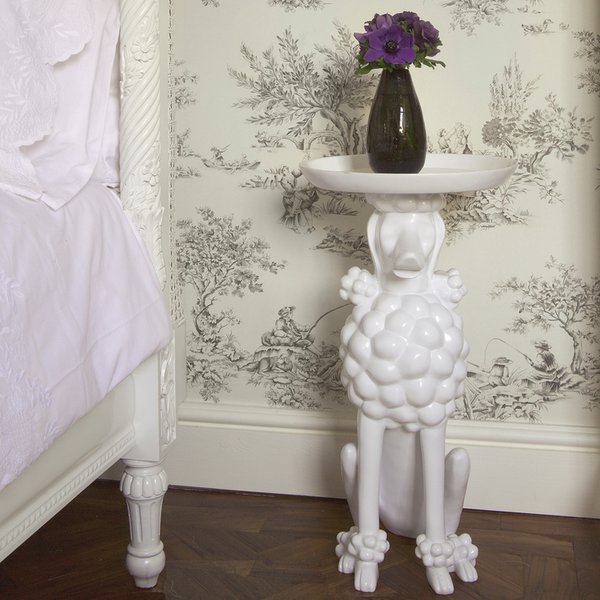 Introduce some canine chic with this Obedient Poodle White Side Table from The French Bedroom Company, £195.
When it comes to quirky products that aren't too silly or over the top, The French Bedroom Company has got it nailed.
From bowler-hat lighting to pin-up girl inspired cushions, there's all sorts of unusual furniture and home accessories to add an interesting touch.
We love this Obedient Poodle side table. Perfect if you're looking for something a little different, this elegantly designed acrylic poodle features a handy tray top.
Ideal as a living room side table or for use in the bedroom, this would also be a welcoming and cheering sight in the hallway when you arrive home from a hard day's work.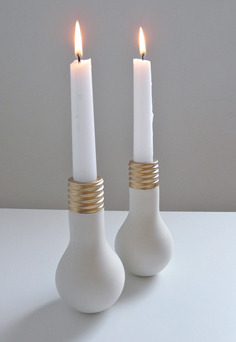 Create a quirky centrepiece with these Porcelain Light Bulb Candlestick Holders from Magpie Miller, £24 each.
If you're looking to add to your candle holder collection, we have a fantastic selection here at Furnish from simple tea light holders to elaborate candelabras.
My new favourites are these Porcelain Light Bulb Candlestick Holders from Magpie Miller which are perfect for adding a quirky yet sophisticated touch to any dining table.
Designed to look like light bulbs, try grouping several together in a random fashion to create a simple yet stunning centrepiece, or line them up on a sideboard to create a welcoming glow.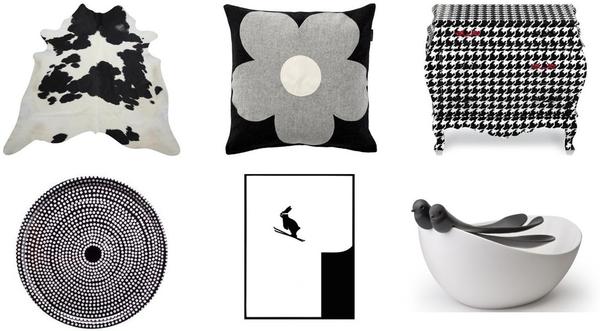 Add a touch of pure elegance to your home by borrowing from the current monochrome trend.
The ultimate classic fashion pairing, monochrome hit the catwalk in a big way in AW13.
The beauty about black and white is that it suits everyone, and this super combination is also a winning formula in the home, suiting both classic and contemporary schemes. And here at Furnish we have some gorgeous monochrome pieces which are perfect for injecting some chic style into your home.
To create maximum impact on your floor, look no further than this super stylish Cowhide Rug from London Cows which will add both pattern and comfort, while this Black And White Chequered Chest from Out There Interiors will create a real style statement in any room.
And if you're looking for a quick and easy update then this retro-inspired Flower Cushion from Art Star will look great on a neutral sofa or chair.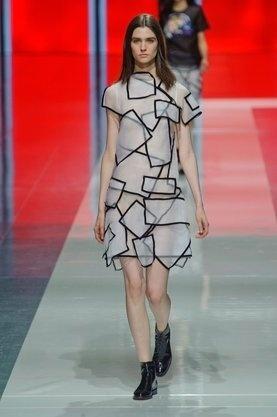 Enjoy classic good looks in your living room with the Greenwich Club Chair from Lover's Lounge, £458.
Ever since I moved into my new home a year ago, I've wanted to get a smart new armchair. We have one statement chair but, with recent friend and family gatherings, it's become clear we need another.
Here at Furnish we have some lovely chairs to choose from, but I've managed to create a shortlist and my fave is this Greenwich Club Chair from Lover's Lounge.
Firstly I love the smart grey upholstery which has been finished with classic white piping. But what I love even more is its shape which will fit in beautifully with my other living room furniture.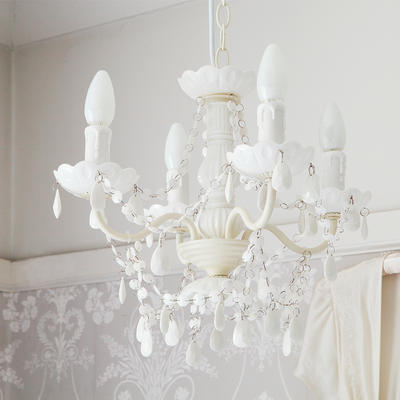 Introduce some old-style glamour with this Mimi Four Arm Chandelier from The French Bedroom Company, £99.
It's a common mistake to think you need a massive space and high ceilings to be able to have a chandelier, but this is not the case at all.
This super cute, but very stylish, Mimi Four Arm Chandelier from The French Bedroom Company is the perfect option if you're short on space.
Elegantly crafted and adorned with tiny, white crystal droplets, this sweet but stunning light fitting is sure to add a touch of understated glamour wherever you choose to use it in the home.
Try using it in a bedroom for some baroque-style boudoir chic, in the living room to add a feminine touch or in a hallway to add a welcoming glow.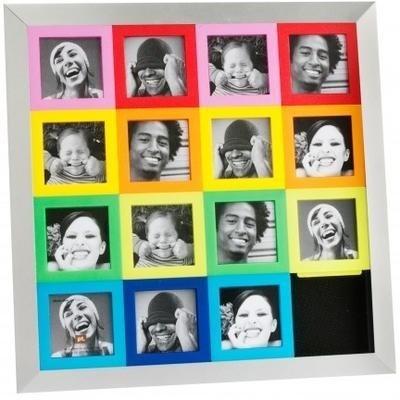 Add some colour to your photo display with the Puzzle Photo Frame from Dutch by Design, £17.50.
I'm always on the hunt for new ways to display my ever-growing collection of photos to save them being crushed in the "photo box" which currently resides in the junk cupboard.
Special ones have special frames but there are some fun pics that I just don't know what to do with. That was until now…
Because on my recent virtual shop for some quirky photo frames, I came across this clever Puzzle Photo Frame from Dutch by Design.
With space for 15 pictures in movable squares, it is both fun and funky at the same time.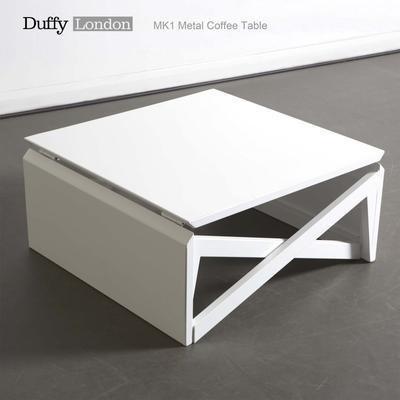 Make the most of your space with this MK1 Transforming Coffee Table from Duffy London, £900.
According to those in the know, we're all living in smaller homes, which means space is at a premium.
We love clever, space-saving furniture here at Furnish and one of our favourite pieces comes courtesy of those innovative bods at Duffy London.
The MK1 Transforming Coffee Table is made from powder-coated steel, and miraculously converts effortlessly from a stylish coffee table into an equally attractive, fully-functioning dining table.
Also available in a choice of wood finishes, this smart table is perfect for those who don't have enough room for a dining table but equally don't fancy eating off their knees in front of the telly.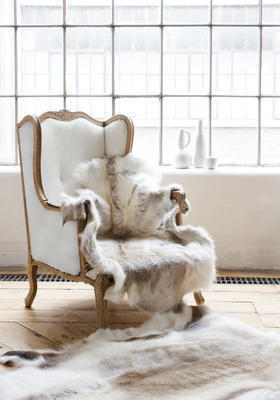 Cosy up your floors for winter with this Reindeer Skin Rug from Bodie and Fou, £250.
With the temperatures set to drop, what could be nicer than having a cosy rug to rest your feet on? And while rugs work fine on carpet, they can make a huge difference to wooden and tiled floors.
We have loads of gorgeous rugs here on Furnish but we love this Reindeer Skin Rug from Bodie and Fou which is great for warming up wooden floors for the winter months.
Ethically sourced from a Scandinavian nomadic tribe, these beautifully soft rugs also look fantastic draped over a chair or sofa.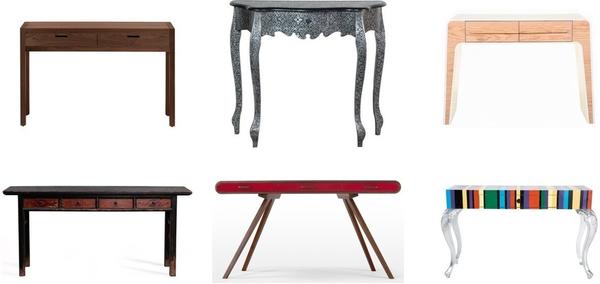 Keep your hallway spick and span with this stylish selection of console tables.
Console tables are essential when it comes to keeping your hallway neat, tidy and thoroughly organised, whatever your style and space.
We have a truly great selection of console tables here on Furnish, whether you're looking for classic or contemporary, simple or quirky, there's something for everyone.
Lovers of sleek furniture will adore the walnut and red Fonteyn Console Desk from made.com which is elegantly balanced, with slender, tapered legs and gracefully curved edges.
The colourful stripes of the Louis Striped Console Table from The French Bedroom Company turn what is already a beautiful console table into a real standout piece.
Meanwhile, if something with a bit of history is more your thing, then this Black Lacquer Console from Shimu dates from circa 1860 and would look amazing in a large hallway.