Features: September '10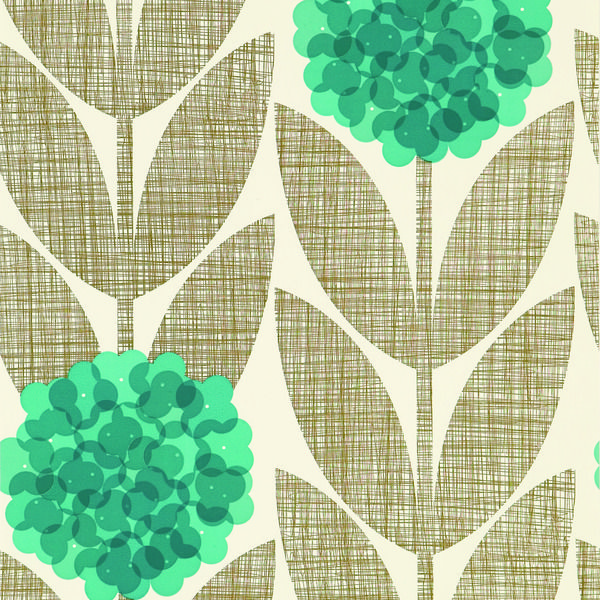 With a strong eye for colour and pattern, Orla Kiely explores the nature of shapes and repetitions found in nature in her gorgeous designs.
Let's face it, who doesn't have an Orla Kiely bag or cushion on their wish list? Her collections are always eagerly anticipated and her colour-popping prints never fail to impress.
From as young as she can remember, fashion and textile designer Orla Kiely became preoccupied and intrigued by patterns and shapes. Having just published 'Pattern', her first book, Orla has revealed how her childhood memories of growing up in Dublin in the late 60's and early 70's have inspired her love of retro style furnishings.
Orla studied at Dublin's National College of Art and has achieved her master's degree from the Royal College of Art in London. Starting out in the 1990's, Orla injected a burst of colour into a world of fashion, which was dominated by an abundance of black, with a small collection of bags. In 2005, she opened her flagship store in London's Covent Garden which showcases the best of her designs including wallpapers, fabrics and accessories, amongst her hugely successful fashion lines. Orla has collaborated with names such as Habitat, Heal's and Dulux, but she insists that she will not be a slave to fashion trends, instead her designs are distinctly daring and true to her own style.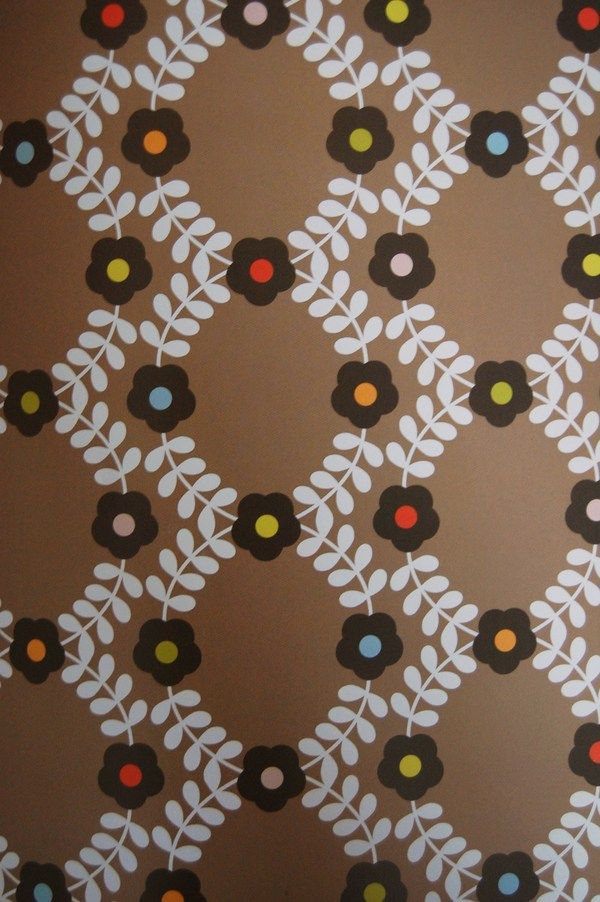 In collaboration with Heal's, famous for its contemporary furniture ranges, Orla has achieved success with her designs including soft furnishings, linen, and furniture pieces such as sideboards, cupboards and armchairs. Many of these items are available on Furnish, including the Flower Blossom duvet cover (available in lichen or teal), and a gorgeous range of mugs available in several colourful designs, ideal for livening up any kitchen. Among my favourites, is the Lusk armchair [http://furnish.co.uk/items/23662-orla-kiely-lusk-armchair-bute-melrose-fabric-range] which is beautifully crafted from a hardwood frame and upholstered in Bute Melrose fabric in Pumpkin, Henna and Moss.
The Stem design is recognised worldwide and is always a best seller; it has become a core part of every collection that Orla has released, and its appeal shows no signs of wavering. Along with the abstract Pear, the Stem is adored because it has a beautiful simplicity that's given a sense of order and unique charm in its repetition. Due to its popularity, Stem is modified every season and it is given a new colourway to keep the print looking fresh and exciting. It began in three colourways: olive and chartreuse, pink and red, and orange and ochre. You will recognise the infectious Stem print on a range of products, from wallpaper to mugs, and even Orla's fashionable range of bags.
"Distilling a form, natural or man-made, into its basic elements, while maintaining a degree of recognition, gives a certain poise and tension to a design, so that it reads in two distinct ways at a time." (Orla Kiely, "Pattern")
Orla's interiors collection boasts a homely and exciting array of designs that are inspired by mid-century modern design, and many are created from her love of Scandinavian design. Visually, her designs are comforting, and they compliment both modern and traditional interiors. She experiments and plays with the scale of her work which helps her adapt her patterns to a variety of interior products such as cushions, mugs and wallpaper. Some of her designs incorporate large and small scale elements in the same print which is a great way of drawing the eye and creating rhythm. Interestingly, Orla keeps all of her print boards from season to season so that she can look back and explore new patterns with an idea of how her prints will continue to work coherently as part of the brand look.
Orla hopes to always be "associated with products that are valued, cherished and not discarded." We certainly will always treasure and adore Orla's work, and we're looking forward to the development of her newly introduced lines including fragrance, kitchen ceramics and bed linen.
Visit Orla Kiely's website for more information at www.orlakiely.com, and to find out more about Orla's recently published book 'Pattern', read our feature.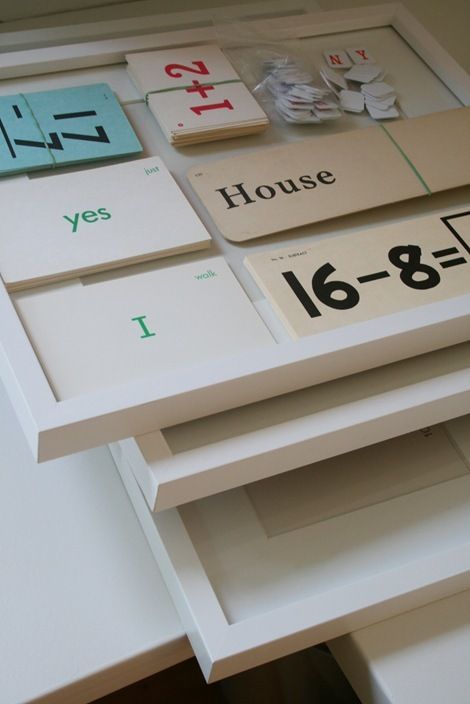 Three more blogs designed to inspire.
First up this week is Swedish blogger Benita with Chez Larsson. Benita's a crafty lady, an expert home-organiser and self-confessed clean freak; so expect the pure, fresh and light-filled aesthetic of Scandinavian style (and to get a little jealous). It's actually a really relaxing blog, which to a self-confessed slattern seems at odds with Benita's bustling abode. It's a warm and engaging blog with plenty of tips for would-be DIYers, ideas for craft projects and inspiration to get organised at home; all lovely stuff.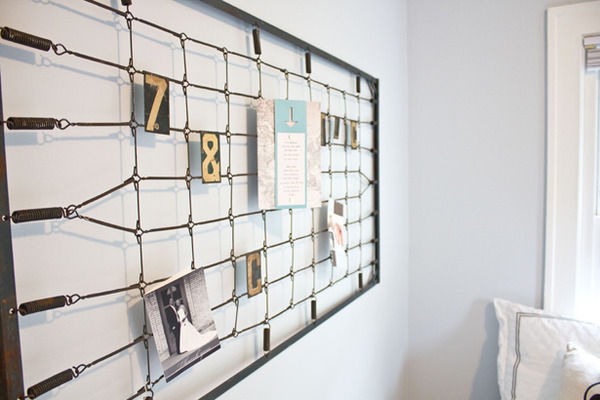 The Lettered Cottage follows Layla and Kevin Palmer as they fix up their little ol' house and go scouting for junk in the deep Midwest. It's buzzing with creative ideas – just look what they did with some old bedsprings. If you're a junkaholic you'll love The Lettered Cottage but beware the green-eyed monster. The writing evokes a real sense of fun and the there are plenty of before and after photos to inspire your own creative projects.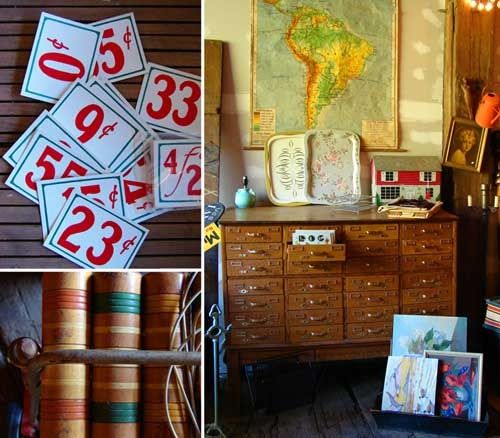 Aesthetic Outburst is Abbey Handrickson's brilliantly named New York-based blog. Abbey's another obsessive junk collector and you only have to look at the yard sale she had recently to see the volume she's amassed. The blog's an expression of Abbey's love of art, design and collecting, with a stream of lovely photographs, interiors inspiration and plenty of every-day gossip thrown in. It's a beautiful blog, consistently eye-opening and a bubbling source of ideas.
As always, get in touch if you'd like us to feature a blog of your own.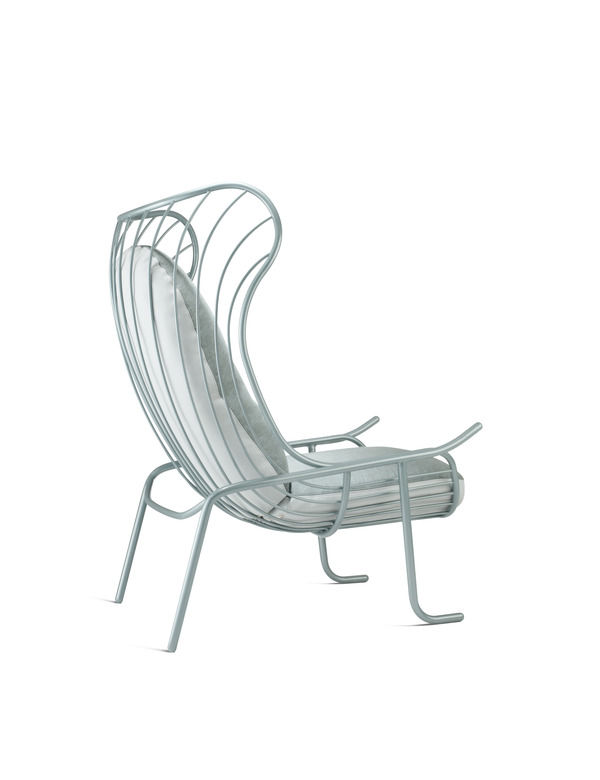 Look no further for a rundown of the LDF's best bits.

Hot Picks: London Design Festival 2010 Look no further for a rundown of the LDF's best bits. Taking place over nine days in September and beyond, the London Design Festival celebrates every aspect of design in the world's creative capital. The Victoria and Albert Museum plays host once again as LDF HQ, so be sure to pay a visit. With events happening right across London, we've put together a shortlist of smaller-scale but must-see treats to help you navigate the greatest show in town.
LDF: Central
Lucienne Day Selling Collection
Heal's, 196 Tottenham Court Road W1, until 26 September. Marking iconic designer Lucienne Day's death earlier this year and celebrating her 20-year partnership with Heal's, the furnishing store is presenting a selling collection of Lucienne Day originals and a range of contemporary interpretations. A must see for mid-century modern design fans.
Design Against the Clock
Established & Sons, 2-3 Duke Street SW1, until 26 September. Established & Sons' Mayfair gallery plays host to a selection of London-based designers who'll be making works live in front of your eyes. You can watch them toil from the comfort of a pop-up café within the gallery space.
Home
Tracey Neuls, 29 Marylebone Lane W1, until 26 September. Rekindling childhood dreams of shiny new shoes, set designer Nicola Yeoman and shoe designer Tracey Neuls have created an enchanted wonderland with a large-scale playful shop installation, evoking a world of make believe.
A Living Space – Curated by Kit Kemp: commissioning art and craft for the home
Contemporary Applied Arts, 2 Percy Street W1, until 2 October. Design director of Firmdale Hotels, Kit Kemp showcases bespoke one-off creations commissioned from top British craftspeople. A Living Space recreates an imaginary Bloomsbury Group sitting room in the CAA gallery.
Tecta: Hidden Classics
110 Drury Lane WC2, until 13 October. Champion of Modern movement in the 1920s and 1930s, German design company Tecta gets its moment in the spotlight courtesy of Arup. The retrospective includes Marcel Breuer's iconic F41E lounger and Hans Wegner's CH468 chair.
Hands On
Arts Gallery, University of the Arts London, 272 High Holborn WC1, until 29 October. Central Saint Martin's graduates Studio Xag present a series of delightful theatrical installations and automata using images and models of products by fellow graduates. LDF: West
London Biblio-Geography: a personal A-Z
Few and Far, 242 Brompton Road SW3, until 29 September. Bookbinder and artist Rachel Hazell pays homage to the indomitable Mrs Phyllis Hazell, who walked the length and breadth of the capital in 1936 to create the first London A-Z. You'll find Rachel squirreled away beneath maps and charts in Few and Far's exhibition space, crafting typological and cartographical treats from old maps, letters and printed ephemera.
RCA at the LDF
Royal College of Art, Kensington Gore SW7, 23 September – 7 October. The RCA is hosting an impressive seven exhibitions for the festival this year; our pick of the crop is the Design Products Collection, a selling exhibition showcasing work by recent graduates and RCA staff tutors.
Off the Floor
Retrouvius, 2A Ravensworth Road NW10, until 2 October. Curated by product designer Fabien Cappello and textile designer Daniel Heath, Off the Floor is the first in a series of collaborative exhibitions hosted by architectural salvage and design company, Retrouvius. Exploring the philosophy of re-use, the exhibition focuses on the creative reinterpretation of three materials: limestone salvaged from Heathrow Terminal 2; oak drawer bottoms rescued from the Natural History Museum; and parquet flooring reclaimed from a school in north London.
Jaime Hayón for SÉ
221 Brompton Road SW3, until 26 September. British-based brand Sé introduced Spanish design star Jaime Hayón to a network of artisans working in metal, wood and marble to complete a furniture collection presented at the store. Created in Hayón's distinctive style, collection highlights include the fabulous 50s inspired Arpa armchair.
Design becomes Home
Skitsch, 270 Brompton Road SW3, until 26 September. The Italian design brand launches Harry Allen's 'Home' storage system: a doll's house for grown ups (and every home should have one). The storage system is available in a choice of City or Country 'architecture' and comes in modular units for a satisfying self-build.
Portobello Dock
344 Ladbroke Grove W10, until 26 September. Contemporary design is riding high at this cutting-edge canal side venue. Furnish favourite Exterior-Interior will be down at the dock displaying iconic designs from Extremis and showcasing a selection of new products never before seen in the UK. LDF: East
Lovely Stüff at SCP
135-139 Curtain Road EC2, until 26 September. SCP launches a brand new collection from London home-ware company All Lovely Stüff, with products designed by founders Ed Ward and Carl Clerkin; all very lovely indeed. Virtuoso knitter Donna Wilson is joining the party with a fabulous new range of colour-popping rugs.
Open Studio at Barber Osgerby
35-42 Charlotte Road EC2, until 26 September. Design duo Edward Barber and Jay Osgerby offer a rare treat for nosey parkers. Sneak a peek behind the scenes and check out their new range while you're at it. Just don't knock anything over.
Midwinter Modernist: the iconic designs of Jessie Tait
Bulthaup, 36-42 Clerkenwell Road EC1, until 1 October. Made to make your mouth water: an exhibition of Jessie Tait's fabulously fifties crockery, courtesy of designer kitchen company Bulthaup. You won't want to leave the table.
Curate 40 Mini Mart
Studio 1.1, 57A Redchurch Street EC2, until 26 September. Supporting new design talent, Curate 40 has teamed up with illustration designers Eclectcollect to present the latest crop of protégés. The results of their labours are piled high (but not necessarily sold cheap) on the mini mart shelves.
Gastrotypographical-Assemblage: the designs of Lou Dorfsman
Kemistry Gallery, 43 Charlotte Road EC2, until 30 October. Almost Mad Men: a showcase of smooth-talking style, documenting American graphic designer Lou Dorfsman's forty-year career as the 'ad man' of CBS Television.
Trays from around the world
Jasper Morrison Shop, 24B Kingsland Road E2, until 26 September. Last year design hero Jasper Morrison laid on an exhibition of Jugs, Jars and Pitchers, each piece selected as an embodiment of good design. This time round, the humble tray gets its moment in the spotlight and a dusting of Morrison's magic. Everyone loves a design geek. If that's whet your whistle, then check out the Icon Design Trail for loads more listings; it's the only independent guide to LDF and a must-have festival accessory.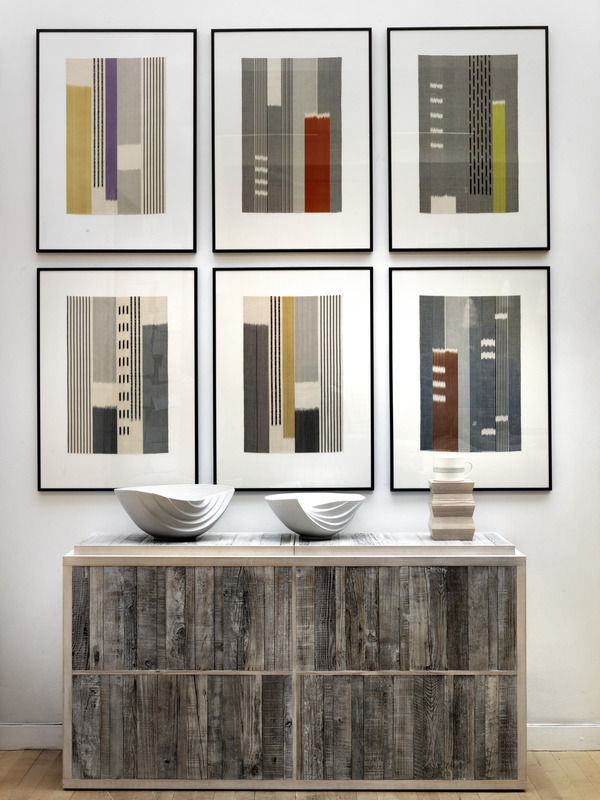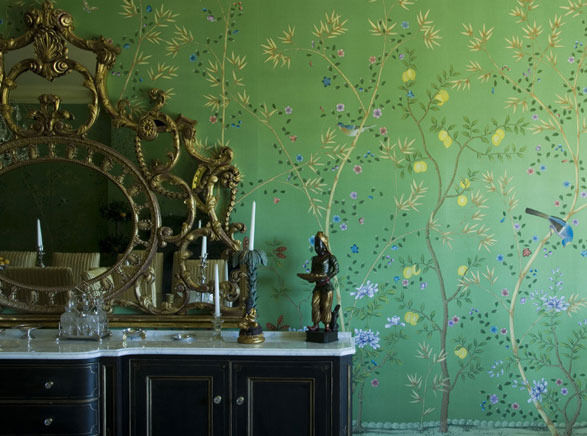 Sneak a peak at what's in store at Decorex 2010
Decorex International is renowned as an arbiter of style and an authority on where things are heading in the world of interiors. Offering a sophisticated and inspiring mix of emerging talent and big-name brands, exhibitors are handpicked to represent the best of design globally. An unmissable event for industry professionals, Decorex throws open its doors to the public on Tuesday 28 September; style-seekers and design-devotees take note.
Decorex showcases top-end, design-led interiors products from the finest suppliers, with exhibitors presenting the latest in fabrics, wall-coverings and floor-coverings, to furniture, lighting and accessories. Alongside a vast array of top-notch exhibitors, seminars will be running throughout the event, with speakers addressing hot topics and offering design inspiration. Often referred to as the 'Oscars' of the interior design industry, Decorex has launched its own awards this year. Judges will be scouring the show for the Best New Exhibitor and the Best International Exhibitor, with an Outstanding Contribution award going to one of the show's stalwarts.
A treasure trove of interiors excess, you can expect to be dazzled at Decorex. Lewis Carroll's novel 'Through the Looking Glass' has inspired Spanish design duo Herme ye Monica to create an installation in which all is not what it seems; rugs will change colour, spatial distortions abound and a secret room reveals a theatre of optical illusions. World-renowned interior designer Nina Campbell is taking a similarly liberated approach with the Sloane Square lobby entrance. Exploring the enchanted story of play and temptation in a grown up wonderland, Nina's display will include exquisite products from over 50 exhibitors including specially commissioned one-off pieces. Tableware and interior accessories company Harlequin Tabletop is presenting an 'Alice in Wonderland' theatrical display. You're invited to follow Alice into an underground warren, play a surreal game of croquet and take part in a spectacular tea party, showcasing the world's finest crockery.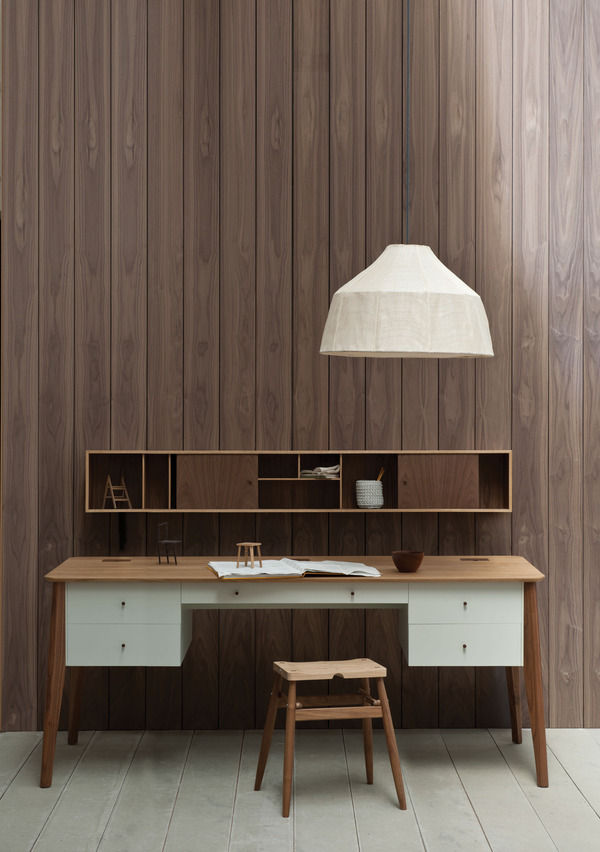 Wit and nostalgia continue at Wilman Interiors. Wilman is presenting the 'Fairground Attraction' collection, fabrics with all the fun of the fair, by Nono. The new collection is inspired by the charm and vibrancy of the 1930s fairground, with vintage motifs and carnival brights. Graphic harlequin diamonds, bold geometrics, 'big top' satin stripes and taffeta 'zig zag' embroideries are designed to mix and match, creating a sense of fun, playful originality and high spirits. Comprising six bold designs: 'Big Top', 'Gigi', 'Happy Hour', 'Roll up Roll up', 'Show Stopper' and 'The Right Lines'; the colour palette is a heady mix of candyfloss pinks, dramatic damsons, cool mojito, striking emerald, poppy reds, tangerine and on-trend sunshine yellow.
With botanicals reaching new heights in the world of interiors, the Decorex Slone Square entrance takes on a fashionable Kew Gardens feel. Visitors will be welcomed into a glorious summer room, with award-winning floral designs and a unique commission of hand-painted wall-coverings created exclusively for Decorex by Fromental. Winners of Best Stand at Decorex 2009, Fromental strive to create the world's most beautiful wallpapers. Combining skilled craftsmanship with luxurious fabrics, Fromental's distinctively British style blends historic classicism with the cutting-edge cool of London's fashion scene. Fromental's elaborate hand-painted and hand-embroidered designs, and their now-signature modern take on 18th Century Chinoiserie, have led the revival of the wallpapered interior.
While Decorex has an international flavour and global scope, over a quarter of all exhibitors highlight the fact that their products are made entirely in the UK, using British skills and craftsmanship. A 'Made in Britain' stamp certifies authenticity, quality and good design. Celebrating 100 years of 'Britain's Finest' from Fox & Brothers & Co luxury tweed fabrics and Price & Co soft furnishings, Decorex 2010 will also be showcasing the very latest of British design talent. Louise Body's first and long-awaited fabric collection will be launched at the show. The collection includes fabric to complement each of the wallpapers in the current range as well as new floral and foliage motifs developed from Louise's 'Plant Life' wall panels. Louise is also creating a bespoke entrance to the ladies and gents, bringing a novel approach to the 'smallest room in the house'.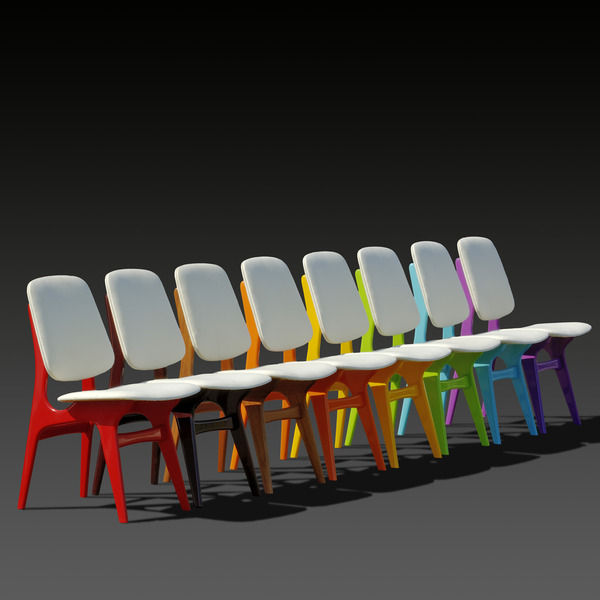 In furniture, expect to be wowed by traditionally crafted bespoke pieces and cutting-edge contemporary design. Massant has created a line of chairs, armchairs and sofas in Regency, Louis XV, Empire, Restoration and more recently Art Deco and fifties style, respecting the techniques of traditional cabinet makers and remaining faithful to the materials used in each era. Massant's exclusive products are popular with renowned interior decorators and architects. London's finest contemporary furniture dealer, ARAM will exhibit at Decorex for the first time this year. ARAM's range is unrivalled and includes flagship displays from Cassina, Living Divani, Fritz Hansen, Knoll, Arketipo and Vitra as well as the complete range of Eileen Gray's designs, for which the company hold the worldwide license. ARAM was the first to introduce the designs of, among others, Marcel Breuer, Le Corbusier, Mies van der Rohe and Castiglioni to the UK and the company carries on this tradition today with iconic designs and contemporary future classics.
Decorex promises to be a feast for the senses, and not least in terms of dining in style. Overlooking the River Thames, The Ranelagh Restaurant will be transformed with hand-painted wallpaper by Tracey Kendal, Interior Design Wall Coverings and Barneby Gates. If a light bite's what you're after, check out the Silver Birch Café, designed using only materials of organic origin, in partnership with idFX.
Time to clear those diaries and get down to Decorex.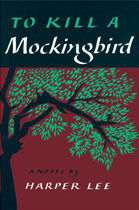 Give your walls a makeover with these Book Cover posters from The Literary Gift Company. £9.95
It never ceases to amaze me that books I studied at school still remain favourite reads.
After all, studying a book is so different to reading it for pleasure, I would have thought over analysing Harper Lee's To Kill A Mockingbird and Virginia Woolf's Mrs Dalloway would mean I would never want to see them again, yet they remain in my top 10.
Which is why I love these Book Cover posters from The Literary Gift Company.
There's a whole host of titles to choose from, with every bookworm catered for. Tennessee Williams fans will be pleased by the A Streetcar Named Desire one while the the Alice in Wonderland makes the perfect choice for a child's bedroom.
And at less than a tenner a piece they offer the perfect way to add interest to a plain wall.
I'm going to frame mine in vintage-style frames and add them to my dining room - where will you put yours?
See this product at The Literary Gift Company...
(We don't sell this product yet but sign up to our newsletter and we'll let you know if/when we do)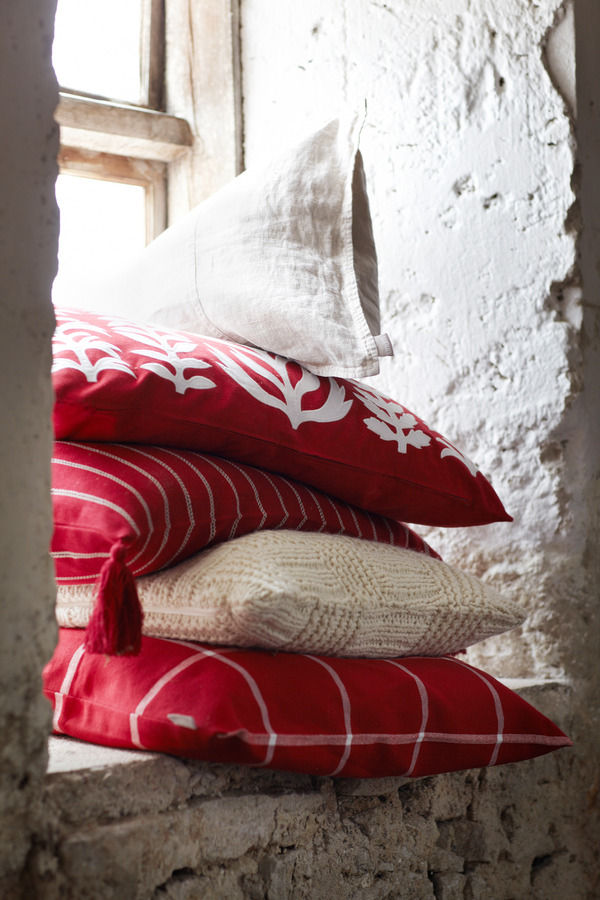 Get a taste of some fantastic Nordic designs at The Scandinavia Show 2010.
Soak up plenty of culture at The Scandinavia Design Show, the first of its kind in London. Whether you have a harboured love of Nordic design or if you simply want to discover new interior styles, the show offers something for everyone.
The Scandinavia Show brings together Scandinavia's most successful exports including design, fashion, food and travel. The design exhibitions will showcase everything from contemporary lighting, furniture, fabrics and carpets from Scandinavian designers and companies.
Scandinavian design has been inspired by the 1920's modernist movement which saw intricate and highly decorated products being replaced by functional designs with clean lines. This type of design has developed further and now Nordic style encompasses beauty and durability. Exhibitors will be bringing exclusive pieces to the show to display the beauty of Scandinavian design.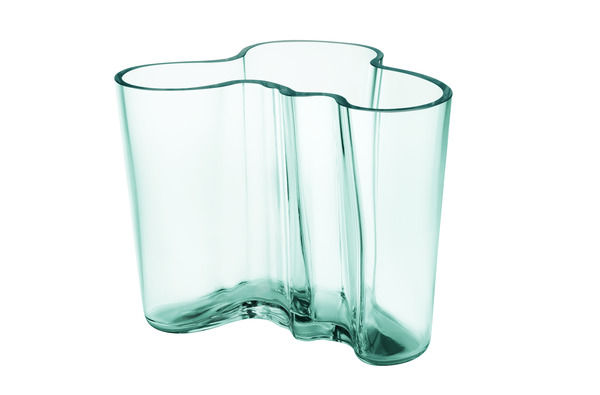 Skandium will be exhibiting some of their finest modern Nordic furniture, lighting, kitchenware, and glassware including familiar names such as Iittala, Marimekko, Orrefors, Muuto, and Fritz Hansen. The Aalto vase from littala has a striking beauty that is inspired by the shapes and colours found in nature, which is representative of Scandinavian design and its unique simplicity. Alvar Aalto's collection first made an impression when it was presented at the World Fair in Paris in 1937, and since then it has become one of the most famous Finnish glass objects.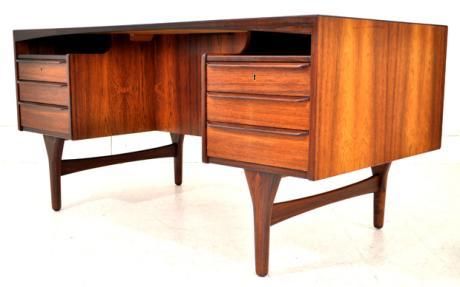 Online boutique, Skandi Living, will be bringing the Swedish brand Linum's Christmas 2010 collection complete with a range of gorgeous cushions and table linen. Linda Swarbrick, Founder of Skandi Living, told us that she is really looking forward to the event because "we are a web based business and don't usually get to deal with our customers face to face." Linda has also informed us that they will be showing Pappelina plastic rugs and smaller accessories from other brands such as Himla, Menu and Orrefors.
Also, take a peek at Danish Homestore, specialising in classic Danish furniture. At the show, they will be showcasing a unique collection of furnishings from Arne Jacobsen, Poul Volther, Hans Wegner, and Johannes Andersen. Other exhibitors to look out for include BoConcept, Northlight Design, Bang & Olufsen, Ekornes, Clas Ohlson and Pandora, amongst many others.
Don't miss The Scandinavian Show at the Olympia Conference Centre, London, 9th -10th November 2010. For more information and Show Opening hours, visit www.scandinaviashow.co.uk.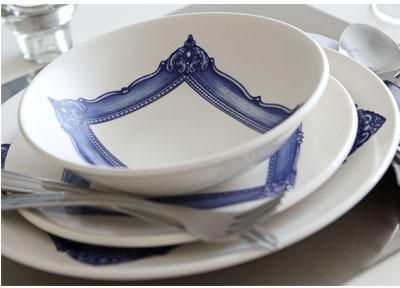 Create the perfect dining table with this Art of Entertaining Three Piece Set from Designed in England. £30
As a huge fan of Andrew Tanner's work, I absolutely adore this Art of Entertaining three-piece dining set.
Never one to let us down on giving everyday products a quirky twist, Andrew has transformed the humble dinner service into something really special. It consists of dinner plate, side plate and bowl each of which have been decorated with a painted blue frame.
Now, usually I'm one for plain white china but 'm a big fan of this set.
I love the way you can use the frames to present your food and the colours are simply divine.
I can't wait to throw a dinner party so I get to use it.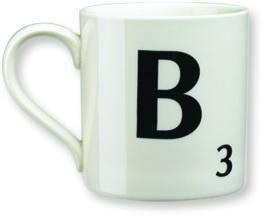 See who can get the highest score with this Scrabble mug from Bloomsbury. £6.95
I love playing Scrabble and with my family it usually gets super competitive.
In fact, I'm ashamed to say that there old score books from games at my parents house that have "Alex stormed off halfway through" in them.
Of course I'm much more grown up now and storming off has stopped, usually, and I know this is blowing my own trumpet, because I win.
Which is why I love these Scrabble mugs from Bloomsbury so much.
Every letter is available and I think they'd look great lined up on a kitchen shelf from A-Z. Alternatively, buy a few to spell out your name, just remember to keep score.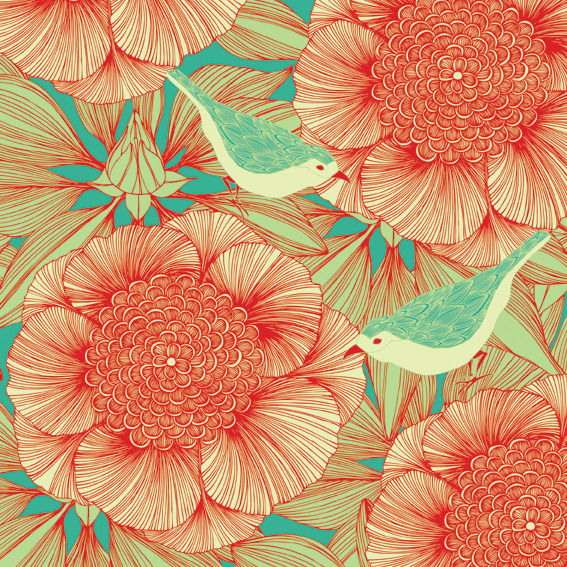 "Bringing the outdoors inside": Camilla Meijer's wallpaper and textiles will liven up any interior with an abundance of colour and pattern.
We caught up with Swedish designer, Camilla Meijer, to discuss how she has been inspired by London, nature, and vibrant, bold patterns. It's a very busy and exciting time for Camilla as she is in the middle of preparing for her exhibition at 100% Design, and she is riding high on a sea of success. Her award-winning work is deservedly loved for her fresh perspective on floral patterns, and we love her detailed hand-drawings and exciting combinations of colour.
Read on to find out more about Camilla's style and inspiration...
If you had 3 words to describe your style what would they be?
Colourful, fun and beautifully intricate.
You have been shortlisted for the British Design Awards 2010, what does this mean to you?
It means the world to me! To have the recognition for my work, my passion, the work that comes before everything... So, yes very happy and this inspires me to continue sharing my work.
Where does your inspiration come from?
Nature and all nature! I live and work in London so I take inspiration from people's gardens, the city's parks and where ever nature has decided to plant itself. I can't walk down a street without zooming in on a bush with its leaves, or a flower with its quirky way of presenting its petals. Nature and its magical beauty just fascinate me.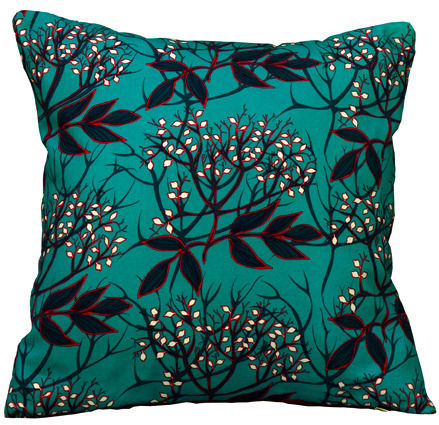 How important are colour and pattern to your designs?
They are the key elements in my work! I love colour and love the way it makes me feel, and this I hope to share with others through my work. Pattern is how I give life to my illustrations by allowing them to tell a visual story within the design.
Your designs are possessed by impressionable, bold florals, how do you think floral prints have revolutionised interior design? And how do you think they will be used in the future?
We have always seen floral, nature inspired prints and I don't think that will ever change. But I believe it's the style of the design that will always keep florals in fashion.
What's your 'hero' product and why?
I must say it's definitely the LCW Chair by Charles and Ray Eames because for me it ticks all the right boxes. It's stylish, cool, and beautiful with its perfect curves, shapes... It makes me happy.
What is the most recent design product that you have bought for your home?
It would have to be the sixth addition to my Moomin cup collection. I love the illustrations and they are just so sweet and colourful!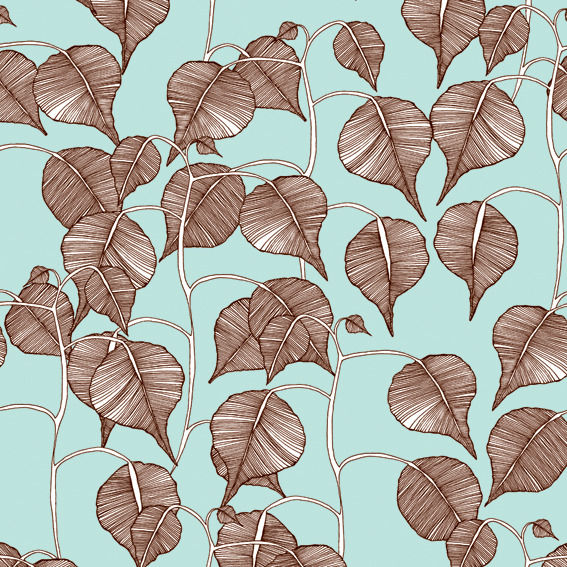 What's your favourite material to work with and why?
My favourite material is fleece paper, a mix between fabric and paper and this I use for my wallpapers. I love working with it because it absorbs the ink beautifully and gives me this gorgeous print. It's also really hard wearing which then makes it possible for my patterns to become a feature for a bathroom and kitchen area.
Where do you like to shop for quirky furniture pieces for your own home?
At the moment it's more about window shopping, so, yes my favourite places would be twentytwentyone, aria, two colombia road, scp, caravan, bohemia... there are just so many lovely places in London selling collective and beautiful design pieces.
What advice would you give to aspiring interior designers?
Believe in what you're aiming to achieve.
What new projects can we look forward to seeing?
I'm working on my new pattern collection for next year, so yes expect to see more intricate, colourful, cool designs! And at this moment I'm enjoying drawing my blossom print, yeah!
You can view all of Camilla's designs at www.camillameijer.com. And visit Camilla at 100% Design, K81 on the 23rd- 26th September 2010.
Also, Camilla has been shortlisted for the British Design Awards 2010, and to find out how you can vote read our feature.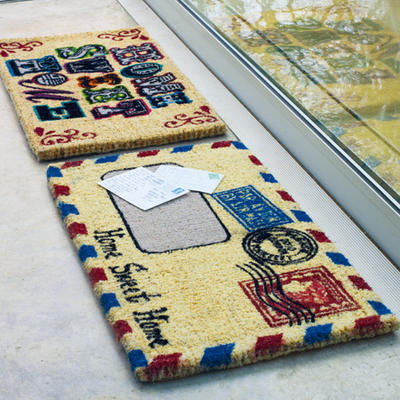 Give your guests a warm welcome with these doormats from Graham & Green. £21.50
Doormats are funny things aren't they?
From a practical point they exist to wipe your feet on but in recent years decorative doormats have become more and more popular.
There are just so many to choose from, from high street offerings to quirky designers all having a go at jazzing up the humble doormat.
Two of my favourites are these Home Sweet Home and Airmail designs from Graham & Green.
Colourful and fun, they are guaranteed to give guests a warm welcome to your home.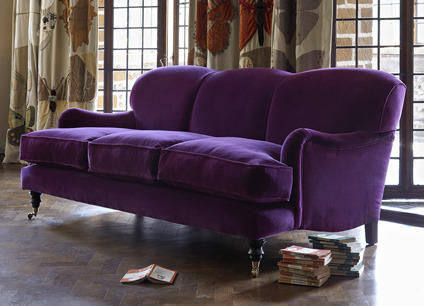 Snuggle up with this Lady May sofa from Sofa Workshop. From £1,294
For me autumn is all about cosying up and steering clear of the elements. In fact, it has often surprised me that humans don't hibernate to get away from all that rain, wind and days drawing gradually shorter.
Having said that, autumn is also one of my favourite seasons, after all it gives the excuse to buy a new coat, shoes, gloves and scarf which is good enough for me!
Cushions, throws and hot water bottles are also on my list and now is this sofa as well.
The Lady May from Sofa Workshop is the perfect autumn treat. I adore the shape and deep seats, and this purple colour is bang on trend.
However, if bold isn't for you don't despair as Lady May is available in over 2200 fabrics and a choice of leg colour making it the perfect choice for even the fussiest of people.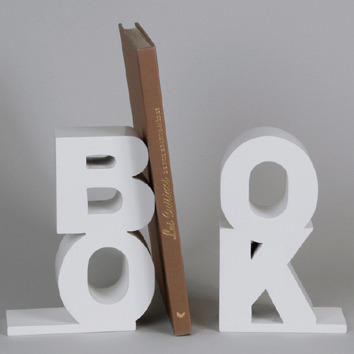 Give your books the treatment they deserve with these bookends from Coco Male. £34
If you love books as much as | do, then chances are you like having them on display and making a focal point of them.
One of my ultimate interiors dreams is to have a library, where I could house my beloved book collection.
Alas, without room for one, my books are kept neatly on shelves in my dining room.
In order to keep them in check, I have been looking for bookends for quite some time. So I was delighted to find this pair from Coco Male.
These Innocent bookends are made from white melamine and will look fabulous on any shelf, closely guarding your reading matter.
They are by far some of the nicest bookends I've seen for quite a while and I can't wait to get my hands on them.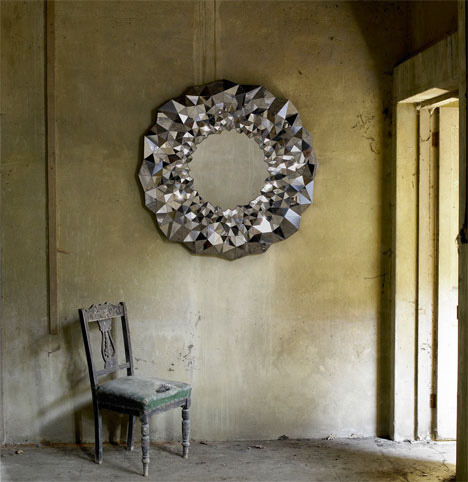 Vote for your favourite home-grown talent for this year's eagerly anticipated British Design Awards.
Feast your eyes on some of the most creative and imaginative design pieces to spring from a wealth of British talent. ELLE Decoration, in association with Casa Couture, Graham and Brown, and Charnwood, are celebrating Britain's finest talent with The British Design Awards 2010.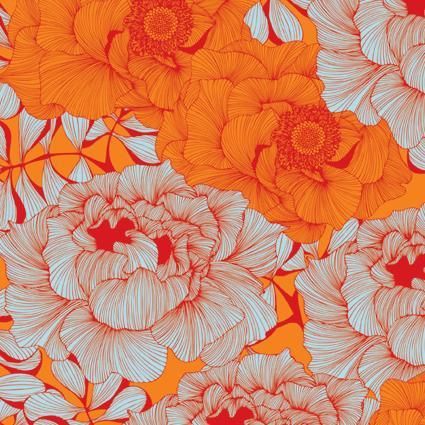 The BDA's are taking place for their ninth consecutive year and they continue to recognise British talent and interior designs that are both innovative and inspiring. British design has been transformed by designers who are challenging our perceptions of everyday objects and by a distinct move towards eco-friendly materials and ways of manufacturing interior products.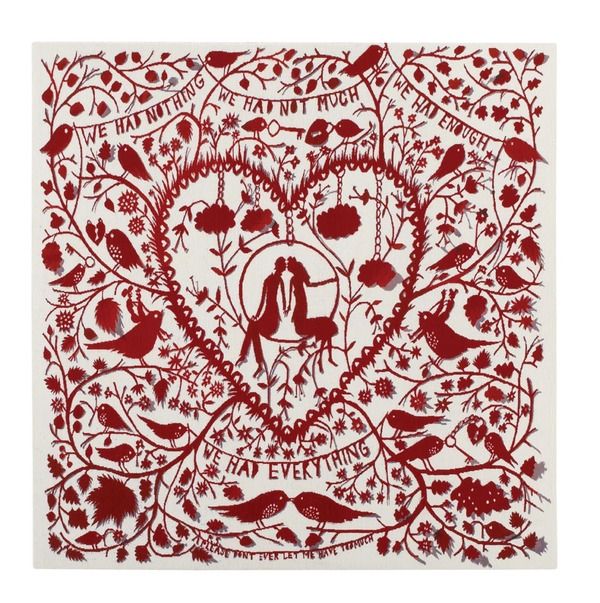 Among the nominees for Best British Design 2010 is designer Jake Phipps, whose 'Stellar' mirror earns its nomination for its stunning cut diamond look made from 750 tiny facets of mirror. Shortlisted for Best British Pattern 2010, Camilla Meijer's 'Roseflower' wallpaper uses a fantastic bold floral print with an embossed fleece finish to create a blooming backdrop for your walls. An intricate, romantic wall hanging designed by Rob Ryan, Abigal Borg's 'Friti' fabric, and Bluebellgray's pretty linen cushions are also on the shortlist.
Vote online at http://www.thebritishdesignawards.com, and look out for the results published in ELLE Decoration in a special December issue, on sale 10th November.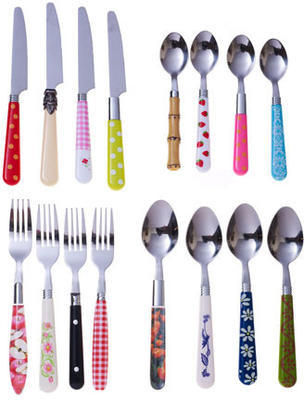 Have some fun at dinner time with this mix 'n' match cutlery set from Oliver Bonas. £28
Who says dining has to be about fine bone china and silver-plated cutlery? Clearly not the colourful peeps at Oliver Bonas that's for sure.
If you're bored with plain knives, forks and spoons then invest in this Mix 'n' Match cutlery set which is a sure fire way to give your dining a hit of colour.
This 16-piece eclectic set features a different design for every piece; spots and vintage floral sit alongside bamboo and checks to offer a unique way of adding pattern to your dining table.
Use this cutlery with crisp, white table linen and plain white china to create a place setting that's sure to have your guests talking long after pudding is finished.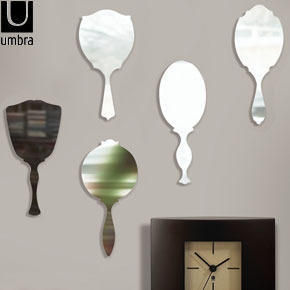 Bring some fairytale chic to your scheme with this set of five Fairest mirrors by Umbra from Red Candy. £26
Mirrors offer the perfect way to instantly brighten and bring a room to life.
I have plans to create a wall of mirrors in my living room with some stunning vintage finds but, if trawling second-hand shops and car boot sales is too time consuming for you, then Umbra has the perfect solution.
Available from Red Candy, this set of five Fairest mirrors consists of a group of five differently designed, vintage-style hand mirrors.
I absolutely adore them and can't wait to get them included in my wall of mirrors. Perfect for adding some interest to a plain wall in a bedroom, for maximum impact try using them above a dressing table.
Alternatively, brighten up a dull, narrow hallway by lining them up along one wall.
We delve into the world of Hunkydory Home to discover the array of colourful prints and quirky home gifts.
Launched in 2005, Hunkydory Home is Alison Ellerbrook's creative outlet. Alison found other interior products bland and uninspiring so she set out to create "something a bit different". With a love of textiles and pattern, she takes pride in her creative handmade pieces and brings an innovative and vibrant style to conventional interior designs. With everything from cushions and lampshades to attention-grabbing accessories and kitchenware, Hunkydory products are bursting with colour and personality.
We caught up with Alison, founder of Hunkydory Home, and here's what she said...
If you had 3 words to describe your style what would they be?
Quirky, fun, colourful.
Where does your inspiration come from?
I love Scandinavian design which I think stems from spending my early childhood years growing up in Norway. I love children's products and colour, and I love to find products for grown-ups with a playful feel. I'm always on the lookout for new designers with fresh, new ideas.
Are the products you design for children inspired by your own childhood memories or children's illustrations?
I make lampshades and cushions using funky fabric prints – I do hark back to memories from my own childhood - the ByGraziela Retro Heart lampshades reminds me of a duvet cover I had in Norway when I was 5 or 6 years old!
What's your 'hero' product and why?
I have to say the lampshades and cushions that I make myself. Hunkydory Home started out just selling my own lampshades and cushions and has grown from there, they are the products that started it all off for me.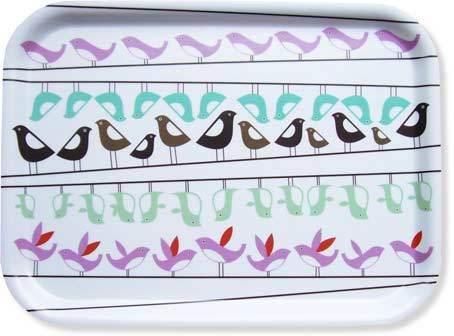 How important is colour to your designs/prints?
Bright, colourful funky accessories is what Hunkydory Home is all about so colour is very important. When I started making my cushions and lampshades it was all about creating home accessories that were not the boring beige and cream that was everywhere on the high street.
You use various retro designs on your products, why do you think that this is such a popular trend?
Retro is comforting for so many people, it can be fresh yet familiar. There's also something fun about something your parents said was naff becoming fashionable again like the 'ducks flying up the wall' that we sell.
How do you think that print has revolutionised interior design, and how do you see prints being used in the future?
Print is important because it transforms any product and even changing the colourway of the same print design can give a whole new feel. I think we will see print becoming more integral in people's interiors as they get braver about using it.
What is the most recent design product that you have bought for your home?
On my summer holiday in Holland, I bought some gorgeous white ceramic birds which are now on my kitchen windowsill. I also recently bought a lovely wooded stool with a colourful crocheted seat for my workroom.
Who is your favourite interior designer of all time and why?
I love Orla Kiely, her prints are fresh and contemporary yet have a comforting retro feel.
Where do you like to shop for quirky furniture pieces for your own home?
I am always on the lookout for things online particularly accessories. IKEA is still great for basics which can be customized or dressed up.
How important do you believe UK manufacturing is to our economy and the environment?
Vital, we have a very strong creative/design base in the UK which needs to be supported. I know so many talented designers with amazing products; I think we need to support small designer-makers and businesses to help grow the economy.
What new projects do you have on the horizon?
Currently we're launching all our lovely Autumn/Winter products on the website and developing our winter gift guide. We will be working in collaboration with the Mushroom Works design studios in Newcastle in October/November to launch a pop-up shop which is quite exciting.
Browse through more of Hunkydory Home's gorgeous gifts for your home at furnish.co.uk.
We look at the enduring influence of Art Nouveau and its affinity with biomorphic mid-century modernism.
Art Nouveau style emerged in France around 1890 and quickly became internationally recognised and reproduced. It arose at the end of a century that had witnessed momentous upheavals in religious, scientific and political thought. A new modern style was needed to reinvigorate the decorative arts and express the spirit of the age. Proponents of the new style were determined to move beyond the indiscriminate jumble of historic styles and derivative decoration popular in the 19th century. Equally, they challenged the dominant canon of Classicism, which with its strict logic and certainty of proportion seemed to mock the restless fin de siècle spirit. Instead, Art Nouveau designers looked to nature for inspiration and created new vocabulary of design incorporating both desire and anxiety.
Plant forms dominated much of the Art Nouveau style and were used across the whole range of applied arts, as well as architecture, interior decoration and furniture design. Roses, poppies, irises, orchids, cyclamens, fuchsias and lilies were among the most commonly used floral motifs. Plant forms covered the facades of buildings and grew out of furniture; swirling vegetal ornament featured on glass, silver and ceramics; flowers were cast in bronze and carved in wood. Flora and fauna, including dragonflies, birds and insect forms, adorned everything from architecture to jewellery. Furniture had a lightness of dimension and proportion, expressed by elongated, graceful lines and lithe organic forms. Sinuous lines based on plant fronds, stems and tree branches were used to convey the dynamic forces of nature as well as simmering sexuality; flowers were often personified as languid maidens and long flowing hair was another eroticised decorative device. The dynamic whiplash line and the integration of human and plant forms were characteristic of Art Nouveau design.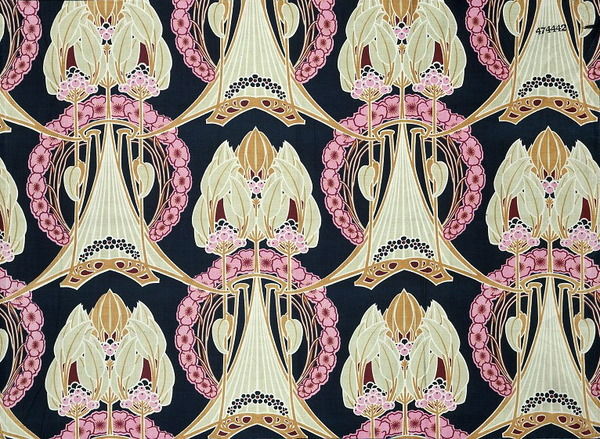 The decorative details on Art Nouveau architectural facades were carried through to interior design and furnishings to create a remarkably coordinated style. By 1900 almost every item of use or decoration was available in the Art Nouveau style: from cutlery and biscuit tins to lampposts and railings. Hoardings were plastered with advertisements designed in the Art Nouveau graphic style. The Art Nouveau poster became one of the most ubiquitous manifestations of the style. In Paris, celebrated Art Nouveau architect Hector Guimard was commissioned to design several entrances to the metro; Guilmard's sculptural cast iron entrances were studies in sinuous Art Nouveau detail. The city itself became an expression of the style. Selling Art Nouveau goods, Parisian department store La Samaritaine was housed from 1905 in an Art Nouveau building designed by Frantz Jourdain and decorated by Eugène Grasset. In London, Liberty & Co. commissioned designs for pewter, silver and jewellery in the Art Nouveau manner and its popular printed fabrics and wallpapers were also inspired by Art Nouveau pattern designs.
It's easy to see an Art Nouveau influence in surface pattern design, particularly at Liberty's, which continues to produce fabrics and accessories with its signature peacock feather and scrolling Ianthe designs. Timorous Beasties' distinctive fabrics and wallpapers featuring winged insects, amphibians and plant forms capture the play of desire and anxiety typical of Art Nouveau. Abigail Borg's bold floral patterns draw on the composition of abstract plant forms in both Arts and Crafts and Art Nouveau designs. Decorative accessories are another area where the influence of Art Nouveau forms endures. The silver flower loop vase and loop candleholder from black + blum exhibit the same sinuous lines characteristic or Art Nouveau ornament. In a beautiful vivid blue, the tactile 2lips vase from 95% Danish has a flower bulb shape and ridged glass detailing. Johnathan Adler's bird bowl and Graham & Green's sculptural dove vase recall the menagerie of birds and beasts in Art Nouveau decoration.
In furniture it's interesting to look at the link between Art Nouveau and the biomorphic forms of curvilinear modernism in the mid 20th century. The modernism of the 1940s and 1950s reflected advances in biochemistry and nuclear physics; designers looked to organic models in creating a new humane style (epitomised by Eero Saarinen's 70 MC designed in 1948 - better known as the 'womb' chair). The fluid lines and attenuated curves of biomorphic modernism owe much to Art Nouveau. Many of these designs are still in production today. Designed by Arne Jacobsen in 1958, the Swan Chair and Egg Chair manufactured by Fritz Hansen transpose the dynamic lines of Art Nouveau decoration into three dimensions. You can find both chairs at Utility. Another reissue from Utility, the Wishbone Chair designed in 1949 by Hans Wegner has the same grace and lightness of Art Nouveau predecessors. La Chaise by Charles and Ray Eames is an iconic biomorphic design available from the Lollipop Shoppe. A contemporary take on biomorphic modernism, the Tongue chair recalls the whiplash line and sexualised motifs of Art Nouveau.
So you don't have to go for flower maidens and flowing hair to give a nod to Art Nouveau.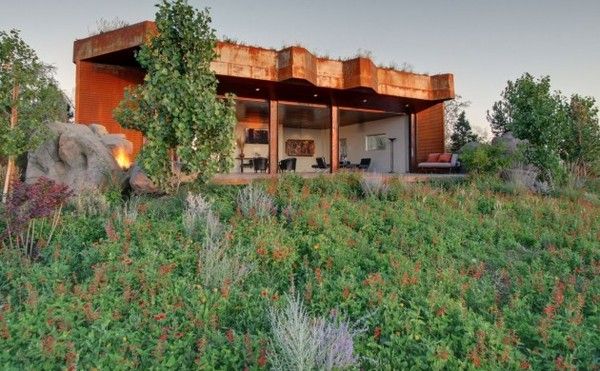 Find out what's hot in the world of interiors blogging with our weekly rundown
Contemporist is so slick that it's really an online magazine rather than a blog; but, hey, we're including it anyway. The collaborative project of two design devotees, Erin and Dave, Contemporist is a daily source for interior designers and architects to discover new products and projects at the cutting edge of contemporary design. These two never miss a beat and if you want to know what's up in the world of contemporary design, this is the place to find out. With an international following Erin and Dave's scope is global, covering the latest in architecture, interiors, furniture, lighting from across the world. Keeping pace with an ever-changing industry, the photographs and write-ups are consistently inspiring.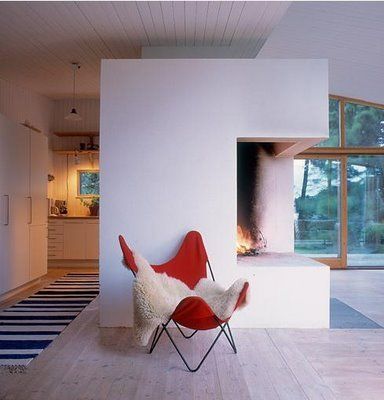 My Scandinavian Retreat follows a family restoring a summerhouse on the coast of Norway. All the inspiration for transforming the interior is collated on the blog and it's devoted to Scandinavian style, showcasing a mix of mid-century modern and contemporary design. It was recently nominated for the Best Norwegian Interiors Blog 2010 and you can see why. Fans of Scandinavian style will find all the hallmarks here and the interiors photographs never fail to raise a pang of envy. I'm dreaming of Reiulf Ramstad's modernist timber-clad beach house. And I'm now even more fixated on a Scandinavian road trip (with a van).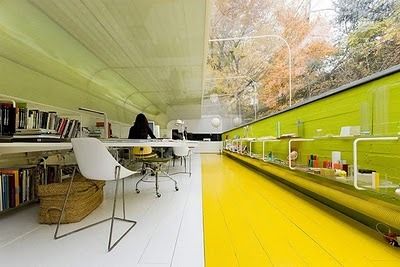 Carrie Can is where graphic designer Caroline de Winter shares her love of interiors, architecture and design. With a wandering eye, she covers a lot of ground, showcasing new products and inspiring designers along with themed posts on everything from wallpaper to storage and rooms with a view. You can count on Carrie to brighten up your day with something beautiful, even if it's a dirty-clothes basket. There's always something here to delight and inspire. Carrie recently took a trip to Copenhagen so expect lots of lovely Scandinavian style.
As always, get in touch if you've got your own interiors blog and we'll feature it next time.
Under the heat of the spotlight, Utility outperforms on quality and originality.
Since opening its first store in 1999, Utility has become highly renowned for its distinctive mix of contemporary future classics and 20th century design icons. With discernable roots in 1920s and 30s modernism, Utility sidesteps the whims of fashion with designs that don't date and high quality products that demonstrate the beauty of simplicity and functionality. Furniture, lighting and home accessories are all handpicked by Utility. You'll find the latest products from independent designers such as Tom Dixon, Ilse Crawford and Marcel Wanders, big brands including B&B Italia, Kartell and Alessi, as well as iconic 20th century designs reissued by Vitra and Knoll.
Celebrating the timeless appeal of good design, Utility's product range also reveals a commitment to quality, originality and design innovation. The Here You Go coat rack is a great example of inventive problem solving. Simple yet striking, the coat rack is strung from the ceiling, leaving precious floor space uncluttered. Nine metal components link together like a paperclip chain and each has two tactile wooden pegs on which to hang coats, hats and scarves. It's a beautiful sculptural object in its own right, but also utterly practical. The String shelving system is another ingenious product and an example of Utility's resurrection of 20th century design icons. Designed in 1948 by Swedish architect Nils Strinning, it's an award-winning, highly versatile modular storage system. Its simple construction of a powder coated steel frame on which wooden elements hang gives the String shelving system a refined, timeless and unpretentious appeal. Lending itself to both large and small compositions, it's an investment piece that can be reconfigured to suit changing needs and room sizes.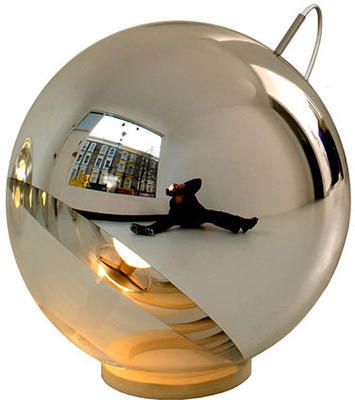 You can count on Utility to be up to date on all the new furniture releases from both established brands and independent designers. Launched at the 2010 Milan Furniture Fair, Vitra has given the classic Eames plastic side chair and armchair a softer new look with upholstery. Chair shells are available in the same mid-century modern colour palette, with Hopsak upholstery in a variety of complementary shades. The DAR, DSW and DSR chairs are all available with this new upholstered fabric option at Utility. Continually expanding and refreshing its product range, Utility has recently become a stockist of De La Espada. As well as producing its own designs De La Espada manufacturers and champions the work of designers such as Matthew Hilton, Ilse Crawford, Autoban and Leif. This beautifully crafted collection is hand made in Portugal, with each piece being made to order.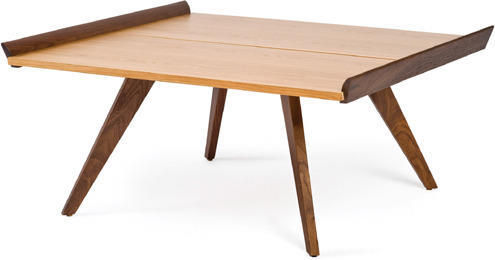 I just so happen to be looking for a coffee table at the moment and I've found the perfect candidate at Utility. For me it's got to be the star product; but whatever you're looking for there's a galaxy of equals. Reintroduced by Knoll into the Knoll Studio Collection, the Nakashima splay leg coffee table is a triumph of mid-century design. Designed by George Nakashima in 1948 the beautifully tapered legs complement the angled lip at either end of the table. Available in a choice of timbers with a low sheen finish - a darker American walnut or a lighter Hickory - the splay leg table epitomises Nakashima's sympathetic treatment of wood and his respect for the inherent beauty of the grain. The table is authenticated with Nakashima's stamped signature on the underside. At £1,480 it's an iconic investment piece, but sadly my pockets won't stretch.
You can shop for Utility furniture, lighting and home accessories on Furnish for gift ideas including Rob Ryan's new range of oilcloth bags and notebooks.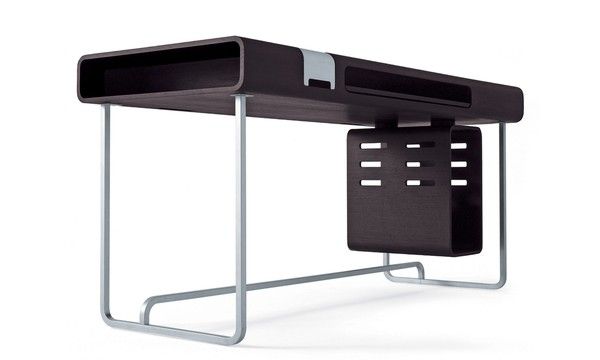 Work from home in style with this Wilson desk from EDC London. £
When I worked from home last year, my dining room was my office, my dining table my desk, which was all in all, less than convenient.
Not only could I not get reception on my mobile, which meant wandering into the living room and inevitably getting distracted by Diagnosis Murder but working at a dining table is bloody uncomfortable.
So I vowed that should I ever be a home-worker again, I would invest in a proper desk.
My first choice would be this Wilson desk from EDC London. Made from layers of plywood, Wilson is available in wenge or natural oak veneers as well as range of colours which is perfect if you want to brighten up your home office. Spacious enough to allow you to spread out and be creative, its practical too with a nifty PC holder.
With desks this gorgeous around, it almost makes me wish I was still working from home, almost...
See this product at EDC London...
(We don't list this product yet but sign up to our newsletter and we'll let you know if/when we do)