It's our Interior Design Magazine!
The hottest interior design ideas, fab finds for the home and the latest in interiors trends. We're always looking for new finds, designers to feature or anything else lovely for the home, so if you've seen something gorgeous and would like it featured in our interior design magazine, please get in touch!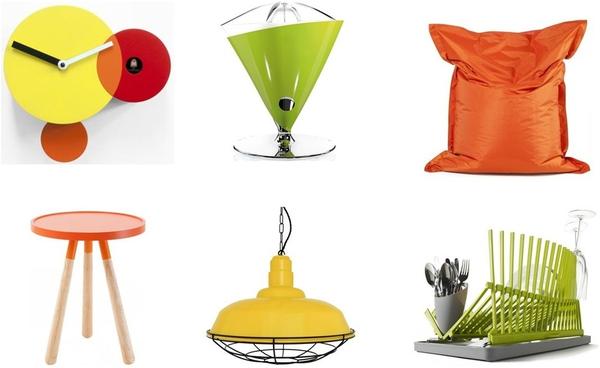 Add some zing to your home with our selection of brightly coloured buys.
As we approach the middle of summer, whether in rain or in shine, there couldn't be a better time to inject some fresh, zingy, citrus colours to your scheme.
For lovers of lime, this Bugatti Citrus Juicer by Red Candy will instantly brighten up any kitchen worktop, as will this High And Dry Dishrack by Design My World.
Orange obsessives are catered for too; this retro-inspired Orbit Side Table by Naken Interiors is perfect for any room in the home, while this Larry Orange Outdoor Bean Bag by Neofurn is ideal for the garden.
Yellow is possibly the ultimate summer colour, so if you want to add some sunshine brightness, this Kandinsky Cuckoo Clock by Red Candy will become the focal point of any room, while this Eden Yellow Industrial Cage Pendant Light by Alexander and Pearl adds colour to a more industrial scheme.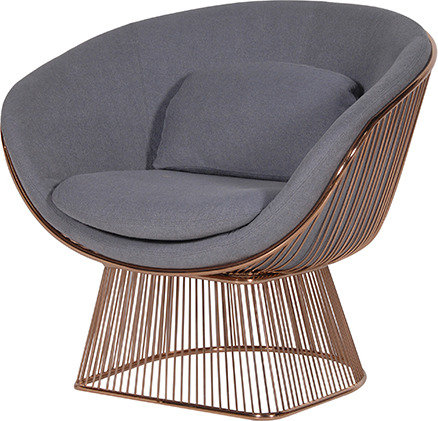 Enjoy classic vintage style with this Vogue Copper & Grey Lounge Chair, £1,395.
Regular readers will know that I am completely obsessed with chairs. I have as many as I can possibly squeeze into my home, I have prints of classic chairs on the wall and I even have a whole shelf on my bookcase dedicated to the design of chairs.
So, while I don't have the room for a new chair, that doesn't mean I can't look, and my new favourite is this Vogue Copper & Grey Lounge Chair by Alexander and Pearl.
With a striking, on-trend copper base and simple yet comfortable grey upholstery, this statement piece will look fantastic in the bedroom or living space, particularly when teamed with a bright neon pink or yellow cushion.
Also available as an armchair model.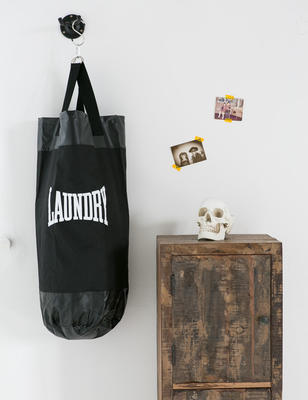 Keep dirty laundry stashed away with this Laundry Punch Bag, £20.
Laundry bins are the bugbear of my life because, although they're completely necessary, they're not always the most attractive of items. So much so, I hide mine away in a cupboard so it never sees the light of day.
Which is why I was delighted to come across this fab Laundry Punch Bag by Rose & Grey.
Designed to look like a punch bag, and working as one when full, it is great for easing the frustrations of laundry day.
Also ideal as a gift for older children or teenagers to encourage them to keep their dirty laundry tidied away.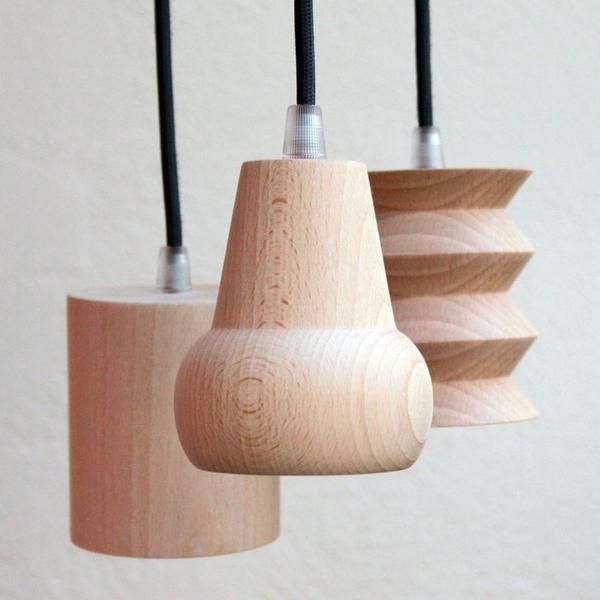 Update your lighting with a Geometric Beech Suspension Light, £39.90.
While it is still summer, the days are steadily getting shorter, so there's no better time to sort out your lighting scheme in time for autumn.
Lighting is a notoriously tricky element of interior design to get right, which is why many get it wrong.
A simple trick is to make sure you have more than one lighting source in a room (e.g. table lights, pendant lamps, etc.) so you have different lights for various purposes. Adding a dimmer switch is a great idea too if you want to create varying atmospheres.
This Geometric Beech Suspension Light by Cachette has just jumped to the top of my wish list and I can't wait to get it in my home.
Available in a range of shapes, these lights have been crafted from solid wood and will look equally stylish used alone or grouped together.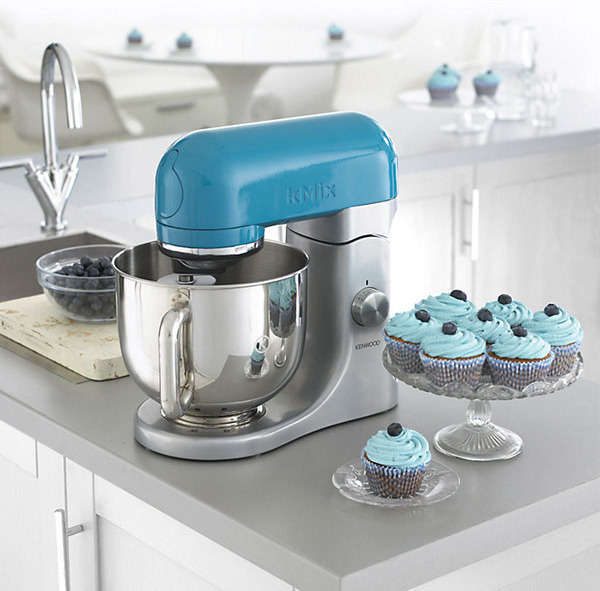 Add some retro style to your kitchen with this Kenwood kMix Brights Stand Mixer, £350.
I'll be honest – I don't really need a food mixer. I definitely don't bake enough cakes or make enough bread to warrant one, and I already have a whole host of "must-have" kitchen gadgets I never use.
But I could be persuaded to go all Mary Berry if I had this gorgeous Kenwood kMix Brights Stand Mixer by Red Candy.
Deliciously retro, it would be a welcome addition to my kitchen for its looks alone, but if you are a whizz when it comes to meringues, then it's good to know it's got loads of functions to make whipping up tasty treats an absolute breeze.
Also available in raspberry red, orange, pink and yellow.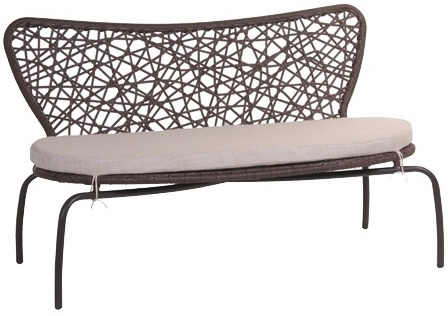 Relax in style with this Brown Open Weave Bench, £197.
I've always been a bit 'meh' when it comes to having benches in the garden; for me they can either look like they belong in a park or are too ornate to fit in with the sleek style I favour.
However, from our fab range of garden benches here at Furnish, I've found (and now have my heart set on) this Brown Open Weave Bench by Lover's lounge.
With a contemporary, yet intricately woven back, this bench has sleek legs and a generous cushion allowing you to comfortably relax in your outdoor space and enjoy the sun.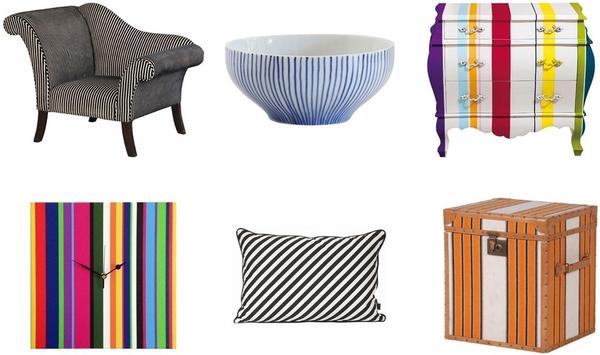 Give your home a smart look with our round up of striped goodies.
Stripes are a perennial favourite, however, they always make me think of summer. Maybe it's all those Breton tops and denim shorts combos you see when the sun decides to shine, or perhaps it's because they're particularly nautical in style.
I adore a stripe in the home as well as in fashion; they're easy to incorporate into any room from kitchen to bathroom, and suit any scheme whether contemporary or classic.
Great for keeping your bits and pieces hidden and being super stylish at the same time, I love this Paulie Orange & White Stripe Storage Cube Trunk by Alexander and Pearl, while this Black Stripe Cushion by Naken Interiors will instantly update any bed, chair or sofa.
This Swish Black and White Striped Armchair by Lover's lounge offers a subtle way to incorporate the trend and can easily be combined with other patterns without appearing too garish, while this Multi-Striped Chest of Drawers by Out There Interiors is ideal for those who are bold when it comes to decorating the home.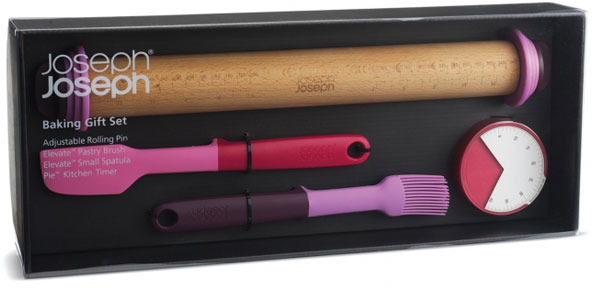 Bake beautifully with this Joseph Joseph Baking Gift Set, £35.
If you love baking and could easily be a contestant on the next series of The Great British Bakeoff, chances are you have all the paraphernalia you need.
However if, like me, you're just starting out then you need to make sure you have the right equipment.
We have a whole host of baking and kitchenware here on Furnish from mixing bowls to pretty storage tins but I've got my heart set on this super cool Joseph Joseph Baking Gift Set by Red Candy.
With an adjustable rolling pin, clever spatula and pastry brush, and all-important timer, this intelligent kit will ensure Mary Berry et al will be desperate to taste your wares.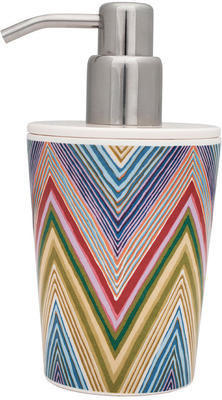 Add some pattern and colour with this Scion Zig Zag Soap Dispenser, £13.
I'm always looking for ways to brighten up my fairly dull bathroom, whether by adding colourful patterned towels or using wall stickers to jazz up the walls.
If you're looking for a quick and easy solution, then this Scion Zig Zag Soap Dispenser by Amara Living is ideal.
Bright, bold and definitely beautiful, it will add colour and pattern to your basin in a flash, and mean you don't have to worry about unsightly hand wash dispensers.
Also available in the range is a bath mat, tumbler, soap dish and toilet brush which look great teamed with a chic white bathroom.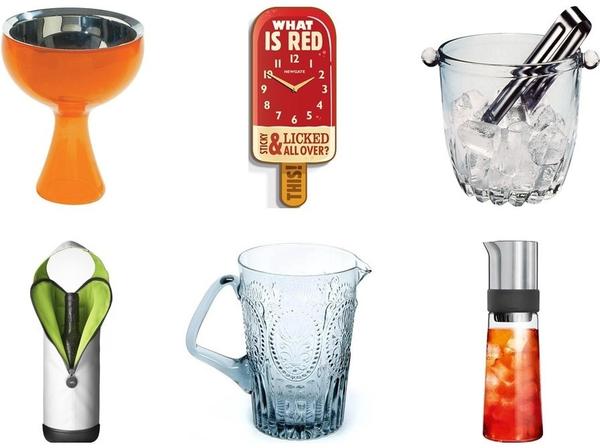 Keep your cool in the summer months with these inspired buys.
No sooner is a heatwave announced then we all start calling for rain. Turns out when it comes to weather; you can't please all of the people all of the time.
So, if the heat is getting to you, we have some great products that will ensure you keep your cool when everyone around you is losing theirs.
If picnics and al fresco dining are your thing then you'll need this Menu Picnic Wine Cooler by Gifts with Style, which will keep your bottle of plonk nicely chilled. Meanwhile, the TEA-JAY Ice Tea Maker Kit by Naken Interiors is a unique item perfect for iced tea and other chilled mixed drinks.
Naturally, you'll want some ice cream or sorbet in this weather so serve it in style with this funky Alessi Big Love Ice Cream Bowl by Red Candy, which is available in a myriad of bright colours.
And finally, for a bit of fun, we couldn't resist this Newgate Ice Lolly Wall Clock, also by Red Candy, which is perfect for adding some summer charm to your home.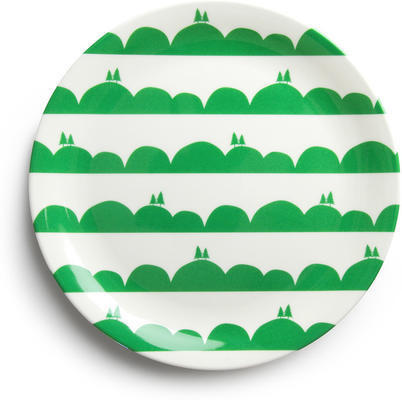 Enjoy al fresco dining with this Anorak Melamine Rolling Hills Plate, £5.50.
The forecast is looking good and with the sun comes the chance to get outside for some al fresco dining, either in your garden or with a picnic.
Unless you're really posh, you probably won't want to risk your best china, which is why melamine makes an ideal alternative.
We have a great range of melamine goodies here at Furnish, with this Anorak Rolling Hills Melamine Plate by Amara Living really catching my eye.
Simple yet ever so sweet, these durable plates are ideal for everything from salads to sandwiches.
And if you're looking for bowls and beakers too you'll be pleased to know they are also available in this range.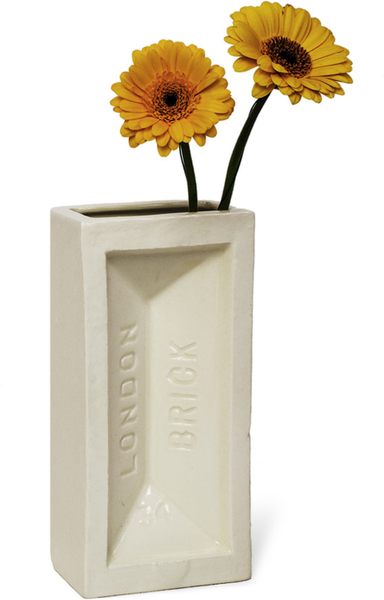 Create a simple floral display with this Brick Vase, £30.
As a lover of fresh flowers in the home, I have amassed a rather impressive collection of vases, however, after recently deciding that mine were all rather girly, I have fallen for this Brick Vase by Naken Interiors.
Sturdy and stylish, it will definitely add a masculine look to my floral displays, and I adore the juxtaposition of something so solid containing something so delicate.
Great for teaming with glass designs to create an eclectic centrepiece for a dining table, this vase will look equally good alone on a sideboard.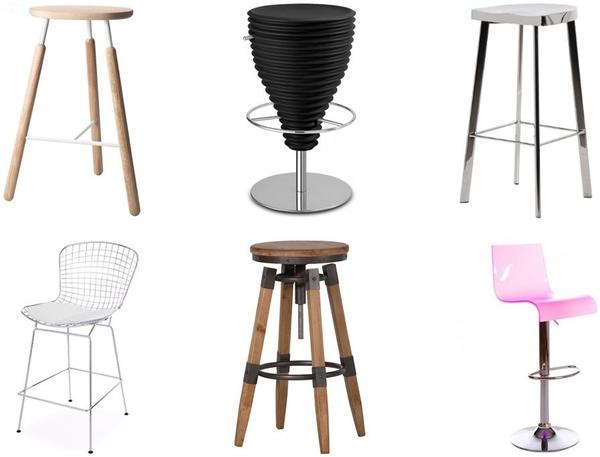 Make the most of your kitchen space with our great selection of bar stools.
A bar stool is an great piece of kit and can instantly transform otherwise dead space in your kitchen.
And there's no need for an expansive breakfast bar as, with just the end of a worktop, you have the perfect place to perch whether it's for breakfast or an after-work cocktail.
With an array of bar stools to choose from here at Furnish, there's something to suit every style and budget.
Perfect for adding a touch of girly chic to any kitchen/diner space, this Luke Acrylic Pink Bar Stool by Neofurn will instantly add a pop of colour, while this Manhattan Wood & Iron Bar Stool by Alexander & Pearl is ideal for adding a subtle industrial touch.
For those who prefer to keep things sleek and simple, this Chrome Bar Stool by London Cows is sure to be a hit, while design lovers will adore this Raft Bar Stool by Naken Interiors.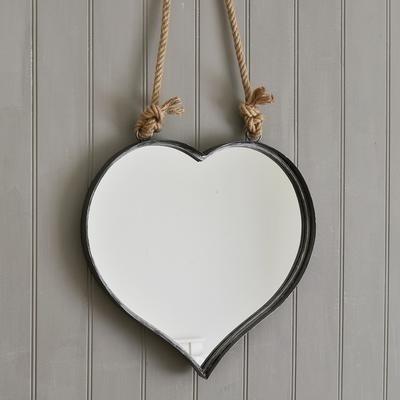 Add some romance to your home with this Rustic Grey Heart Mirror, £40.
Mirrors offer a great way to instantly lift a room and rejuvenate a plain wall. They also help increase the feeling of light and space, which is particularly useful if you want to brighten up a gloomy corner or area.
We have a great range of mirrors to choose from here at Furnish from elaborate over-mantel designs to sleek, full length options, which are perfect for a contemporary interior.
I love this Rustic Grey Heart Mirror by Primrose & Plum that has been crafted from metal and finished with a rope hanging strap.
Simple and understated, yet ever-so stylish, this mirror will work well in every room in the home from bathroom to hallway.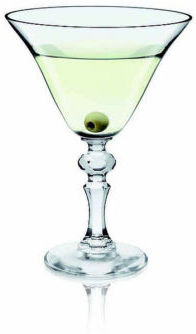 Enjoy stylish cocktails with these Vintage Martini Cocktail Glasses, £17.88.
While I love vintage furniture, I have to admit to feeling a little bit squeamish about eating and drinking from vintage crockery and glasses.
So, in my search for some new, vintage-style tableware I am thrilled to have come across these gorgeous Vintage Martini Cocktail Glasses by Solavia, which are just what I've been looking for.
Of course they're perfect for serving all different kind of martinis, but they're also ideal for a Cosmopolitan or (my personal favourite) a Negroni.
Best of all they're much more affordable than they look, which means they won't break the bank.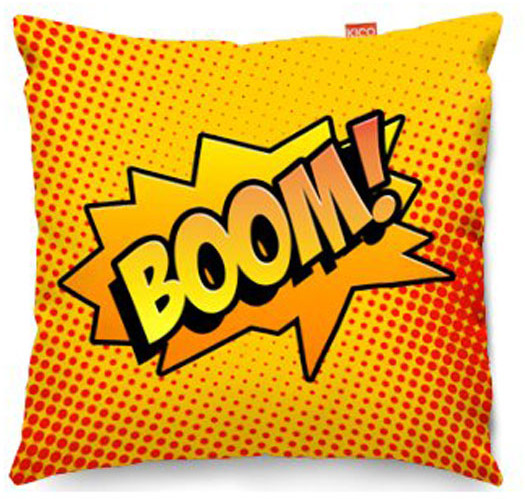 Add some super cool chic with this Orange Comic Boom Cushion, from £34.
While we take our interiors very seriously here at Furnish, we like to have fun too, which is why this Orange Comic Boom Cushion by Red Candy is one of my favourite recently-added products.
Taking inspiration from comic books, this cushion is one of a collection of ten pop art-style cushions, which are all perfect for adding a brilliant hit of colour to your home. Try using just the one or add a selection of your favourites for maximum impact.
Great for jazzing up a neutral sofa, these cushions are also ideal for a little one's room.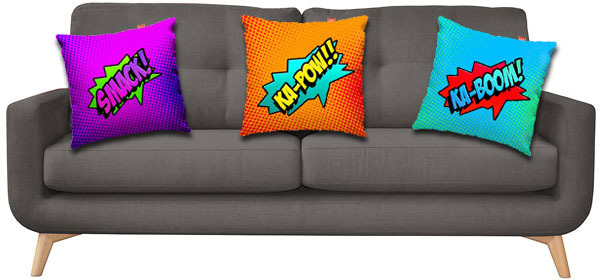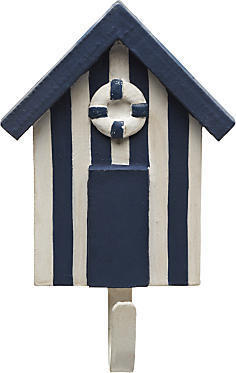 Add some sea-side style with this Parlane Beach Hut Hook, £8.
Some people love climbing hills, some love skiing, but my passion is being at the beach.
I'm convinced it has something to do with living in Cornwall for three years or perhaps, as a Pisces, I just love to be by the sea. But, no matter whether it's tropical or wind-ravaged in winter, I'm happiest when I'm at the coast.
Which means I've got a bit of a thing for coastal style and nautical touches, and that is why I love this Parlane Beach Hut Hook by John Lewis.
Irresistibly sweet without being too cute, it's perfect for adding a nautical touch to your kitchen or bathroom.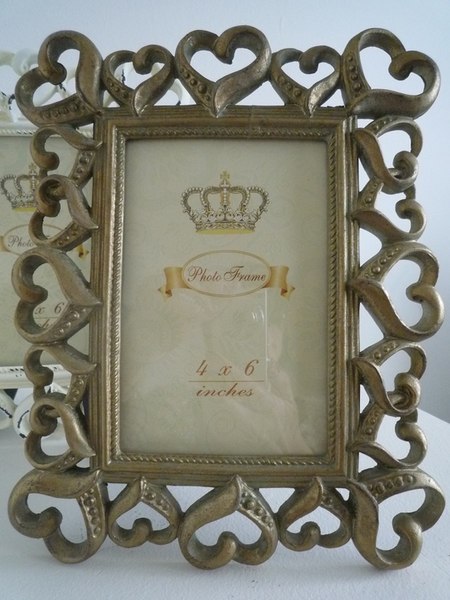 Create a beautiful photo display with this Shabby Chic Gold Photo Frame, £10.95.
All the tips I've written over the years about how best to present photos have paid off and, nearly three years after getting married, I've finally got round to creating (if I do say so myself) a rather attractive display of wedding pictures in the bedroom.
The trick to making an eclectic display work is to ensure you choose either black and white or colour for all the pictures, and select frames, no matter what the style, in the same or complementary colours.
If you want to create a display of several pictures, this Shabby Chic Gold Photo Frame by Daisy West is a good starting point. Sure to create a real statement, this decorative piece will also work well when teamed with simpler, more contemporary designs.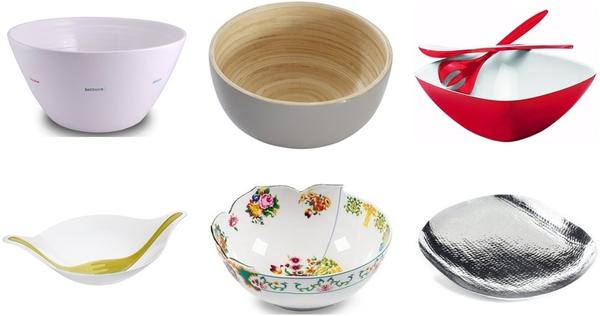 Serve up a delicious feast in one of our gorgeous salad bowls.
While salad eating isn't completely reserved for the summer months, a lot more of us eat a lot more of it when the weather's good.
And these days, salads are far more adventurous than a limp leaf of lettuce and some salad cream, so they deserve to be served on something a little more special than a bog standard plate.
Thankfully, our selection of salad bowls is sure to do your creations proud.
Wordsmiths will love the Word Salad Bowl by Naken Interiors, which is simple but fun, while those who like things to be nice and neat will adore this Koziol White Salad Bowl with Servers.
And if you want to make a real statement, this Syrian Silver Salad Bowl is perfect for serving up at a dinner party while the Fusion Salad Bowl from Out There Interiors will add colour and pattern to any mealtime.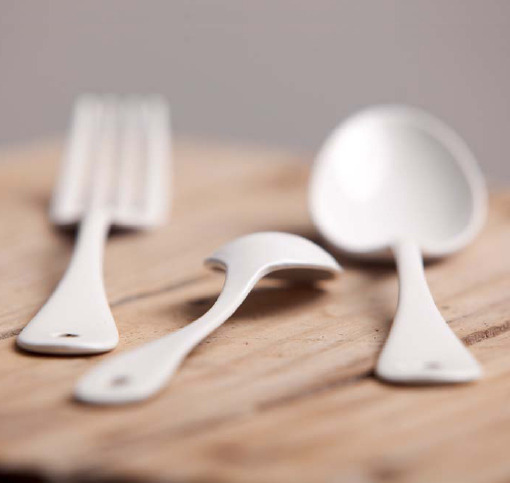 Transform your dining table with this White Enamel Cutlery, from £9.18.
Being a fanatical cook and loving to entertain, tableware really excites me – it's sad but true.
So I was thrilled when I came across this gorgeous White Enamel Cutlery by Cachette.
Elegant, simple and something a little bit different to your usual stainless steel, this set has just jumped to the top of my wish list.
Not only will it look great teamed with my vintage teak dining table, but will also work equally well outside with a brightly patterned tablecloth for some decadent al fresco dining.