It's our Interior Design Magazine!
The hottest interior design ideas, fab finds for the home and the latest in interiors trends. We're always looking for new finds, designers to feature or anything else lovely for the home, so if you've seen something gorgeous and would like it featured in our interior design magazine, please get in touch!
Add beautiful, bright colour to your dining table with a Guzzini Aqua Large Rectangle Placemat, £17.
Placemats are one of life's necessities – well they are if you don't want burnt dining tables – but that doesn't mean they have to be dull and boring.
We have a huge range of placemats to choose from here at Furnish whether you're looking for day-to-day use or for more special occasions.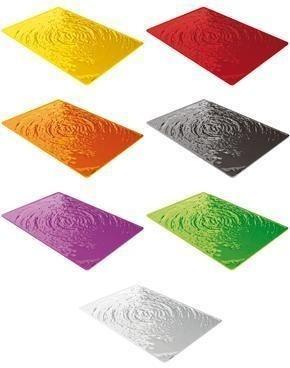 My favourites, by far, are these Guzzini Aqua Large Rectangle Rigid Placemats by Design 55. Available in a gorgeous array of bright shades, they are great for adding colour and texture to your dining table.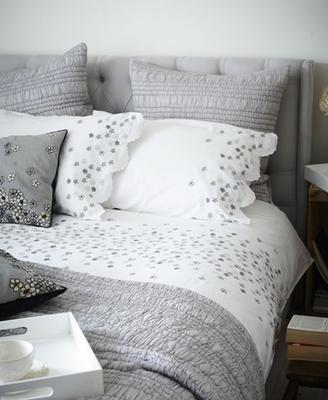 Create a stylish boudoir with this pretty Hanoi Daisy Embroidered Cotton Bed Linen, from £30.80.
I've been promising myself I'll treat myself to some new bed linen for what seems like an absolute age. But as soon as I clapped my eyes on this Hanoi Daisy Embroidered Cotton Bed Linen by ALSO Home I knew I'd found exactly what I'd been looking for.
Made from luxurious 200 thread count cotton, this sumptuous bed linen has been finished with a smattering of pretty embroidered daisies which give this design a sophisticated feminine look.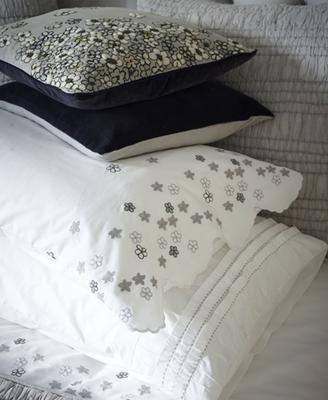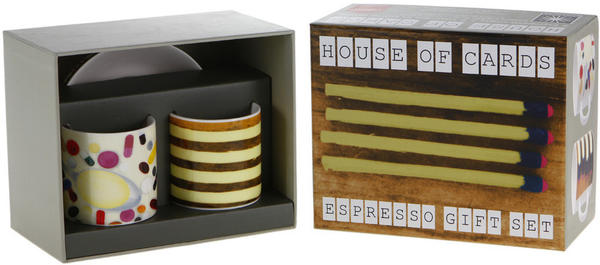 Enjoy your morning coffee with this Eames Matches and Pills Espresso Gift Set, £29.
Although the sun is starting to rise just that little bit earlier each morning, I still find it hard to get going each day without my morning espresso.
But with this gorgeous Eames Matches and Pills Espresso Gift Set by Amara Living, it's not just the caffeine that will put a spring in my step.
Comprising two stylish bone china espresso cups and saucers, it features the playful Eames Matches and Pills photographic designs, and comes in a lovely presentation box.
Perfect for any time of day.
(Also available in Eames' Buttons and Tape Measure design.)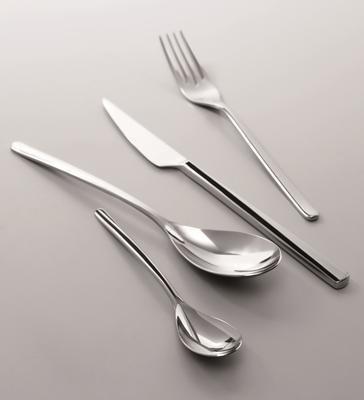 Create a stylish dining table with this Bugatti Sintesi Cutlery Set from Gifts with Style, £90.
Replacing your cutlery is a quick, easy and inexpensive way of revamping your dining table, and we have some great options here at Furnish for every style of dining room.
If you're looking for a really sleek look which is sure to impress your guests, then this Bugatti Sintesi Cutlery Set from Gifts with Style is just the ticket.
Designed by Italian design house Casa Bugatti, this elegant cutlery set will work well in both contemporary and classic schemes thanks to its timeless good looks.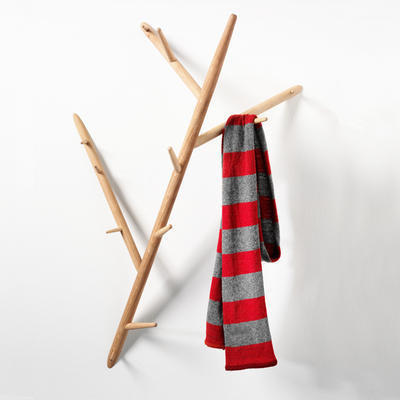 Keep your hallway tidy with this Branch Hat and Coat Hook from Lifestylebazaar, £129.
I love living in a 70s townhouse, but the one thing that's missing is an actual hallway which makes storing coats a bit of a problem. While I'd love a freestanding coat rack or stand, sadly there simply isn't room, but I'm thrilled with this stylish alternative from Lifestylebazaar.
Available in black, white and natural oak, this hat and coat hook has been designed to look like a tree branch with handy "twigs" on which to hang your belongings.
And as it's wall-mountable it's perfect for those who are short on space, and is great for adding interest to a plain wall.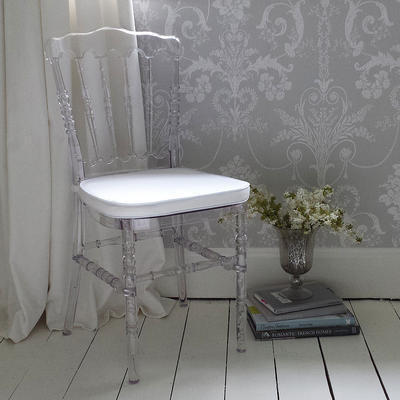 Rethink a classic design with this Clear Acrylic Napoleon Chair from The French Bedroom Company, £125.
Regular readers will know about my love of chairs, so I was absolutely thrilled to come across this Clear Acrylic Napoleon Chair from The French Bedroom Company.
Giving a fresh take on a classic design, this striking piece combines all the beauty of a traditional chair with a contemporary twist thanks to the use of clear acrylic.
Coming with a simple, crisp white seat cushion, this chair will look fabulous teamed with a distressed wooden dining table to create a simple yet stylish dining room, and will look equally good in a contemporary bedroom.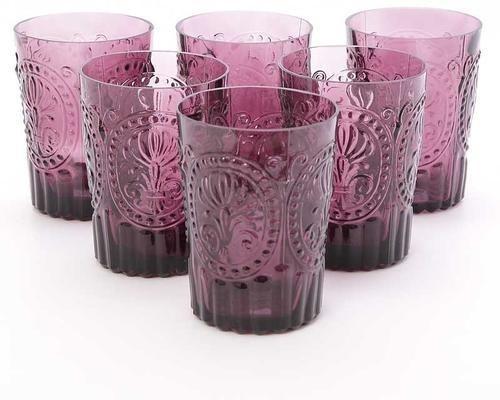 Brighten up your dining table with these Portuguese Handmade Purple Water Glasses from JasmineWay, £50.40.
One of my New Year's resolutions is to drink more water – something I'm pretty rubbish at doing.
So I've decided to invest in some pretty new water glasses to motivate me and ensure I'm getting my daily dose of H20.
We have some beautiful glass tumblers here at Furnish, but it's these Portuguese Handmade Purple Water Glasses from JasmineWay that have really caught my eye.
They've been pressed by hand using a traditional mould, and their vibrant colour means they'll make drinking water far more glamorous.
Perfect for everyday use, they're also pretty enough to adorn your dining table at supper parties.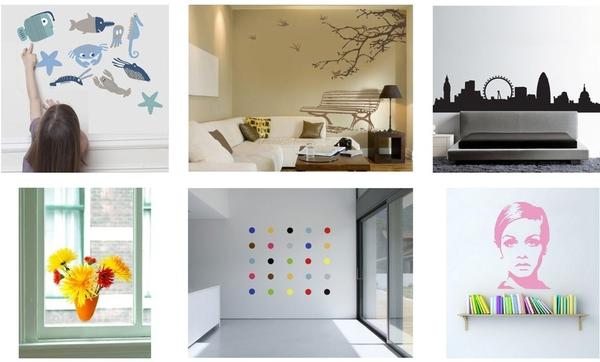 Spruce up your home with our fabulous choice of wall and window stickers.
If you don't want to commit to wallpaper or paint, wall stickers offer a fantastic way to update your walls with minimum fuss.
We have some beauties here at Furnish from classic to contemporary, which are guaranteed to suit every room in the home, as well as every style and taste.
For art lovers, the Damien Hirst-esque Art Deco Spots Wall Sticker Set from Red Candy will instantly add some gallery chic to your home while the Ocean Life Wall Sticker in Blue from JasmineWay will delight budding oceanographers.
If you're one of those who dream of viewing the iconic London skyline everyday but can't afford the city centre pad, then this London Skyline Wall Sticker from Gifts with Style makes a reasonable substitute.
Meanwhile, for something a bit different, how about this gorgeous Flat Flower Chrysantium Window Sticker from Dutch by Design, perfect for adding colour and fun to your window.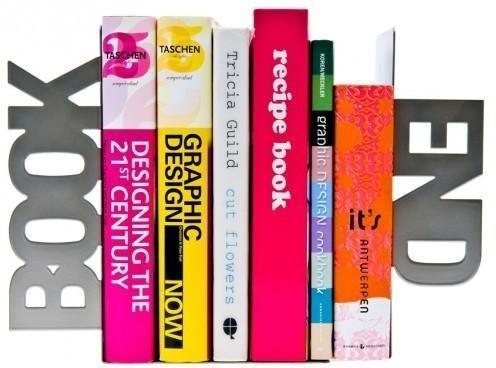 Keep your bookshelves tidy with these Book Ends from Dutch by Design, currently £12.50.
Despite the huge range of e-readers now available, believe it or not, people do still own actual books!
If you have lots of books piling up on your shelves, then you should check out our fab selection of bookends, which range from quirky and fun to stylish and classic.
I love these "Book Ends" bookends from Dutch by Design. Made of steel, they add character to your bookshelves, while keeping your books super tidy.
Available in chrome or white.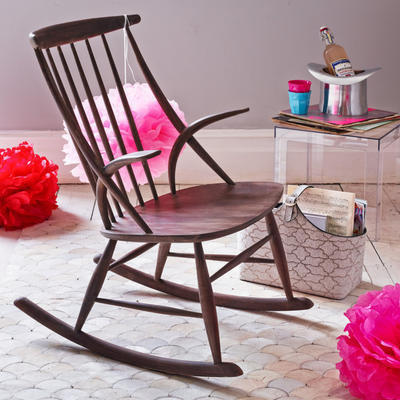 Add some classic design to your space with this Danish Style Rocking Chair from Graham & Green, £225.
I've always had an obsession with rocking chairs which, I'm sure, stems from my love of the chair my paternal grandmother had in her home when I was a little girl.
As such, I have always yearned for a rocking chair, and now I've found the one for me.
This Danish Style Rocking Chair from Graham & Green is absolutely perfect for my home and I can't wait to get my hands on it.
Beautifully crafted, this simple yet ever-so elegant chair will make a welcome addition to my bedroom. To cosy things up a little, I'm planning on adding my sheepskin rug to it which will make people watching nice and comfortable.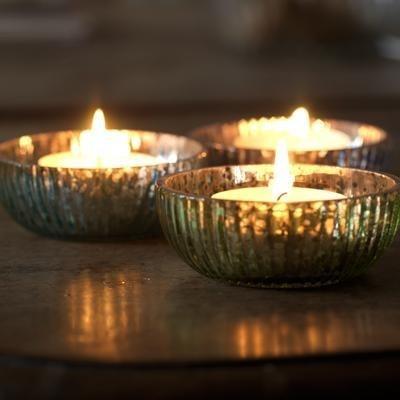 Create a warming glow with these Recycled Glass Tea Light Holders from Daisy West, £13.25.
The dark evenings are still with us for a while longer, and candles offer the perfect way to add some atmosphere while we wait for spring.
We have all types of candle holders here at Furnish from tealight holders and votives to candlesticks and candelabras, but my new favourites are these Recycled Glass Tea Light Holders from Daisy West.
Available as a set of three in complementary colours, these shallow and gently fluted tea light holders will work well grouped as a centrepiece on a dining table or in a row on a sideboard.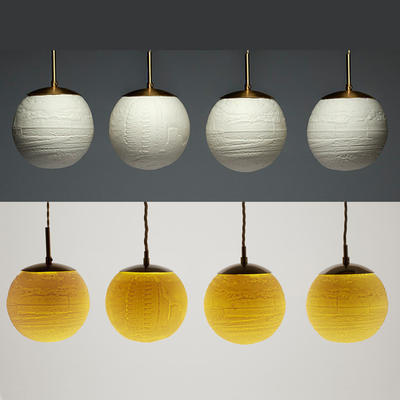 Update your lighting scheme with a Lithophanes Light from Lifestylebazaar, £375 each.
Lithophanes have been around for ages but it's rare that you see them used in a contemporary way.
I've always been a little bit fascinated by them so was delighted to find these stunning Lithophane Lights courtesy of Lifestylebazaar.
Crafted by talented designer Beth Lewis-Williams, they come in a choice of three designs, London Cityscape, Urban London and Ramsgate Seascape.
And all that's left to do is decide where you want to use them, switch them on and watch striking silhouettes dance across your walls.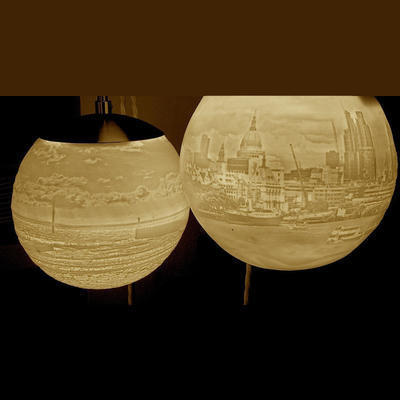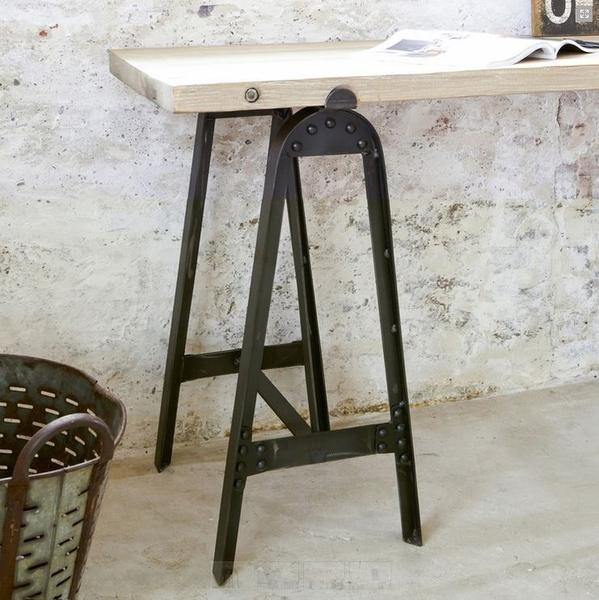 Give your hallway an industrial feel with this Eliot Metal and Pine Console Table from Tikamoon, £459.
Every hallway needs a good console table and we have some great designs to choose from here at Furnish from classic to more contemporary pieces.
I love this Eliot Metal and Pine Console Table from Tikamoon which is perfect for tapping into the industrial trend which continues to be popular.
Crafted from solid recycled pine with iron trestle legs, the table will provide a practical solution for hallway clutter without ever dominating your space.
The Eliot Metal and Pine range also includes a generous dinner table and coffee table to complete the look.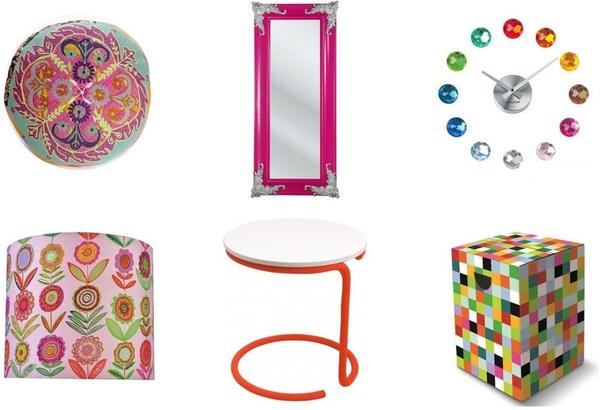 Add some colour to your home with these bright and beautiful items, all currently reduced.
Perhaps, like me, you're suffering from post-Christmas blues and are feeling fed up with the dreary January weather. Why not inject some bright accessories and furniture into your home to instantly replace the joy of those removed Christmas decorations.
This blinging Karlsson Diamond DIY Multi Coloured Clock from Red Candy is both fun and functional. It is up to you to lay out the clock face as you wish, whether circular, square or something more abstract, all in gorgeous sparkly colours.
Meanwhile, this Lampshade Designer Fabric from The Wooden Lamp Company features the beautiful 'Cut Flowers' fabric and will ensure any room looks pretty in pink.
And to help out with the January finances and add a smile to your face, these beautiful brights are all currently available at sale prices.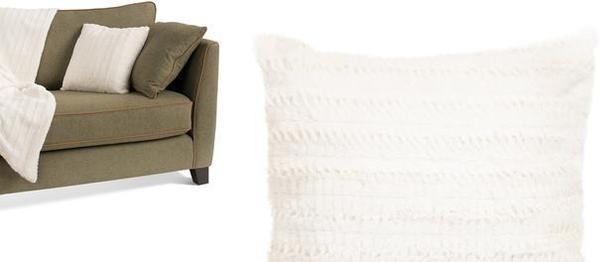 Cosy up with this Polar Faux Fur Scatter Cushion from made.com, £19.
With the appalling weather showing no side of abating and Christmas cheer well and truly over, I don't know about you, but I'm planning on spending lots of time curled up on the sofa.
I'm all set with my throws and chunky knits, but what I really need is a cosy cushion to rest my weary head against while getting over the excesses of the festive period.
We have an amazing choice of sumptuous cushions here at Furnish but my fave is this comforting Polar Faux Fur Scatter Cushion from made.com.
Made in a fox white shade with a cut pattern faux fur, this striking cushion is perfect for both classic and contemporary schemes.
(A matching throw is available should you fancy further snuggling.)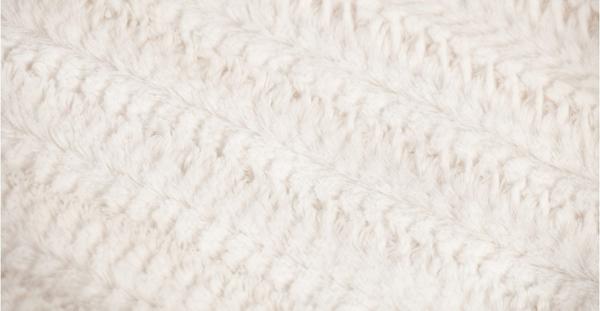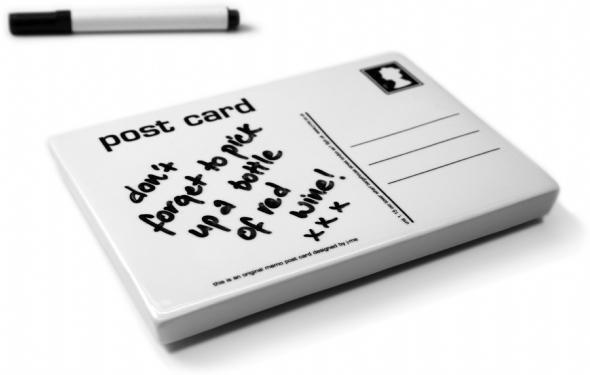 Get organised for the New Year with this Memo Postcard from Design My World, £9.95.
One of my New Year's Resolutions is to be more organised and better at remembering where I am meant to be and when.
It seems my family feel the same way as I was bought not one but two calendars and a rather snazzy diary.
However, I'm also going to be investing in this Memo Postcard from Design My World which is just the ticket for jotting down important things such as remembering the milk and not forgetting to buy the car tax.
Made from glazed ceramic, it comes with a pen so you can effortlessly scribble your To Do list and then wipe clean when it's done.
Would make a nice change from a paper pad by the telephone, or a useful addition to the kitchen for shopping reminders.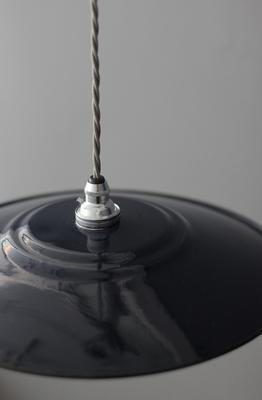 Inject some industrial chic with this European Flat Enamel Lamp Shade from Nook London, £30.
As regular readers will know, I am a massive fan of the industrial look and love seeking out new bits and pieces for my home.
I've been on the hunt for a new kitchen light for some time now but nothing has seemed just right until I came across this European Flat Enamel Lamp Shade from Nook London.
Available in a choice of two colours (Black and Midnight Blue), this factory-style light will instantly add some industrial chic to your scheme, and looks great when paired with one of Nook London's vintage style bulbs.
(Bulbs and pendant sets sold separately.)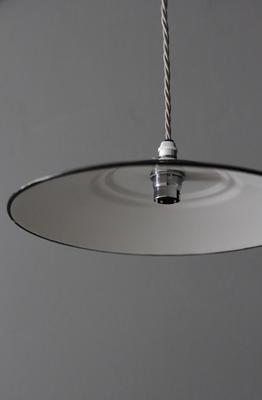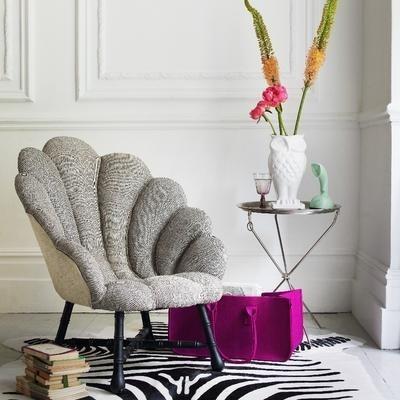 Relax in decadent style with this Ariel Rococo Chair from Graham & Green, £695.
I absolutely love an occasional chair and, despite a rather sad post-Christmas bank balance, have convinced the other half that we should splash out on a new one for our living room. One of my faves is this Ariel Rococo Chair from Graham & Green.
Designed to resemble a seashell, this luxurious chair has been upholstered in a beautiful linen fabric teamed with carved wood legs.
Perfect for creating a real style statement in the home, this chair will make a welcome addition to both classic and contemporary living rooms as well as making an ideal bedroom chair.
Give your guests a warm welcome with this Hand-le Shiny Aluminium Door Handle from Dutch by Design, £59.95.
As interiors products go, door handles aren't usually the sexiest or most interesting of pieces in the home. Generally considered functional, they tend to be plain and unadorned.
But if you're looking to make real impact with your front door and give your guests a welcome they're sure not to forget, then you need look no further than the Hand-le Shiny Aluminium Door Handle from Dutch by Design.
Crafted from super shiny aluminium, this door handle is a faithful replica of an open human hand which is sure to give your guests a surprise.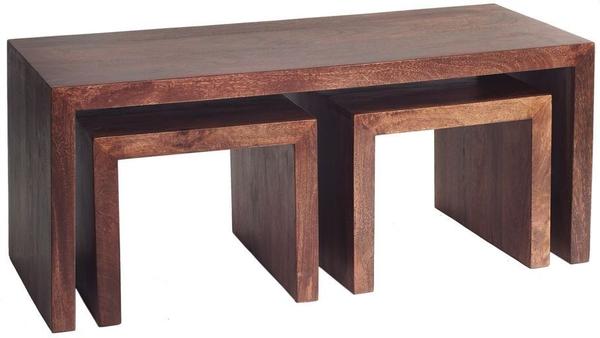 Enjoy flexible storage with this Dakota Mango John Long Coffee Table from Verty furniture, currently £229.
Every living room needs a coffee table. They can provide the perfect finishing touch to your living space; looking great whilst providing the ideal place to rest your cup of tea.
If you are on the lookout for a simple, stylish and practical coffee table, we have just the thing for you.
The streamlined design of this Dakota Mango John Long Coffee Table means that it will suit any style of living room and, by featuring two smaller occasional tables (which can be stored below the table), provides flexible space for displaying magazines, candles and your trusty remote controls!
Currently available for only £229.