It's our Interior Design Magazine!
The hottest interior design ideas, fab finds for the home and the latest in interiors trends. We're always looking for new finds, designers to feature or anything else lovely for the home, so if you've seen something gorgeous and would like it featured in our interior design magazine, please get in touch!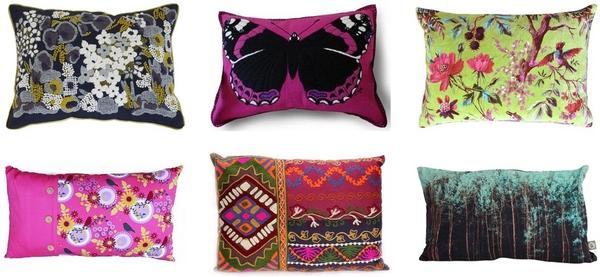 Choose one of our vibrant cushions to give your home a lift for the new season.
If you want to give your home a new look without breaking the budget and with minimal fuss, cushions are the perfect solution.
Whether you're looking to breathe life into an old chair or sofa, or simply want to jazz up your bedroom, we have a huge selection available, and here are some of our faves, all full of bright and beautiful colour.
Floral fans will struggle to resist either this fabulous Trippy Granny Cushion by The French Bedroom Company which will add a feminine touch without being too girly, or this Ellen Hand-embroidered Cushion by ALSO Home which combines gorgeous shades of grey and green.
Meanwhile, those looking to create real impact need look no further than the Jan Constantine Red Admiral Cushion by Out There Interiors or the Mosaic pattern pink cushion by JasmineWay, both ideal for adding a striking finishing touch to any room.

Turn any room into a home office with this Morph Bookcase Workstation, £399.
While it's nice to have room for a home office, whether or not you work from home, not everyone has the space.
If you don't want to give up one of your rooms to house a desk, this Morph Bookcase Workstation by Alexander and Pearl is the perfect solution.
Sleek and stylish, this streamlined workstation can be easily incorporated into a living space or bedroom.
The glossy white finish has been complemented with oak veneer accents and there's plenty of room to stash your laptop, books and other paraphernalia.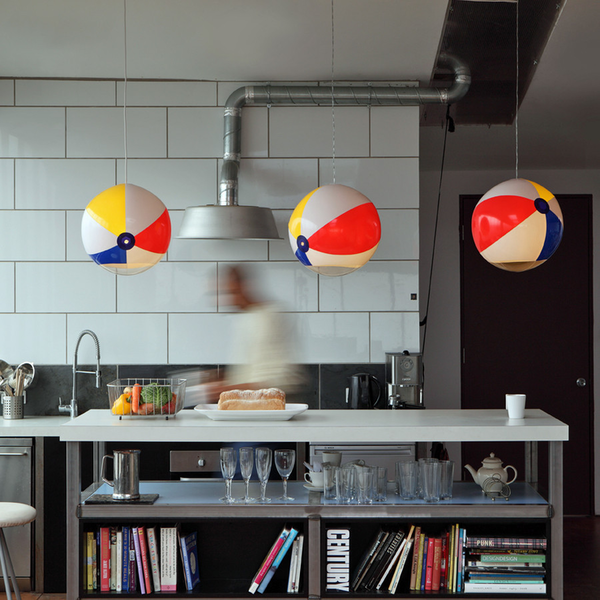 Add some fun with this Beach Ball Pendant Light, £90.
Having lived by the sea for a few years, I can't resist a bit of nautical style. However, rather than subtle hints such as driftwood, boats and shells I prefer my memories of living beside the sea to be a little bolder.
Which is why I love this Beach Ball Pendant Light by Lifestylebazaar. Bright and bold, this striking lamp is the perfect choice for a little one's room, and would work equally well in a modern, bright kitchen or bathroom.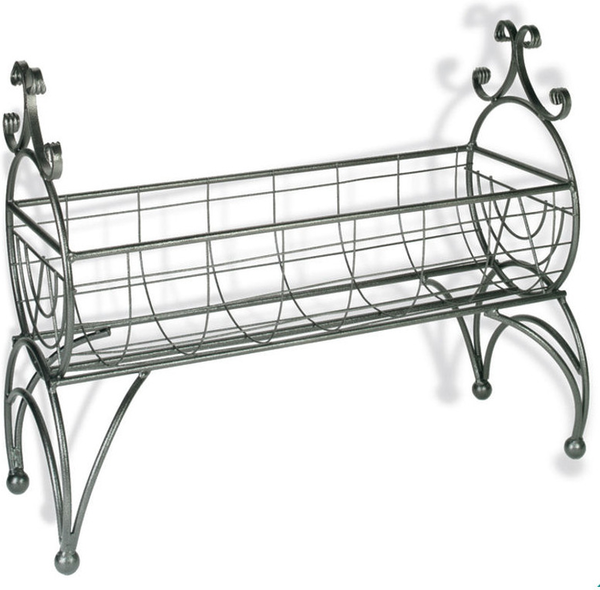 Brighten up your garden with this Regal Planter, from £79.
With spring here, it's time to start sprucing up the garden, but not everyone has a large outdoor space, especially if you live in a flat or apartment.
That doesn't mean you can't be using your green fingers though. Quite the contrary, with a little imagination, you can turn your patio or balcony into the garden of your dreams.
Window boxes and planters are especially versatile and easy to take care of, and I love this Regal Planter by The Orchard.
Made from steel, it can be planted as subtly or extravagantly as you wish, and will brighten any external space, whatever size.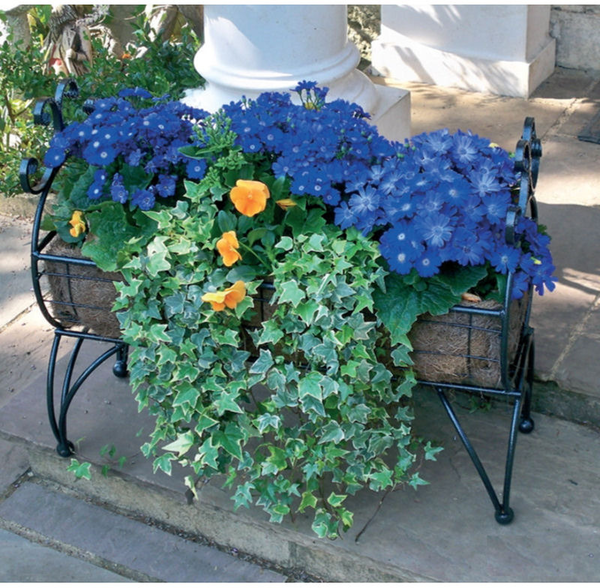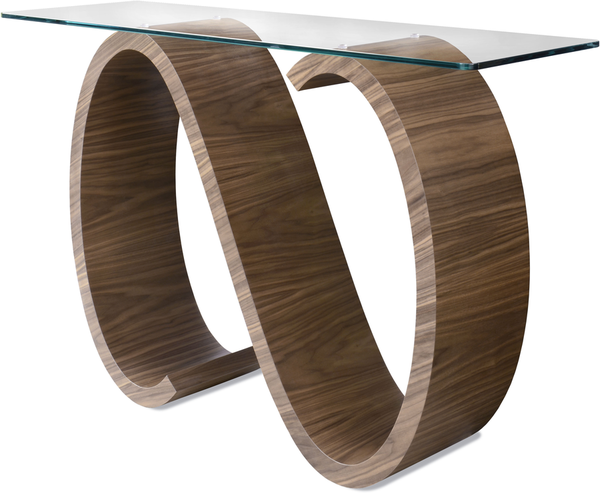 Plus an extra 5% off your first purchase. Offer ends on 30th April.
Tom Schneider is offering Furnish customers 15% off its range of gorgeous furniture until the end of April 2014 only. This is in addition to the 5% discount available on Tom Schneider items on your first Furnish order.
Each collection is made by hand in the UK by a team of skilled craftsmen using modern methods with established techniques. Materials are sculpted into Tom's signature elegant curves and flowing lines, such as this striking Swirl Side Table.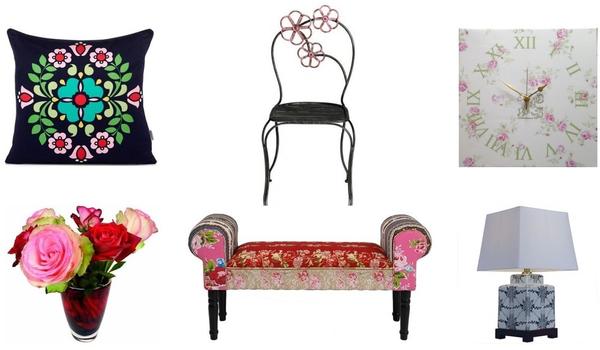 It's time to bring the outside in with these gorgeous floral home accessories.
Now that spring has sprung, it's time to blow away the cobwebs and inject some floral style into the home. And we have a fantastic mix just perfect for bringing the outside in.
Our floral pieces are great for instantly cheering up any interior and will give your home a much needed touch of spring.
For those who want to add pattern and colour to a sofa or chair, this Gypsy Blue Cushion by Artstar is super funky and the perfect choice. Meanwhile those who want to introduce some subtle lighting to their hallway or living area will love this Floral Tea Caddy Lamp by Shimu.
And if you really want to create maximum impact, how about this Romany Love Seat by The French Bedroom Company.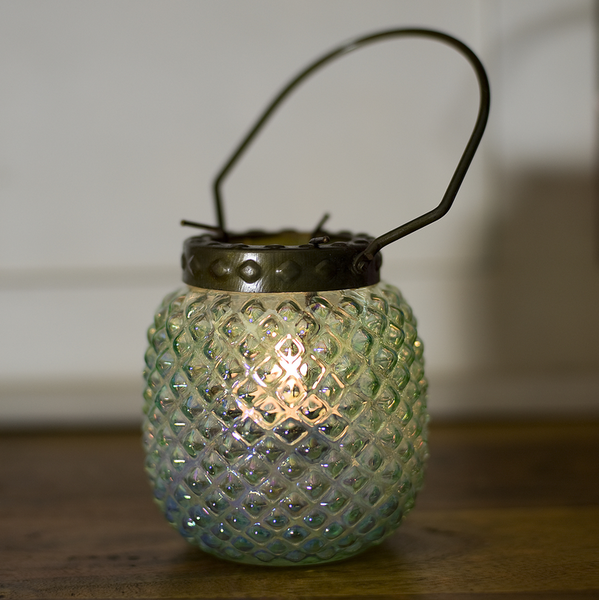 Add a subtle glow with this Green Hobnail Lantern, £15.
I might be getting a little ahead of myself but, with the sunny weather we've been having of late, I can't help but start to think about summer.
Those in the know claim that this summer is going to be a scorcher, so I'm planning as many al fresco events as possible to make the most out of the predicted good weather.
Perfect for summer evenings is this Green Hobnail Lantern by The Orchard. Suitable for hanging from trees or fences, this little lantern is sure to add some atmosphere to any garden party.
Also comes in peach, cranberry, violet, yellow and turquoise, and a selection of colours would look fantastic scattered around a garden dining area.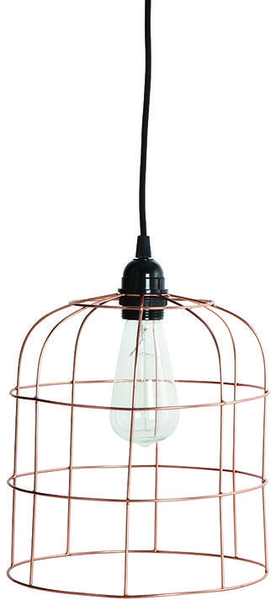 Enjoy some industrial style with this Mini Copper Wire Cage Pendant, £35.
Changing your lighting is a quick and easy way to update your scheme and, with this in mind, I've been on the hunt for some new lighting for my hallway.
So I was thrilled to come across this Mini Copper Wire Cage Pendant by the virtual treasure trove which is Alexander and Pearl.
Simple, yet ever so stylish, this cage pendant lamp is perfect for tapping into the industrial trend.
Perfect for creating a focal point in a dining room, try using these stylish pendants in clusters of three or five, or hang several in a row over your dining table for maximum impact.
Also available in gold.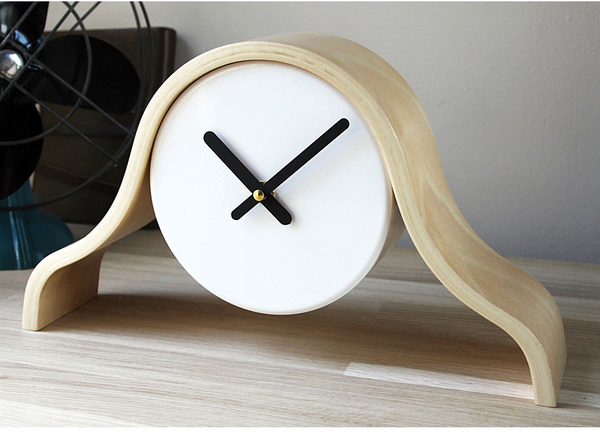 Keep right on time with this Really Simple Clock, £69.
So, the clocks have now gone back and I'm thrilled.
I guess I'm not alone in being totally fed up with the dark mornings and short days, and to celebrate the arrival of springtime, I've decided to treat myself to a new clock for my sideboard.
We have a great range to choose from here at Furnish, whether you're looking for a wall or a mantel clock, with something for everyone's style and budget.
I have opted for this Really Simple Clock by Lifestylebazaar which is great for adding a touch of contemporary elegance.
This understated clock has been crafted from beech wood and aluminium and is sure to become the focal point of any room.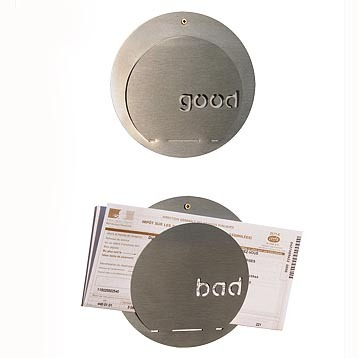 Keep your post sorted with this Good Bad Letter Rack, £43.
Without room for a console table in my hallway, post often just gets dumped on the stairs by the first person to get home. And, as such, we're always scrambling around trying to understand why we can't find the water bill or those little "Sorry you were out" delivery cards.
Which is why I'm thrilled to have come across this Good Bad Letter Rack by JasmineWay.
It comprises two letter racks, one for good post and one for bad, meaning you can keep the good news separated from bad in a flash.
And being wall mountable, they're the perfect option for those who, like me, are short on space.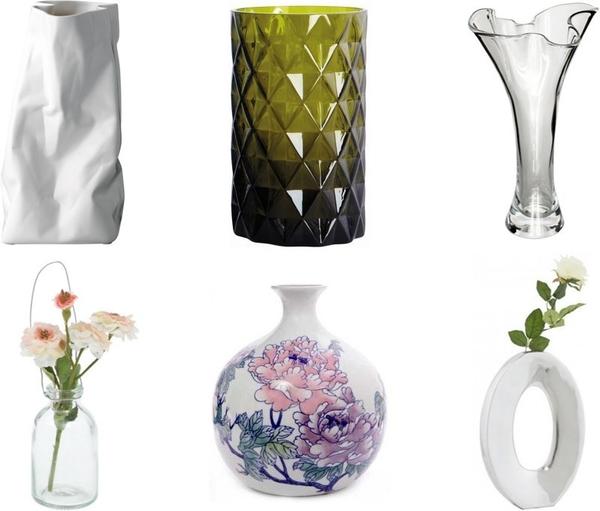 Display your favourite springtime blooms with these gorgeous vases.
Spring has finally arrived and, here at Furnish HQ, we couldn't be happier!
Not least because it gives us the perfect excuse to splash out on a new vase or two to display the first blooms of spring.
We've got something for everyone with our eclectic mix of vases, so there's no excuse not to bring some of the outside indoors.
Those who love a feminine, floral touch will adore the Flower Vase Magnolia by JasmineWay, whilst fans of geometric shapes may prefer the Green Chunky Vase by Artstar.
Meanwhile, one of our favourite designs is this Hanging Stem Bottle Vase by The Orchard which looks great when used to hold a single bloom and displayed in a cluster.
Sit back and relax with this Mayfair Brown Leather Armchair, £497.
Regular readers will know that I struggle to resist an armchair or two; so much so that I'm running out of space and the other half has enforced a ban on me buying any more chairs.
Which is a real shame as I've only recently come across this fab Mayfair Brown Leather Armchair by Lover's lounge.
This retro-style piece definitely gives a nod to late Art Deco style while the combination of antiqued brown leather and the sparkling stainless steel frame will make a it a real focal point in any room.
Ideal for the living room, this super stylish chair will also add a touch of style to a bedroom.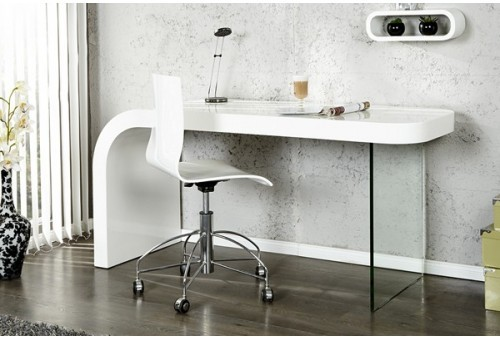 Work in style with this Optic White Gloss Desk, £375.18.
If you work from home, like I do much of the time, you'll know how important it is to have a good desk.
Aside from being far better for working at than balancing a laptop while sitting on the sofa, having a dedicated workspace definitely makes me more efficient and takes away the temptation to have a sneaky peek at Murder She Wrote.
We have a great selection of desks here at Furnish but one of my favourites is this Optic White Gloss Desk by Neofurn.
Sleek and stylish, it has a generous top which is perfect for spreading out, while the elegant curves mean you'll be pleased to sit at this desk and get on with your work.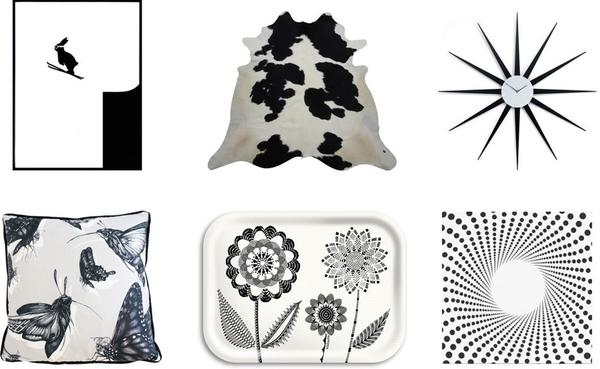 This combo never dates so embrace these black and white favourites.
Just as in fashion, there's always a place for monochrome within the home. Whether you opt for a stylish graphic rug or simple soft furnishings, this colour pairing doesn't date and suits both contemporary and classic schemes.
To create a real style statement in your living room, this BLGAB04 Cowhide Rug by London Cows is the perfect piece while this Diamantini Star Clock by Red Candy is guaranteed to add interest to the plainest of walls.
Meanwhile, if graphic prints are your thing, then you'll love this Bridget Riley-inspired Black Dots Spiral Print which comes courtesy of those clever folk at Duffy London and the stylish Swarm Cushion by Adam Slade by The French Bedroom Company which will add a touch of monochrome glamour to any sofa or chair.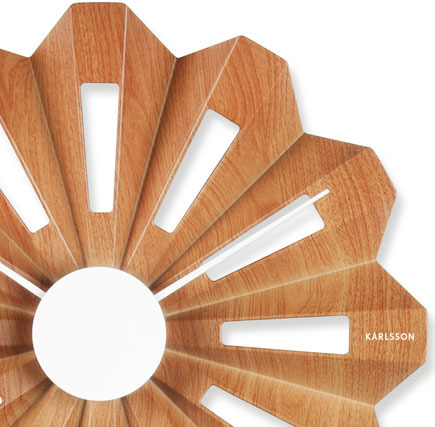 Keep time beautifully with this Karlsson Lotus Flower Wall Clock, currently £48.
You may have noticed the evenings are slowly getting lighter which means, thank goodness, that spring is on its way. Also, it's only one more week until the the clocks go forward which is absolutely one of my favourite days of the year.
And what better way to celebrate the start of those longer days than by treating yourself to a new clock?
We have some stunning wall clocks here at Furnish, but the one that really gets my vote is this Karlsson Lotus Flower Clock by Red Candy.
Simple yet striking, this gorgeously retro design is perfect for sprucing up a plain wall in any room from hallway to bedroom.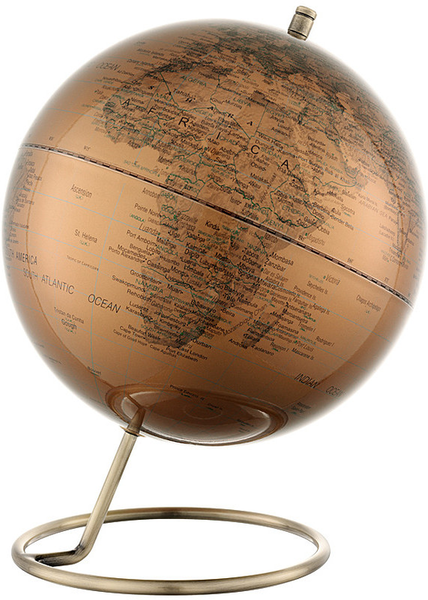 Visit the world from your living room with this Authentics Copper Globe from Lifestylebazaar, £62.
I've always had a thing about globes and this obsession stems from being a little girl when I was bought one for Christmas. I would spend hours spinning it with my eyes closed, picking out a mystery destination and promising myself I would visit one day.
While I'm slowly ticking all the locations off the list, I certainly haven't seen them all which is why I've decided I once again need a globe in my home.
This Authentics Copper Globe by Lifestylebazaar is the perfect design. As well as adding a retro touch, the copper finish is bang on trend for this season.

Enjoy a peaceful cup of tea with this Tea for One Pot, £33.
Whether you favour a cup of tea first thing in the morning or afternoon tea is more your style, a gorgeous tea pot adds a certain je ne sais quoi to the whole experience.
We have all sorts of tea pots here at Furnish from classic to contemporary, pretty to plain which means there's something to suit every style.
My favourite is this delightful Tea for One Pot by JasmineWay. Featuring a delightful blackbird print, this comprises both tea pot and cup, and is ideal for a solitary, peaceful cup of char.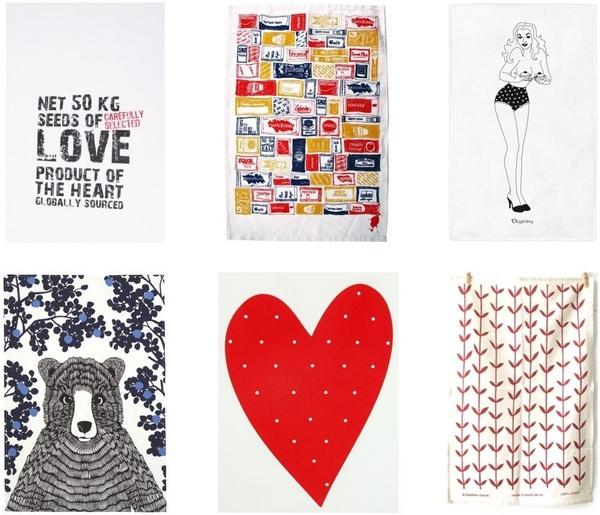 Make washing up more fun with our selection of super cool tea towels.
No one likes doing the washing up – that's a fact of life – but you can make it a little more interesting with the addition of a funky tea towel or two.
We've picked our favourites here at Furnish which are guaranteed to add a splash of colour to brighten up any kitchen.
For those who want a touch of retro kitsch, this set of two Fifties Housewife Tea Towels by The French Bedroom Company is just the ticket, and this friendly Tea Towel by Artstar is sure to raise a smile.
Meanwhile, no kitchen would be complete without a graphic print tea towel which is why we love this Orla Tea Towel by Design My World.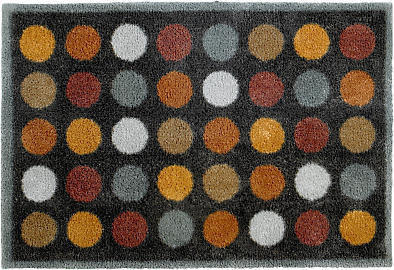 Give your hallway a hit of colour with this Turtle Mat Retro Spot Doormat, £47.95.
They say first impressions count which is why it's essential your hallway looks its best.
We have a great selection of hall accessories to choose from here at Furnish from storage–savvy console tables and coat racks to elegant lighting and mirrors.
But what every hallway needs is a fantastic door mat. We have all sorts from floral to quirky designs, guaranteed to give your home a welcoming feel.
My favourite is this Turtle Mat Retro Spot Doormat by John Lewis which is sure to bring a smile to all your visitor' faces with its spotty welcome.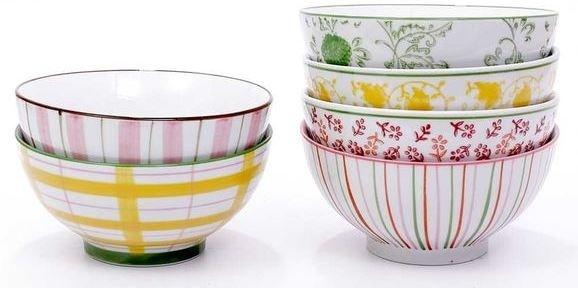 Add some pattern and colour with this Set of 6 Capri Pastel Bowls, £58.
I love little bowls and have a cupboard stashed full of them. So much so that, when I recently showed my other half some new ones to add the collection, he sighed so loudly I'm sure the neighbours heard.
Regardless of that, I've decided to go ahead and buy these gorgeous Capri Pastel Bowls by JasmineWay.
Coming as a set of six differently patterned bowls, these are on-trend and are sure to add a splash of colour wherever you use them.
Perfect for everything from cereal to soup, these bowls will work especially well for ice-cream in the summer.